Recession hasn't hurt business at cineplex box offices. More than $10-billion in tickets were sold, which means more people than ever went to the movies [of course, that big number could be the result of skyrocketing movie prices in the last 10 years]. Thanks to James Cameron and 3-D, movies remain a popular entertainment for the masses whether we purchase tkts at the box office or rent/buy the DVD and Blu-ray.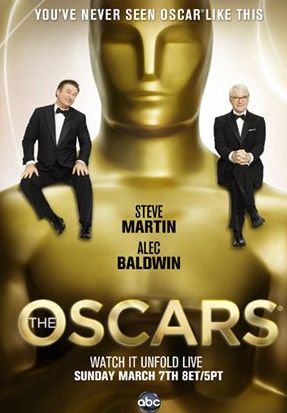 When the going gets tough, America goes to the movies - even to tough movies, and those not so easy to watch. We like hissing supervillians, line up for romance, love comeback stories, and are willing to support more than mindless drivel and the adventures of superheroes.
Compared to other forms of entertainment, even with the highest movie prices in the nation in New York City, going to the movies is still one of the least expensive [even less than bowling] excursions you can make, especially if you stay away from concession stands. Of course, it would be nice if even 50% of the films released were worth going to see.
The 82nd Academy Awards ceremony, presented by the Academy of Motion Picture Arts and Sciences, will honor the best films of 2009. They take place Sunday beginning at 8 P.M. [with red carpet arrivals], telecast from Hollywood's Kodak Theatre on ABC, and with two major changes: The number of nominated pictures will rise from five to 10; and the special and honorary award winners will be saluted, but their trophies were handed out two weeks ago [no doubt to make room for highlights from the 10 nominated films].
Actors Alec Baldwin and Steve Martin will host the show. Martin will host for the third time, while Baldwin is making his host debut.
[It would have been interesting to see what Sasha Baron Cohen would have done had the Academy not rejected him as "too much of a wild card."]
An audience of an estimated 35 million have the pizzas ordered, the trail mix mixed, and the Champagne on ice. Viewers in 200 countries will also be watching via satellite. The big parties are the Vanity Fair and Academy's Governor's Ball, the places to be seen. Wolfgang Puck's menu for the latter will be Beverly Hill's style comfort food: organic chicken pot pie with black truffles. For starters, a very simple but elegant crispy potato galette with smoked salmon.
In an effort to please movie buffs and in an attempt to keep the TV ratings high, the list of presenters reeks with variety - someone old, someone new, someone for everyone: Jason Bateman, Kathy Bates, Gerard Butler, Steve Carell, Bradley Cooper, Miley Cyrus, Robert Downey Jr., Zac Efron, Tina Fey, Tom Ford, Jake Gyllenhaal, Tom Hanks, Samuel L. Jackson, Queen Latifah,Taylor Lautner, Jennifer Lopez, Sarah Jessica Parker, Tyler Perry, Rachel McAdams, Keanu Reeves, Ryan Reynolds, Zoe Saldana, Amanda Seyfried, Kristen Stewart, Ben Stiller, Babs Streisand, Charlize Theron, John Travolta, Robin Williams, Kate Winslet, and Sam Worthington.
Participants in special segments will be Colin Farrell, Forrest Whittaker, Neal Patrick Harris, Demi Moore, Julianne Moore, Michelle Pfeiffer, Tim Robbins, Michael Sheen, Peter Skarsgaard, Stanley Tucci, and Oprah Winfrey.

In addition to the annual memorial tribute, there will be a special segment on director/writer John Hughes, who died in August at age 59, by members of the The Breakfast Club "Brat Pack" and stars from his films, such as Matthew Broderick and Macaulay Culkin.
Nomination Highlights:
Have you voted? How many have you seen?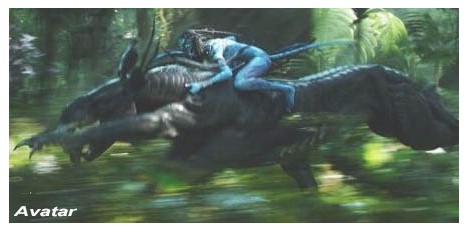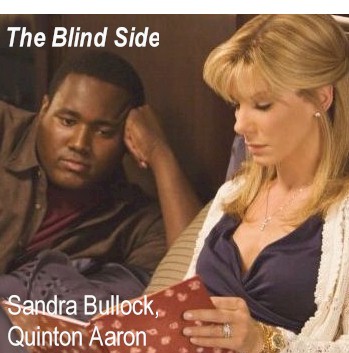 Picture
>The last time 10 films were nominated was 1943<
Avatar
The Blind Side
District 9
An Education
The Hurt Locker
Inglourious Basterds
Precious: Based on the Novel 'Push' by Sapphire
A Serious Man
Up
Up in the Air

Actor
Jeff Bridges, Crazy Heart
George Clooney, Up in the Air
Colin Firth, A Single Man
Morgan Freeman, Invictus
Jeremy Renner, The Hurt Locker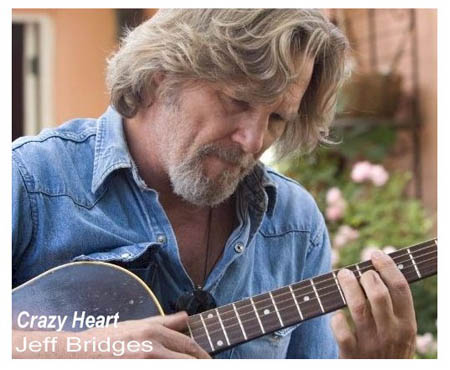 Actress
Sandra Bullock, The Blind Side
Helen Mirren, The Last Station
Carey Mulligan, An Education
Gabourey Sidibe, Precious...
Meryl Streep, Julie & Julia
Supporting Actor
Matt Damon, Invictus
Woody Harrelson, The Messenger
Christopher Plummer, The Last Station
Stanley Tucci, The Lovely Bones
Christoph Waltz, Inglourious Basterds
Supporting Actress
Penélope Cruz, Nine
Vera Farmiga, Up in the Air
Maggie Gyllenhaal, Crazy Heart
Anna Kendrick, Up in the Air
Mo'Nique, Precious...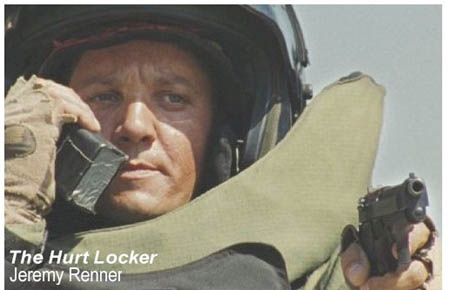 Director
>History could be made in this category.
Bigelow would be the first female to win.
Daniels would be the first African American<
James Cameron, Avatar
Kathryn Bigelow, The Hurt Locker
Lee Daniels, Precious...
Jason Reitman, Up in the Air
Quentin Tarantino, Inglourious Basterds
Original Screenplay
Mark Boal, The Hurt Locker
Alessandro Camon, Oren Moverman, The Messenger
Ethan Coen, Joel Coen, A Serious Man
Pete Docter, Bob Peterson, Tom McCarthy, Up
Quentin Tarantino, Inglourious Basterds
Adapted Screenplay
Jesse Armstrong, Simon Blackwell, Armando Iannucci,
Tony Roche, In the Loop
Neill Blomkamp, Terri Tatchell, District 9
Nick Hornby, An Education
Geoffrey Fletcher, Precious...
Jason Reitman, Sheldon Turner, Up in the Air
Foreign Language
Ajami, Israel
A Prophet (Un Prophète), France
The Milk of Sorrow (La Teta Asustada), Peru
The Secret in Their Eyes (El Secreto de Sus Ojos),Argentina
The White Ribbon (Das Weisse Band),Germany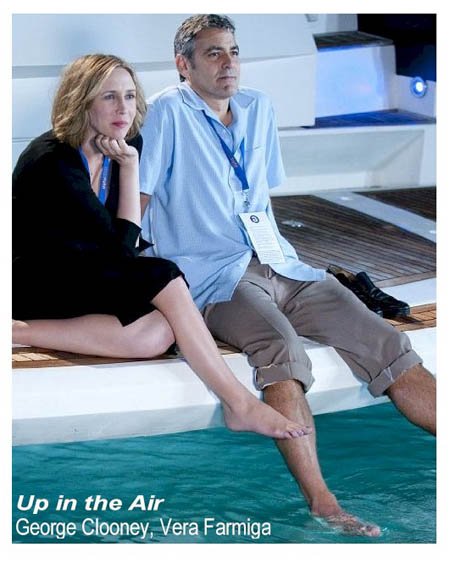 Original Score
Marco Beltrami and Buck Sanders, The Hurt Locker
Alexandre Desplat, Fantastic Mr. Fox
Michael Giacchino, Up
James Horner, Avatar
Hans Zimmer, Sherlock Holmes
Original Song
"Almost There," The Princess and the Frog, Randy Newman
"Down in New Orleans," The Princess and the Frog, Randy Newman
"Loin de Paname," Paris 36, Music, Reinhardt Wagner; Lyrics, Frank Thomas
"Take It All," Nine, Maury Yeston
"The Weary Kind," Crazy Heart, Music and lyrics, Ryan Bingham, T Bone Burnett
Animated Feature
Coraline
Fantastic Mr. Fox
The Princess and the Frog
The Secret of Kells
Up
For a full list of the nominations, the awards given out to date, the Countdown to Oscar feature, a printable ballot, video clips, trailers of the 10 nominated "Best," and play-along games visit www.oscar.go.com.
Honorary Oscars went to:
Lauren Bacall: SEE BELOW
John Calley: a producer and former Sony CEO, admired as one of Lalaland's most trusted figures. Not a household name, but his achievements include a long association with Mike Nichols, which began with the all-star Catch-22 [1970]; Best Picture nomination for The Remains of the Day [1993], which received seven other noms; Postcards from the Edge [1990], which netted a Best Actress nod for Meryl Streep; and Closer [2004].
Roger Corman: produced more than 300 films, and directed over 50. However, the Academy's Board of Governors voted Corman his Oscar "for his unparalleled ability to nurture aspiring filmmakers by providing an environment that no film school could match." Corman is legendary for his ability to stretch a dollar. He shot period films and sci-fi "epics" on budgets that wouldn't cover catering on today's shoots. For years, he was the butt of industry jokes, but there were occasional gems, such as his Poe-inspired early '60s horror flicks starring Vincent Price. He mentored such directors as Cameron, Coppola, Demme. Howard, Scorsese; and such actors as De Niro and Nicholson. What's little known is that he also became a savvy distributor of art house films by Bergman, Fellini, Kurosawa, and Truffaut.
Gordon Willis: cinematographer on some of the most acclaimed films of the '70s and '80s, two-time Oscar nom Willis shot three Best Picture winners, The Godfather [1972], The Godfather Part II [1974], and Annie Hall [1977]. The Academy noted "he broke new ground with daring compositions, simplicity, reduced lighting schemes, and lens choices, and became one of film's foremost stylists." Willis was Oscar-nom'd for Zelig [1983] and The Godfather, Part III [1990]. Other films include the innovative Pennies from Heaven [1981] and The Purple Rose of Cairo [1985].

And the Winner Is
One of the most acclaimed films among the 10 Best Picture nominees is Lee Daniels' unsparing and deeply poignant Precious: Based on the Novel 'Push' by Sapphire,which was a hit at Cannes and the Sundance, Toronto and NYFilm Fests.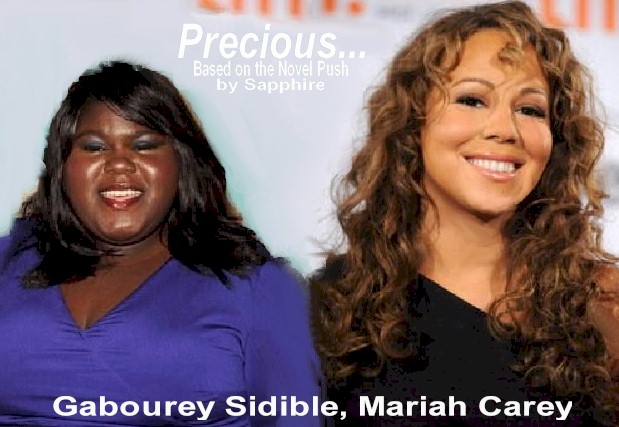 Adapted from the 1966 novel, this raw and not always easy to watch story of a 16-year-old who endures unimaginable hardships [poor, angry, barely literate, fat, unloved], abuse by her mother, and rape by her father. Daniels says, "Precious isn't just a tale of endless abjection. It's also the celebration of a young woman's determination to free herself from the pathologies surrounding her," guided by a teacher who senses innate talents and a tough yet compassionate welfare officer.
The casting is innovative: Sidibe, an unknown; stunning Paula Patton as the teacher has a magical screen presence [and could be almost mistaken for JLo]; Mariah Carey, in only her fourth film since the Glitter fiasco; and appearing "unvarnished" as a welfare worker; Lenny Kravitz.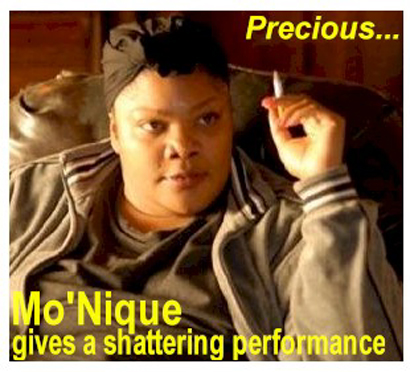 Daniels' casting coup is comedienne Mo'Nique, who's won a Golden Globe and the Special Sundance Jury Prize among a slew of other honors, in a role like you've never seen her before and one you'd never expect her to play: the monstrous, abusive mother. Her performance will def shock audiences; however, it will open many doors and lead her down a path to heavy dramatic roles.
But can it win Best Picture when it's in a category with blockbuster Avatar and the little film that could, Hurt Locker? Logic says yes, reality says no. Here the old axiom applies: it's nice just to be nominated.
There's much ado over who'll win Best Actress. Among the noms are two-time winner and 16-time nom Meryl Streep, who seemingly can just show up on a set and get nom'd but this time it's for the very, very, very, very light comedy Julie & Julia; Sandra Bullock, a well-liked actress with a winning personality who's starred in some downright silly, some downright awful, and one very good film, Blind Side; and the totally unknown college student Gabourey Sibide, not especially attractive, admittedly obese, who on a lark went to an audition for director Lee Daniels and his Precious..., not only won the title role but stunned critics and audiences with one of the most indelible, jolting, and heartbreaking performances ever.
So who'll take the prize? In a perfect world, it would be Sibide, but it's not a perfect world. And Precious... hasn't broken b.o. records. You also have Helen Mirren's much lauded performance in Last Station and newcomer Carey Mulligan lilting work, with her ability to light up the screen, in An Education.
So, it's a category where you really can't compare which actresses is actually "best," but who'll get the votes. The Vegas/A.C. money seems to be on Bullock, but how precious, indeed, it would be for Sibide to walk off with the statue.
Jeremy Renner stunned audiences with his performance in Hurt Locker as did the much-admired Colin Firth in the praised, but widely unseen A Single Man. Betting says it's Jeff Bridges' time in the spotlight, and not just for his strong performance in Crazy Heart, but for the times even much stronger portrayals have been overlooked. With four noms under his belt, it appears his luck may have changed.
The Best Director category has irony: James Cameron, with the biggest blockbuster ever, up against his ex, Kathryn Bigelow, with the much-acclaimed but not exactly blockbuster The Hurt Locker . Now, how sweet would it be for Bigelow to walk off with the statue? Also, quite deserving, and maybe not the longshot everyone thinks: Lee Daniels, Precious....

Where did you put your money?

Lauren Bacall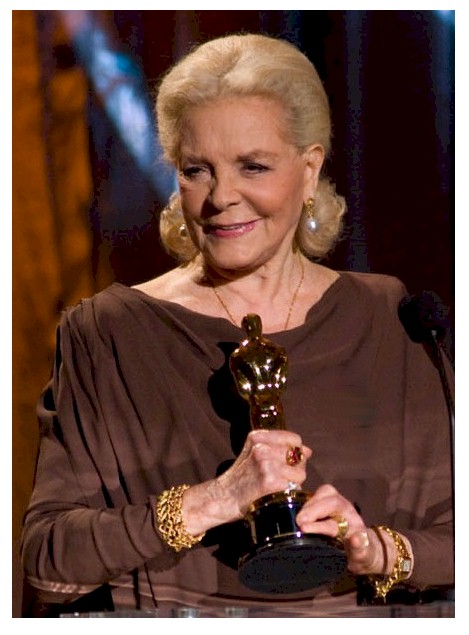 Lauren Bacall's lines to Humphrey Bogart in one of filmdom's sultriest voices in acclaimed director Howard Hawks' To Have and Have Not [1944], "If you want anything...just whistle. You know how to whistle, don't you? You just put your lips together and blow" not only made movie history and became part of the day's vernacular but also raised the ire of the Legion of Decency. Based on the Hemingway novel, THAHN was Bacall's first film. She was stunning, but not in the Betty Grable/Jane Russell pin-up way. She oozed elegance, sly sophistication, smoldering sex appeal, and T.N.T. and was sublimely photogenic. It's hard to believe she was only 20. She not only became instant box office but Bogie's lover. He was married and more than twice her age. Their scorching affair made world headlines. They went on to co-star in The Big Sleep, Dark Passage, and Key Largo; and to later marry.
New Yorker Bacall, a former model, amassed 50 film credits. She recently admitted that her trademark "look" sprang from stage fright so severe she had to press her chin to her chest to keep from falling apart. My how she's has changed. She's as strong-willed and intimidating as they come. Among her more than 50 films are How to Marry a Millionaire, Designing Woman, Murder on the Orient Express, The Shootist, and Misery. She was nominated as Supporting Actress for Streisand's The Mirror Has Two Faces. She's made five Broadway outings, highlighted by Applause, Woman of the Year, [winning Tonys for both], Waiting in the Wings, and Cactus Flower.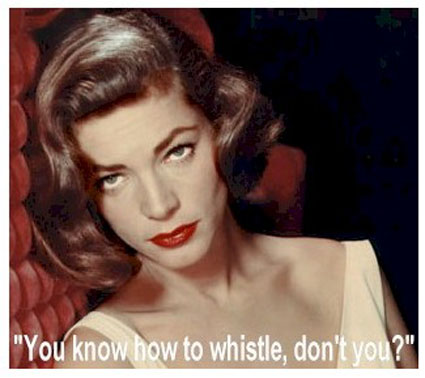 She's known as a tough-as-nails "broad"; and she can be cold as ice. Yet, she is adored by her intimate circle of friends. One of my favorite New York sightings ever was at a recent Macy's Thanksgiving Day Parade. As one of the first bands passed her Central Park West Dakota apartment, she appeared at a window, fresh out of bed. I couldn't hear her, but I sure wished I could read lips. Eight years ago, following a memorial at the Shubert Theatre, a veteran press agent, who knew just about everyone in the business and who famously went around kissing every female star he encountered, literally ran smack right into Miss Bacall in Shubert Alley - and finally met his match. He went to plant a big wet one right on her mouth. In the ultimate "Halt!", she reprimanded sternly, "No! I know where that mouth has been!"
It's no secret that Miss Bacall, not exactly known for her generosity of spirit, can have ferocious mood swings. The staff at a certain UWS bookstore renamed her "Betsyboo" after she rained terror on them [not to mention her publisher's pub rep] when she came to promote her autobiography reissue. Management even swore "that diva will, hopefully, never enter this store again!" Her behavior didn't endear the Widow Bogart to her Waiting in the Wings co-stars.
More recently at the memorial for Marilyn Cooper's memorial, it was noteworthy with tributes pouring in from composers, directors, and a long-ago star she supported, BabsS [who sent a message to be read], that one person was noticably absent. That was especially puzzling given that the multi-talented Miss Cooper paid Miss Bacall lavish tribute as she accepted her Featured Actress Tony for WOTY.
On receiving her honorary Oscar, it was obvious, even at 85, Miss Bacall is as feisty as ever. Gripping the award, she gazed at it and said, "I'm here to stay, so you better get used to the idea."

New to DVD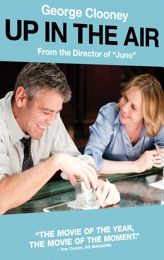 Oscar-winner and 2010 Oscar nom George Clooney gives what many have termed "the performance of his career" under writer/director Jason Reitman [Juno, Thank You for Smoking; and son of director Ivan] in Up in the Air, just released on DVD [Paramount Home Entertainment; 105 minutes; SRP $20; Blu-ray, $30]. The film is thought-provoking, smart, dark, romantic, and borders on serious "comedy." It is also quietly powerful, most often in its subtleties. Is it Clooney's career-defining performance? It might come close. He certainly has no screen ego, especially in showing that he's aging.
Up in the Air has racked up six Oscar noms, Best Picture, Director, Actor, Adapted Screenplay, and two nods for Supporting Actress, Vera Farmiga and Anna Kendrick. Farmiga. It's also been named by over 200 critics as one 2009's top films.
There are several dozen poignant cameo performances. J.K. Simmons and Sam Elliott appear briefly. Farmiga, an unconventional beauty now in her mid-30s, has been emerging as a major screen presence since her 1997 film debut. She finally achieves her star-making role.
Clooney plays Ryan, a man-on-the-constant-go corporate downsizer [i.e., he fires people] and loving it racking up the miles as he does, Oddly, Ryan maintains a secondary job giving motivational speeches on relieving one's life of excess physical and emotional baggage - just the type of anguish, hostility, and despair he causes. An independent man, proud to be a loner, he finally meets, in his female counterpoint [Farmiga], what could become the great love he's made a point of never searching for.
But even he's about to be down-sized through technology planned to remove the human touch - and just as he's reaching his eagerly-anticipated 10-mil frequent flyer status.

Up in the Air may not be everyone's cup of tea [one reviewer described it as "strong but a flim flam lacking honesty"]. It doesn't hurry to tell its story; however, as the minutes tick away, the story gets deeper and deeper. Savvy viewers will be able to predict one of the twists miles ahead of its arrival. Yet, when it arrives it's one of the film's most telling moment.
The DVD includes five deleted scenes. Is it a good idea to second guess the director?
In the case of these scenes, yes. The film doesn't feel overly long, and the 15 1/2 minutes that hit the cutting room floor - especially information revealed in two quite extended sequences, would have added much to the film. This material includes Clooney in a space-age fantasy dream that might have been the film's finale and a lengthy one that shows Clooney going against his grain and setting up a new life.
The Blu-ray includes an additional eight deleted scenes, storyboards, and Sad Brad Smith's music video, "Help Yourself." UITA's original soundtrack is available on Rhino and includes the Smith track along with those by Crosby, Stills, Nash & Young.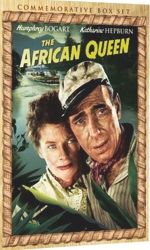 Though long available on video and shown countless times on TV, you ain't seen nothin' yet until you catch the immaculately-restored print of John Houston's 1951 The African Queen, one of cinema's all-time classics. It arrives newly remastered on DVD [Paramount Home Entertainment; SRP $20; Blu-ray, $27] March 23 and is a must-have for any movie buff.
Using state-of-the-art 4K digital technology, African Queen can now be seen by a new generation as if it's a brand-new film and for the classic romantic comedy/adventure gem it is.
Legendary director John Huston, in one of Hollywood's great casting coups, managed to pair two of the screen's most treasured and acclaimed actors, the incomparable Humphrey Bogart as hard-drinking tramp boat captain Charlie Allnut, a performance that won him his only Oscar; and the equally incomparable Katharine Hepburn, who was Oscar-nom'd, in a role totally different than she'd ever played, spinster, lovelorn missionary Rose Sayer. But the movie ain't bad either!
Based on C.S. Forester's best-selling novel, adapted by James Agee and Houston, set in East Africa at the start of WWI, it tells the story of two disparate people from farreachingly disparate backgrounds who are thrown together on a good vs. evil mission: to impossibly try to knock out a patrolling German ship, if for no other reason than pure spite. Through unbelievable hazards and obstacles, they not only accomplish their deed but, in one of screendom's most unlikely love stories, fall head over heels. See, opposites do attract.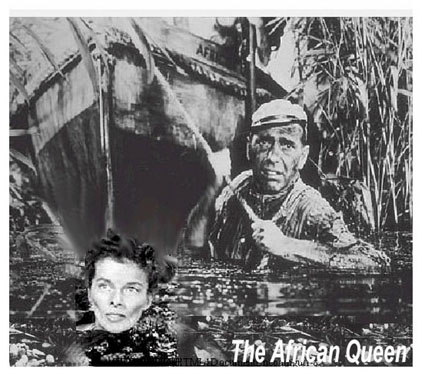 A six-year project filled with challenges as difficult as those of Charlie and Rosie, the restoration process began with access to the original three-strip negative, which was scanned and digitized. The separate three-strip Technicolor elements were painstakingly recombined and, frame by frame, restored removing accumulated build-up. Then, because of the number of process [blue screen] shots in the film [partially made on location in the Congo and London soundstages], there was the meticulously realigning of close-up images. The soundtrack was restored to reveal a clarity never before realized. Luckily, Oscar-winning cinematographer, the brilliant Jack Cardiff was consulted.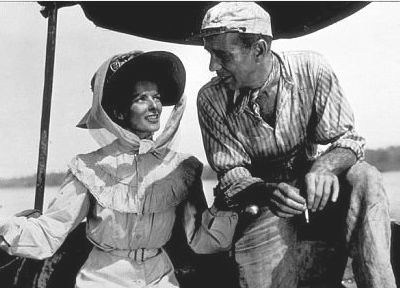 The DVD sets have a new doc, Embracing Chaos: Making The African Queen, with interviews with Martin Scorsese, the restorers, and archival interviews with principals [in addition to one with surviving cast member Theodore Bikel], and home movies shot on location. The box set includes an audio disc with a recording of the Lux Radio Theater broadcast of The African Queen, a reproduction of Katharine Hepburn's out-of-print memoir The Making of The African Queen or How I Went to Africa with Bogart, Bacall and Huston and Almost Lost My Mind, a film frame collectible reproduction, and production still postcards.
More good news: 35mm prints have been struck which means The African Queen will have new life not only on TV but also in film festivals and rep houses.

Movies the Way They Were
Movies, movies, movies at one time were shown in "Everyman" palaces with Wonder Organs to interlude audiences between showings. You get a taste of that era when you go to some events at Radio City Music Hall, opened in 1931, and they whip out the dueling organs. But New York City's movie palaces have, so sadly, gone the way of the wrecking ball.
If you'd like to see how our parents and grandparents saw films, visit the still intact, almost 78-year old opulent former Loew's Paradise in the Bronx [2413 Grand Concourse] recently reopened for concerts and special events after an extensive $5-mil renovation of its Italian Baroque grandeur by entrepreneur Gerald Lieblich. The cherubs, caryatids, recumbent lions, gargoyles and other statuary in the vaulted lobby [often used for high tone parties and such in film/TV] and gargantuan auditorium have been cleaned. The famed midnight-blue ceiling has been repainted, but the stars won't start twinkling and the clouds won't begin rolling again for a while.
The fate of Jersey City's magnificent treasure 3,000 + seat movie palace, Loew's Jersey [54 Journal Square, and easily reached by PATH], opened in 1929 as "the most lavish temple of entertainment," isn't quite the happy story, yet. Slowly, but surely, its glory years are returning with ongoing restoration. The theatre's huge Wonder Organ masterpiece recently returned after being refurbished and rebuilt. It's played before most films by members of the Garden State Organ Society.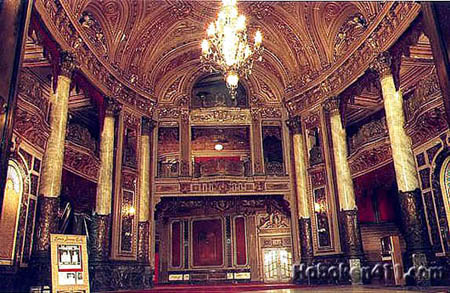 This landmark deserves the support of dedicated moviegoers. Upcoming:
March 26, 8 P.M., Charles Laughton's haunting B&W classic film noir thriller The Night of the Hunter[1955], based on the Davis Grubbs novel with screenplay by James Agee. Starring are Robert Mitchum, Shelley Winters, and, in a most memorable role, Lillian Gish.
March 27, 6 P.M., acclaimed director Michael Curtiz helms King Creole [1958], based on a novel by Harold Robbins and starring the King, Elvis, with a featured cast led by the brilliant actress Carolyn Jones, Walter Matthau, Dolores Hart [not long after this film, she exited Hollywood to join the strictly-cloistered Benedictine Regina Laudis Monastery in CT, where today she's the abbey prioress], Dean Jagger, and Liliane Montevecchi. It doesn't much resemblance to the Harold Robbins novel on which it's based [A Stone for Danny Fisher], but it's one of Elvis' best.
At 8:30 P.M., on the 27th, one of cinema's greatest classics, Elia Kazan's On the Waterfront [1954], winner of eight Oscars, including Picture; Director; Actor, Marlon Brando; Supporting Actress, Eva Marie Saint; Screenplay, Budd Schulberg; and Cinematography, B&W, Boris Kaufman. In the Supporting Actor category, Lee J. Cobb, Karl Malden, and Rod Steiger received noms, the first time three actors in a single film were nominated in the same category. Also nominated was Leonard Bernstein's score.
Admission to screenings is bargain-priced. The huge, ornate lobby has an awesome crystal chandelier. Everything at the concession stand, including popcorn fresh from the kettle, is reasonably-priced. For schedules, visit www.loewsjersey.org. For more opts to hear pipe and theatre organ concerts in the tri-state area, visit www.gstos.org.
Ellis Nassour is an international media journalist, and author of Honky Tonk Angel: The Intimate Story of Patsy Cline, which he has adapted into a musical for the stage. Visit www.patsyclinehta.com.

He can be reached at [email protected]





Why are you looking all the way down here?
For more articles by Ellis Nassour, click the links below!

Previous: Songbook Season Closes with Chita Rivera; Leslie Uggams Dazzles; Jamie deRoy Salutes; Marilyn Maye Moves Up; Temperamentals TalkOut; Speed the Bard; Lea Salonga in Song; More

Next: Dame Edna & Michael Feinstein Featurette: All About Me

Or go to the Archives