The multi-award-winning Public Theater's Shakespeare in the Park summer series at the Delacorte in Central Park begins tomorrow with performances of the Bard's The Winter's Tale, directed by Tony and DD-winner Michael Greif, and on Saturday with The Merchant of Venice, directed by Tony and DD-winner Daniel Sullivan. The plays are in repertory through August 1. Showtimes, which are weather-dependent, are at 8 P.M.

The rep cast of 30 + for the plays includes Tony and DD nom Linda Emond, DD winner Jesse Tyler Ferguson, DD nom Bill Heck [direct from his acclaimed performance in Orphans], DD winner Byron Jennings, DD nom Hamish Linklater, Jesse L. Martin, Tony, DD, and Oscar winner [and eight-time nom] Al Pacino [as Merchant's Shylock], DD nom Lily Rabe [Merchant's Portia], and Tony winner and DD nom Ruben Santiago-Hudson [Winter's Leontes]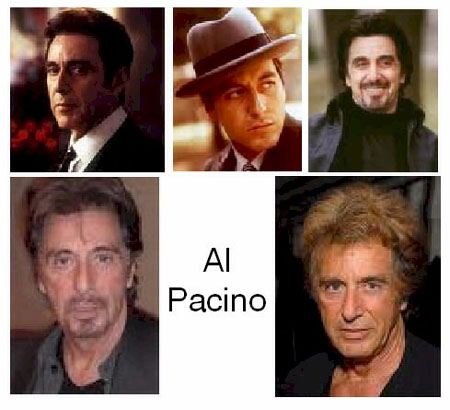 Public Theater A.D.is Oskar Eustis. Andrew Hamingson is exec director.
Print this information - it can be very helpful:
Tickets are free and distributed, two per person, at the Delacorte box office at 1 P.M. day of show. Free tickets will also be offered through Virtual Ticketing, available at www.shakespeareinthepark.org. Users log on between midnight and 1 P.M. to register for that evening's performance. After 1, users can will know if they receive tickets. Recipients, computer chosen at random, are sent confirmation e-mail by 5 P.M. Tickets are claimed at the Delacorte between 5 and 7 - photo ID required. Tickets not picked up release to the standby line. Senior Virtual Ticketing [65 or older] functions the same way.
Summer Supporter tickets for the plays are available in packages of two tickets/reserved seats for a tax-deductible contribution of $350. Donations can be made at the Public box office [425 Lafayette Street], by phone [(212) 967-7555], or at www.publictheater.org.
Bank of America is Delacorte season sponsor. Additional support is provided by the LuEsther T. Mertz Charitable Trust, Time Warner. Bloomberg News, The New York Times, WNYC/WQXR Radio, Penguin Group, and the George T. Delacorte Fund at the New York Community Trust, Continental Airlines, the NYC Department of Cultural Affairs, NY State Council on the Arts, and the National Endowment for the Arts.
For additional information, visit www.shakespeareinthepark.org and www.publictheater.org;or call (212) 539-8750.

A Smashing 10th Anniversary Bash
Who knew?
Ten years ago, Town Hall was left with a programming vaccum when an annual series jumped ship. How to fill that gap? Scott Siegel, author and film historian, held film classes at the Hall and did some brainstorming with the powers that be.
And that's how his and the Hall's acclaimed Broadway by the Year was begat, and begat, and begat. And went on to spawn Broadway Unplugged and the annual three-day Summer Broadway Festival and the annual October Broadway Cabaret Festival.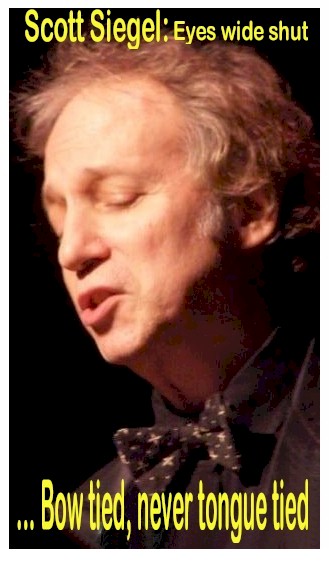 The 10th Anniversary Broadway By the Year Season will end with a bang on June 14, the night after the Tonys, when the program, created, written and hosted by Siegel will showcase a star-studded roster of theater and cabaret artists to sing highlights from all 10 seasons. The line-up includes Gregg Edelman, Norm Lewis, Julia Murney, and Bobby Steggert. Sure, you can expect some "unplugged" moments.
The songs will come from such musicals as Aspects of Love, Falsettos, Jersey Boys, Kiss of the Spider Woman, Ragtime,, and Wicked.
"It was our intention to make this 10th Anniversary season as special and memorable as possible," said Siegel. "To that end, for our final show of the season, we've got something spectacular - something we've never done before. Cast members will perform one song from each show we've celebrated from 1990 to 2010. That's going to be 21 great showstopping tunes."
Scott Coulter is director. Music director/arranger Ross Patterson will be joined by his Little Big Band.
Single tickets are $45-$55 and available at the Town Hall box office, at www.the-townhall-nyc.org, through Ticketmaster, (800) 982-2787, and their web site, www.ticketmaster.com.
Town Hall/Siegel's Broadway Festival is July 12, 19, and 26 with, respectively, Broadway Winners: The Award-Winning Music of Broadway, Broadway's Rising Stars [featuring students selected from regional university theater programs], and All Singin' All Dancin'. Showtimes are 8 P.M. Tickets are available at the Town Hall box office and through Ticketmaster, (800) 982-2787, and their web site, www.ticketmaster.com.

Together Again
Long Island native Robert Cuccioli [or Cucc, as many love to call him] had a life changing experience in only his second Bway outing. He made his Bway debut as Javert long into the run of the original Les Miz but in 1997, when Frank Wilhorn/Leslie Bricusse's Jekyll & Hyde finally trucked into NY after being a huge hit for months on the road, Cucc became Bway's reigning matinee [and evening] idol. He played the dual role of Dr. Henry Jekyll and Mr. Edward Hyde,
Following performances, there was pandemonium on West 45th Street between Bway and Eighth as fans awaited the tall [6' 1 ½"], handsome actor's exit. If you stand in front of what's now the Scoenfeld in the wee hours when the Times Square area is relatively quiet, you can still hear the shreiks of devoted fandom.
Cucc's performance, which won him a DD Award and a Tony nom, was derided by many, but, lost in the darkness and whipping his shoulder-length hair back and forth to make a point, Cucc became Bway's reigning hunk.
And every gal's dreamboat.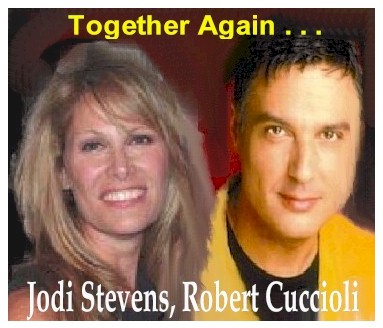 But his eyes were on a certain stunning young brunette, Jodi Stevens, who possessed a powerful voice. She appeared in several featured roles and was understudy to the two female leads [Linda Eder, Christiane Noll]. Soon they were dating and one of Bway's hottest couples. Everyone thought they were headed to the altar.
Segue 13 years later. Cucc, shorn long ago of his mane, is still a swinging bachelor, but one with an Outer Critics Circle Award for And the World Goes 'Round. He's won great acclaim in numerous regional performances. He was most recently seen in the Off Bway revival of Jacques Brel Is Alive ....
Stevens went on to the short-lived Urban Cowboy, work in major regionals, and become a popular cabaret artist. She took time out to marry and have a child.
Lovers once. Déjà vu, lovers again. But only onstage.
Cucc and Stevens star in Dietrich & Chevalier [St. Luke's Theatre, 308 West 46th Street, between Eighth and Ninth Avenues], the musical by Jerry Mayer, teleplay writer on such classic TV fare as All in the Family, M*A*S*H, The Mary Tyler Moore Show, The Bob Newhart Show and six of Mitzi Gaynor's legendary NBC-TV specials [he can also lay claim to being an exec producer of TV's The Facts of Life].
"This truly is a joyous reunion," says Stevens, "because Robert and I have remained supportive friends through the years. I still fervently believe he's one of theater's great talents."

Co-starring is Donald Corren [Torch Song Trilogy and, most recently, opposite Judy Kaye in Souvenir]. Directing is veteran actress Pamela Hall [Dear World, 1776, Funny Thing Happened...], with musical direction by Ken Lundie and additional musical staging by Gene Castle. Producing is Edmund Gaines, who happens to be romantically involved with Ms. Hall [they're husband and wife].

For those of a certain age, Oscar nom Marlene Dietrich [Witness for the Prosecution, Destry Rides Again, Blue Angel, so many more], one of screedom's long reigning sex symbols, and suave Oscar nom'd Frenchman Maurice Chevalier* [Gigi] were the top film stars at Paramount in the 30s.
[*Chevalier was nominated for two leading roles in 1930 and presented a special 1959 Oscar for his "contributions to the world of entertainment for more than half a century."]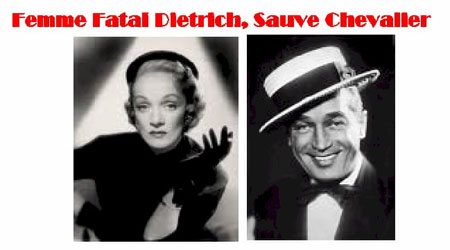 Cast opposite Jeanette MacDonald, he was immediately "drawn" to her but she spurned him. Both were infamous romantics, but though much is recorded of their love trysts, very little if anything exists about their affair. However, it's claimed that, though married to others**, they fell into torrid love; and even after their flame burned low, they remained friends for life.
[** La Dietrich married In 1924, but only lived occasionally with her husband. She often strayed, but they remained married until his death.]
The musical tells of their supposed longtime affair set to songs Dietrich and Chevalier made famous, such as [hers] "Falling in Love Again;" "Lili Marleen" and "The Boys in the Backroom"; and [his] "Louise;" "Mimi," and "Valentine."
Robert Cuccioli may have been an overnight sensation, "but," he smiles, "there were a lot of overnights. There were 15 years of auditioning and working all manner of odd jobs to survive before Jekyll & Hyde."
Ironically, getting into theater was an accident. "I loved music and singing," he states. " I was in the school glee club, had a rock band and played clubs. But, in college, I majored in finance. I did theater and people would tell me I was good. It never occurred to me to try to make it a career."
Instead, he became a Wall Street trader. When the bug bit, he started going to auditions, "where it was all trial and error." He came to J&H in 1994, late in the game, after there had been two major regional productions and a NY workshop, which starred Terrence Mann.
After J&H, Cucc spent a lot of time shaking off his dualing twins image. Other than a brief run in an Off Broadway play, he disappeared. "I had a difficult time finding things to inspire me," he explains. "That led me to the challenge of directing, which I love. I was exhausted and I didn't want to sing anymore. Every note in my body had been expended. I began learning about myself - what I wanted, what I didn't want."
Though the musical eagerly anticipated, he notes, "The critics didn't jump to their feet. We did get some good reviews. We were the longest running show of anything that season that got Tony-nominated or even won. Whatever else, Jekyll & Hyde was a crowd-pleaser. Frank was smart. He had the music out there before the show came to town, so we had a well-known score when we opened. I knew what we had, and certainly the audiences were responsive. In fact, many came back again and again."
The show was a learning experience. "One thing it taught me," he says, "was how to be a pop singer, which is something I'm more attracted to than Broadway legit. Some singers can naturally do it because pop's what they've listened to. However; for me, it was another muscle I had to learn, another ear I had to sharpen."
Another lesson was the responsibility "of carrying such an enormous show on my shoulders. I hope I did it well."
Summer Concerts, Times Square
The American Theatre Network in association with author Herbert Goldman,.will be bringing out the stars this summer with Great Entertainers on Broadway from late July through early August at the Times Square Arts Center [669 Eighth Avenue, between 42nd and 43rd Streets] in the complex's 300 seat theatre dubbed the Broadway Emporium.

There'll be two and three shows weekly, often twice nightly [7 and 9:30] in specially-priced "packages" called The Diva Series and The Gentlemen Series.
Among the announced artists are Christine Andreas, Liz Callaway, Rebecca Luker, Marni Nixon, and Faith Prince; and Mark Nadler, kicking off the series on July 26, and Richard Skipper [Carol Channing in Concert].
Tickets for the six Diva shows are $264; for the three Gentlemen, $140 - a savings of 20% over second tier pricing. Individual tickets range from $40-$60. They available at TSAC box office, by calling TicketWeb [(866) 468-7619], and at www.americantheatrenetwork.com, where you can find a full schedule of dates and showtimes and additional artists in the series. Proceeds will benefit the American Diabetes and Juvenile Diabetes Research Foundations.

Tribeca Goes to the Beach
In another example of the amazing growth and reach of the annual Tribeca Film Festival, Caesar's, Atlantic City, will host the Tribeca Cinema Series: Movies on the Beach July 8-11, the first out of town run of a slate of films from the 2010/Ninth annual fest that virtually took over areas of not only Tribeca, but also Chelsea and the East Village.
Caesar's, which along with it's forum of gigantic statues, Qua Baths and Spa, and, across the boardwalk, the Pier Shops and Dancing Waters show, is offering a 25% room discount during the series.
For the soon-to-be-announced A.C. slate and more information visit www.CaesarsAC.com/EventsDetail.
Among the Festival hits and favs were:
~ Patricia Clarkson, as a seemingly independent fashion mag editor, and Alexander Siddig, as former associate of her husband, in the lush unrequieted romantic Cairo Time -- directed by Canadian Ruba Nada, who was born in Egypt, and filmed in bustling Cairo, Nile, jawdropping Memphis, and Alexandra locales [the film opens in NY on August 6];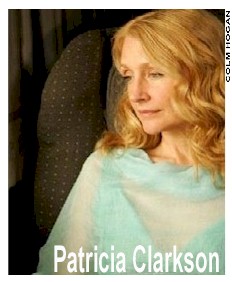 ~ Richard Levine's family drama, Every Day, featuring Helen Hunt, Liev Schreiber, Brian Dennehy, Eddie Izzard and Carla Gugino;
~ Ricki Stern and Annie Sundberg's doc Joan Rivers: A Piece of Work;
~ Keith Bearden's comedy Meet Monica Velour, starring Kim Cattrall as a washed up porn star; and Michael Winterbottom's The Killer Inside Me, starring Kate Hudson, Jessica Alba, and Casey Affleck.
In another Tribeca Festival first, 12 titles were made available to cable and satellite networks for home viewing. The NY Festival was supported by founding partner American Express.
You might want to stick around for Huey Lewis and the News, appearing July 10th in the 1,500-seat stadium, Circus Maximus. A good reason to return is the huge Atlantic City Food & Wine Festival, July 29th - August 1st, which Caesar's and Harrah's among the host venues.
For tickets, roster of chefs and events, and more information, visit www.acfoodandwine.com. Just in time for this festival, sister property Harrah's has just opened the Viking Cooking School, with chef's table, in the Waterfront.

Stars Rally for Dancers
Career Transition for Dancers' Silver Jubilee gala retrospective, presented by Rolex, set for November 8 has become more star-studded. Joining host Angela Lansbury at 7 P.M. at City Center are Bebe Neuwirth, Ann Reinking, Tommy Tune, Chita Rivera, and Karen Ziemba. Among the spectacular entertainment will be a revival of the showstopping number from 42nd Street, choreographed by the revival's Tony and DD nom'd choreographer Randy Skinner with a cast of "hundreds." Featured also will be artists from America's greatest dance companies along with more Bway memories - and more stars. The indefatigible Ann Marie DeAngelo returns as producer/director.
Plan ahead for this hot ticket. Show-only tkts will go on sale soon at the City Center box office. Gala patron tickets are $600 - $1,200, with tables for 10 $7,500 and include premium seating, post-performance supper dance and auction. They are available through Marjorie Horne, McEvoy & Associates, (212) 228-7446 X. 33.
CTFD, since its founding in 1985, prepares dancers for their future when dance is no longer an option. The org maintains offices in NY, LA, and Chicago. For more informatioin, visit www.careertransition.org

New to CD
Tony nom Sean Hayes, Tony's host with the most, Tony and DD winner Kristin Chenoweth Tony Goldwyn , Tony and DD winner Katie Finneran [and a nom this season], and the cast of Bachrach/David/Simon's Promises, Promises can be yours June 22 when the cast CD drops [Sony Masterworks]. CD producer is Grammy winners David Caddick and David Lai. The musical is directed and choreographed by Tony and DD winner Rob Ashford.
Promises, Promises earned four Tony noms including: Best Performance, Leading Actor for Hayes; Featured Actress, Finneran; orchestrations, Jonathan Tunick; and choreography, Ashford.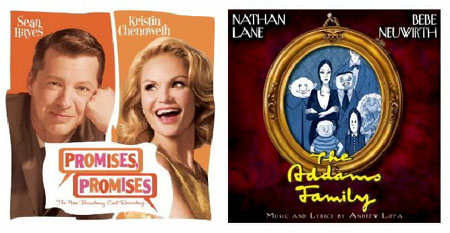 The spooky, all singing, all dancing, all hamming it up cast of Lippa/Brickman/Elice's The Addams Family is also out [Decca Broadway], headlined by Tony and DD winners Nathan Lane and Bebe Neuwirth, Tony and DD nom Kevin Chamberlin Tony nom Carolee Carmello Tony nom Terrence Mann, and Jackie Hoffman.

Frank Wildhorn has laid tracks for the concept recording of the Bway-bound Wonderland: Alice's New Musical Adventure [Sony Masterworks], with lyrics by Jack Murphy [The Civil War] and book by Murphy and Gregory Boyd [Civil War], who also is directing. The work has been commissioned by the David Stratz Center for the Performing Arts [formerly, Tampa Bay Performing Arts Center] in partnership with Houston's Alley Theatre, where Wildhorn is an associate artist [and where J&H originated]. Arrangements are by Jeremy Roberts. Jose Llana, Karen Mason, Janet Dacal [In the Heights] as Alice, head a large cast on 15 tunes. Rb Evan [original J&H] appears on a bonus track.

Masterworks Broadway has re-released 10 cast CDs in eco-friendly packaging, including Tony winners City of Angels, 42nd Street, How to Succeed..., Mame, Oliver!, and 1776. They join the repackaged Annie, Bye, Bye Birdie, Cabaret, Camelot, ACL, Company, Fiddler, and among numerous others, South Pacific.

New to DVD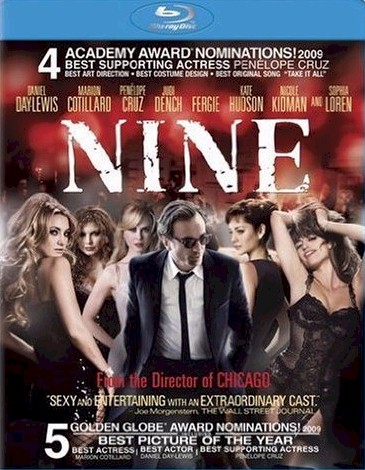 Just dropped is the DVD of Yeston/Kopit/Fratti's Nine [Sony Home Entertaiment; $29, Blu-ray $39], the definitive movie homage to Fellini, based on his classic 8 ½. The film is directed by Rob Marshall, who turned Chicago into Oscar gold.
Two-time Oscar winner Daniel Day-Lewis shows a completely different side of himself as Guido. The women surrounding him are Marion Cotillard as Luisa, Guido's long-devoted, long-suffering wife and former leading lady; Penelope Cruz, mistress Carla; Judi Dench, Lilli, a new character, his costume designer and blunt confidante; the amazing Fergie, the prostitute Saraghina; Kate Hudson, fashion editor Stephanie; Nicole Kidman, his paramour Claudia; and the still-stunning Sophia Loren, Guido's mother.

Much credit must to Oscar-winning DP Dion Beebe for his mix of color and stark B&W, reminiscent of early Fellini; and two-time Oscar-winning production designer John Myhre. Next in line for honors are editors Claire Simpson and Wyatt Smith, and two-time Oscar-winning costume designer Colleen Atwood.
Marshall wanted cast and crew "to inhabit an Italian movie, to move back and forth between the sleek, Mod streets of 60s Rome, through which Guido zooms in his Fiat Alfa Spyder, and the dreamlike fantasies that his imagination. Fantasies that evoke his lust, love, imagination, and frustration to find a path to his future."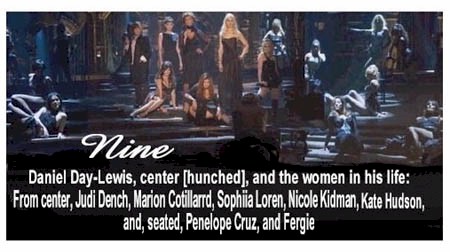 After shooting in London, Rome's historic Cinecitta soundstages were "turned into the stuff of a man's imagination." Some of the local, iconic locations, all drenched in glam 60s era costumes and autos, include the Piazza del Popolo, the Via Veneto, and the towns of Anzio, Surti and Anguillara.
Bonus material includes commentary with Marshall and producer/partner John DeLuca, three music videos, and eight featurettes, with the gem being a behind-the-scenes look at Cinecittà Studios with Miss Loren. The studio was where such epics as Quo Vadis and Ben-Hur, not to mention The Godfather series, shot.
When Nine premiered in 1982, it became a massive hit - directed/choreographed by Tommy Tune, running 729 performances. Its inventive, visually striking, high-style design and arresting musical numbers garnered five Tonys and eight DDs.

Something Old, Something Fun Returns
They just don't make movies like they used to. How long have you been hearing that?
Today's movie business is certainly heavy on sequels and presequels, but, ah, yesteryear, when there were movie series. See, there was no TV, so you went to
movie palaces [such as the magnificent Loews Jersey in Jersey City, which still does movie programming] for your nightly doses of entertainment.
One of the most popular series was Charlie Chan, and now you can relive those very politically incorrect days when series came out of the studios on assembly lines [sometimes only an hour or bit more in length*] with Turner Classic Movies Spotlight; Charlie Chan Collection [Monogram Pictures/Warner Home Video; four discs; SRP $40], as, finally, the ruthless master of crime returns.
[*Movies were shorter then, but you always had a full afternoon or evening because there were newsreels, serials, novelty shorts, and cartoons - not to mention all manner of drawings for housewares.]
Several actors headlined as the inscrutable Chan: the originator Warner Oland in the 30s, Sidney Toler from the late 30s into the mid-40s, and Roland Winters, who had a long career in the age of live TV dramas, in film, and in countless sit-coms.
The films in the TCM package are Dark Alibi. Dangerous Money, The Trap -- all from 1946 and starring Toler, and The Chinese Ring [1947], starring Winters. Chan is quick to, respectively, stop the execution of an innocent man, solve a murder on a cruise to Samoa, stop the murder of showgirls, and pounce on the killer of a Chinese princess.
The movies were always chaotic fun because of Chan's Number Two and Three sons; and, a character we could never see onscreen today, jittery Birmingham Brown, hilariously played by Mantan Moreland, a major, but rare co-starring role [akin to pioneer Hattie MacDaniel's Oscar-winning role as Mammy in Gone with the Wind] in an era where blacks were regulated to step&fetch-it roles or, as in the case of musicals star Lena Horne, had their sequences shamefully deleted for Deep South engagements.
Trivia: In The Trap, playing a cop, is Kirk Alyn, the screen's first Superman; and in The Chinese Ring, catch Philip Ahn, who would gain a new generation of fans as Master Kan in TV's Kung Fu series.
Ellis Nassour is an international media journalist, and author of Honky Tonk Angel: The Intimate Story of Patsy Cline, which he has adapted into a musical for the stage. Visit www.patsyclinehta.com.

He can be reached at [email protected]





Why are you looking all the way down here?
For more articles by Ellis Nassour, click the links below!

Previous: Patti LuPone Hosts Sunday's Drama Desk Awards; A Starry, Starry Season; Tovah Feldshuh, Sherman Brothers Honored; Broadway By the Year Season Finale

Next: Tony Honoree Marian Seldes: Grand Duse of the American Theater

Or go to the Archives