Tony and Drama Desk multiple award winner Patti LuPone, hosts the 55th Annual Drama Desk Awards on Sunday at 9 P.M. in the concert hall of the LaGuadia High School for the Performing Arts at Lincoln Center.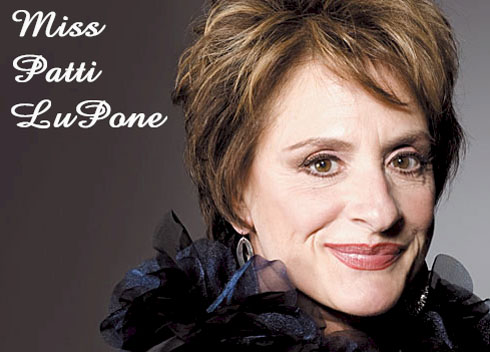 LuPone follows in a glittering line-up of DD Awards hosts: Bernadette Peters, Bebe Neuwirth, Lily Tomlin, Rue McClanahan, Chita Rivera, Harvey Fierstein [the host with the most: four times], Kristin Chenoweth, and the cast of [title of show].
LuPone received the Best/Outstanding Actress, Musical, Tony and DD Awards for the Gypsy revival, which she originated at City Center Encores! and Chicago's Ravina Festival.
She was also the recipient of the Best/Outstanding Actress, Musical, Tony and DD for her title role Rice/Lloyd Webber's Evita; Tony and DD Actress, Musical, noms for the Sweeney Todd revival; Tony and DD Actress, Musical, noms for LCT and Porter's Anything Goes; Tony and DD Featured Actress, Musical, noms for Uhry/Waldman's Robber Bridegroom, based upon the Eudora Welty novella; and a DD, Featured Actress, Play, nom for Mamet's The Old Neighborhood.
In addition, LuPone was honored with a Drama League Award for Outstanding Contribution to Musical Theatre; an OCC Award for her one-woman show, Patti LuPone on Broadway; and Olivier Best Actress, Musical, Awards for her West End performances in Les Miz and The Cradle Will Rock. She also famously created the role of Norma Desmond in the 1993 West End world premiere production of Sunset Boulevard , for which she won an Olivier Best Actress, Musical, nom.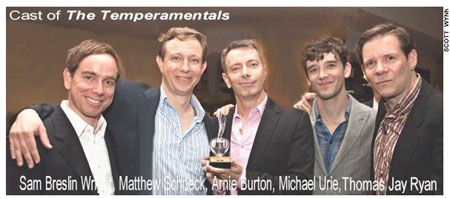 LuPone made her auspicious Bway debut in 1973, in repertory revivals of Three Sisters and The Beggar's Opera , cast by John Houseman, then A.D. of the City Center Acting Company, in residence at the Billy Rose Theatre, now the Nederlander.
Drama Desk Outstanding Ensemble Awards have gone to the casts of Circle Mirror Transformation [Reed Birney, Tracee Chimo, Peter Friedman, Deirdre O'Connell, Heidi Schreck] and The Temperamentals [Arnie Burton, Thomas Jay Ryan, Matthew Schneck, Michael Urie, Sam Breslin Wright].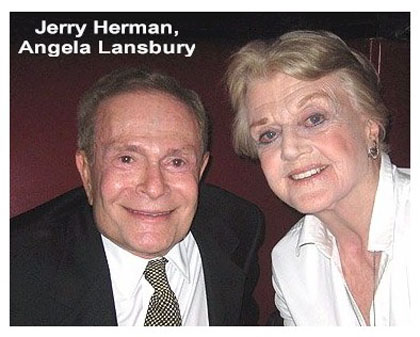 The Orphan's Home Cycle; Godlight Theatre Company; and Ma-Yi Theater Company.
Presenters include Edward Albee, Corbin Bleu, Michael Cerveris, Boyd Gaines, Ana Gasteyer, Mitzi Gaynor, Adriane Lenox, Leslie Jordan, Jesse L. Martin, Matthew Modine, Rosie Perez, Martha Plimpton, and Brooke Shields.

Nomination Highlights:

Outstanding Play
Alan Ayckbourn, My Wonderful Day
Annie Baker, Circle Mirror Transformation
Lucinda Coxon, Happy Now?
John Logan, Red
Geoffrey Nauffts, Next Fall
Bruce Norris, Clybourne Park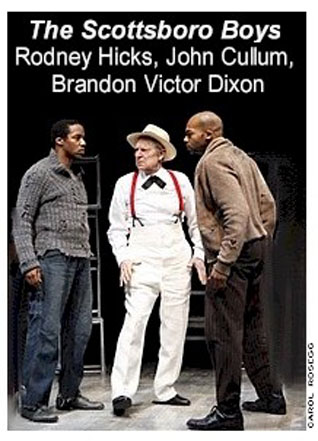 Outstanding Musical
American Idiot
Everyday Rapture
Memphis
The Addams Family
The Scottsboro Boys
Yank!
Outstanding Revival, Play
The Boys in the Band
Brighton Beach Memoirs
FencesHamlet
So Help Me God!
A View from the Bridge
Outstanding Revival, Musical
Finian's Rainbow
La Cage Aux Folles
A Little Night Music
Promises, Promises
Ragtime
Outstanding Actor, Play
Bill Heck, The Orphans' Home Cycle
Jude Law, HamletAlfred Molina, Red
Eddie Redmayne, Red
Liev Schreiber, A View from the Bridge
John Douglas Thompson, The Emperor Jones
Christopher Walken, A Behanding in Spokane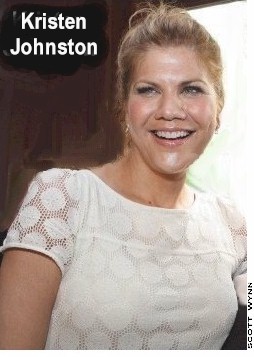 Why second guess the nominating committee and their use of the weighted ballot? However, could that be the culprit responsible for Hugh Dancy, The Pride, and Denzel Washington, Fences's absence?
Outstanding Actress, Play
Ayesha Antoine, My Wonderful Day
Melissa Errico, Candida
Anne Hathaway, Twelfth Night
Kristen Johnston, So Help Me God!
Laura Linney, Time Stands Still
Jan Maxwell, The Royal Family
Outstanding Actor, Musical
Brandon Victor Dixon, The Scottsboro Boys
Douglas Hodge, La Cage Aux Folles
Cheyenne Jackson, Finian's Rainbow
Chad Kimball, Memphis
Nathan Lane, The Addams Family
Bobby Steggert, Yank!
... And why neither Kelsey Grammar, La Cage or Benjamin Walker, Bloody, Bloody, Andrew Jackson made the cut? If you're wondering why Sahr Ngaujah, Fela!, isn't in the category, he was nominated last season during the show's Off Bway run.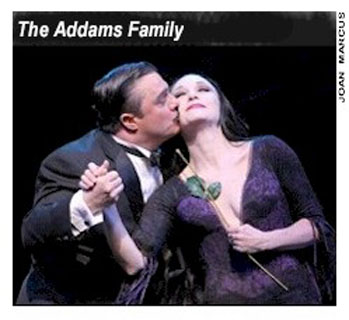 Outstanding Actress, Musical
Kate Baldwin, Finian's Rainbow
Montego Glover, Memphis
Jayne Houdyshell, Coraline
Christiane Noll, Ragtime
Sherie Rene Scott, Everyday Rapture
Catherine Zeta-Jones, A Little Night Music
Outstanding Featured Actor, Play
Chris Chalk, Fences
Sean Dugan, Next Fall
Santino Fontana, Brighton Beach Memoirs
Adam James, The Pride
Hamish Linklater, Twelfth Night
Nick Westrate, The Boys in the Band
A surprising ommission is Ben Whishaw, The Pride.
Outstanding Featured Actress, Play
Victoria Clark, When the Rain Stops Falling
Viola Davis, Fences
Xanthe Elbrick, Candida
Mary Beth Hurt, When the Rain Stops Falling
Scarlett Johansson, A View from the Bridge
Andrea Riseborough, The Pride
Could that ballot be why Rosemary Harris, The Royal Family, is absent from the category?
Outstanding Featured Actor, Musical
Kevin Chamberlin, The Addams Family
Robin De Jesus, La Cage Aux Folles
Jeffry Denman, Yank!
Christopher Fitzgerald, Finian's Rainbow
Jeremy Morse, Bloodsong of Love
Bobby Steggert, Ragtime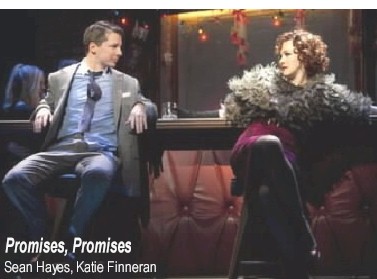 Outstanding Featured Actress, Musical
Carolee Carmello, The Addams Family
Carrie Cimma, Lizzie Borden
Katie Finneran, Promises, Promises
Angela Lansbury, A Little Night Music
Kenita Miller, Langston in Harlem
Terri White, Finian's Rainbow
Outstanding Director, Play
Jonathan Bank, So Help Me God!
Jack Cummings III, The Boys in the Band
Sam Gold, Circle Mirror Transformation
Michael Grandage, Hamlet
Michael Grandage, Red
Ethan Hawke, A Lie of the Mind
Outstanding Director, Musical
Warren Carlyle, Finian's Rainbow
Marcia Milgrom Dodge, Ragtime
Igor Goldin, Yank!
Terry Johnson, La Cage Aux Folles
Michael Mayer, American Idiot
Susan Stroman, The Scottsboro Boys
Outstanding Choreography
Warren Carlyle, Finian's Rainbow
Marcia Milgrom Dodge, Ragtime
Lynne Page, La Cage Aux Folles
Susan Stroman, The Scottsboro Boys
Twyla Tharp, Come Fly Away
Sergio Trujillo, Memphis
Outstanding Music
David Bryan, Memphis
Michael Friedman, Bloody, Bloody, Andrew Jackson
Joe Iconis, Bloodsong of Love
John Kander, Fred Ebb, The Scottsboro Boys
Andrew Lippa, The Addams Family
Joseph Zellnik, Yank!
Outstanding Lyrics
Rick Crom, Newsicall
Kevin Del Aguila, Click, Clack, Moo
John Kander, Fred Ebb, The Scottsboro Boys
Dillie Keane, Adèle Anderson, Fascinating Aïda: Absolutely Miraculous!
Andrew Lippa, The Addams Family
David Zellnik, Yank!
Outstanding Book
Joe DiPietro, Memphis
Joe Iconis, Bloodsong of Love
Dick Scanlan, Sherrie Rene Scott, Everyday Rapture
David Thompson, The Scottsboro Boys
Alex Timbers, Bloody, Bloody, Andrew Jackson
David Zellnik, Yank!
Outstanding Revue
Fascinating Aïda: Absolutely Miraculous!
Million Dollar Quartet
Newsical The Musical
Simon Green: Traveling Light
Sondheim on Sondheim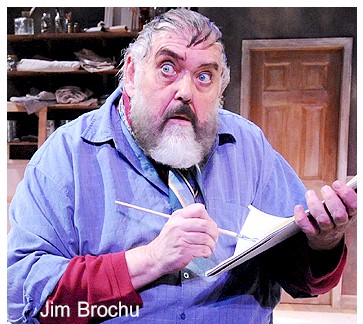 Outstanding Solo Performance
Theodore Bikel, Sholom Aleichem: Laughter Through Tears
Jim Brochu, Zero Hour
Colman Domingo, A Boy and his Soul
Carrie Fisher, Wishful Drinking
Judith Ivey, The Lady With All the Answers
Anna Deavere Smith, Let Me Down Easy
Unique Theatrical Experience
Fêtes de la Nuit
Hansel and Gretel
Imaginocean
Love, Loss, and What I Wore
The Provenance of Beauty
Stuffed and Unstrung
For the nominees in these catagories, visit www.dramadesk.com:
Outstanding Music in a Play
Outstanding Set Design
Outstanding Costume Design
Outstanding Lighting Design
Outstanding Sound Design in a Musical
Outstanding Sound Design in a Play
Drama Desk honors Bway, Off Bway, Off Off Bway, and not-for-profit theater. Robert R. Blume is Awards exec producer of the DD Awards, which are co-presented by Theatermania.com, with Jeff Kalpak as director.
The nominees were feted to a reception May 6 at the Brazilian steak house Churrascaria Plataforma on West 49th Street.
A limited number of tickets are still available at www.theatermania.com.

Oh, What a Season!
An economic downturn, rampant unemployment, home mortagemania, terrorist plots, and a drop in tourism must have happened in a Dallas-type dream. It certainly hasn't affected theater attendance with Bway and Off Bway boasting their best season yet.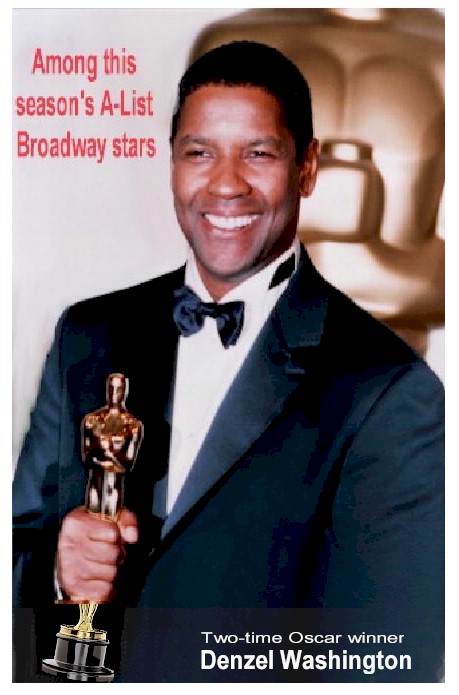 The fact that ticket prices are through the roof hasn't hurt to make box offices boffo. It's something everyone complains about but which they keep ignoring. Natives and visitors alike flock to the unique TKTS booth in Times Square, and not just to perch themselves in the dark at the top for the red stairs. What would theater attendance be without TKTS [the booths and their mailings offering steep ticket discounts]?
No denying, this season audiences didn't flock to theater only because of their love for The Bard, celebrated-to-the-nth-degree composer Sondheim, or any number of brilliant playwrights. It was star power that filled seats.

New York theater can almost lay claim to M-G-M's old tagline of boasting to have "More stars than there are in Heaven." So many A-List artists appeared or are appearinging this season that producer wallets must be empty.
Among the stage veterans and stars of film and TV are Dylan Baker, Justin Bartha, Laura Benanti, Theodore Bikel, Cate Blanchett, Eric Bogosian, Abigail Breslin, Matthew Broderick, Norbert Leo Butz, Keith Carradine, Michael Cerveris, Kristin Chenoweth, Victoria Clark, Barbara Cook, Daniel Craig, Willem Dafoe, Hugh Dancy, Jeff Daniels, Viola Davis, Dame Edna, Michael Feinstein, Carrie Fisher, John Gallagher, Victor Garber, Kelsey Grammar, David Allen Grier, Valerie Harper, Rosemary Harris, Anne Hathaway, Sean Hayes, Philip Seymour Hoffman, Mary Beth Hurt, Judith Ivey, Hugh Jackman, Cheyenne Jackson, Brian d'Arcy James, Scarlett Johansson, Kristen Johnson, Leslie Jordan, Nathan Lane, Angela Lansbury, Anthony LaPaglia, Christine Lahti, Linda Lavin, Jude Law, Laura Linney, and John Lithgow.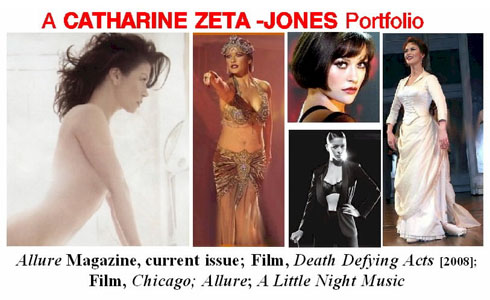 They were joined by Audra MacDonald, Michael McKean, Janet McTeer, Anthony Mackie, Marin Mazzie, Laurie Metcalf, Johnnie Lee Miller, Siena Miller, Alfred Molina, Bebe Neuwirth, Sarah Paulson, Bill Pullman, Tony Roberts, Sam Rockwell, Liev Schreiber, Tony Shalhoub, Alicia Silverstone, Anna Deavere Smith, Jimmy Smits, James Spader, John Stamos, Julia Stiles, Richard Thomas, Michael Urie, Christopher Walken, Denzel Washington, Ben Whishaw, Lillias White, Vanessa Williams, Tom Wopat, the Allureing Catharine Zeta-Jones, and, last but certainly not least, in her last stage appearance, Lynn Redgrave.

Next Season Possibilities
Let's hope the president of the United States, at least the one on Fox-TV's blockbuster thriller 24, which comes to an end next week after eight seasons, Tony, DD, and Emmy-winner Cherry Jones; and, with the conclusion of the mysterious mystery series Lost after six seasons, Emmy winner Michael Emerson, who played arch enemy Ben Linus and Henry Gale, will soon return to New York stages.
[Can you wait for the DVD box sets of these two series, among the best ever on TV?]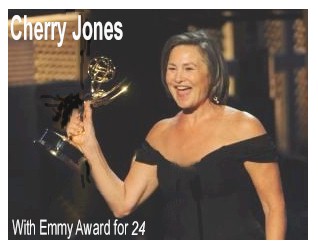 Jones, returning to New York the day after 24 wrapped, dropped off her luggage, made a quick change, and was immediately off to the theater to catch former partner Sarah Paulson in Collected Stories.
"As much as I loved California-living," she said, "I really missed doing theater. I'm itching to get back onstage."
From the number of scripts being sent to her by her agent, that may be sooner than later.

Honors for a Theatical Dynamo
Monday, beginning at 6:30, at the awesome Capitale [130 Bowery at Grand Street], the Lower East Side Tenement Museum [97 Orchard Street] will not only celebrate its 22nd Anniversary as a cultural institution but will also honor one of show business' most honored artists and her activist husband.
Award-winning stage [four Tony noms; four and won DD Awards], and screen [two-time Emmy nom] actress, even [male] beauty pageant emcee Tovah Feldshuh and Andrew Levy, a real estate attorney whose roots extent to a family-run dry goods store on the LES's Rivington Street, will be saluted with a gala dinner and entertainment. There will also be a live auction run by a Christie's auctioneer.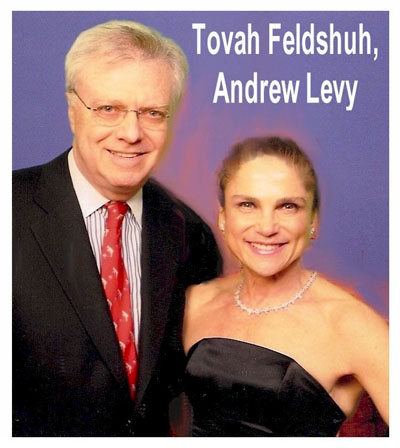 Feldshuh is the recipient of the Israel Peace Medal and the Eleanor Roosevelt Humanitas Award and is tireless in her work in the development, enrichment, and support of the Jewish community through the arts. Levy, a contributor to the New York Law Journal, is a former assistant adjunct professor at NYU's Center for Hospitality Studies.

Headlining the entertainment will be none other than the indefatigable Feldshuh, currently appearing at San Diego's Old Globe in her hit one-woman show, Golda's Balcony and who, in tireless Feldshuh style, will fly in on her dark day only to return West for her last week of performances.
Chef Pichet Ong, whose celebrated cuisine at P*ONG, Village Tart, the Spot, and Batch Bakery, blends Southeast Asia with traditional American, will also be saluted.
The goal is to awareness of the Tenement Museum and support for Museum's educational programs [serving 160,000 visitors annually] and upkeep of the six period apartments that reflect the personal histories of former LES families.

The Museum is an accredited member of the American Association of Museums and an affiliate of the National Park Service and the National Trust for Historic Preservation. It was recently honored in White House ceremonies with the Preserve America Presidential Award and the National Medal for Museum Service.

Honors from the Theatre Museum
Last Monday at the Players Club in Grammercy Park, the Theatre Museum honored Disney film musical legends Richard M Sherman and Robert B. Sherman, with its Theatre Museum's Career Achievement Award, the Mint Theatre Company for Theatre Preservation in their mission to revive long ago classics; and Samuel French, the publisher/licensee of countless plays, for Theatre Arts Education.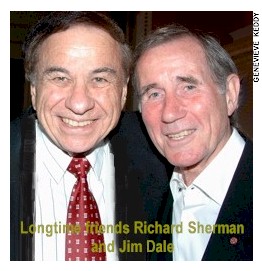 Disney Theatrical's Thomas Schumacher made the presentation to Richard Sherman, who accepted on behalf of his brother Robert, who was in London and unable to attend. Veteran actor George Morfogen made the Mint presentation to the theatre's A.D. Jonathan Bank.
Among the artists providing entertainment were John Bolton, Kevin Cahoon, Jim Dale, Jessica Grove, and Noah Racey. The entertainment portion was directed by Tony Walton, with Aaron Gandy as musical director.
Tony and Drama Desk winner Dale, an Oscar-winner for Best Song for his tune "Georgy Girl," performed Sherman Brothers songs from the once-Broadway bound musical, Busker Alley, based on the film St. Martin's Lane which starred Charles Laughton.
"I remember the buskers outside London's West End theatres in the late 40s," said Dale. "I'd been taught their comedic dancing when I was nine, so when Tony Walton [who was to direct the musical] offered me the role of Charlie Baxter, I had a good idea of his kind of life. I went a step further and learned ventriloquism and to play ukulele. It's a wonderful role for any song and dance man. I still hope one day it will materialize onstage. My added experience as a comic in the British Music Hall traditions was an enormous help. The score is better than Chitty, Chitty, Bang, Bang and Mary Poppins."
Helen Marie Guditis, is T.M. board prez with Bway producer/author/playwright Stewart F. Lane as board chair. The Museum has presented awards for excellence in theater history preservation and theater arts education, For more information on Theatre Museum programs, visit www.thetheatremuseum.org.

A Don't Miss Event
Town Hall will present the 10th Anniversary Season season finale of the Broadway By the Year series, created, written and hosted by Scott Siegel on June 14 with highlights from all 10 season. The songs will come from such musicals as Aspects of Love, Falsettos, Jersey Boys, Kiss of the Spider Woman, Ragtime,, and Wicked.
"It was our intention to make this 10th Anniversary season as special and memorable as possible," said Siegel. "To that end, fr our final show of the season [June 14]," he continues, "we'll got something spectacular and very special planned - something we've never done before. The cast members will perform one song from each show we've celebrated from 1990 to 2010. That's going to be 21 great showstopping tunes."
Music director/arranger Ross Patterson will be joined by his Little Big Band.
Single tickets are $45-$55 and available at the Town Hall box office, at www.the-townhall-nyc.org, through Ticketmaster, (800) 982-2787 and their web site, www.ticketmaster.com.
Ellis Nassour is an international media journalist, and author of Honky Tonk Angel: The Intimate Story of Patsy Cline, which he has adapted into a musical for the stage. Visit www.patsyclinehta.com.

He can be reached at [email protected]





Why are you looking all the way down here?
For more articles by Ellis Nassour, click the links below!

Previous: Openings, Nominations, Soon the Awards; Enron's Stephen Kunken and Playwright Lucy Prebble; Christmas Comes a Little Early This Year; Mr. Frank Comes to New York; Bette, Constantine, and Diana Find It Easy Going Green

Next: Starry, Starry Nights [Hopefully] with the Bard; Broadway by the Year Celebrates 10th Anniversary; Old Flames Reignite [Onstage]; Summer in and Out of the City; Stars Rally for Dancers; Cast CDs and Re-releases; New to DVD

Or go to the Archives