The New York International Fringe Festival [FringeNYC], celebrating its 14th Anniversary as North America's largest multi-arts festival, is coming to a close. More than 195 entries from theater companies worldwide will have been presented in 20 venues by the closing date on Sunday, August 29. That's in addition to such subsidiary activities as FringeJR, FringeHIGH, FringeAL FRESCO, and FringeART.
It is realistically impossible for 99 99/100% of interested theatermavens to see all the entries. In any given year, there are probably about two-thirds you probably wouldn't even be interested in seeing.
One of the challenges and maybe virtures of the Fringe is that except for brief descriptions in the catalog and graphics on the postcards the orgs distribute, you have no idea what is worth catching. At one of the first performances, I heard a gent tell a friend that he goes on instinct. The friend replied that he's learned to only go to the musicals.
So among all the good, bad, and somewhere-inbetween here are three works with standout writing and the type of superb acting that you only find from quite seasoned actors in veteran playwrights' works under the direction of renowned helmers.
Just In Time - The Judy Holliday Story by Bob Sloan [The Box, a 2006 Fringe hit] is not only as advertised, "a fast-paced romp through the life of the original dumb blonde...featuring such cohorts as Orson Welles, Katherine Hepburn, Comden and Green, and Gloria Swanson," but it takes show biz bios to a new level. One of the most hilarious new works in years, with more tunes [two of the ones heard are by Holliday], it could easily move and become an Off Bway smash - for that matter, even a Bway winner.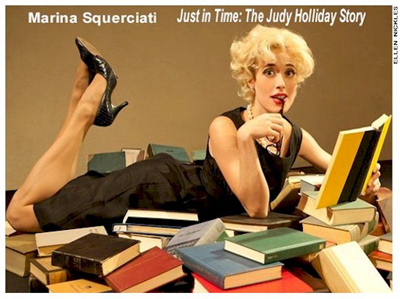 As good as Sloan's writing and innovative staging is, JIT is a prime showcase for the talents of four truly gifted actors who seem to have been born with comedy genes.

There's Marina Squerciati, who's mesmerizingly excellent but also stuns in the depth of her portrayal of Holliday; sassy Catherine LeFrere, who on the basis of this performance as Everywoman should be at the top of every casting director's list for a knock out actor who can seize a stage and make it her own - and against some stiff competition.

That comes from Mary Gutzi, a seasoned pro [ensemble and Fantine u/s in the original Les Miz; and most recently in D.C. as Signora Nacarelli in Arena Stage's The Light in the Piazza] as another ultimate stage mother - separated one miniscule degree from Mama Rose; and handsome, lanky Adam Harrington, who though at least 6'4" is so adept at transforming himself, he can easily play short, tall, fat, and anything inbetween.
Tom Jacobson's The Twentieth-Century Way, from Pasadena's Boston Court Performing Arts Center, is a torn-from-archival headlines work. It has an especially unique set-up: two actors, competing to one up each other in the audition process in an effort to be hired as "vice specialists" by Long Beach, CA's police department. Their job will be to entrap homosexuals for "social vagrancy" in public places, such as restrooms and beach changing rooms by marking a certain body part with indelible ink. The fact that the incidents depicted became the model for a national method of police entrapment adds to the historic value.

Even with only a few props and a wardrobe of various pieces of colorful clothing, director Michael Michetti has his hands full. Jacobson has written a very fast-paced play filled with with slang, in jokes, and contemporary references. It's all quite ingenius until the set-up becomes questionable as it segues into a cat-and-mouse sexcapade and, oddly amidst such intensity - and even clocking in at 95 minutes, it becomes monotuous. It's such a well-crafted work that the heavy reliance on references to that body part begin to feel out of place and spoil what began as a helluva lot of fun.

Thankfully, TT-CW is saved by the timing and outright sensational acting of Will Bradley and Robert Mammana [1987 Les Miz]. Bradley, the younger of the two, has the matinee idol looks to be the next Leonardo DiCaprio; and, if his work here is an example, there's not a role that Mammana couldn't take to the cleaners.
The 10-member male ensemble from Stan Richardson's Veritas, is a casting director's dream come true. Though some have played On and Off in plays and musicals and have regional and/or film/TV credits, I don't imagine anything you may have these cast members in could prepare you for the awesome work they do here.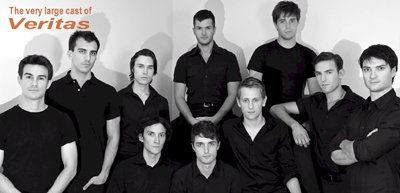 It's a pretty straight-forward and compelling story, based on a 1920 incident where Harvard students fell prey to an administration witch-hunt to purge homosexuals. The vignettes are interesting, but student names are thrown at you so fast you need a score card to keep up with who's who and who did what.

Richardson and director Ryan Davis go to great lengths, in spite of one of the very best acting ensembles ever assembled, to make 100 minutes feel like two hours. The play need not be any longer to have more clarity. From out of nowhere, there's a jarring epilogue that pulls you out of the tragedy of the individual outcomes and takes you into the realm of comedy and parody. That time would be better spent in telling more story.
That's just the tip of the iceberg of ab fab acting talent working in this year's Fringe.
As is the norm, this year's Fringe had more than it's share of parody, satire, political diatribes, inane works, and gay themed plays. Actually, in a couple of cases you could find all that in one work!
It's impossible to highlight all the entries among the plays/musicals/unique theatrical experiences/solo shows, but they're getting a lot of buzz, so some, perhaps like The Hurricane Katrina Comedy Festival about the human initiative following the heartbreak of the devastating New Orleans flooding, may be back for open-ended or limited engagements.
For the full roster, schedules, venues, ticket packages, program guides, maps, info on volunteering, Fringe Café hours, and much more, visit the Fringe Central box office or link to
www.FringeNYC.org
.
Tony Winning Actor Returns to Sondheim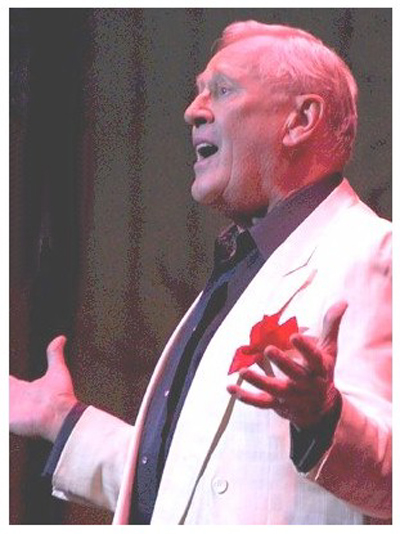 Following four sold out weeks shows, Sondheim Unplugged will have an added show this Friday at 7 P.M. at the Laurie Beechman Theatre with special guest star, Len Cariou, Tony and Drama Desk-winner for originating the role of Sweeney in Sweeney Todd and a Tony nom for his Frederik in the original A Little Night Music.
Among those singing with piano accompaniment only and joining Cariou are Lisa Asher, Julia Murney, Trent Armand Kendall, Sarah Rice, Becca Johnson, Trevor Southworth, Joe Iconis and Nikki Scalera. Hosting is Phil Geoffrey Bond with musical direction by Tracy Stark.
There's a $20 cover charge and $15 food/beverage minimum (dinner menu is available). To reserve, call (212) 695 6909.
Other Fringe News
Perkins 28 Productions has announced that Stan Richardson's much-discussed Veritas, which was sold out before the first performance, has added an extra performance this Thursday at 3:30pm at HERE Arts Center Mainstage [145 Sixth Avenue, entry on Dominick Street] It's the story of a group of 1920 Harvard gay men whose futures fell prey to a secret court, a witch-hunt conducted by the administration to purge homosexuality.
The remaining sold out performances are: today at 4:15 P.M., Friday at 5:15, and Saturday at 8. Directing is Ryan Davis [The Broadway Beauty Pageant, the annual benefit for the Ali Forney Center]. He's the creator and associate producer of the Broadway-bound musical White Noise. For more information, visit
www.VeritasThePlay.com
Fringe Encore Series Announced
FringeNYC has announced the dates, September 9-26, for the Encore Series, featuring 20 works in rotating repertory of some of the in demand shows that budgeted for extra performances. Venues will be the Lucille Lortel and Players theatres. Tickets will be $18 and become available August 29th at www.FringeNYC-EncoreSeries.com or by calling (866) 468-7619.


Remembering Mae West
Actress, playwright, screenwriter, and iconic sex symbol Mae West [1893-1980] created scandalous sensations after she transitioned from vaudeville to Broadway in plays such as her 1926 Sex. She was convicted of obscenity and sentenced to 10 in the old Women's House of Detention. There, she regaled reporters and entertained the warden and guards, even played cards with them - and won.
When she segued at the ripe age of 40 into movies, she became a late-in-life sex symbol and spent the rest of her life honing that image.
Ms. West was Number One at the box office. Her self-penned screenplays, some based on her controversial stage work, are said to have saved Paramount Studios from bankruptcy. Her films, none more hilarious than when she matched wits with W.C. Fields in My Little Chicadee, were notorious for double-entendres that somehow made it by the Hollywood Code's Hayes Office.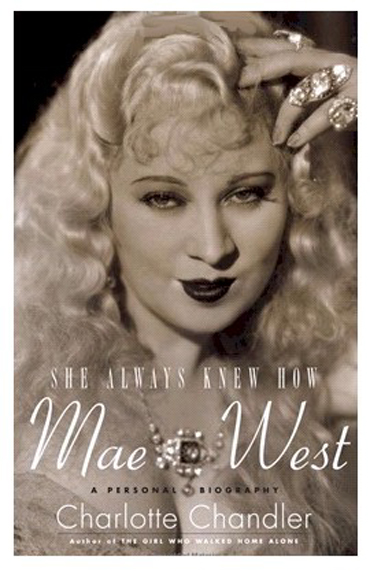 However, behind the screen image was a very savvy business woman, especially when it came to buying up Hollywood real estate in the 30s. If only she hadn't become so obsessed with sex, Ms. West could have gone on to become one of filmdom's greatest comic actresses.
However, when tastes changes and her career waned, she took her act, surrounded by muscle men to Vegas and the U.K. She performed on radio and made occasional guest TV appearances in addition to recording some pretty awful rock 'n roll albums that today are prized collectibles.
C
harlotte Chandler, who's written bios on Ingrid Bergman, Joan Crawford, Bette Davis, and director Billy Wilder know her turf. Her She Always Knew How, [Applause Books; 336 pages; trade softcover, 17 pages of B&W photos; Index; SRP $17], republished on the occasion of the 117th anniversary of her birth, intimately explores the rare creature that was Mae West. She was fortunate to interview Ms. West mere months before her death. Chandler also spoke with West's peers, actors, directors, and Paul Novak, who devoted most of his life to Ms. West as assistant, confidante, and lover.
[Trivia: Jerry Orbach, when he was between roles, drove limos. He was once chauffeur to Mae West.]

Memorable Visits with "Aunt Mae"
Ms. Chandler isn't the only writer who had rare access to Mae West. Presented here are excerpts from Visits with Aunt Mae by Ellis Nassour
[© 1985; all rights reserved; used with permission].
[N.B.: After knowing Ms. West for seven years through a family connection, I had the pleasure of working with her to promote a recording project of some of her famous movie lines.]

The life and career of Mae West, sometime in the early to mid-50s, became an existential thing.



The last time I saw Miss West, as I always called her, was the spring of

1978, at which time she was beginning to fall into a state of increasing bewilderment, which today we would term dementia or Alzheimer's. During our visit, she told me I reminded her of her nephew [her brother John's son].

That evening, as I departed, I affectionately called her Aunt Mae.

That day we spoke of the legends she knew: Al Jolson, Greta Garbo, W.C. Fields. What makes a legend, I wanted to know. "To be a legend," Ms. West stated, "you got to be different - have a special look, or walk, or aura. In my case, I had it all. And knew how to use it. These aren't gestures you learn in high school, dear. They come natural. And my basic style, I never changed. Half the women in the world - and quite a few men - have imitated me. They only imitate you if you're unique. I am."

To visit Mae West was an unforgettable and quite theatrical experience, especially if you were aware of her films, her controversy, her legend, her myth. She certainly didn't disappoint.

Among her vast real estate holdings, which she began to purchase when she was the highest paid Hollywoodfemale star was a ranch in the Hills and Santa Monica beachfront property, including a Moderne-designed home, which she often frequented even though she went into the sun. She could have afforded an estate that would rival a Raj palace, but home was an apartment, which remained unchanged - like Ms. West - for as long as I can remember. It was the entire sixth floor of a doorman building, in a pleasant residential neighborhood, called Ravenswood.



The last time I visited, she stood regally in the hallway in the satin gown she wore in Myra Breckinridge.

Under the special lighting conditions that were de rigueur - and just a little reminiscent of the moment in Sunset Boulevard when Joe meets Norma for the first time* - it was obvious the dress, like the furnishings, was a bit faded.

[* Billy Wilder desperately wanted Mae West for the lead in Sunset Boulevard.]
Ms. West was all about her screen image as she flipped the tresses of her long blonde wig and swiveled the hips of her no longer svelte body.

It was a living movie and I could vividly see her in an earlier film sidling up to Cary Grant, whom she always claimed she discovered [she really didn't, but she did advace his career by demanding he play opposite her, and with star billing] and saying, "Why don't you come up and see me sometime?"

Gone were the days when sister Beverly, her absolute alter ego, or her very proper butler Grayson would boom as you arrived, "And now here's Miss Mae."

Seriously.

In later visits, you were received by a man many found cold and intimidating, but whom I thought was a prince of the earth.

He was Paul Novak, a former wrestler and muscleman in Ms. West's club and stage shows.

For the last 27 years of her life, he was her absolutely devoted confidant and factotum.

Paul

received you at the elevator and brought you to the small, darkened living room with its special overhead lighting and the famed nude alabaster statue of Mae West by Gladys Lewis Bush on the grand piano.

He would serve you water and then talk to you while you waited.

Mae West still loved to make an entrance.



There was a signal when she was ready for her close-up, because suddenly Paul would excuse himself and go to Mae's bedroom.

Then, on his arms, she would saunter in - all 5'2" of her, a fact she always obscured by wearing five-inch platform shoes draped by a long gown.


It's impossible to forget her greeting of "Hi ya," a throwback to her Brooklyn days. Of course, you stood. She was a lady and you were in the presnce of royalty. Her handshake was ever firm and you were mesmerized by her sparkling baby blue eyes. She smiled widely to assure you that the teeth were all hers. "Sit down, dear," she utttered in a gentle, loud whisper, as she glided to her armchair. Paul pointed to the end of the brocaded couch, right next to her. Another fascinating conversation followed.

The "Sex Empress of the Silver Screen" was only seven going on eight when she made her first public statge appearance, billed as Baby Mae and vamped her way to First Prize in an Elks Club show at Brooklyn's Fulton Street Roya Theatre. That was the beginning of the career of the scintillating, flamboyant Mae West that only continued to grow and become exaggerated over the years - mainly by herself.
By the time she made her film debut in 1932 at the age of 45 [she claimed 40] in Night After Night - delivering her famous "Goodness had nothing to do with it, dearie" line as a retort on a compliment from a hat check girl about her diamonds - her P.T. Barnumish showmanship was fabled.

Ms. West introduced the shimmy in Chicago during the 1918 pre-Broadway run of Rudolf Friml's Sometime, after she saw South Side blacks doing the dance in a club. She was the author/star of Sex, which created such an uproar in New York over obscenity that Ms. West was arrested briefly for "corrupting young minds. Some of her ideas were so far ahead of the curve that it was all but impossible get some of her plays up.

When not meeting with her financial advisors or going over the details on how she would make her entrance at the two Universal Studios soundstages that would house the backlot media event for the album launch, Ms. West's day was spent honing the legend and myth of Mae West.
She did not look in her mid-80s. However, you had to swallow hard when she would utter statements such as "I look like I'm in my thirties. A lot of people think I'm in my late twenties. I've got letters from twelve- and thirteen-year-olds who tell me I look young enough to be their mother. There's not a line on my face! And look at my hands! They're as smooth as a baby's behind."
True, sort of. Ms. West's skin was like a baby's - at least, the parts she exposed. As far as lines on her face, there were no really discernible ones. She swore she never had plastic surgery. I always imagined she spent the better part of her days on personal ritual, such as rubbing on ointments and creams to preserve the illusion. There wasn't much reality at Ravenswood.

It's all in the body and mind, she said. "Keep your mind thinking young and keep your insides healthy and youthful. I've had a happy life. The happiness part is important. I pamper myself, but why shouldn't I? I love myself! If you can't do that, how can you expect someone to love you or to love someone else? I like Mae West best - all of me. Look! Show me anyone who, at my age, can do what I'm doing* and look the way I do."
[* She was about to make the film Sextette, which was frought with difficulties.]
Ms. West said that most women, when they reach 40, must start playing character parts, but that she only played leads. She stated that when she looked into the mirror, "I realize that I give others hope."

For a woman who became outraged at such stars as Bette Midler, Streisand [in the film Hello, Dolly] and Madonna for copying her, she could be guilty of at least one crime. Her blonde tresses, which she claimed to be her natural hair and may have been - if they were used to craft the obvious wig she was wearing [she wore wigs her entire career, carefully hiding the scalp line] was done in the style that Brigette Bardot made famous in the 60s.

One of her closest friends, after her 1980 death from complications following a fall and stroke, put it best: "For decades, like Narcissus, kneeling by his pool lost in self-adoration, Mae reclined on her satin-sheeted bed, gazing rapturously at her misty image reflected in her mirrored canopy. Self-hypnotized, she believed so deeply in her youthful luminosity that she felt the public accepted her unchanged and unchangeable."
Who came closest in the imitation department? "Marilyn Monroe. She had magnetism and sex appeal. The masses loved her. She couldn't talk or dominate a picture the way I did, though. Chaplin's the only other person who could star in and write his films."

In the male department, Mae said she liked Elvis. "He was raw and the sexiest actor around. He could sing, too. When he started and caused so much of a ruckus swiveling his hips, I thought, 'He's takin' what I did and settin' it to music.' And, like me, he brought freedom and independence to the public."

She was always flattered by her popularity among homosexuals. "They're good people and I always stand up for them. I like the impersonations the gay boys do. I had flamboyance and style. They liked that. I've had wonderful gay friends since my days in vaudeville. I used to bring the chorus boys home with me. Mama loved 'em. We'd cook for them and they'd fix our hair."

She knew she was different because, from the time she was 12, boys hung around her "six and seven at a time." She said, "We'd mostly talk or sing and dance, but sometime we'd hug and kiss. They wanted to play around, but I came from a proper family, so I never let them go too far. I knew I had something, but then I didn't know it was called sex appeal. Even later, I didn't know what made men brawl over me."

The public made her a star. "They responded to me because I had something they liked. I gave them what they wanted. The men liked me, but the women came to see me, too. Women really supported me. Men could do everything, but not the gals. This was nonsense! Why shouldn't women be able to do what they wanted even if it was of a sexual nature?"

Mae observed that before she came along, you couldn't print the word "sex." "I'm flattered when people say I invented it. I didn't. Now it's on billboards, all over the movies. People shout it. It's not special anymore. It's been so exploited, it's not fun anymore. What's missing is a respect for sex."

She explained that sex in films was going through a rough period. "It's being misused and mishandled." As far as language was concerned, "I would never want censorship, but writers and directors ought to learn four-letter words aren't the full extent of the English language. I never used a four-letter word. I didn't have to rely on that for laughs. We've gained full freedom to say and see everything, but we've lost something, too."

Of films she'd seen up to that point, she liked Star Wars. "It made people laugh and have fun. I coulda been in that one. I'd like to do a science-fiction. I could have played the Moon Goddess."


She spoke of her "feud" with W. C. Fields. "Bill was difficult, but I didn't hate him. There was no one quite like him. I always enjoyed his comedy. My only doubts about him came in bottles. I wrote My Little Chickadee and put in a terrific part for him. I had my ideas, he had his and the studio had theirs. I did my best to make Bill's part funny, but he became envious of me getting so many big laughs from the crew. He wanted to write a scene for himself, and demanded co-billing."

Their real problem, Ms. West reported, was when Fields began drinking on the set. "I had a non-drinking clause in my contract and he was holding up the company. It got so bad, I told Lester [Cowan, the producer] and Eddie [Cline, the director], 'Pour him outa here!' Somehow, we managed to finish it. Over the years, millions have seen it. It's probably his best-remembered picture. Universal kept saying what a great team we were, and wanted us to do another picture. But one was enough."


Does she ever grow tired of being Mae West? She looked at me with utter
incredulity. "No. You can't get enough of a good thing.
My life and career have been fulfilling and satisfying. I have no regrets. I accomplished a lot and had fun. I was always an individualist - a loner. As a kid, I never had much time to mix with other children, but I didn't miss that. Growing up in show business made me a lot smarter."
She said that it was vital to know your worth, especially in a business as fickle as show business.
"I always pushed.
I never stood still. I called the shots. I never allowed myself to be treated second class because I was a woman. There're still people who resent me because I was nobody's fool. The thing I'm proudest of is that I broke a lot of ground."
Ellis Nassour is an international media journalist, and author of Honky Tonk Angel: The Intimate Story of Patsy Cline, which he has adapted into a musical for the stage. Visit www.patsyclinehta.com.

He can be reached at [email protected]





Why are you looking all the way down here?
For more articles by Ellis Nassour, click the links below!

Previous: Dog Days of Summer Sizzle with Lots of Things to See, Do, Experience II ~ and Red Hot Sizzle from Argentina's "Firecracker" at Lincoln Center Film!

Next: Turning Pages with Patti LuPone and Elaine Paige; 48th New York Film Festival; The Scottish Play; Michael Douglas by Ellis Nassour

Or go to the Archives