Sir Tim Rice will make a rare New York appearance tonight at The New York Times Times Talk series. In addition to speaking on his career, the Oscar, Tony, and Drama Desk-winning lyricist will host Sir Tim Rice & Friends, a salute to his Disney Broadway musicals, at 6 P.M. at the TimesCenter [242 West 41st Street, between Seventh and Eighth Avenues]. The event is part of The New York Times 10th annual Arts & Leisure Weekend, running through Sunday.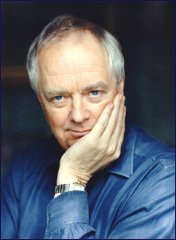 Disney Theatricals prez Thomas Schumacher announces that the entertainment portion will feature veterans of one or more Disney's Bway shows. They are Ashley Brown, the original Mary, Mary Poppinsy; Heidi Blickenstaff, a later Ursula, The Little Mermaid; Merle Dandridge, Kala in Tarzan; Christopher Jackson, The Lion King), Tshidi Manye, currently Rafiki in TLK; Josh Strickland, title role, Tarzan; and Alton Fitzgerald White, currently Mufasa in TLK.

Selections from Rice/Disney's oeuvre will include King David, TLK, and Aida. In addition, there'll be songs from Beauty and the Beast, MP, TLM, and Tarzan. James Abbott is musical director.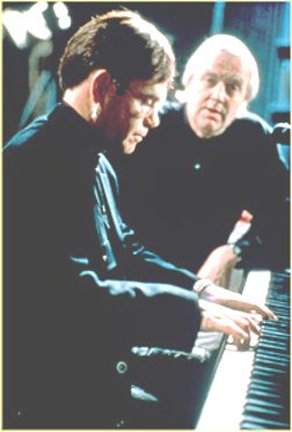 Rice partnered with composer Alan Menken for BATB and King David, and with Elton John on TLK [film and stage] and Aida. He was Tony and DD-nom'd, Original Score, BATB and, with John, Tony-nom'd for TLK. He and John won the Tony, Original Score, for Aida.

His early notable shows include Jesus Christ Superstar, Tony-winning Evita [Book, Original Score] composed by Andrew Lloyd Webber [revived on the W.E. in 2006 and heading to Bway in Spring starring Argentine actress Elena Roger, reprising her W.E. role, and Ricky Martin as Che], Joseph and the Amazing Technicolor Dreamcoat [with Webber] and Chess [music by ABBA's Benny Andersson and Björn Ulvaeus].


More TimesTalk
Tonight, at 8, music critic Jon Pareles interviews Nine Inch Nails' Trent Reznor, discussing his music for David Fincher's acclaimed The Social Network.

Tomorrow, at Noon, Times Ideas editor Patricia Cohen hosts Pulitzer Prize-winning author Annie Proulx [The Shipping News, Brokeback Mountain]. Following, at 4, Janet Maslin has a sit-down with Robert Redford, discussing his latest film, The Conspirator, and leadership of the Sundance Institute, founded 30 years ago "to foster independence, discovery and new voices in American film."
Sunday, you could spend the entire day at the TimesCenter. On the roster are crossword puzzle editor Will Shortz at 10 A.M.; Dave Itzkoff interviews Oscar-nom Michelle Williams [Blue Valentine] at Noon.

At 2, classical pianist superstar Lang Lang, interviewed by James Barron; at 4, Charles McGrath hosts Terence Winter, Emmy-winning writer, The Sopranos, and co-creator of HBO's Boardwalk Empire, with cast members Steve Buscemi and Paz de la Huerta; at 6, Daniel Walkin interviews James Levine, celebrating 40 years conducting at the Met.

Closing the series at 8, A Conversation with Music with Billie Joe Armstrong, Green Day vocalist/guitarist, and director Michael Mayer, the Tony and DD-nom'd American Idiot, joined by Tony-winner John Gallagher Jr. with Patrick Healy as interviewer.

Tickets are $30 for each interview. To purchase and for additional information, visit www.ArtsAndLeisureWeekend.com or call (888) NYT-1870.


Lorna Luft Remembers Mama with Songs and Memories

Songs My Mother Taught Me, at Feinstein's at Loews Regency through Sunday, is Lorna Luft's tribute to mom Judy Garland. It's a magical trip down the yellow brick road.

Luft early on says that mom JG kidded her about preferring "the loud songs." Evidently, mama knew this gal was a belter.

The show, penned by TV variety sketch veterans Ken and Mitzi Welch [Carol Burnette shows, a Streisand TV special], opens on a poignant note: JG on her TV variety series singing to her young daughter a song specially written for her by Johnny Mercer, "Lorna."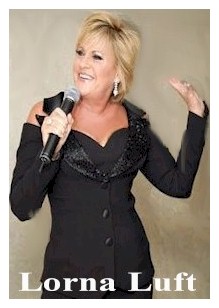 Then come the loud ones! Performing with an 11-piece orchestra, M.D.'d by Colin Freeman, Luft knocks "Swanee," "Chicago," "Rockabye Your Baby (with a Dixie Melody)," "Zing! Went the Strings of My Heart," and "I Feel a Song Coming On" right out of the ballroom.

What follows are Garland's signature ballads, such as "The Man That Got Away," "Come Rain or Come Shine," "You're Nearer," "Through the Years," and a song JG sang in her last film, I Could Go On Singing, "Hello, Bluebird."
The tunes are interspersed with projected photos and home movies transferred to video. Through modern technology, Luft sings several duets with JG.

A showstopping segment that assures you are seeing/hearing a singer onstage is Luft's 25-song medley bracketed into a Born in a Trunk sequence that follows her mother from The Wizard of Oz to being fired by M-G-M [where she made over 25 films in 13 years], her comeback, returning vaudeville to the Palace and her celebrated Carnegie Hall show. Among the songs are well-remembered tunes from The Wizard of Oz, Meet Me in St. Louis, Easter Parade, The Harvey Girls, Summer Stock, and A Star is Born. It's an amazing feat, a triumph - and afterwards she goes on singing!
Just not one particular song. Luft refuses to do "Over the Rainbow," the tune most closely associated with JG, stating, "It would be too painful, and you can't improve on perfection."
Losing her mother at 16 was a devastating blow. "But Mama's never gone away," she explains, "and she'll always be with me. I remember her every time I enter a store and see her as Dorothy on a greeting card, hear her songs on the radio, see her movies on TV.
"When you lose a parent at any age," she continues, "it's life changing, but it was particularly tough as a teenager." Luft is blunt about her years segueing into adulthood. "I was living here, and there was Studio 54, where I became a regular. I dyed my hair purple and sang with Debbie Harry."
She made her solo debut in A.C. on the Steel Pier, sharing billing with Wanda, the Diving Horse. Luft can never be accused of sitting back on her laurels. Her
career has encompassed every arena of entertainment: concerts, stage, film, TV, records, best selling author, and Emmy-nominated producer.
At 11, she made her TV debut singing on The Judy Garland Show. At 16, she shared the bill with JG on Bway in a fabled month-long engagement at the Palace. By 19, she had joined the cast of Bway's Promises, Promises. She went on to play Peppermint Patty in Snoopy, then starred with Farrah Fawcett in the brutally dramatic Extremities. She's been a perennial in stock, regionals, and national tours here and abroad.

All along friends urged her to sing her mother's songs, "but I ran. I was desperate to take my own footsteps. At that stage in my life, I didn't have the strength and ability to give mama's songs what they deserved. It was scary. I had to be strong and emotionally ready, and I wasn't. Fortunately, when I got in my 40s, I could say 'I can do this. I can look at the photographs, the movies, listen to the albums, and not be sad. I began to fully understand this woman who was my mother and my relationship with her. It was a process I had to go through."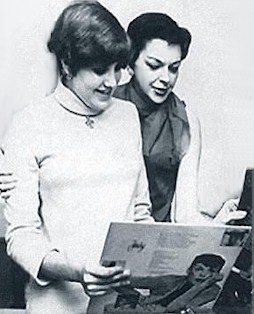 Luft points out that friends who had lost a parent, such as Natalie Cole, Lucie Arnaz, and Lisa Marie Presley, helped her transition. "It's been so fulfilling," she beams, "that I wish I'd done it earlier."
Luft explains she stayed away from her mother's songs for a long time. "ran the other way because I was desperately trying to take my own footsteps. You don't get to know your parents until you're in your 40s. As I got older, I could put myself there. Finally, in my 40s, I was able to do it. I didn't have the strength or ability to give this what it deserved. I had to be strong and emotionally ready, and I wasn't."
She explained that only after she'd written My and My Shadows, and it was adapted for a TV movie, which she exec produced, was she able to face the idea she couldn't rid herself of. "I was able to say, 'I can do this now.' Everyone and their brother have recorded these songs. Why not me?"

However, you won't hear Luft sing "Over the Rainbow." In what should be a truly poignant moment at the finale, you hear a portion of JG's recording, but at the same time Luft is singing the poignant "Shining Star." It could be that the Ballroom is not equipped for dueling amplification, but what should be a flawless moment isn't quite that.

Luft explains it's impossible not to be overcome with memories. "They flash through my head, and they give me strength. It's also my way of paying tribute to the wonderful human being my mother was. One thing that really bugs me is when I hear people say how sad my mother was. She was always happy, no matter the circumstances."

In her concert, she tells a hilarious story of a later JG boyfriend who ran off from the Essex House here with what was left of her mother's jewelry. JG swore revenge, picked up the phone, got connected to the police, and "put on an Academy Award-winning performance" as she reported the theft and where the bf was staying. The clincher was her telling the police that the bf was obsessed with Judy Garland. When the police broke down his door and took him away in handcuffs, he was screaming of his love of JG. He went straight to Bellevue.
She spoke of the Who's Who in show business who passed through their homes [her godfather was none other than Ole Blue Eyes, a devoted life-long friend of JG's]. "We were always singing around the house," she observes. "You never knew who'd pop by. At parties, there was no stopping mama. No one ever had to beg her to sing. She loved doing it." Since childhood, JG had been programmed to perform at the drop of a hat. "She was amazing. Sometimes, I'd step back and think 'Where's that voice coming from?'"

She reports that JG was a wonderful human being. "She was witty, kind, and smart. I mean, look when she started in the business and who she worked with. A lot of that had to rub off! She was the whole package. That's what the show's about. The person, the talent, the songs. It's not about her personal life."

Luft observes that in the early years there was a lot of travel - "not always because I wanted to. There were 17 schools in 17 cities. I got very good in geography, but couldn't spell geography."
Travel's still in her blood. She and Freeman, who's her husband [almost 20 years], have taken Songs My Mother Taught Me around the country, to U.K. [and the West End], Ireland, Australia, and China. They met in 1992, in the U.K. when she was appearing in the revue, Hollywood & Broadway, and Freeman was M.D. She says of him, "He's the half that makes me whole." [Luft has two adult children from a previous marriage, Jesse, who's a stockbroker, and Vanessa, who aspires to be a chef.]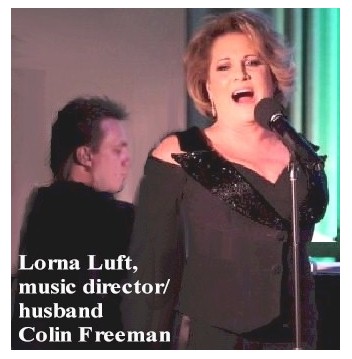 Regarding Peter Quilter's End of the Rainbow, currently on the West End and billed as a play with music, starring Tracie Bennett [U.K. Hairspray, Les Miz], Luft says, "I'm not interested in seeing any of that."
The piece is set in 1968 in Garland's hotel room as she embarks upon her show at London's Talk of the Town at a low point in her career as she attempts to keep going. Though the show's gotten raves for Bennett, it's not always, so to speak, over the rainbow.
Ironically, in 1974, Luft appeared at London's Talk of the Town, which was the site of her mother's last club date. "That was quite a rollercoaster ride with all the emotions that were going through my head."

Quilter has stated, "Garland's an icon, unique. She was a fascinating, charming, compelling, and incredibly funny woman - always. Life, love and fame just got the better of her. Once your brilliance reaches the heights that Garland reached, you have immortality in your grasp. She'll be written about forever."
True as that may be, Luft's not having any of it. "That show is everything I hate. When someone does a show about one part of my mother's life and exploits only the tabloid issues, I resent it. Friends have seen it and for some reason have felt they had to tell me about it. They said Ms. Bennett throws herself arounds room, screams, and yells. That's not my mother! She was about the work she did, the songs she sang, the gifts she left to us.

"If you don't tell the entire story, A to Z, as I attempted in my book and as the TV movie did, you can't do justice," continues Luft. "Mother was always happy in spite of the ups and downs. Amazingly, she always looked at the glass as half full. She was tiny, but she had incredible strength."


Lorna Luft: The Songs My Mother Taught Me is available from First Night Records, co-produced by Barry Manilow and Freeman. For much more on Lorna Luft, visit www.lornaluft.com.

Jackie's Back and Joe's [Pub] Got Her
For a number of occasions, Jackie Hoffman's home-away-from-home has been Joe's Pub. Only to be slightly outdone by Sondheim 80th celebrations, The Hoff's back there again Monday and January 17 with Jackie Five-Oh! her blisteringly funny, often F-word-filled non-family hollercast celebrating her 50th birthday.

She's out for blood! Hoffman muses on her own show biz decay and the fact that she's seems only to play 'bit' parts onstage [of course, not true] or land on the cutting room floor in her occasional bouts with Tinsel Town - or get fired before she even starts working.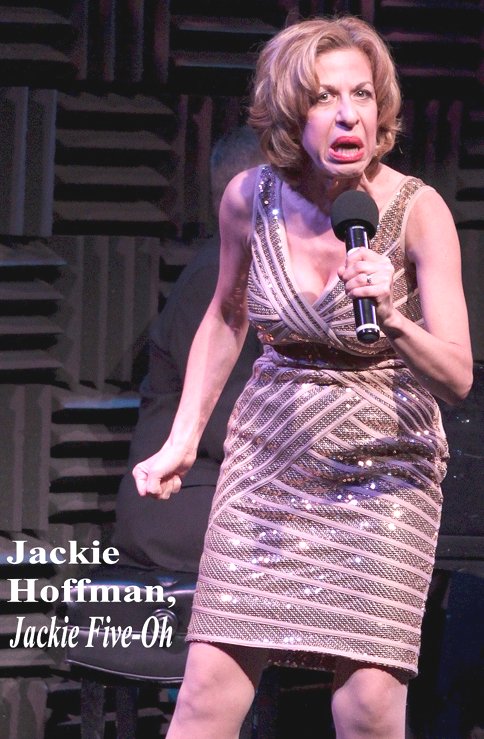 Hoffman's at her unflinching best skewering such sacred cows such as the Tonys and being not quite downright nasty but nasty enough about Queen Latifah, Kristin Chenoweth, and Mary Tyler Moore. She's making it known she wants a role in a Holocaust musical. She def has thoughts on the critical drubbing The Addams Family received and loves reminding anyone who'll listen that it's one of the biggest hits in town. She's quite adept at flinging acid barbs at theater's critical hierarchy - especially one critic at U.S.A. Today, "our go-to newspaper for theater," who found her irriating.

Something only her most devoted fans know is that Hoffman can sing, and not always bellowingly. She has a range that's about 50% Midler and 50% Stritch and a very wide mouth that easily delivers her explosive comments.
She's quite upset that doesn't have much to do in TAF. Hoffman relates that originally Grandma wasn't even in Act Two, but eventually it dawned on the creative team that they needed someone in front of the curtain to distract audiences during a huge set change. Why stand there and not sing? To that end, she valiantly [co-wrote with M.D. Bobby Peaco, a song for herself and submitted it to lyricist/composer Andrew Lippa.

"The one sure way to endear yourself to a musical's composer," she blurts, "is to write your own song." Lippa didn't seem to rise to the occasion, but Hoffman debuts the song Queen Latifah [for "stealing" a film role she was set to play and thus denying her her in the show. You know what? It ain't bad, and could have been the one tune audiences might be humming as they exit up the aisles.
Not everything, especially a couple of the songs, works as effectively as Hoffman, who might consider adding a couple of seconds of charm. Of course, that would change the whole tenor of bitter career reflection. However, give her credit for having chutzpah!
Met's Closed-Circuit HD La Fanciulla


Puccini's La Fanciulla del West or The Girl of the Golden West returned to the Met to commemorate the 100th anniversary of the opera's world prem this past December. The season's final performance tomorrow at 1 P.M. telecasts to 1,500 inemas worldwide via the Met's Live in HD series.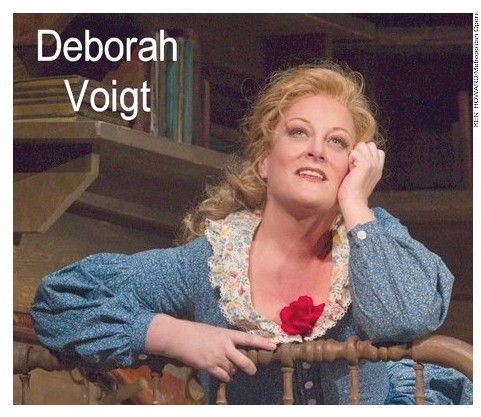 Deborah Voigt, as saloon owner Minnie who's waiting in a lusty Gold Rush mining camp for true love, and Marcello Giordani are returning to their roles for the performance.

Marcello Giordani, a vet Met tenor in numerous Puccini operas, is Dick Johnson/Ramerrez - the former, an adventurer who falls head over heels; the latter, an infamous thief on the run. Lucio Gallo is villainous sheriff Jack Rance, so madly in love with Minnie that he just pleads for one kiss even after she rejects and rejects him, and who'll stop at nothing to arrest Johnson/Ramerrez.
As always, the opera can be heard on the Toll Brothers-Met Opera International Radio Network. The telecast/broadcast will be hosted by acclaimed soprano Sondra Radvanovsky, who sings Puccini's Tosca, her first major diva role here, Monday night.

SFO's Nicola Luisotti, in his Met debut, conducts the massive Met orchestra. Giancarlo Del Monaco, son of legendary tenor Mario Del Monaco, directs the revival of his 1991 production.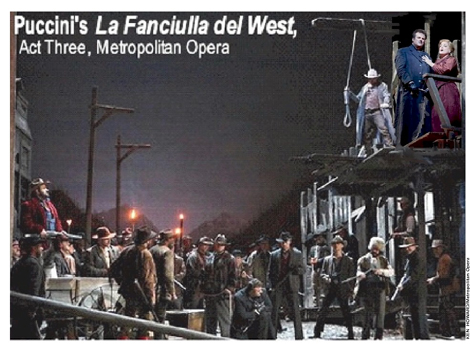 Not near one of the HD theatres for the closed-circuit event? Not to worry. La Fanciulla is set for PBS' Great Performances in May.

This is Puccini's only opera set in the U.S. Guelfo Civinini and Carlo Zangarini, who never visited the U.S., based their libretto a little too closely on David Belasco's play of the same name. The lyrics often border the mundane, but Puccini's soaring score, one of his most beautiful, compensates.
Quad Treats on DVD
You'll never want for more classic entertainment from the Golden Age of 1930s Hollywood musicals. The new quad pack DVD entries in Turner Classic Movies Greatest Classic Film Collection [Warner Home Video, two back-to-back discs; SRP $28] will provide countless hours of eye-popping musical numbers.

Busby Berkeley Musicals, includes four top-drawer razzle-dazzle extravaganzas from the absolute master of razzle-dazzle extravaganzas - all in glorious B&W and sumptuously-staged: Dames, Gold Diggers of 1937, Footlight Parade, and 42nd Street.
Each are authentic classics, with the likes of Dick Powell, James Cagney, the stupendous Joan Blondell, Ginger Rogers, Ruby Keeler, and a featured cast of old pros hoofing, crooning, and cutting up. There are memorable songs, such as "With Plenty of Money and You," "By a Waterfall," "Shanghai Lil," "I Only Have Eyes for You," All's Fair in Love and War and, in 42nd Street, "Shuffle Off to Buffalo."
You may be surprised to find that Keeler doesn't improve with age. She's quite a clunker - no great singer or dancer, but she gets out thee and gives it her all.

The star here is Berkeley, pulling out all the stops in awesome precision-formation, over-the-top, magnificently imaginative production numbers you simply have to see to believe. Keep in mind this was the Depression!; and that though some of his numbers are supposed to be set on Bway stages, there was [and probably still isn't] no stage that could hold them. Bonus material galore, but the prize is the behind-the-scenes featurette Busby Berkeley's Kaleidoscopic Eyes.

TCM's Greatest Classic Film Collection: Astaire & Rogers is also a two-disc, quad pack with The Gay Divorcee, Top Hat, Swing Time, and Shall We Dance. Numbers include "The Continental," Berlin's "Top Hat, White Tie, and Tails" and "Cheek to Cheek," as well as songs by the Gershwins [the classic "Let's Call the Whole Thing Off" performed on skates, no less], Porter, and Kern/Fields. Bonus material galore. Pure bliss!



How About Some Sinatra?
Sinatra in Hollywood author Tom Santopietro will present Frank Sinatra- The Best is Yet to Come at the Laurie Beechman Monday at 7. Santopietro will dish gossip and anecdotes about Ole Blue Eyes' film career [60 films, multiple Oscars] and Top-10 Billboard Jazz charted Tony DeSare will hit the piano and croon in the master's footsteps such tunes as "My Kind of Town," "One for My Baby," and "All the Way." $25 cover, plus $15 food/beverage charge. To reserve, call (212) 695-6909.
Ellis Nassour is an international media journalist, and author of Honky Tonk Angel: The Intimate Story of Patsy Cline, which he has adapted into a musical for the stage. Visit www.patsyclinehta.com.

He can be reached at [email protected]





Why are you looking all the way down here?
For more articles by Ellis Nassour, click the links below!

Previous: The Holidays Are Upon Us! The Rockettes and Christmas; Kennedy Center Honors on CBS; Theater Hall of Fame; Stocking Stuffers; Karen Ziemba; Arresting Performances; The Met Telecasts Girl of the Golden West; More

Next: More Broadway for the Buck; Sondra Radvanovsky, Exquisite in Tosca Debut in Exciting Night at the Met; A Must-See Earnest; More

Or go to the Archives