~~~~~~~~~~~~~~~~~~ Tony Stevens ~~~~~~~~~~~~~~~
Tony Stevens: Great guy, greater loss.
God, he was the best. A sweet man with incredible artistic instincts who always had time for you. I loved Tony and his wonderful sense of self and incredible sense of humor.
It was a pleasure working with/interviewing him on various projects over the years because he was the real thing: talent personified, but always humble and gracious. The most amazing thing about Tony was how he cared for others, and always had their backs. What an amazing career!
When I heard the news Friday from Dr. Barry Cohn that Tony was in Roosevelt Hospital and in a coma, I couldn't believe it. Only a couple of weeks before, it seems, I saw him and chatted away with him.
Condolences to his family and the legion of friends who loved him so dearly.
~~~~~~~~~~~~~~~~~~~~~~~~~~~~~~~~~~~~~~~~~~~
The Town Hall, celebrating its 90th Anniversary season, presents the Fifth Annual Summer Broadway Festival, created, written and hosted by Scott Siegel, on three consecutive Mondays at 8 P.M.

The Festival kicks off Monday with Broadway Winners! The Award-winning Music of Broadway highlighting Tony, Oscar and Grammy-winning songs that originated in Bway shows. Headliners include DD noms Alexander Gemignani (Sweeney Todd), who is also directing, and Eddie Korbich (Little Mermaid); "Tap Dance Kid" Kendrick Jones (Scottsboro Boys); Stephanie Umoh (Ragtime); and two-time Tony nom Tom Wopat (Catch Me If You Can). You can also expect a Grammy-winning mystery guest. Beth Ertz [piano] is M.D./arranger, backed by a quartet.
Broadway's Rising Stars, July 18, showcases the next generation of Bway performers - chosen in heated auditions through the Spring. They come from theater programs across the country. Scott Coulter directs, with John Fischer as M.D., with backup musicians. Choreography is by Vibecke Dahle.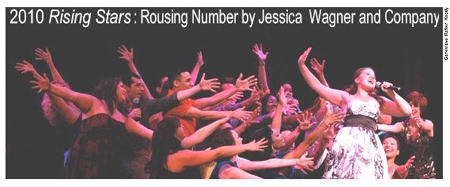 On July 25, All Singin', All Dancin', directed by Siegel and choreographed by Lorin Latarro and Mark Stuart, features show tunes sporting new choreography performed by today's musical theater song and dance stars. The Mark Stuart Dance Theatre garnered critical acclaim earlier this season in The Broadway Musicals of 1982. Ross Patterson is M.D., accompanied by his Little Big Band.
Tkts for Broadway Winners and All Singin', All Dancin' are $45 and $55; for Broadway's Rising Stars, $30 and $40; and available at the Town Hall box office, through TicketMaster at (800) 982-2787 or www.ticketmaster.com. The Fest is sponsored in part by the Edythe Kenner Foundation and NY's State Council on the Arts and Department of Cultural Affairs.

Brent Barrett Returns in Silence!

Ready for a musical thriller? You remember the movie, but you'll never forget the musical adaptation of The Silence of the Lambs.

Olivier nom Brent Barrett plays the iconic role of Dr. Hannibal Lecter in Silence! The Musical, the unauthorized parody of the blockbuster film - a homage to the 20th anniversary of the Oscar-winner. Co-starring is Lortel Award-winner Jenn Harris [Modern Orthodox] as rookie FBI agent Clarice Starling.

So, if you're in the mood for some camp and raunch fun [no doubt expanded from the shortened Fringe production], rush, don't walk, to the East Village's landmark Theatre 80 [80 St. Marks Place, between First and Second Avenues], through August 13, where a chorus of floppy-eared lambs tunefully help push the plot forward to the ultimate showdown with rampaging kidnapper/serial killer Buffalo Bill. Chianti is served in the theatre bar, and there're tons of places nearby to enjoy fava beans afterward. and a nice Chianti andwhere

Silence! has book by Tony nom Hunter Bell [ [title of show] ] with a score by Al and Jon Kaplan. Christopher Gattelli [Tony nom, choreography, LCT's South Pacific; Roundabout's Sunday in the Park... revival] is director/choreographer. M.D. is Mark Hartman.


Barrett is fresh from reprising his Chicago Billy Flynn and his record-breaking in the title role in The Phantom of the Opera: The Las Vegas Spectacular, which made him the toast of the Strip. The always-fun-scene-stealer Jeff Hiller and the knock-out Deidre Goodwin [Chicago, ACL and Nine revivals] are also featured in the 10-member company.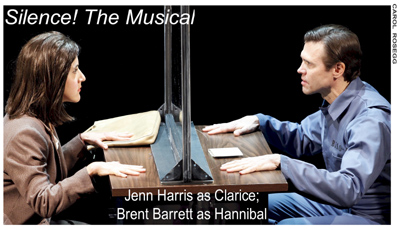 The musical began as a 2002 internet collection of songs and attracted staggering numbers of fans. In its stage adaptation at 2005's FringeNYC, it shattered box office records and won Best Musical. Last season, the show garnered positive reviews at London's Above the Stag Theatre.
Barrett received an Olivier nom in his West End role as Fred/Petruchio in the Kiss Me, Kate revival. Producers are Rich Affannato, Victoria Lang and Donna Trinkoff. Tkts are $38 and available by calling (212) 352-3101 or online at www.SilenceTheMusical.com.
New Jon Marans Play
Stacy Shane/ManUnderdog Productions, presenter of Jon Marans' award-winning The Temperamentals are bringing his A Strange and Separate People to Theatre Row's Studio Theatre for a limited enggement beginning July 14. Marans authored Old Wicked Songs, produced in over a dozen countries.
Starring are Jonathan Hammond, 2010 OBIE, Transport Group's The Boys in the Band, Hello Again and the DD-nom'd See Rock City & Other Destinations; Tricia Paoluccio [Chava, recent Fiddler..., Off-Bway's Voysey Inheritance] and Noah Weisberg [Elf, South Pacific]. Jeff Calhoun [arriving Bonnie & Clyde] directs. He helmed/choreographed Deaf West's Big River (2004 Tony Honor; Tony and DD noms, Revival; DD nom, Director, Musical).
A Strange and Separate People focuses on an UWS Orthodox couple balancing their complicated personal and religious lives, which are upset by a gay, newly Orthodox doctor.
Performances are: Tuesday-Saturday @ 8, Sunday @ 3 and Saturday @ 2. Tkts are $18 and available at the Theatre Row box office or through TeleCharge, (212) 239-6200 or TeleCharge.com.
In Advance of the Downtown Whitney
Choreographer Elizabeth Streb's Ascension, commissioned by the Whitney Museum of American Art as part of their Whitney on Site: New Commissions Downtown series, involves nine dancers from Streb's Extreme Action Company performing on a 21' rotating ladder. Music is by David Van Tieghem.
Fifteen-minute performances of Ascension take place at 3 and 5 P.M. through tomorrow in Gansevoort Plaza [Gansevoort Street/Little West 12th Street and Ninth Avenue, south of 14th Street], which is a block from the Whitney's under- construction branch adjacent to the southern entrance to High Line Park.
Streb [MacArthur Foundation "Genius" Award, among others], once called the Evel Knievel of dance, terms her choreography "PopAction" - an intertwining of dance, athletics, boxing, rodeo and circus. In addition to several docs, Streb authored STREB: How to Become an Extreme Action Hero [Feminist Press]. Her Brooklyn S.L.A.M. [Streb Lab for Action Mechanics] is open for the public to watch rehearsals, take classes and learn to fly. For more info: www.streb.org.
A Feminist Look at Broadway's Women
The first history of the Broadway musical written from a feminist viewpoint, Stacy Wolf's Changed for Good [Oxford University Press; trade, 320 pages; 30 B&W photo; 41 pages of source notes; bibliography, index; SRP $25] returns to up-date the most loved and well-known American musical from West Side Story to Wicked and In the Heights. Wolf, professor of Theater and director of Princeton's Lewis Center for the Arts, covers a vast territory of lead women roles in an eclectic roster of musicals.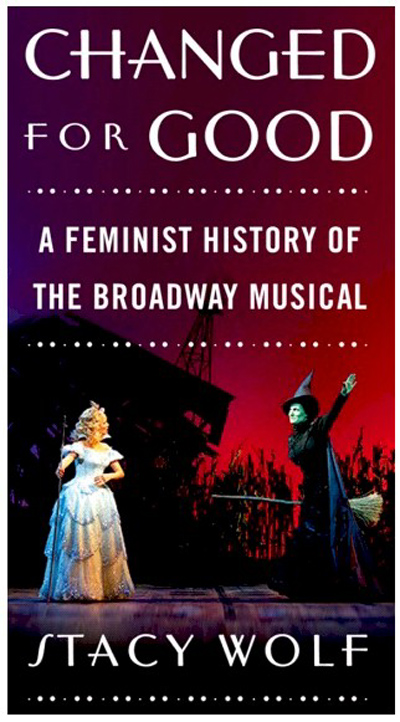 From Guys and Dolls's Adelaide, Sweet Charity's Charity to The Color Purple's Celie, In the Heights' Nina and Wicked's Elphaba and Gilanda, notes Wolf, "female characters have belted and crooned their way into the American psyche. Setting out from the start of the cold war and with a strong and captivating feminist point, Wolf illuminates the female performers, creators and characters from decade to decade.

She highlights assumptions that circulated about gender and sexuality and examines key aspects of the shows/characters as they relate to women. She finds overlooked moments of empowerment for female audience members. With a look also at Gypsy, Funny Girl, A Chorus Line and Phantom of the Opera, among numerous others, she focuses on how the musical since the mid-1940s has been dominated by women - women onstage, women offstage, women as spectators.

Here's a preview of Changed for Good, excerpt printed with permission:

>>>The diva character is a mainstay of musical theatre. From Mama Rose (Gypsy) to Dolly Levi (Hello, Dolly! ), from Fanny Brice (Funny Girl ) to Sally Bowles (Cabaret), the strong, unique woman with a powerful voice, whom this book has examined, appears regularly on the Broadway stage.

"Larger-than-life," divas are "imposing, spectacular women stars." According to John Clum in Something for the Boys, "Feminine assertiveness and survival are hallmarks of a diva" ... the diva [say Barbra Streisand, Liza Minnelli], the extraordinary woman, often emerges from the conjunction of an "ugly" exterior and a beautiful, powerful voice -- an accurate appraisal of Wicked 's Elphaba ...
In Wicked, both Elphaba and Glinda trouble presumptions of hetero-femininity. While Glinda performs the quintessential alpha girl who flips her hair, flirts with boys and values popularity above all else, the character is so over the top that she sustains a critique of those behaviors even as she plays them out. Moreover, in Wicked 's second act, Glinda's values shift and she learns the importance of loyal and close female friendship, while she also becomes, as a single woman, a public leader ...
While drawing on well-established conventions of musical theatre ... [Wicked ] injects a contemporary sensibility that transforms the typical Broadway diva from a larger-than-life force to an everyday girl. By presenting an ordinary personality in an extraordinary singer, Wicked invites young female spectators' identifications and attachments. Glinda and Elphaba experience the typical challenges of adolescence -- of identity formation, of social acceptance, of success, of loneliness, of loyalty and the challenges of friendship--all issues to which girls readily relate. Yet it is the practice of performance that truly confers divadom in Wicked . Each character sings and the actor who plays her sings.
Whatever the situation in the musical itself, the performer transcends that place through singing. Whatever the problems of the character's life, the performer makes the character into a heroine. Audiences assimilate these layers of performance at once; this is the pleasure of musical theatre ...
Glinda performs the diva who always plays to her audience -- from the awestruck citizens of Oz to her giggly entourage of school chum fans to the crowd that cheers her brash imitation of Evita ... In the Jerry Herman (Dolly Levi, Mame) tradition, she is a cheerful meddler. Her solos are funny and character oriented. Even as fans observe Glinda's sparkly gown, blond curls, and her frequent, hilarious malapropisms, they read her as an everyday girl, and they judge her accordingly ...
While Glinda embodies the diva's excesses (all the while parodied), Elphaba typifies Broadway's traditional diva: she is the dark, alto outsider who sings the musical's well-known belting numbers, "The Wizard and I" and "Defying Gravity." She breaks the rules and is condemned for her strength and determination. Unlike many earlier diva musicals, though, in which the protagonist ends up alone at the end -- Funny Girl, for example, and Sweet Charity and Cabaret, Elphaba gets the man (although this plot point is much less significant than the fact that she and Glinda still love each other at the end). Her awkward outward "difference," her green skin, signifies her internal difference, her sensitivity, awareness, intelligence, and both render her sympathetic ... In this moment, the diva as character and diva as actor collide ... Fans value the diva who, like them, grows and changes, and they appreciate the actor who can represent that change realistically and convincingly ...
Despite the fact that Wicked takes place in a fantasy world and that the characters are witches, girl fans relate to the characters as if they are real people in their worlds ... These young fans use the diva to navigate daily life, to understand themselves better, and to feel confident in themselves ... Not surprisingly, most girls identify with Elphaba, naming similarities to themselves such as being a good student, a bookworm, insecure, sarcastic, realistic, outspoken, fatalistic, dorky, being an outsider, not being pretty, and into animal rights and social rights.<<<
Last Chance

The award-winning revival of Larry Kramer's The Normal Heart will not extend, so Sunday [at 2 and 7] is your last opt to catch this extraordinary play with one of the best-assembled casts in years. Under the direction of Joel Gray and George Wolfe, and highlighted by searing performances by Joe Mantello, Ellen Barkin, John Benjamin Hickey and Jim Parsons, this searing drama about the obstacles in drawing attention and conscience to the AIDS crisis packs a powerful wallop - maybe more so than the 1985 original at the Public and their 2004 revival.
The award-winning Mint Theater has a rep for unearthing theatrical gold. That rep is only polished a bit shinier with their revival of Rachel Crothers' melodrama A Little Journey [Studio Theatre, fifth floor, 311 West 43rd Street, just West of Eighth Avenue], set on a westbound train over four days. It must end July 17. The play was a huge hit in 1918, then toured and was made into a late silent film. The revival, directed by Jackson Gay, the 14-member cast is highlighted by two veteran scenestealers: Laurie Birmingham as Mrs. Welch and Rosemary Prinz [As the World Turns veteran] as Mrs. Bay. Tickets are $55 and available by calling (212) 315-0231 or online at www.minttheater.org.

Miss Crothers' legacy was largely forgotten until the Mint's 2006 revival of Susan and God. She was that rare female among theater's male playwrights/directors/producers with at least 28 plays with richly drawn characters and sparkling dialogue - some well ahead of their time - between 1906 - 1940 [the majority were hits]. Miss Crothers was a co-founder of what we know as the American Theater Wing, now co-presenters of the Tony Awards. She was Antoinette Perry's inspiration when she segued from actress to producer/director.

Patti LuPone as Tour Guide

How would you like to spend an hour with Patti LuPone? OK, your wish is granted. The hostest with the mostest will be available Thursday at 8 P.M. on WNET/Thirteen [7/28 on WLIW21] to escort you and a few friends on a private tour of the Treasures of New York: Lincoln Center, covering architectural [one guest here will be stage designer/architect David Rockwell] and historical aspects of NYC's premier arts complex. Patti's also arranging to show you rarely seen footage of Bernstein and acclaimed soprano Rise Stevens. Sally Garner wrote Patti's itinerary and produced.
Onscreen
If you've ever been hellbent on killing your despicable, psycho boss when quitting is not an option, Seth Gordon's Horrible Bosses [New Line Films/WB] is the KillYourBoss 101 - that is, if you want to do it ineptly. Often raw and crude [but nowhere near approaching Bridesmaids], it's always ROTF funny. It's a movie you'll talk about at the water cooler and will probably want to see again.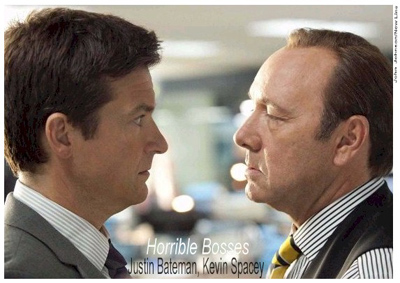 No one eats scenery better than Kevin Spacey. It's great to have him back in mean/bastard mode in a role reminiscent of his slime ball Buddy Ackerman in Swimming with Sharks [1994].

Here, he's got stiff competition from some A-List hams: Jason Bateman, Jason Sudeikis, Charlie Day, Jamie Foxx [as hilarious hustling "hitman" Motherf**cker Jones], Collin Farrell [so unrecognizable you may wonder if he's in the film] and America's sweetheart's Jennifer Aniston as you've never seen her: voluptuous, oversexed and randy and showing off as much of her enviable figure as she can without getting the film an NC-17.
Pierce Brosnan plays a charismatic, hypocritical preacher [think Jim Baker] to the hilt. Relaxed, self-effacing Greg Kinnear is a not-quite-yet reformed Grateful Dead(head). Ed Harris, as a non-believer university professor, proves he can play anything - here even changing his well-known speech patterns and channeling what could be a pipe-smoking Oxfordian. Beautiful Jennifer Connelly portrays Kinnear's wife, a militantly devout, sometimes neurotic Christian zombie. Marisa Tomei steals the picture as an unrepentant, potsmoking Jerry Garcia worshipper.

Pottering Comes to an End

We won't see Daniel Radcliffe, Rupert Grint and Emma Watson together again. Next Friday, after 10 years of Pottering and about $8-billion at the box office, J.K. Rowling's Harry Potter and the Deathly Hallows - Part 2 [Warner Bros./Heyday Films] is the last chapter of the most successful motion picture franchise. David Yates [H.P. and the Order of the Phoenix, H.P. and the Half-Blood Prince] directs this continuation of the seventh and final adventure.

The villains have gotten uglier and, more than ever, eat every piece of scenery that's not tied down. None do that as well as our treasured enigma Alan Rickman as Professor Severus Snape; the totally unrecognizable Ralph Finnes as the all-evil Lord Voldemort, though you may have a time recognizing him; Maggie Smith [Professor Minerva McGonagall], Matthew Lewis [Longbottom], towering Robbie Coltrane [Hagrid], Michael Gambon [Albus Dumbledore], Ciaran Hinds [Aberforth Dumbledore], John Hurt; and, if you don't blink, Julie Waters, Gary Oldman, Jim Broadbent and the histronics of Helena Bonham Carter [Bellatrix Lestrange]. Richard Griffiths will be missed.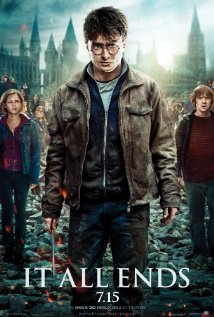 The kids are grown, with all the expectant harmones. The films have come a long way, seguing from very child-friendly fare and the fun and misadventure at the Hogwarts School of Witchcraft and Wizardry to this, probably the deepest and darkest.

That the franchise still finds favor among its legions of fans is thanks to David Heyman, producer of all of the Harry Potter films and his creative team, topped by cinematographer Eduardo Serra and composer Alexandre Desplat. The way to best experience this last blast is in IMAX 3-D, but still it helps to have knowledge of the previous films.*

Radcliffe, Grint, who plays Ron Weasley and Watson, portraying Hermione Granger, will continue to shine in other work - hopefully, with Radcliffe continuing to return to the stage as he's done in the 2009 Equus revival [Drama Desk nom, but overlooked for a Tony nod] and currently as J. Pierrepont Finch in the How to Succeed.... revival.

Of his matinee idol status, Radcliffe, who has struggled with some aspects of finding such enormous fame at such an early age, quite modestly states, "Whoever had been cast as Harry would have received the attention. You have to realize that it's not becuase it's you. We've all done well in terms of not believeing the hype, and by getting on with our jobs and appreciating we're very lucky to be there."


It's the beginning of the end. Harry, Ron and Hermione are on a mission to destroy the Horcruxes; however, for the first time, "dark forces" threaten to destroy an indestructible friendship. The wizarding world is more dangerous than ever for enemies of Voldemort. The Death Eaters hunt H.P., "the Chosen One," in his quest to uncover the legend of the Deathly Hallows against all but insurmountable odds.

* That is now possible - and in an ultra deluxe way. To coincide with H. P. and the Deathly Hallows - Part 2's opening, "Ultimate Editions" of H.P. and the Order of the Phoenix [5] and H.P. and the Half-Blood Prince [6] arrive on Blu-ray/DVD [WHV; Blu-ray SRP $50/ DVD SRP $40]. Each contain more than four hours of special features, collectibles such as character cards, 44-page photo book of the cast and crew with concept sketches and a bonus digital copy. In addition, there's the eight-hour doc series Creating the World of Harry Potter [1-7], Evolution [with 5] and Magical Effects [with 6] with never-before-seen footage.
Also Opening July 15




When is a black comedy not black enough; too black? Too tongue-in-cheek; not tongue-in-cheek enough? Those checking out Salvation Boulevard [IFC Films] will have that dilemma to settle. It opens next Friday in the midst of Pottermania. Based on the novel by Larry Beinhart, whose Wag the Dog became a comic cult fav, director George Ratliff [Joshua, Hell House]'s film about the power of evangelicals and the blind faith of those who follow them might find that audience. Beinhart, who states that he was saved 30 times by the time he was 16, certainly knows the terrain - and far better than the adaptors.

There're some hearty and kinky laughs [pay close attention to the getaway sequence with Tomei and Kinnear - closely observing Tomeni's grooming habits for a ROTF moment that went right over the screening audiences' heads], but maybe not enough. S.B.'s already been a festival perennial, and might have found a welcoming niche in the NY Film Festival. Thanks to its cast, Salvation Boulevard has moments but won't be everyone's cup of brew.


New to DVD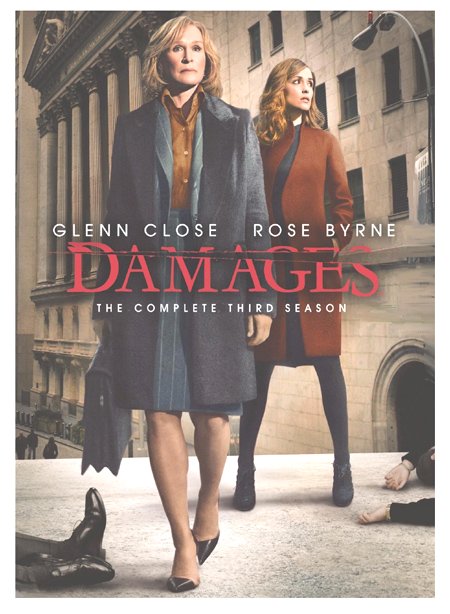 An edge-of-the-seat legal thriller about misplaced loyalties and betrayal at every turn with daunting surprises every episode, Damages: The Complete Third Season [Sony Pictures Home Entertainment, three discs/13 episodes; SRP, $46] stars two-time Emmy winner Glenn Close as relentless, unscrupulous evil incarnate litigator Patty Hewes; Rose Byrne [Bridesmaids] as Patty's former protégé Ellen Parsons; and Tate Donovan as Hewes' trusted lieutenant Tom Shayes.

Season Three tears its storyline right out of the Madoff scandal headlines, as Hewes squares off against the Tobin family empire - Lily Tomlin, Campbell Scott [Royal Pains] and, as the family retainer, Martin Short. It's fascinating to watch Tomlin and Short play totally against type; and Tomlin a NYC society doyene dolled up to the nines and chain-smoking. Guests include Craig Berko, Len Cariou, Keith Carradine, Dominic Chianese, Gordon Clapp, Katie Finnerman, Larry Keith, Debra Monk, Ebon Moss-Bachrach, Michael Nouri - and, if you don't blink, a rare sighting of Maryann Plunkett and Lewis J. Stadlen. Also, guesting and continuing some of his finest acting, is Ted Danson [soon to take over the lead in CBS' CSI] as Hewes' one-time bitter enemy.
When Hewes' former protégée Parsons [now at the D.A.'s office] is pulled into the maelstrom, she discovers she didn't escape Hewes [or maybe vice versa]. Maybe because we know the format by now, Three, with all it's potential doesn't come off quite as strong as One. You have to pay very close attention because of the contant use of Flashforwards and Flashbacks, which can become a bit dizzing, even for the most dedicated fan. Bonus features include commentaries with the cast and creators, deleted scenes, blooper reel and behind-the-scenes featurette with directors Glenn Kessler, Todd A. Kessler and Daniel Zelman.
Remembering the 150th Anniversary of the Civil War ~
Top-grossing Classic of All Time Remastered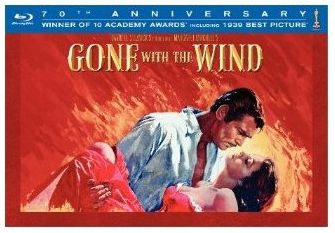 Gone with the Wind,

one of the most celebrated motion pictures of all time, won 10 Oscars including Best Picture and Best Actress. In adjusted 2011 dollars, it holds the record for the biggest worldwide box office gross, $2-billion.

Looking at the film for the first time on Blu-ray [Warner Home Video; SRP, limited five-disc Blu-ray/Ultimate Edition in keepsake box, $84 or as standard DVD, $70; two-disc edition, $25] it's hard to believe this lush romantic drama set against the erupting Civil War is 72 years old.

GWTW

is the quintessential Hollywood epic. It stars Clark Gable, Vivian Leigh in her Oscar-winning role as Scarlett, Olivia de Havilland, Leslie Howard and Oscar winner Hattie McDaniel.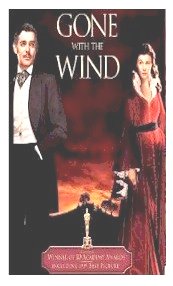 Miss McDaniel's casting as house servant Mammy was precedent-setting as the largest role for a black actor in a major studio release. Her retorts to Scarlett and reaction expressions are priceless, but she has powerful dramatic moments - as in her scene with Gable following Bonnie's death. In a stunning upset, she beat out favorite de Havilland for the Supporting Oscar. Oddly, not all the black community praised her breakthrough. Sadly, set materials don't even mention her name, much less her pioneering achievement. Though the 1967 trasfer of the film to the widescreen process was disastrous, the billing was redone to feature McDaniel's name.
Considering three-strip Technicolor was in its infancy in the late 30s, the negatives have held up well. There's been frame-by-frame restoration to correct technical errors [such as the carriages entering Twelve Oaks for the barbeque] and quivers on process shots. Blu-ray clarity heightens images to six times higher resolution and even allows you see garment texture. The soundtrack's been "digitally cleaned" and maximized using Dolby TruHD. As classic as Max Steiner's lush score is, you'd think it won the Oscar, but it was only nominated. texture.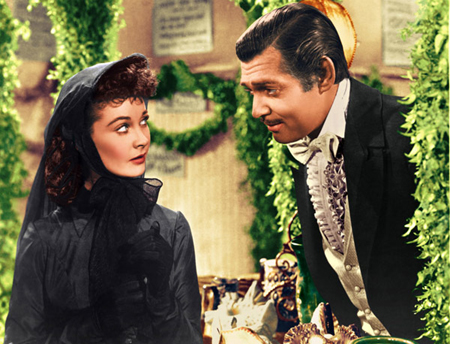 The packages contain memorabilia such as posters and reproductions of the 1939 Atlanta premiere souvenir book; 40-page, illustrated hardcover book; and bonus discs with commentary by film historian Rudy Behlmer, screen tests and foreign language scenes.
What's more amazing - considering the revolving door of writers, the era's technical limitations and that three or more directors including credited Victor Flemming worked on it - is that the film got made at all.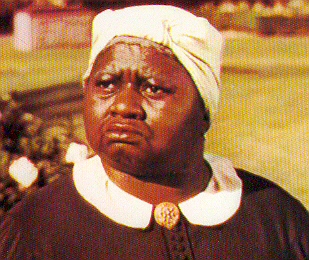 There are docs with the film restorers, explaining how faded or detoriated parts of the film were "fixed"; on Gable and Miss Leigh; Gone with the Wind: The Legend Lives On; The Making of a Legend, narrated by Christopher Plummer [with pointed observations from Butterfly McQueen, who played Prissy]; and Melanie Remembers with Miss de Havilland.

GWTW has three other stars: production supervisor William Cameron Menzies, the guiding light behind the film's look; costume designer Walter Plunket and art decorator Lyle Wheeler.

A Civil War Buff's Collectable
An epic collectible for the 150th Anniversary of the start of the American Civil War [battles of Manassas and Bull Run], is the double-wide gift box of two epic Ron Maxwell films, Gods and Generals and Gettysburg in extended director cuts in a limited edition [WHV; two discs each, nine hours +; SRP $85 Blu-ray/$70 DVD].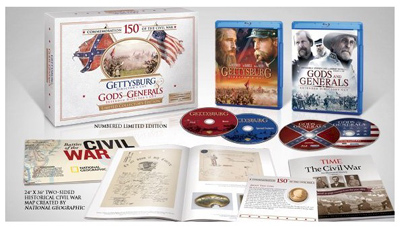 More than 620,000 died in the conflict, more than in any other war our nation faced. Gods and Generals, a prequel to Maxwell's companion film, Gettysburg, based on Jeffrey Shaara's bestseller and reedited beginning to end with expanded scenes, stars Robert Duvall, Jeff Daniels, Stephen Lang, Bruce Boxleitner and Mira Sorvino. Gettysburg, based on Shaara's Pulitzer-Prize-winner, The Killer Angels, stars Tom Berenger, Martin Sheen, Daniels and Lang. Among extras and memorabilia are maps, commentary and 32-page booklet, generously illustrated, with an excerpt from Time's The Civil War: An Illustrated History.

Nino Machaidze's Solo CD Debut
At age 25 Georgian soprano Nino Machaidze entered the international opera circuit with a spectacular La Scala debut in Donizetti's La Fille du Regiment, which she'll perform at the Met in the coming season.

On her debut solo CD Romantic Arias [Sony Classical; illustrated booklet, nine tracks, 1:20 +; SRP, $13], she displays dazzling artistry with arias from Fille and another of opera's most challenging bel canto roles: Bellini's La Sonnambula, whose great closing scene tests a singer's ability seguing from the opening lyrical lines to the closing fireworks. Machaidze also challenges herself with Gounod's Roméo et Juliette's "Je veux vivre" and the "Poison Aria"; and arias from Massenet's Manon and Rossini's Il Turco in Italia. Michele Mariotti conducts Bologna's Teatro Comunale Orchestra.
Ellis Nassour is an international media journalist, and author of Honky Tonk Angel: The Intimate Story of Patsy Cline, which he has adapted into a musical for the stage. Visit www.patsyclinehta.com.

He can be reached at [email protected]





Why are you looking all the way down here?
For more articles by Ellis Nassour, click the links below!

Previous: Royal Danish Ballet and Nikolaj Hübbe Return; Brent Barrett Returns in Silence; Lea Salonga at the Carlyle; Broadway 1997; Willy Falk at Feinstein's; Hurry to the Barnes; Broadway at the Shore; Fringe Hits Return; More

Next: 2011 NY International Fringe Fest; Andrea Bocelli In Free Concert with NYPhil; At the Movies: Help Is On the Way, Onscreen; Judy Garland Retrospective, New to DVD; More

Or go to the Archives