Sam Norkin, a renowned caricaturist [he was the NY Daily News' Al Hirschfeld for over a quarter century], illustrator, long-time colleague and beloved friend, who created more than 4,000 published drawings until his recent death at 94.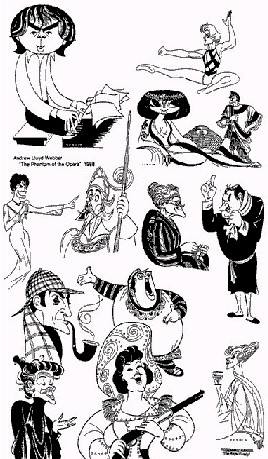 He was an irascible raconteur, virtual enclopedia of anything theatrical and, up til the end, sharp as a tack. His art appeared in national and international dailies such as the Boston Globe, Herald Tribune, Toronto Star, Philadelphia Inquirer, and Washington Post.

He was exhibited in galleries, Lincoln Center Performing Arts Library, Museum of the City of New York, Metropolitan Opera and Hudson River Museum.

Sam was a veteran member, former president and long-serving board member of Drama Desk. He created a lavishly-illustrated history of the DD in program size. A special DD award in his memory will be presented annually.
It will be strange to look up at intermission at shows [he also sketched opera and ballet, even Ringling Bros.] and not see Sam sketching away.
There will be a remembrance and tribute to Sam Norkin September 27 at 3 P.M. in the Bruno Walter Auditorium of the Lincoln Center Library for the Performing Arts.

Price Berkley
The founder/publisher of one of theater's most indispensable tools, Theatrical Index, Price Berkley, died Sunday. His absence on the theater scene had been noted for some time; but when you asked why, no one seemed to know. He wasn't the easiest person to get to know. Price was polite beyond measure, but that often seemed a cover for shyness or coldness. However, his contributions to the theater world are legion. It's that rare theater person who can live without Theatrical Index, which tells what's running, who's running it and who's starring; and what's coming, who'll be running it and who'll be starring. And what's out there on the road.

Throughout his life, starting in his teens, Price probably never missed a show. He had a great love for theater, which he called "the best friend I ever had." After a job with Earl Blackwell at Celebrity Service, the then show biz "bible," Price had the idea to create a publication geared specifically to the theater community. The first issue of T.I. was in November 1964. Its initial base was 16 subscribers. Price was a meticulous copy editor, always with a dictionary along side because he jokingly admitted he was a horrible speller.

He's Back, with New Musical
Mark Hollmann and Greg Kotis of Urinetown fame have had a very strong presence in NY the last couple of weeks with Yeast Nation: The Triumph of Life, their entry into the NYCFringe which Hollman describes as "as a hilarious spin of Greek tragedy and Shakespeare, set in 3,000,458,000 B.C., where the planet's first creatures - the Yeasts - discover a force called love, and in the process change the course of history."

It has its last sold-out performance tonight. [No word yet if there'll be additional performances.] However, as a team, they've been absent since their megamusical futuristic farce - which started in the Fringe, moved to Off Bway and then to Bway for a long run - closed.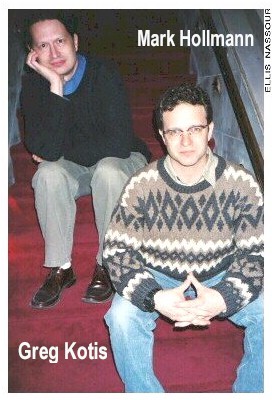 "Yeast Nation... is my first new score produced in New York since Urinetown," says Hollmann, "but Greg has had his plays Eat the Taste and Pig Farm produced off-Broadway, and his play-with-music, The Truth about Santa [doing music/lyrics] ran off-off-Broadway during the holiday season a couple of years ago."

The writing duo spent their 20's in a little Chicago theater company and most of their "artistic connections" are in the Windy City. "Chicago is a natural place to gravitate for new projects," Hollmann points out. "With my old friend, Jack Helbig, I wrote a musical called The Girl, the Grouch and the Goat. We had a reading as a workshop production. G3, as we sometimes call it, went on to premiere at the University of Kansas in 2008. It has had a handful of productions, including one in suburban Chicago."

YN, with it's huge cast of 15, had its world premiere in 2007 in Alaska. "Yes, Alaska," Hollmann assures. The Midwest premiere was in Chicago in 2009. "Now, Greg and I feel, is the time to expose it elsewhere."
In 14 years, FringeNYC has presented over 2,400 worldwide performing groups and has launched numerous Off-Bway and Bway transfers, long-running downtown hits and regional theater productions including Urinetown.

From late summer 2001 to January 2004, it racked up nearly a thousand Bway performance; had 10 Tony noms, including Musical, won for Score, Book and Director [John Rando]. There were five DD noms, including Musical, Book and Music/Lyrics.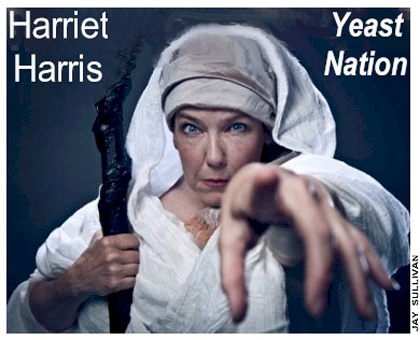 Urinetow
n
's success and the awards won changed their lives. "When it opened on Broadway, I was a full-time word processing operator for an investment bank and a part-time church organist," notes Hollmann. "When it had been running for about a year, I figured I could safely quit my day jobs to concentrate on writing. Our success also opened a lot of industry doors. We've had the chance to consider a lot of offers for new projects."
Re: Yeast Nation...: "We have no plans for an extended run," says Hollman, "but if some producers want to come along and transfer us, that would be great! It has been beyond a thrill to have Harriet Harris work with us. She's an incredible dynamo with this amazing, intense concentration and commitment to her work. Yet is the most pleasant, unassuming person you could want to have in the rehearsal room. We're so pleased and grateful that she joined us to create the role of Jan-the-Unnamed in New York."

New York Film Festival Line Up
The two-week + Film Society of Lincoln Center's 49th New York Film Festival, September 30- October 16, is the essential showcase of the latest and best in American and international cinema, is shaping up.
The opening night gala is the North American premiere of Roman Polanski's Carnage, adapted from Yasmina Reza's 2009 Tony-winning play, God of Carnage. The much-anticipated Centerpiece will be Michelle Williams in in My Week with Marilyn, as seen through the diaries of Brit filmmaker Colin Clark, played by Eddie Redmayne. The Closing Night gala will be George Clooney in Alexander Payne's The Descendants, about the heir of a Hawaiian land-owning family whose life is turned upside-down when his wife is critically injured.

Pedro Almodóvar and David Cronenberg will receive Gala Screenings of their latest: respectively, The Skin I Live In starring Antonio Banderas; and A Dangerous Method, starring Michael Fassbender, Viggo Mortensen, and Keira Knightley.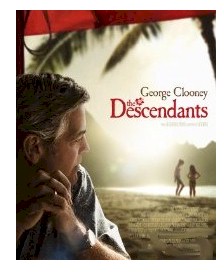 As ever, the Fest has an amazing programming breadth: feature screenings with stars and directors, Masterworks programs [such as Jorge Luis Borges/Adolfo Bioy Casares' Invasion (1969); and the world premiere of the rediscovered/restored version of Jim Jarmusch's You Are Not I (1981)], event screenings and discussions [such as the panel Pauline Kael: A Life in the Dark].

There'll be anniversary screenings of Wes Anderson's The Royal Tenenbaums [Gene Hackman, Gwyneth Paltrow and Angelica Huston], Japanese anime Spirited Away and Luis Buñuel's classic The Exterminating Angel [Mexico]. In addition, Chaplin's The Gold Rush with live accompaniment by members of the NY Phil, and William Wyler's Ben-Hur will be shown.


Among the programs: Oliver Stone will offer a sneak peek of the first three chapters his doc, The Untold History of the United States, produced as a 10-part Showtime miniseries, with a focus on events leading to America's entry into WWII, the battles and the unjustly forgotten figure of VP Henry Wallace; and docs on indie legend Roger Corman; Brazil's bossa nova legend, composer/performer Antonio Carlos Jobim; critic/gay activist Vito Russo; and Frederick Wiseman's Crazy Horse, about Paris' legendary erotic cabaret.

A Fest highlight will be 20 Years of Art Cinema: A Tribute to Sony Pictures Classics, which will be followed by a screening of James Ivory's Howard's End [1992]. Views from the Avant Garde will make its 15th anniversary. The NYFM, partnered with h HBO will host four HBO Directors Dialogues.
The NYFM selection committee is chaired by Richard Peña, FSLC program director; Melissa Anderson, contributor, Village Voice; Scott Foundas, associate FSLC program director/contributing editor, Film Comment; Dennis Lim, editor, Moving Image Source; and Todd McCarthy, chief critic Hollywood Reporter.

In addition to screenings in Alice Tully Hall and the Walter Reade, the Elinor Bunin Munroe Film Center will become a exhibition venue. Tkt purchase begins September 12. For the complete line-up, schedules, special features and more information, visit www.Filmlinc.com/NYFF.


Last Chance


Hurry, hurry, hurry, you don't wanna miss a date with Death, Maury Yeston/Thomas Meehan/Peter Stone's Death Takes a Holiday, that is. This lush musical, playing at Roundabouts Off Bway Laura Pels has a "Bway" size cast: 14 [excluding understudies]. Performances end September 4 and there've been no announcements on a move. You probably won't see the likes of anything like it again Off Bway.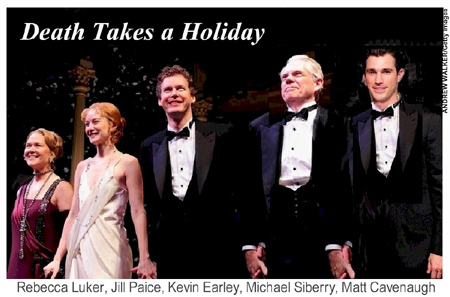 Death also boasts an outstanding lineup of stellar performers: Kevin Earley [who took on the lead role in a NY minute when Julian Ovenden came down with critical vocal problems], Jill Paice, Michael Siberry, the stunning and handsomely-costumed Rebecca Luker [looking so vivacious she must be playing a duchess married to a much older duke], golden-voiced Matt Cavenaugh, Simon Jones, Linda Balgord, Max von Essen and, among others but certainly far from least, Don Stephenson, who has the incredible knack of stealing any scene he's in [here providing much needed comic relief].
In addition, Tony-winning costumer Catherine Zuber has outdone her usual brilliant work. The budget for this musical must be a record-breaker for Off Bway.
Then there's Yeston's music and lyrics and such tunes as "Roberto's Eyes," "Life's a Joy," "Alone Here with You," and "How Will I Know." There's one song that will test even the most astute musical theater expert: "Shimmy Like They Do in Paree," which though some have doubted has a melody that's an outright steal of the unforgettable "We'll Take a Glass Together" from Yeston/Forrest and Wright's Grand Hotel, performed by Michael Jeter and David Carroll. [Check out Jeter, Brent Barrett, who replaced Carroll, and the extraordinary chorus bringing down the house singing/dancing the tune on the Tonys on YouTube.]
Verdi's Il Trovatore Telecast
The 2009 Met premiere of David McVicar's production of Verdi's notoriously difficult to stage Il Trovatore won great acclaim from critics and audiences. This season's production garnered equal praise, and had the added opt to be seen worldwide last April in theatres as part of The Met: Live in HD series. The extraordinary leads are four of the world's most celebrated opera singers: Marcelo Álvarez, Sondra Radvanovsky, Dolora Zajick and Dmitri Hvorostovsky. They reprise their performances this Sunday at Noon in this Verdi fav on Great Performances at the Met, a presentation of THIRTEEN for WNET.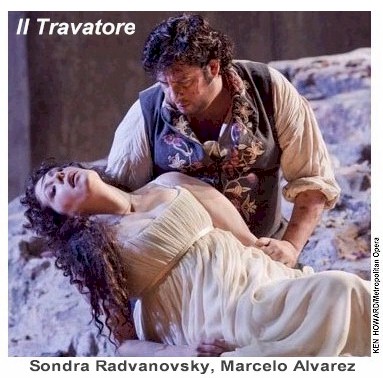 McVicar brought great straightforward emotional power to this staging, which is visually inspired by Goya's The Disasters of War paintings. Sets are by Charles Edwards, costumes by Brigitte Reiffenstuel, lighting by Jennifer Tipton and choreography by Leah Hausman.
Renée Fleming is host and will interview the stars during the interval. Barbara Willis Sweete directs the transmission and Jay David Saks is music producer. Great Performances is funded by the National Endowment for the Arts, the Philip and Janice Levin Foundation, Joseph A. Wilson and loyal met sponsor Toll Brothers, America's luxury home builder.

More Treasures from the Met Archives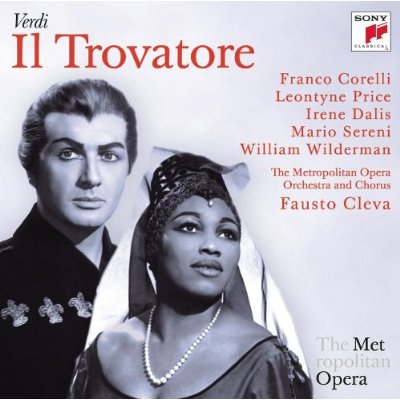 Sony Classical, in partnership with the Met, continues its series of releases from the opera house's rich archives with the first time on CD of freshly remastered, live Verdi operas, all two-disc sets: Don Carlo [1964], Il Trovatore [1961], Rigoletto [1964] and Un Ballo in Maschera [1955].

They feature some of opera's most celebrated stars at the height of their vocal prowness: Franco Corelli, Robert Merrill, Zinka Milanov, Jan Peerce, Roberta Peters, Leontyne Price, Leonie Rysanek, Mario Sereni, Giorgio Tozzi, Richard Tucker and Marian Anderson. Conducting are Kurt Adler, Fausto Cleva and Dmitri Mitropoulos.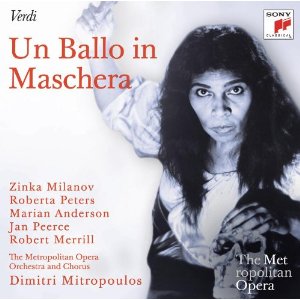 Maschera is notable and rare because Ms. Anderson reprises of her history-making performance as the first African-American to sing a principal role at the Met in a broadcast that's her only complete opera recording.

Trovatore, in which Ms. Price and Corelli made their house debuts, was captured a week after the performance that caused near pandemonion among fans.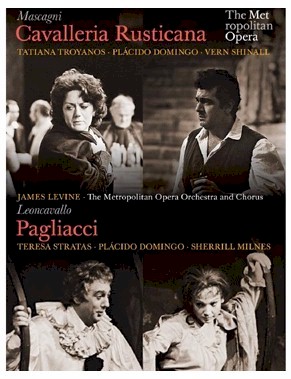 Four sought-after live performances blaze with passion in their first ever release on DVD: Verdi's Otello [1978], Mascagni's Cavalleria Rusticana and Leoncavallo's Pagliacci [1978], Berg's Lulu [1980] and Mozart's The Magic Flute [2006].
Franco Zeffirelli's Otello stars Jon Vickers, Renata Scotto, Sherrill Milnes and Cornell MacNeil; Zeffirelli's Cavalleria Rusticana and Pagliacci, Plácido Domingo, Tatiana Troyanos in the first, Teresa Stratas in the second; John Dexter's Lulu, Julia Migenes; and the whimical Julie Taymor's The Magic Flute, Nathan Gunn. Met M.D. James Levine conducts.
So You Wanna Rock?
Sheri Sanders' experiences working with students who made their way into rock musicals on Bway and tour and subsequent master classes on how actors best interpret rock songs to bring themselves into songs for auditions is now available to anyone anywhere. Her Rock the Audition - How to Prepare for and Get Cast in Rock Musicals [Hal Leonard Books; 224 pages; Trade, SRP $30] is the first book on how to audition for rock musicals.

Sanders outlines best methods to pick songs that create a dramatic arc, how to create appropriatearrangements and the basic tool of how to communicate to accompanists. Spot-on practical advice is given from such seasoned experts as casting directors Bernie Telsey and Jay Binder, choreographer Andy Blankenbuehler, M.D.s Steven Oremus and Alex Lacamoire and actress Kerry Butler. For more info: www.Rock-The-Audition.com.
Playwright Obsessive Disorder
Once Eugene O'Neil's obsessive script stage directions were confined only to heated discussions amongst doctoral students. NY's Neo-Futurist group is changing all that with The Complete & Condensed Stage Directions of Eugene O'Neill, Volume 1: Early Plays/Lost Plays [1913-1917], adapted, condensed and directed by Christopher Loar.

"We've transformed O'Neill's stage directions from their dissertation prison to an eloquent yet obsessive and often controlling rip-roaring physical comedy," says Loar.

Run time is 99 minutes. The show includes the playwright's "sea play"Bound East for Cardiff as well as his first play, the one-act A Wife for a Life.
TC&CSDOEO'N... plays at the Kraine [85 East 4th Street, between 2nd Avenue and the Bowery] September 8 - October 1. Tkts: $18; $12, students with valid ID. To purchase or for more info, call OvationTix, (866) 811-4111 or visit www.nynf.org.

New to DVD
Starring Oscar and Emmy winner Dame Helen Mirren in her iconic and groundbreaking television role, Prime Suspect, Series 1 and Series 2 arrive on DVD [Acorn Media; SRP, ($25; in 2010, Acorn released a complete box set collection].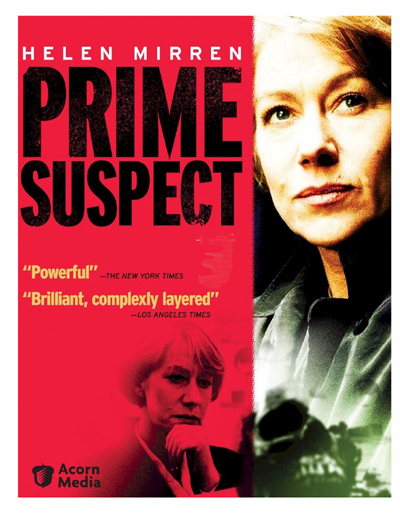 Mirren delivers a riveting performance as Detective Jane Tennison in this police drama broadcast in the U.K. on ITV and here on PBS [Masterpiece Theatre and Mystery!] to great acclaim and more than 20 awards, including seven Emmys, eight BAFTAs and a Peabody.

The series created by crime writer Lynda La Plante aired in seven stand-alone 90-minute installments [1991-2006). On rewatching Series 1, it's pretty obvious the tenacious, driven, and deeply flawed [though without a taste for booze instead of an addiction to chocolate] Jane Tennison rises through the ranks of Britain's Metropolitan Police against the opposition of male sexism and open hostility, immediately proving her worth solving horrific crimes.
Tennison was the inspiration for such female-driven TV series as The Closer, whose initial storyline bears a close resemblance to heR trials and tribulations. Now comes a new American version, which appears expected [since it's being Americanized] and most decidedly different [would have to be since women have made such strides into breaking the glass ceiling], on NBC this month starring Maria Bello [A History of Violence].
Series 1 features Ralph Fiennes [if you don't blink], Tom Wilkinson [as Tennison's love interest] and, in a spectacular performance, Zoë Wanamaker.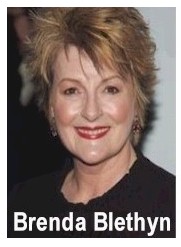 The first four episodes of the vastly entertaining Brit crime series Vera, which appears will be an ongoing series [Acorn; four episodes/four discs; SRP $60] is mainly notable for the irrespressible performance of Brenda Blethyn [Little Voice, Secrets & Lies, Pride & Prejudice]. The two-time Oscar nom and 20-year stage veteran is cantankerous but savvy Northumberland detective DCI Stanhope. The series, unique because you'll never guess who done it, is based on award-winning novels by Ann Cleeves. Featured as Stanhope's right hand is David Leon [RocknRolla] Guest stars include BAFTA winner Gina McKee [The Forsyte Saga, Notting Hill] and Hugo Speer [The Full Monty].


Tennessee at 100
Two highlights of the Tennessee Williams Centennial Celebration September 6 - 11 in Columbus, MS, will be a tour of his family home and Tandy Cronyn and Jeremy Lawrence starring in Precious Memories: Remembering Tennessee Williams.
Ms. Cronyn's mother, Jessica Tandy, co-starred in the original Streetcar Named Desire and revivals of Williams' Camio Real and The Glass Menagerie. She and husband Hume Cronyn were longtime friends of the playwright.

A Southern soul food supper will follow. A sidelight of the festival will be a "Stella Shouting" contest. For more info: www.muw.edu/tennesseewilliams.
80s Song/Dance Explosion in A.C.

Tkts for 80s Flashback, $25 and $35, are available at the Trop box office, www.ticketmaster.com or (800) 736-1420. For showtimes and information [including a $139/double overnight package, inclusive of show tkts, two beverages and slot dollars]: www.tropicana.net. The Trop website also offers two-for-one tkts.

Foodies visiting A.C. for the weekend have an excuse to stay over an extra day: Trop's fourth annual Taste of the Quarter on Monday, from 6 - 9. Savor five-star cuisine and beverages at 23 venues, including A.C. outposts of NY's Carmine's and the Palm. Admission, $30. Purchase at the IMAX box office or at www.tropicana.net. The event benefits United Way/Atlantic county.


Looking for a cure from summer blockbuster 3-D fatigue? Help has arrived.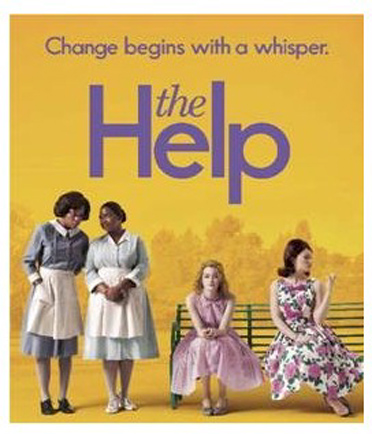 Kathryn Stockett's best-selling novel The Help, set amid social and racial change in Jackson, MS in the explosive 60s of Freedom Riders, school integration and human rights violations/murder, comes to the screen [Dreamworks/Disney], adapted and directed by actor [Winter's Bone] turned director Tate Taylor, undertaking only his second feature film. It's become the sleeper hit of the season.


What makes the book so endearing are the characters. Stockett fully meshes them out in a way the film can't. Moviegoers, as readers did, are going to fall in love with Ole Miss society grad

Skeeter, played by Emma Stone, as she begins her career as a journalist. They'll admire Aibileen, portrayed by Viola Davis, for her tenacity; and Minnie, played by the ab fab

Octavia Spencer [in a star-making, Oscar-nom worth performance] will steal the movie as she does the book. The fact that Davis and Spencer are Southerners is an asset to their portrayals, especially since they don't have to fake an awful dripping-with-magnolias accent.

Then there's Bryce Dallas Howard, as Hilly, the woman you can't help but despise; and Celia "White Trash" Foote, indelibly etched onscreen by Jessica Chastain, whom you'll be rooting for as you did in the book.


Crazy Stupid Love [Warner Bros.] isn't the typical brainless sex romp you might expect. Call it an "emotional comedy." It actually has a papable story, humor that's above fifth grade level and outstanding performances from Steve Carell [who'll have a good life away from The Office], Ryan Gosling, Julianne Moore, Emma Stone, Marisa Tomei and Kevin Bacon.


The Fright Night [Touchstone] remake had a lot to live up to if it was going to come even close to the original's performances by Chris Sarandon and Roddy McDowall as "Vampire Killer" Peter Valentine; not to mention its special effects. It mostly succeeds - helped by a budget probably 10 times the original's. Colin Farrell, now a bulked-up hunk, has a fun field day as a vampire. There's strong support from Anton Yelchin and Toni Collette. but David Tennant, seeming to channell Russell Brand, doesn't even come close to topping McDowall. The real 3-D effects are outstanding. Here's a horror flick with bite.
Ellis Nassour is an international media journalist, and author of Honky Tonk Angel: The Intimate Story of Patsy Cline, which he has adapted into a musical for the stage. Visit www.patsyclinehta.com.

He can be reached at [email protected]





Why are you looking all the way down here?
For more articles by Ellis Nassour, click the links below!

Previous: 2011 NY International Fringe Fest; Andrea Bocelli In Free Concert with NYPhil; At the Movies: Help Is On the Way, Onscreen; Judy Garland Retrospective, New to DVD; More

Next: City Center's Extreme Makeover & Coming Attractions; BC-EFA's Flea & Grand Auction; NY Film Festival; Broadway & Off Broadway on Sale; Met Museum Honors De Niro & Jackson; Exhibiting at the Met; La MaMa's 50th Anniversary; Onscreen/New to DVD/CD

Or go to the Archives