New York City Center reopens with a star-studded gala October 25 after a historic full-site renovation and modernization. The event will kick off a celebratory season of new and expanded programming, festivals, exhibits and the world-class performances by dance and theater companies. The renovation, designed by Ennead Architects, LLP has enhanced historic details - from the auditorium's proscenium and arabesque dome, the mezz lobby's painted ceiling and murals.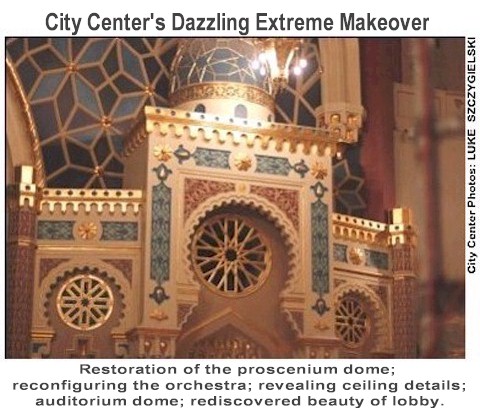 The restored auditorium includes plush, new seating with expanded legroom and improved sightlines, a newly-painted interior awash in vibrant color and a state-of-the-art sprung stage floor, renovated dressing rooms, new lighting and updated backstage amenities.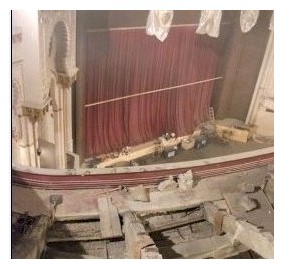 The $56.6-million project is the most extensive of its kind in the building's 70-year history. Stepping Forward: The Campaign for City Center, a $75 million capital campaign, raised the funds with the City contributing $35.6-million.


After a ribbon-cutting ceremony, in a nod to the building's 1943 dedication when Mayor LaGuardia conducted the NYPhil, Mayor Bloomberg will conduct the Encores! Orchestra [which should be very interesting].

Tony/Drama Desk- winner [and former Encores! A.D.] Kathleen Marshall, will direct a variety show with performances, reminiscences and tributes by stars including Alvin Ailey American Dance Theater, Joshua Bell, Matthew Broderick, Barbara Cook, Patti LuPone, Brian Stokes Mitchell, Donna Murphy, NYC Ballet, Sarah Jessica Parker and, among numerous others, Brian Williams. M.D. will be Encores! Rob Berman. A post-performance dinner will take place at Cipriani 42nd Street.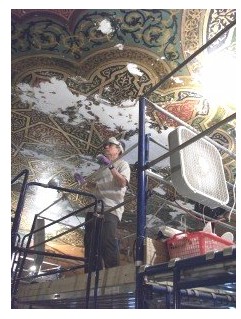 City Center was constructed in 1923 as a meeting hall for the Ancient Order of the Nobles of the Mystic Shrine [the Shriners]. In 1943, Mayor Fiorello LaGuardia dedicated it as Manhattan's first major performing arts center.

The City-owned building includes a 2,255-seat auditorium [somewhat less seating than before], two smaller theaters for not-for-profits such as MTC and Pearl, four rehearsal studios and a 12-story office tower.


Improvements feature water-saving facilities; energy-efficient utilities, enhanced recycling, green housekeeping, renovated mezz lobby, a lighted, heated street bronze and glass marquee that will welcome audiences into a reconfigured box office lobby outfitted with a new ticket window, video wall and restoration of the fabled glazed terra cotta tiles, stenciled ceiling and wall murals.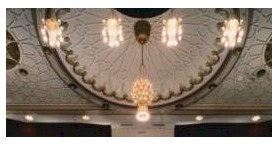 Amazingly, walls and many murals were covered over in the late 50s and forgotten until 1981, when a vintage photo turned up showing the spectacular original interior. Conservators, led by Debra Selden of Rustin Levenson Art Conservation Associates and preservation consultant Judith Saltzman of Li/Saltzman Architects, have removed two decades' worth of overpaint from the 3,000 sq. ft. ceiling.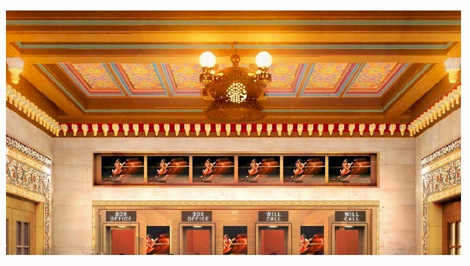 Upcoming attractions include:
October 27-November 6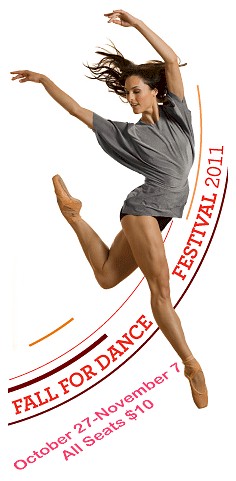 Fall for Dance series presents 20 companies in world premieres, new productions, treasured favs and cutting-edge dance - from hip hop to ballet, contemporary to tap and classic. The series is presented with support from Bloomberg News and the MetLife Foundation. All tkts are $10.

An after party with DJ will rock the lounge. Dance Talk, a free series, will offer pre-performance panel discussions in the C. C. Studios [enter on West 56th Street].
October 31
Career Transition for Dancers, the org that helps dancers identify their unique talents in preparation for establishing new careers when dance is no longer an option, presents A Halloween Thriller: A Dance Celebration of Ghosts, Ghouls, Vampires & Wilis [ghosts, pronounced willees] for their 26th Anniversary gala at 7 P.M. Multiple Tony/DD nom, winner and Presidential Medal honoree and theatrical/dance legend Chita Rivera hosts.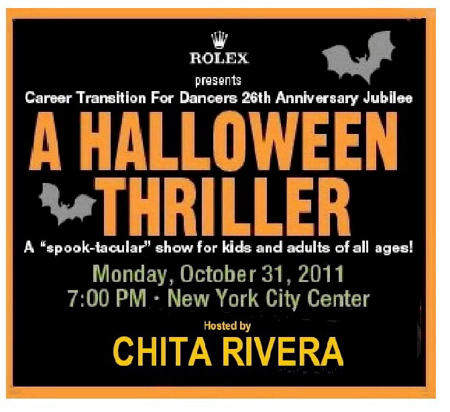 Sponsored by Rolex, the gala is billed as "an array of spine-tingling dance styles from prominent artists from Bway and dance companies, woven together in a spooktacular celebration."
Guests include the elite Who's Who of the dance world and show biz, including Carmen DeLavallade, Judith Jamison and Natalia Makarova. Honorary chairs include Robert Battle, Jacques d'Amboise, Marcelo Gomes, Cynthia Gregory, Gelsey Kirkland, Darci Kistler, Angela Lansbury, Peter Martins, Liza Minnelli, Bebe Neuwirth, Sono Osato, David Parsons, Ann Reinking, Desmond Richardson and Karen Ziemba.
Patron tkts are $600 -$1,200; tables for 10, start at $7,500 [include post-performance Masquerade Supper, dancing and live auction. For patron tkts, call Marjorie Horne, (212) 228-7446 X. 33; groups, (718) 499-9691. Show-only tkts, $45-$130, are available at the City Center box office, by calling CITYTIX, (212) 581-1212, or at nycitycenter.org.

November 8 - 13
November 18 - 22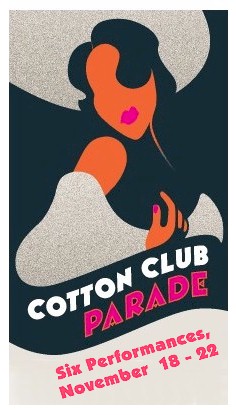 Encores! and Jazz at Lincoln Center will present Cotton Club Parade, a celebration of Duke Ellington's years at Harlem's famed nightclub in the 20s and 30s when the joint was jumping with revues featuring big band swing and blues, dancers, singers, comedians and novelty acts.

Conceived by Encores! Jack Viertel, DD nom Warren Carlyle [Finian's Rainbow; choreographer, Follies revival] is director/choreographer; with Wynton Marsalis as M.D., with the 15-member JALC Orchestra.
The Duke's career spanned worldwide. He composed 3,000 songs including hits "It Don't Mean a Thing If It Ain't Got That Swing," "Sophisticated Lady," "Mood Indigo," "Solitude," "Satin Doll" and "Creole Rhapsody." He was presented with the President's Gold Medal in 1966, LBJ; the Medal of Freedom, 1969, RMN; and awarded the Pulitzer Prize, 13 Grammys, Grammy Lifetime Achievement Award and the French Legion of Honor. In 1986, a Duke Ellington U.S. Commemorative stamp was issued.

Tkts are $25-$125 and available at the C.C. box office, by calling CITYTIX at (212) 581-1212 or at nycitycenter.org, where you'll also find performance schedules.
November 30 - January 1
Alvin Ailey American Dance Theater, in Robert Battle's first season as A.D. Tkts, $25-$175; available, as above. For performance schedule, go to nycitycenter.org. Gala tkts, still available, $70-$90.
Encores! Expands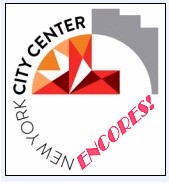 C.C.'s Tony-winning Encores! is expanding to seven performances with the addition of Wednesday evening and Sunday matinees.
Encores!
19th season begins February 8 with Sondheim's Merrily We Roll Along, followed by Rodgers and Hammerstein's Pipe Dream and Jule Styne and Leo Robin's Gentlemen Prefer Blondes.
The Big Event

Broadway Cares-Equity Fights AIDS 25TH Annual Broadway Flea Market & Grand Auction is Sunday, 10 A.M. - 7 P.M., filling Shubert Alley, West 44th Street between Bway and Eighth Avenue and the pedestrian plaza on Bway between 43rd and 44th Streets. On sale will be show biz treasures: DVDs/CDs, photos, books/plays, vintage Playbills, posters and assorted memorabilia and props.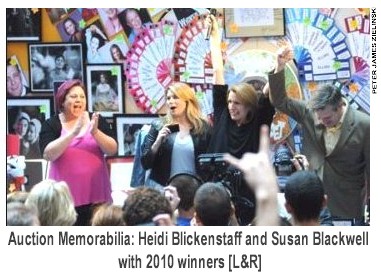 Hourly silent auction lots give way at 4:30 to the Grand Auction, where you can bid to make your long-awaited Bway debut [no agent or auditions needed] with an [walk-on] appearance in several of Bway's hits [with enough $$$, you could make history by "starring" one-night-only in several shows [when you've waited this long, why stop at one?]. Invite friends and family to cheer your opening night and give you a curtain standing ovation. Or how about backstage Champagne with a two-time Tony winner [there're so many, it'll be hard to chose just one]?
You can bid on backstage experiences at Jersey Boys, The Lion King, Mamma Mia!, Memphis, POTO, Rock of Ages, Sister Act and Wicked; VIP visits to the sets of TV's Emmy-winning Modern Family and SNL; one-of-a-kind items from Hugh Jackman, Angela Lansbury, Laura Linney, Bebe Neuwirth, Hal Prince, Daniel Radcliffe and, say, Chita Rivera; musical notes written by/signed by Stephen Schwartz, Stephen Sondheim, Robert Lopez, Billie Joe Armstrong, Duncan Sheik and Steven Sater.
A virtual Bway A-W Who's Who will be signing/posing. Autographs are a minimum $25 donation for all performers signing that hour; photos, a minimum $10 per photo. For $100, BC-EFA will share photos of you and your fav performer(s) on the org's Facebook and Twitter accounts.

The 25th FM&GA is sponsored by United Airlines and the NYTimes. Last year's Flea raised $476,917, bringing the 24-year total to $8,638,669 - thanks to theatergoers/donors, making possible $196-million in services to people with AIDS and critical illnesses across country. Over 400 AIDS and family service orgs received annual grants. BC/EFA supports seven Actors Fund programs, including the HIV/AIDS Initiative, the Phyllis Newman Women's Health Initiative and the Al Hirschfeld Free Health Clinic.

International Stars Get Ready for Their Closeups
Film Society of Lincoln Center's 49th New York Film Festival, opening September 30 - October 16, is set to open - and with a lot of buzz; but not the usual kind.
The controversial opening night gala is the North American premiere of Roman Polanski's Carnage [Sony Classics; opening in December], adapted from Yasmina Reza's 2009 Tony-winning play, God of Carnage.
It's not Reza's play that's causing gasps, but the film adaptation is directed by Polanski with his well-known past and recent legal baggage. It's not a forgive-and-forget situation. At media screenings, several wondered why open with Polanski with one journalist considering it "a slap in the face."
The four-character black comedy, set in NYC, but not filmed here, stars Jodie Foster, Kate Winslet, Christoph Waltz and John C. Reilly. Financed by France, Germany and Poland and shot in Paris, at 80 minutes, it might be the shortest film ever to open the Fest.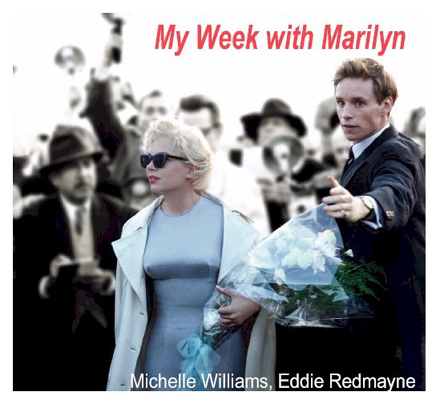 The much-anticipated Centerpiece will be Michelle Williams in the title role in My Week with Marilyn [Weinstein Company], as seen through the diaries of Brit filmmaker Colin Clark, who during the shoot of 1957's The Prince and the Showgirl was in the employ of MM's stellar co-star Sir Laurence Oliver, who didn't take kindly to MM's delays and unpreparedness. Co-starring and featured are Tony-winner Eddie Redmayne as Clark, Kenneth Branagh as SLO; Julia Ormond as Vivien Leigh, Dougray Scott as Arthur Miller, Judi Dench as Dame Sybil Thorndike [the Queen Dowager in TPATS], Zoè Wanamaker as Paula Strasberg; and Simon Russell Beale, Dominic Cooper, Derek Jacobi, Toby Jones and Emma Watson.
Screening closing night is George Clooney in Alexander Payne's The Descendants, about the heir of a Hawaiian land-owning family whose life is turned upside-down when his wife is critically injured.

Pedro Almodóvar and David Cronenberg will receive Gala Screenings of, respectively, The Skin I Live In, starring Antonio Banderas; and A Dangerous Method, starring Michael Fassbender, Viggo Mortensen and Keira Knightley.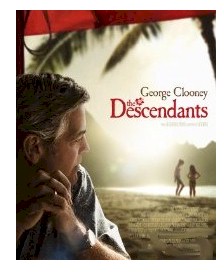 2011

Masterworks

programs include Jorge Luis Borges/Adolfo Bioy Casares' Invasion [1969] and the premiere of Jim Jarmusch's rediscovered/restored You Are Not I [1981].



There'll be a discussion panel, Pauline Kael: A Life in the Dark.anniversary screenings of Wes Anderson's The Royal Tenenbaums [Gene Hackman, Gwyneth Paltrow and Angelica Huston]; Japanese anime, Spirited Away; and Luis Buñuel's classic The Exterminating Angel [Mexico], which opened the first NYFF .
A Fest highlight will be 20 Years of Art Cinema: A Tribute to Sony Pictures Classics, which will be followed by a screening of James Ivory's Howard's End [1992]. In addition, Chaplin's The Gold Rush, with accompaniment by NY Phil, and William Wyler's Ben-Hur will be shown. Docs focus on indie legend Roger Corman; Brazil's bossa nova legend, composer/performer Antonio Carlos Jobim; critic/gay activist Vito Russo; and Frederick Wiseman's Crazy Horse, about Paris' legendary erotic cabaret.

Screenings are at Alice Tully Hall, the Walter Reade and the Elinor Bunin Munroe Film Center. For tkts, film roster/schedules, venues and info on the the 15th anniversary of Views from the Avant Garde, visit www.Filmlinc.com/NYFF.

New York Mon Amour

A sidelight of the NYFF, through October 4, is New York Mon Amour: A View of French Cinema an exhibition of 95 photos by Catherine Verret Vimont at FSOLC's Walter Reade's Furman Gallery. Madame Vimont captures Costa-Gavras, Catherine Deneuve, Gérard Depardieu, Isabelle Huppert, Jean Reno, Barbet Schroeder, Claire Denis, Charlotte Gainsbourg, Claude Lelouch, Jeanne Moreau and other French actors/filmmakers.



Broadway/Off Broadway Fire Sale


The Broadway League and NYC & Company, the City's official marketing and tourism org, reminds you there're only eight more days [September 30] to take advantage of Broadway Week and 2-for-1 tickets to more than a dozen Bway musicals and plays.



Musicals include The Addams Family, Billy Elliott, Jersey Boys, Mamma Mia, Mary Poppins, POTO, Priscilla Queen of the Desert, Rock of Ages and Sister Act. Forget about The Lion King and Wicked; all promo tkts are gone [and Book of Mormon and Spider-Man..., which didn't participate]. Plays include the previewing and much-anticipated Man and Boy, The Mountaintop and Relatively Speaking.

Phone and internet offers are subject to service charges. The offer is available for select seats and performances. Facilitiy fees of $1.50 and $2 may or may not be included. There's a limit of eight tickets per order.

To avoid service fees, go directly to the box offices and give the code: BWF2011. Register in Audience Rewards @ nycgo.com/broadwayweek for the sweepstakes, promos and discounts.



B. W. is supported by AARP, Amtrak [earn double Guest Reward points or use points to secure tkts], WNBC-TV 4 and The New York Times.

Through October 9, enjoy 2-for-1 tkts to 18 Off Bway shows, including Avenue Q, Fuerza Bruta, Love, Loss and What I Wore, Million Dollar Quartet, STOMP and much-talked about plays Dreams of Flying, Dreams of Falling, Motherhood Out Loud and The Submission.

It's a good time to reexperience NYC's longest-running play, Warren Manzi's romantic, diabolically complex comedy and Rubik's Cube thriller Perfect Crime, reaching a milestone of 10,000 performances [since 1987] Sunday @ 7 P.M. Give a shout-out to Catherine Russell, who's quite a milestoner herself in that she's never missed a performance -- a feat landing her in the Guinness Book of World Records.

To purchase, get phone numbers and promo codes [service charges apply on phone/internet orders: www.m.nycgo.com/offbroadwayweek.



Honors for De Niro and Jackson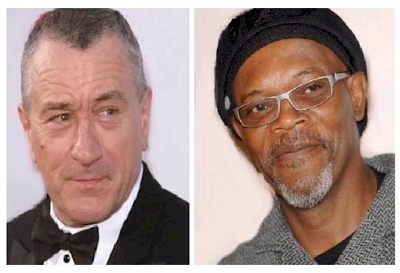 The Met Museum's second Multicultural Audience Development Initiative [MADI] gala, An Evening of Many Cultures, on Monday night honors Oscar-winner Robert De Niro, Oscar nom Samuel L. Jackson, making his return to the stage after 21 years as Dr. Martin Luther King, Jr. in The Mountaintop, artists Olga de Amaral and Cai Guo-Qiang, Grace Hightower De Niro and LaTanya Richardson Jackson.

There'll be cocktails @ 6:30 in the Great Hall, an international haute cusine dinner overlooking the Temple of Dendur, then diverse international music and dancing in the Great Hall. The evening, underwritten by Essence magazine, includes a preview viewing of Heroic Africans: Legendary Leaders, Iconic Sculptures, exhibiting more than 100 works drawn from worldwide museums and collections. Some $1,500 patron tkts are available. Dance-only tkts are $200 advance, $250 on site. Purchase: www.metmuseum.org/waystogive/tickets/multicultural.

Also at the Met
Through January 8, the Metropolitan Museum of Art will present Wonder of the Age: Master Painters of India, 1100-1900, with some 200 works devoted to Indian painting by more than 40 of India's noted painters. Organized by the Museum Rietberg Zurich in collaboration with the Met, there are loans from U.S. collections and Europe, including India's National Museum; HM The Queen's Collection, Windsor Castle; the Aga Khan Trust Geneva; and Oxford's Bodleian Library and Ashmolean Museum. The exhibition received support from MetLife Foundation and Novartis Corporation. It's curated by Department of Asian Art's John Guy. An illustrated catalogue will be available.


La MaMa Celebration
La MaMa will kick off its 50th anniversary celebration October 16 with a free block party, 2 - 6 P.M. on East 4th Street between the Bowery and Second Avenue, home to La MaMa's three performance venues. The block will be co-named Ellen Stewart Way, in honor of the late, legendary Ellen Stewart, La MaMa founder, and accompanied by a worldwide ringing of bells following Ms. Stewart's tradition of ringing a bell at the start of La MaMa performances. Blue Man Group, Silver Cloud Singers, Bad Buka, dance troupe Pua Ali'i 'Ilima o Nuioka, Middle Collegiate Gospel Choir, La MaMa's Puppet Parade, Circus Amok, Carmelita Tropicana, Douglas Dunn & Dancers and others will perform. For free tours of the La MaMa Archive and Ms. Stewart's amazing private collection from 1 - 2 P.M., reserve at www.lamama.org.



Onscreen


Tonight: on PBS Great Performances/THIRTEEN, at 9 P.M., don't miss the 90-minute profile Placido Domingo: My Favorite Roles when the acclaimed-internationally tenor/baritone performs excerpts from appearances in world opera houses: Andrea Chénier, Carmen, Ernani, The Girl of the Golden West, I Pagliacci, Otello, Tales of Hoffmann, Tosca, Samson et Dalila and Turandot. Among co-stars glimpsed are Ileana Cotrubas, Kiri Te Kanawa, Carol Neblett, Elena Obraztsova, Renata Scotto, Teresa Stratas and the late Shirley Verrett.

Sunday, from 12:30-2 P.M., join soprano Deborah Voigt with the NYPhil in works by Barber, Wagner and Richard Strauss on Live at Lincoln Center.

Opening
Forget your diet for this one! Based on the bittersweet story of food writer Nigel Slater's odd childhood [and eventual coming out] in 60s Britian after his mother's death and his struggles with the stepmother from Heaven or maybe Hell, whom he alternately hates and is jealous of, Toast, written by Lee Hall [Billy Elliott] has plenty of delish moments, mainly those with Helena Bonham Carter, having a field day stealing every scene. Ken Stott as the father gives her some solid competition. As the younger Slater, Oscar Kennedy is awesome; but as he segues into Freddie Highmore, he becomes an acquired tatse because he's nothing more than rude bordering on bastard.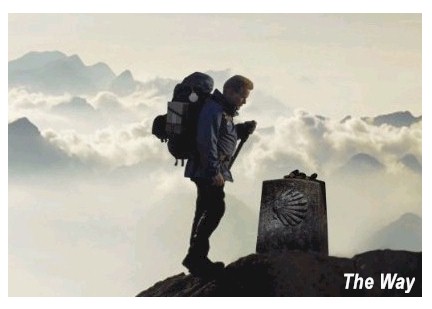 What to watch for on the big screen: Do you know the way from St. Jean Pied de Portto to Santiago de Compostela? Neither does Martin Sheen, but for very personal reasons he's determined to make an exhausting walking pilgrimage and discovers much more than he bargained for. Emilio Estevez writes, produces [with a lot of European investment] and directs Sheen, one of our best actors and who happens to be his dad, in The Way [select cities October 7], which could be one of the best movies of the year. Not only does Sheen standout, but Estevez has ultra-matured into a fine filmmaker and surrounds him with an outstanding featured ensemble, including Antonio Gil, James Nesbit, Yorick van Wageningen and Deborah Kara Unger. Did I mention the scenery throughout France and Spain is gorgeous?


On DVD


Oscar winner Colin Firth, in one of his first roles, and Oscar-winning screen/theater legend Laurence Olivier [Emmy nom'd for his performance, one of his last, as a fading comic] shine in the ITV/PBS 1986 screen adaptation of J.B. Priestley [An Inspector Calls]'s haunting, romantic Lost Empires [Acorn Media]. Firth portrays a a young man coming of age on the eve of WWI. The seven-part miniseries, directed by veteran U.K. TV helmer Alan Grint, is gorgeously mounted.


Coinciding with the film adaptation starring Gary Oldman and Colin Firth, John le Carré's classic Cold War spy drama Tinker, Tailor, Soldier, Spy, starring Oscar-winning screen legend Alec Guinness, is being re-released on DVD [Acorn Media; six episodes, three discs]. The package includes an. interview with le Carré. Coming October 15: Smiley's People, which continues the story.
On CD
Kristin Chenoweth in her best album yet: Some Lessons Learned [Masterworks], recorded in Nashville with 13 tracks, including "Borrowed Angels," "Fathers and Daughters" and songs by Dolly Parton and Diane Warren; in celebration of the upcoming revival on Bway, comes the remastered 40th Anniversary original cast album of Stephen Schwartz's Godspell, accompanied by the screen adaptation soundtrack [Masterworks Broadway]; and the long-awaited new album from acclaimed and meserizing young tenor Vittorio Grigolo, Arrivederci, with 20 tracks of arias [from Cosi Fan Tutte, Il Duca d'Alba, Fedora, Martha, Tosca and Traviata] and Italian songs.

Ellis Nassour is an international media journalist, and author of Honky Tonk Angel: The Intimate Story of Patsy Cline, which he has adapted into a musical for the stage. Visit www.patsyclinehta.com.

He can be reached at [email protected]





Why are you looking all the way down here?
For more articles by Ellis Nassour, click the links below!

Previous: Remembering Caricaturist Sam Norkin, Price Berkley; Greg Hollmann on Yeast Nation; NY Film Fest Line Up; Last Chance to Catch Death; Met's Il Trovatore Telecast; More from the Met Archives; Audition Advice; Obsessive Eugene O'Neill; New to DVD; More

Next: Frank Langella on NPR; Rapp's Dreams of Flying...; Jack Lemmon Remembered; Broadway Cabaret Festival; Final Credits Crawl Soon for Expansive 49th NY Film Festival; Coming Soon; More

Or go to the Archives