For many years now, the Oscars have really strived for national and international diversity. And if you wanted diversity at the movies in 2011, you got it. The noms speak loudly for that diversity. The creators and stars of the 10 nominated films and the host of others in 24 categories will be celebrated Sunday on ABC at the 84th Academy Awards. Red carpet arrivals begin @ 7 Eastern.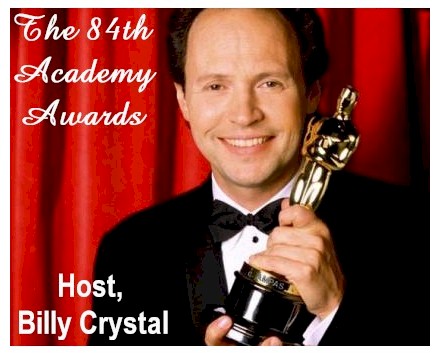 Hosting for the ninth time will be Billy Crystal, who'll provide plenty of mischief and parody through the night of endless $1.7-mil-per-30-sec commercials right up to the credits crawl, and then more commercials. Veteran filmmaker Brian Grazer is producer.


Marilyn Monroe's big news again. The failed musical of 1983 [51 performances] with music and lyrics by five composers [for the record, Alyson Reed and Scott Bakula starred]. Maybe it was simply bad or simply way ahead of it's time. Now, it's being examied closely again [could it pop up at Encores!?

If you wait long enough, all things come back. So, no suprise, that on NBC's highly anticipated new series SMASH, the Bway community is all abuzz about a Marilyn Monroe musical. at again. Abuzz, because not only is the series [created by playwright Theresa Rebeck, also an exec producer] musical being developed on the series, but, with producers such as Steven Spielberg and such known theater names as David Marshall Grand, Scott Wittman and Marc Shaiman [who're writing the score] and Craig Zadan and Neil Meron, it's rumored to eventually land on Bway.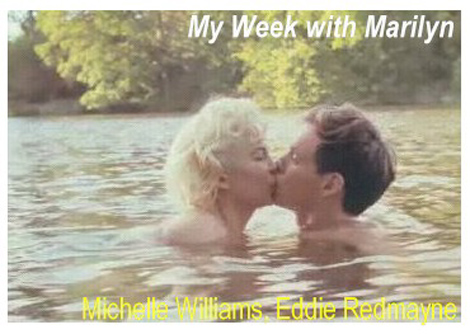 Which is by way of introduction to one of 2011's most mesmerizing movies, My Week with Marilyn [Weinstein Company], based on the diaries of Brit filmmaker Colin Clark, who during the shoot of 1957's The Prince and the Showgirl was in the employ of MM's stellar co-star Sir Laurence Oliver, who didn't take kindly to MM's delays and unpreparedness. Williams inhabited MM to a T, as well as Sir Kenneth Branagh cloned Sir Larry.

MWWM was so anticipated, and actually lived up to and beyond its hype, that it seemed to be a shoe in as leader of the pack, then came The Artist [Canal +, CinéCinema, Weinstein], a French silent homage to early Hwood, in B&W and presented in the old screen ratio yet, and one of the few nom'd films actually made in Hollywood. Along with the French leads is a top roster of American names and a very special dog. Devoid of wide-screen, color, 3-D, martial arts, kick-boxing, car chases, full frontal, and erotic sexcapades, it still became one of the big blockbusters of the year. Though it was "silent," Ludovic Bource's stunning score actually added "voice."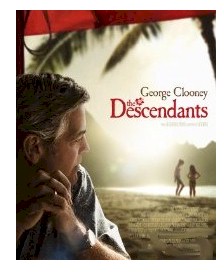 Then, George Clooney arrives not only in a film he co-wrote and directed, The Ides of March [Cross Creek, Sony Pictures]; Brad Pitt in Moneyball [Columbia Pictures], and Clooney again in the tropical family drama The Descendants [Fox Searchlight], which has audiences evenly divided [is it a great film, or simply an okay film with The Cloon maturing into character stage?]. Though A Better Life was alittle seen little film, Mexican-born Demián Bichir's performance is one of the best, if not the best, of the lead noms. He won't win, but it's a tribute to the Academy to recognize him. He'll now forever more be known as Oscar nom Demián Bichir.

To give Michele Williams a run for the money, Meryl Streep [17 noms, with two wins - one, supporting; one lead] transformed herself [with the help of a huge make-up and hair department] into former Prime Minster Margaret Thatcher in The Iron Lady [Universal]. But then there was Viola Davis' acclaimed performance in The Help [Dreamsworks, Touchstone]. The game kept changing.
With noms from Poland and Iran, there's certainly tons of diversity, as you would expect, in the Foreign Film category. Everyone was expecting Pedro Almodóvar's very strange The Skin I Live In to be in one of the five slots. Because it was difficult to define as a drama or comedy, it landed with a thud. In a rare showing of distaste, it was derided by a majority at the NYFilm Fest media screenings, and Almodóvar's long been a Film Fest fav.
Since we can't write Uggie in for Best Lead Performance by an Animal and can't determine the winners [or wrangle an invite to the Vanity Fair soriee], we can at least take out our ballot and mark favs. The Academy members have. Now, we wait with baited breath for the envelopes to be opened.
In the past, winners didn't linger too long at the official Academy ball, in favor of making the party rounds, but the Academy's found a way to keep them there with an engraving department set up. Now, winners don't have to wait for their personal Oscar. They can tote it around all night and into the wee hours.
The Academy's web site, www.Oscar.com, is loaded with special features including trailers of nominated films, a ballot for you to vote,video features, photo galleries [such as Out of Character: Portraits of This Year's Nominees] and Unforgettable Heroes, trivia, suggestions for planning for your Oscar party, and special Oscar app for iPhone and iPad.

N
omination Highlights
For the complete list of nominees, visit Oscar's web site. You may drive away in a Hyundai.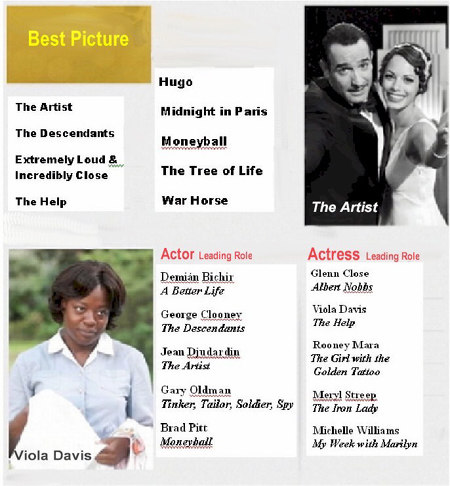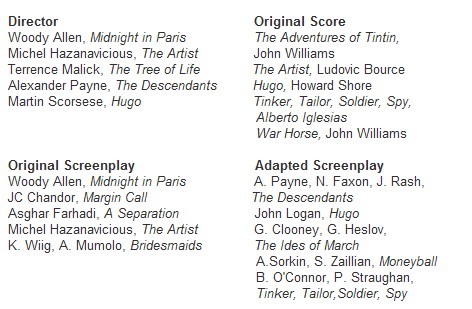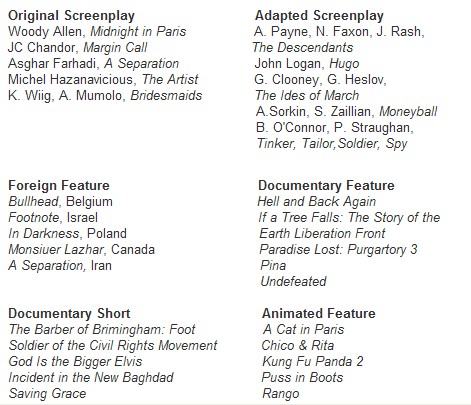 =========== More Oscar Coverage ===========


Special Awards
The Academy has presented the tech awards and also bestowed honorary Oscars on veteran actor James Earl Jones, Oprah Winfrey and make-up artist Dick Smith. Mr. Jones, who was feted by Alec Baldwin and Glenn Close, accepted his award by video from London's Wyndham Theater, where he's starring in Driving Miss Daisy with Vanessa Redgrave. Baldwin and Glenn Close feted the actor before Sir Ben Kingsley presented him with his Oscar onstage. Accepting, he said, "Receiving an Oscar in such a fashion is an actor's wet dream. I'm deeply honored, mighty grateful and just plain gobsmacked."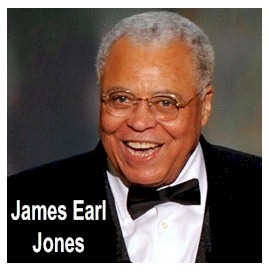 Smith is the groundbreaking veteran makeup artist [The Exorcist, The Godfather among many others].
Ms. Winfrey, receiving the prestigious Jean Hersholt Humanitarian Award was introduced by Quincy Jones, John Travolta, Maria Shriver, and producer Larry Gordon and a student she'd never met but whose education she funded. "Receiving an Oscar for philanthropy is unimaginable," she cried. "It's also unimaginable considering my humble beginnings in Mississippi. It's impossible for you to even know what this journey has meant."
[It was quite a night for Mississippi, as not only is Winfrey from there, but also Jones and Gordon.]
"I'd like to do more films," Ms. Winfrey said, "but to receive the Humanitarian Award means more to me than any film, any acclaim, even an Oscar, because what it says is understand what I've been trying to do, what I've been trying to say all these years, that all of us can make a difference through the life that we live."

Oscar's Top Film Score Nominee: John Williams
Awash in honors and still going strong after a nearly 60-year career, prolific composer John Williams is the best-known of contemporary film music composers. In the 2011 Oscar noms, he has two scores: The Adventures of Tintin and, continuing his long association with Steven Speilberg, that director's adaptation of War Horse.

To mark his 80th birthday, he's put together a retrospective featuring some of his favs and, of course, conducted by himWilliams himself, A Tribute to John Williams: An 80th Birthday Celebration [Sony Masterworks], which officially drops on Tuesday.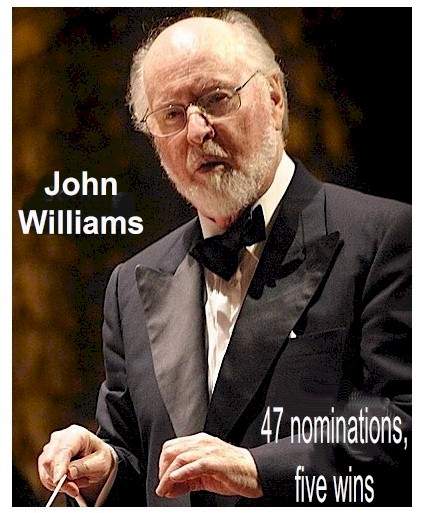 From the late 50s into the mid-70s, Williams was prolific as composer of TV sereies scores, and a couple of films and also as conductor and arranger. Then came Spielberg and Jaws [1974], and the rest is, as they say, history: Star Wars, Superman, Indiana Jones, the sequels and prequels, Close Encounters..., two Harry Potters and 47 Oscar noms for Original Score and Song - along with five wins: Jaws, Star Wars "Episode IV" A New Hope [1977], E.T., Schindler's List, and for scoring Fiddler on the Roof.

Of the countless films he's scored, two for which he was nom'd for standout as superior: Spielberg's Empire of the Sun and Lawrence Kasdan's The Accidental Tourist. In addition, there's music for the concert stage and festive occasion pieces. Williams has enjoyed a 40-year collaboration with Spielberg, scoring all but one of the director's films.
The CD A Tribute to John Williams: An 80th Birthday Celebration [SRP, $16] contains 15 tracks, with extended tracks for Star Wars and E.T. themes. Other tracks feature Yo-Yo Ma, Itzhak Perlman, and the Boston Pops orchestra.


~ ~ ~
Brian d'Arcy James on SMASH
Multiple Tony and Drama Desk nom and DD winner Brian d'Arcy James discusses his good fortune being cast in NBC's very Bway SMASH, on which he plays Frank Houston, who's put his career as a teacher aside for his wife, Julia, played to the hilt by Debra Messing, to do one more show as one half of the composing team [with Christian Borle] as they pursue the adoption of a baby from China.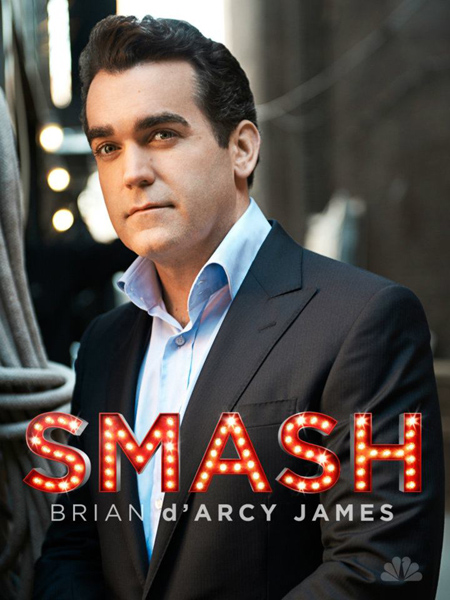 "It couldn't have come at a better time, but then I guess in this business any time is a good time to be cast in a series, especially one with the potential that SMASH has. The miracle of it all is that we shoot here, so I don't have to be away from Jennifer [Prescott] and our daughter.

I went out to Los Angeles this time last year for pilot season. It was difficult. You're away from your family and sleeping on friends' couches. It's harder the older you get.

There're a glut of people wanting to do the same thing, so it's very competitive. I give myself six weeks. But, for the first time, I had an embarrassment of riches. I got the pilot for J.J. Abrams' Person of Interest [co-starring James Caviezel and Michael Emerson], and the other was Theresa Rebeck's SMASH. About three weeks in, I was returning here to do a benefit. I got off the plane and got a call from my agent telling me I had the pilots, both of which shoot here, and that I didn't have to go back to L.A.

It's great that there's so much activity shooting here, good for the actors, good for the crews, every facet of our industry. It takes so many people to put together a TV show, so it's good all around. SMASH has been a terrific experience. Talk about being in good hands! We've now shot 14 episodes [which takes the show to the end of it's half season]. It's been a great joy working with Debra [Messing]. I can't say enough good things about her, and also what fun she is. Emory Cohen [who plays their son] is someone to watch. He's a fine actor."


SMASH Is Moving into Interesting Territory
Ellis [Jamie Ceprois] is proving to be the ultimate snake in the grass, while Julia [Messing] reveals a secret she shouldn't have revealed [you never know what slimball is eavesdropping]. Director Derek Wills [Jack Davenport] is relishing playing up the old Bway casting couch stereotype [and is he also setting someone up for a fall?].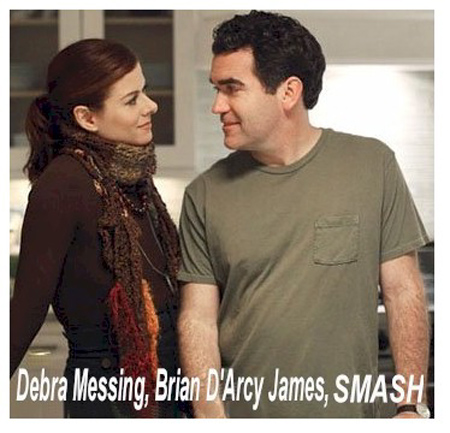 Ivy Lynn's pursing the other end of that stereotype and may be in for surprises. Bway vet producer Manny Azenberg won't co-produce with Eileen Brand [Angelica Houston] mgelibecause she's estranged from hubby and producing partner - hissssss! -Jerry [Michael Cristofer]. She's quickly running out watering holes - and running up quite a tab on "spilled" Manhattans.
Betrayals, directors and producers bedding potential stars and "blonde bimbos," backstabbing, liars, running into producers and theatre honchos in restaurants that aren't Orso? Hmmmm, is this the show biz we all know and love? The only thing missing is Michael Riedel. How the hell did that happen?
Upcoming guest stars: Uma Thurman, Bernadette Peters, Nick Jonas. One of Bway's most personable and talented actors has a recurring role: Tony and DD nom Dylan Baker.
Love Really Never Dies: The Phantom Returns
We may not be able to see Andrew Lloyd Webber's Love Never Dies sequel to POTO but Tuesday and March 7 @ 7:30 there'll be a worldwide cineplex premiere of Melbourne's Regent Theatre's fully-staged production [NCM Fathom/Omniverse Vision]. The musical also drop on DVD/Blu-ray Memorial Day weekend. Directed by Simon Phillips and designed by Gabriela Tylesova, it was taped live. All this just as the West End POTO celebrated its 25th anniversary with a lavish Royal Albert Hall staged concert [now available on DVD/Blu-ray] and the Bway production's topping 10,000 performances to insure its rep as the longest running Bway show ever.
Lyrics are by Glenn Slater and Charles Hart [POTO], with book by Ben Elton, Slater and Lloyd Webber. The ecletic score boasts sensational power ballad, "'Til I Hear You Sing," sung by the Phantom. Daily Mail critic Michael Coveney wrote, "It's the best film of a stage musical I've ever seen"; a far cry from the London reviews of the original.


The telecast, another testament to the power of the Phantom and
Lloyd Webber's Really Useful marketing group, stars Ben Lewis as Phantom and Anna O'Byrne as Christine Daaé, among a cast of 36, spectacular sets, colorful costumes, and with a 21-piece orchestra.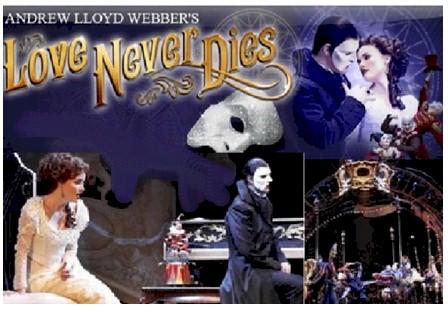 On the W.E., golden voiced Sierra Bogess [The Little Mermaid] and Ramin Karimloo [who headlined the POTO Royal Albert Hall concert], opened the show at London's Adelphi in March, 2010 [closing after just over a year]. Jack O'Brien directed, with Jerry Mitchell as choreographer. The show closed in November 2010 for substantial re-writes and reopened with new direction from producer Bill Kenwright [Blood Brothers]. A Bway production was postponed. Lloyd Webber, pleased with the Aussie production, is weighing his options.


Love Never Dies is set in 1907, about a quarter century after the original, which takes

place in 1881. Christine is invited to perform at a new Coney Island attraction, Phantasma by an anonymous

impresario

and, with her husband Raoul and son Gustave arrives unaware she's been tracked down by that certain gent, who kept a low profile for much too long "beginning a new life in New York."

Local theatres hosting are: AMC Empire and Kips Bay 15 and Regal's Union Square 14. Tkts, $18, available at participating theater box offices and at www.fathomevents.com/loveneverdies.aspx. Pre-order the DVD [Universal Studios] at Amazon.com [SRP, $20].

Mark Your Calendar
* TONIGHT! @ 9, PBS telecasts David Bryan and Joe DiPietro's Tony and DD-winning Memphis, starring Tony and DD-nom Chad Kimball and Tony nom and DD winner Montego Glover.

* Sunday @ Noon, PBS Great Performances from the Met presents Tony winner Michael Grandage's new production of Mozart's Don Giovanni, starring Mariusz Kwiecien as the infamous serial seducer. Fabio Luisi conducts the awesome Met orchestra.
* Cherry Jones returns! Alas, not to the stage but to TV in another highly anticipated series, the psychological drama Awake [NBC] - what's a dream, what's reality, premiering March 1 @ 10. Tony and Emmy-winning Jones co-stars as therapist Dr. Evans, along side BD Wong, Jason Isascs, Laura Allen, Steve Harris, and in a decidely different type of role for him, Wilmer Valderamma.
* One of Europe's finest filmmakers, Romania's Lucian Pintilie, with a background steeped in theater directing, creates corrosive cinema that's at once original, ferocious, and hopeful. Memories of his ethnic mosaic growing up inform his. It's more than evidenced in MoMA Film's retrospective, March 1 - 12. Films include his controversial Sunday at Six [1965]; the briefly banned [in Romania] Reenactment [1969], a seminal work of the New Romanian Cinema; the equally controversial Carnival Scenes [1979]; his acclaimed Afternoon of a Torturer [2001]; and Niki and Flo [2003]. Upcoming at MoMA Film, in conjunction with Film Society of Lincoln Center: New Directors/New Film 2012, March 21-April 1. There'll be 29 features (24 narrative, five doc) and 12 short films representing 28 countries. Info, schedules: www.moma.org/visit/calendar.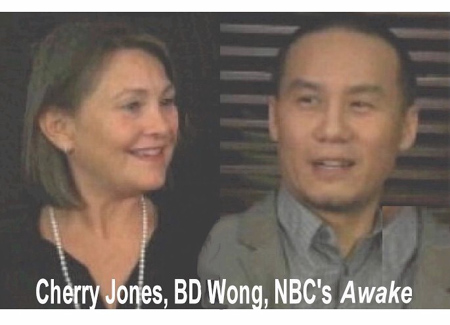 *
Metropolitan Room:
Loni Ackerman
[Evita, Cats], tonight, March 2, 23 and 30, Next to Ab-Normal, stories of "family friends" such as Bob Fosse, Gwen Verdon and tunes from her Lloyd Webber shows. Sultry
Tanya Holt
, March 6 and 14, reprises widely acclaimed act Forever Home, a mix of jazz, Bway and pop.
Jamie deRoy & Friends
, March 18. Guests: Karen Mason, Lisa Lampanelli, Valarie Pettiford. All @ 7.

* March 4: PBS, 7p, Great Performances: The Phantom of the Opera at the Royal Albert Hall, the super-lavish 25th anniversary, fully-staged production of ALW's megahit. Ramin Karimloo and Sierra Bogess [both, Love Never Dies], with international cast. Former Phantoms and original Christine, Sarah Brightman, guest [though you'll have a difficult time recognizing her]. ALW also appears with Cameron Mackintosh.

* Alchemy Theatre Company/Playwrights' Playground's world prem of Michel Wallerstein's Flight, beginning Friday, DR2 Theatre. Vet Bway star and two-time Tony nom Maria Tucci [Requiem for a Heavyweight, The Rose Tattoo], Maddie Corman [Next to Normal], and Jonathan Walker [Divine Sister] co-star in drama of a man's search for truth and his identity before his mother loses her battle against dementia.Tkts, $65: TeleCharge, (212) 239-6200 or www.TeleCharge.com.

* March 13-18, the Martha Graham Dance Company will present eight performances embracing Inner Landscape at the Joyce. Tkts start at $10, Joyce box office, JoyceCharge (212) 242-0800, or www.Joyce.org.

*

Broadway by the Year, March 19, Town Hall: The Broadway Musicals of 1950 [Call Me Madam, Guys and Dolls, Out of this World]; May 14, ... 1975 [Chicago, A Chorus Line, Rocky Horror..., Shenandoah, The Wiz]; and June 11, ... 1987 [Into the Woods,

Les Miz, Stardust, Starlight Express

]. Tkts are $45 - $50 and 45, at T.H. box office and TicketMaster,

(800) 982 2787

, or

www.ticketmaster.com

.

*

City Center Encores!:

Laura Osnes starring in Rodgers and Hamm

erstein's Pipe Dream, with Will Chase,

Leslie Uggams, and Tom Wopat,

playing seven performances March 28 - April 1. This is the first time the musical will be seen on the NY stage since the 1956. Jule Styne and Leo Robin's Gentlemen Prefer Blondes closes the season. Tkts., $25-$125, and season tkts: C.C. box office, CityTix,

www.NYCityCenter.org

, or (212) 581-1212.




Ellis Nassour is an international media journalist, and author of Honky Tonk Angel: The Intimate Story of Patsy Cline, which he has adapted into a musical for the stage. Visit www.patsyclinehta.com.

He can be reached at [email protected]





Why are you looking all the way down here?
For more articles by Ellis Nassour, click the links below!

Previous: Best of Cast Party II; Post Mardi Gras in New Orleans; National WWII Museum; Fred and Adele; On DVD: Downton Abbey and Real High School Musicals; Last Chance; Cinema for Smithsonian; Remembering Whitney Houston; Mark Your Calendar

Next: The Trials, Tribulations, and Triumph of Jesus Christ Superstar from Hit Single to Concept Album and Broadway Premiere

Or go to the Archives