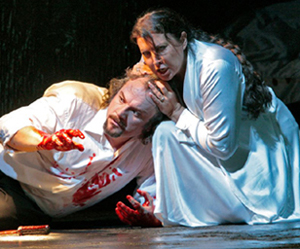 MACBETH AT THE MET: NO GREAT SHAKESPEARE
One of the most amazing facts about Giuseppe Verdi is that his powers as an opera composer only increased with age. Although his talent was evident from the outset, much of Verdi's early work is pedestrian -- because he was hamstrung by the operatic conventions of the day, and also because his prowess as a musical dramatist was not yet fully developed. But over the course of his more-than-50-year career, the man just kept getting better and better at what he did, creating such immortal works as Rigoletto, La Traviata, La Forza del Destino, and Aida. His last two operas, Otello (1887) and Falstaff (1893), are universally regarded as masterpieces.
It's unfortunate that Verdi's only other work based on Shakespeare, Macbeth (or Macbetto), dates from 1847, when he wasn't ready for the challenge. Though the opera contains several passages that bear the mark of genius -- including Lady Macbeth's sleepwalking scene and the choral lament "Patria oppressa!" -- much of the music is negligible if not risible, from the bouncy ditties sung by the coven of witches who set the drama in motion to the inappropriate, tarantella-like tune that accompanies the entrance of King Duncan to the by-the numbers finales of Acts I, II, and IV. Verdi revised but, alas, did not start from scratch and completely rewrite the opera for its Paris premiere in 1865. That version, minus the ballet that was added at that point, is being presented by the Metropolitan Opera in a new production directed by Adrian Noble, former head of the Royal Shakespeare Company.
Noble probably seemed a smart choice for the assignment, given his Shakespearean background, but I'm afraid not; this Macbeth is almost as dispiriting as his Chitty Chitty Bang Bang, which darkened Broadway for nine months in 2005. You know you're in for a rough night as soon as the curtain (or, rather, the scrim) rises on the "weird sisters," who are weirder than ever as depicted here. In a program article, Noble is quoted as saying that the visual appearance of these witches was inspired by the work of photographer Diane Arbus, but they look more like characters from a Brecht/Weill musical or maybe Urinetown (see photo below). Swinging their purses, thrusting their pelvises, and indulging in silent-movie-style takes as they sing, they create a laughable first impression from which this production never recovers. Sue Lefton, in her Met debut, came up with the silly choreography.
The director has set Macbeth in a "non-specific, post-World War II Scotland." Such updating can sometimes illuminate a well-known work but, more often than not, it creates glaring anachronisms that only serve to take the audience out of the story. To cite only one example: Since the opera's action now takes place sometime in the mid-20th century, the soldiers in the climactic battle scene carry guns instead of swords or spears. But, presumably to avoid obscuring the music, these guns are never fired. Instead, the men fight to the death by clubbing each other with the butts of their rifles. (I'm not making this up.)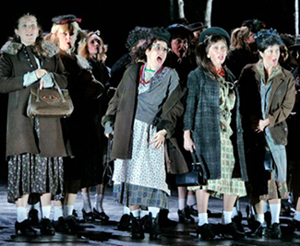 Given the essentially wrongheaded production concept, Mark Thompson's sets and costumes are far less distracting than they might have been. The set design is actually quite intriguing: It's as if everything happens in the woods, with towering tree trunks doubling as the columns of Macbeth's castle. Suitably moody lighting is provided by Jean Kalman. Yet this tale of murderous ambition has almost no sense of dread as told here -- probably because we spend so much time giggling or puzzling over Noble's direction, which careens wildly from one style to another. It's a great idea to have Lady Macbeth begin her first aria in bed, but what sense does it make for her to then stride downstage and lie on the floor? For that matter, why in her sleepwalking scene is the lady required to step gingerly along a row of chairs placed in her path by the witches?

One could go on and on detailing Noble's miscalculations, but let's move on to the singers, who acquit themselves admirably under the circumstances. Although baritone Zeljko Lucic lacks the force of personality necessary to make the central character register as a major presence in the cavernous Met, he sings beautifully and acts well enough to retain his dignity. As Lady M., soprano Maria Guleghina uses her occasionally unwieldy but enormous voice to thrilling effect and somehow manages not to appear ridiculous when navigating those damned chairs. John Relyea's Banquo is stalwart and sonorous, while Dimitri Pittas as Macduff make the most of the opera's one tenor aria, earning an ovation for his efforts. The Met orchestra plays with typical magnificence under James Levine; the chorus sings stirringly under its new master, Donald Palumbo.

Would that the stage direction were at the same level of excellence. At intermission, the woman seated next to me said her husband was so infuriated by the production that he had already departed, leaving her to experience Acts III and IV on her own. During the curtain calls, it became clear that this fellow's feelings were shared by many in the audience; Levine and the singers were cheered, but the applause thinned and more than a few boos were heard when Noble and the rest of his team took the stage. (God love opera buffs: If something makes them unhappy, they let you know it!)

The Met has been reinvigorated by Peter Gelb, who took over the reins as general manager last season. It's worth nothing that this production was given the go-ahead not by Gelb but by his predecessor, Peter Volpe. Shakespeare's Macbeth is believed to be cursed, so much so that theater people often refer to it as "the Scottish play" rather than tempt fate by speaking the title. Said curse seems to have enveloped the Met's new staging of the opera based on the play, but here's hoping that it's only a speed bump on the company's highway to ever greater glory.




Published on Thursday, October 25, 2007




Michael Portantiere has more than 30 years' experience as an editor and writer for TheaterMania.com, InTHEATER magazine, and BACK STAGE. He has interviewed theater notables for NPR.org, PLAYBILL, STAGEBILL, and OPERA NEWS, and has written notes for several cast albums. Michael is co-author of FORBIDDEN BROADWAY: BEHIND THE MYLAR CURTAIN, published in 2008 by Hal Leonard/Applause. Additionally, he is a professional photographer whose pictures have been published by THE NEW YORK TIMES, the DAILY NEWS, and several major websites. (Visit www.followspotphoto.com for more information.) He can be reached at [email protected]


Why are you looking all the way down here?
For more articles by Michael Portantiere, click the links below!

Previous: The Pinter of Our Discontent

Next: Miracle of Miracles

Or go to the Archives