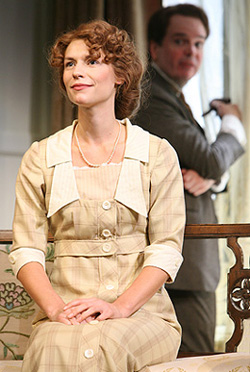 MIRACLE OF MIRACLES
By definition, miracles don't occur very often -- and they're almost always one-time events, easily missed by the masses. It goes without saying that if a miracle is scheduled to happen regularly for several months, one would be a fool not to make plans to witness it. Broadway theatergoers now have two such opportunities.
When it was announced that Claire Danes had been cast as Eliza Doolittle in the Roundabout Theatre Company's new production of G.B. Shaw's Pygmalion, there was widespread consternation along the lines of "I can't believe they've hired a movie and TV actress with no theater credits to play a difficult role on Broadway just for marquee value." Such concern seemed well founded: It was reported not only that Danes' stage acting experience was close to zilch but also that she had never seen Pygmalion or My Fair Lady, the classic musical based on the play, on stage or screen! So I'm sure you can imagine my shock and delight at the absolute brilliance of her performance.
Her achievement is all the more mind-boggling when we consider that almost no one who had previously played this role was considered completely satisfactory. In the original production of Pygmalion, Eliza was Mrs. Patrick Campbell, adored by the British public but way too old for the part at 49. Also too old was Gertrude Lawrence when, at 47, she played Eliza on Broadway in 1945. Wendy Hiller is pretty fabulous in the 1938 film version of Pygmalion but, to be frank, she wasn't beautiful enough to be breathtaking when Miss Doolittle morphs from ugly duckling to swan.
From all reports, Julie Andrews in the original production of My Fair Lady was practically perfect as Eliza in terms of age, looks, and temperament, but it's a famous bit of theatrical folklore that she struggled mightily with the assignment. Indeed, she was almost fired during rehearsals and had to have the role "pasted on her" by director Moss Hart during a marathon, one-on-one remedial session. In the movie version of MFL, Audrey Hepburn is half-right for Liza; she's lovely in the post-transformation scenes but not fully credible as the Cockney guttersnipe. (Sorry, but no amount of dirt on her face could hide the fact that Hepburn had the delicate facial features of an aristocratic beauty.) As for Amanda Plummer, who tackled the role in the 1987 Broadway revival of Pygmalion (opposite Peter O'Toole), let's just say that her performance was controversial.
In this context, 28-year-old Claire Danes' achievement is nothing short of astonishing. First of all, although she's American -- born in Manhattan, and a product of the Dalton School and Yale University -- her dialect work in both the Cockney and Received Pronunciation scenes of Pygmalion is exemplary. More than that, she bares the soul of the young woman whose transformation under the tutelage of Professor Henry Higgins brings on an existential crisis. One of the most marvelous things about the performance is that Danes displays a certain degree of physical awkwardness after the transformation, as if Eliza doesn't feel entirely comfortable in her new persona. It's great work, and if you haven't already done so, my advice is that you get yourself to the American Airlines Theatre before this production ends its limited run on December 16.

********************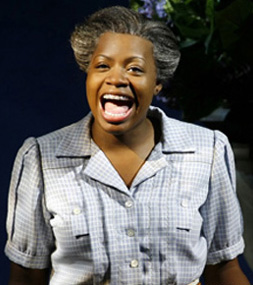 What's the other Broadway miracle of 2007? American Idol winner Fantasia Barrino as Celie in The Color Purple. This thrillingly talented young woman approached Celie with even less acting experience under her belt than Claire Danes brought to Eliza. Fantasia had never acted before in any medium and reportedly had never seen a play in her entire life before she was pegged to play the leading role in a big-budget Broadway musical -- a role that had won a Tony Award for LaChanze, who created it.

Many observers scoffed at this tremendously risky bit of stunt casting, but Fantasia came through with flying colors (not just purple), earning raves for her deeply moving performance. No one was surprised that she sang the role spectacularly well, but her acting was a true revelation. If anyone deserves to be called "a natural," here she is.

Just how phenomenal is she in the part? Well, a theater critic friend of mine who caught her performance before I did told me Fantasia had stopped the show with a song that he didn't even remember La Chanze singing. When I saw Fantasia for myself, I felt that all of the raves she had received were understatements.

Although The Color Purple has many wonderful moments, the show is poorly constructed, its most serious flaw being that Celie's character isn't well established through her songs. Fantasia somehow manages to overcome this obstacle, investing the role with so much personality and emotion -- even in the episodic opening scenes -- that you'll think you're seeing a real woman named Celie living her life on stage, rather than someone playing her.

Fantasia is scheduled the leave the show on January 6. After maintaining a near-perfect attendance record during the first few months of her run, she has more recently been taking off Wednesday matinees and has had a number of other, unscheduled absences. But I'm told the box office will give you your money back if she's out, so my advice is to secure a ticket on the good chance that you'll be present for a miraculous event.




Published on Monday, October 29, 2007




Michael Portantiere has more than 30 years' experience as an editor and writer for TheaterMania.com, InTHEATER magazine, and BACK STAGE. He has interviewed theater notables for NPR.org, PLAYBILL, STAGEBILL, and OPERA NEWS, and has written notes for several cast albums. Michael is co-author of FORBIDDEN BROADWAY: BEHIND THE MYLAR CURTAIN, published in 2008 by Hal Leonard/Applause. Additionally, he is a professional photographer whose pictures have been published by THE NEW YORK TIMES, the DAILY NEWS, and several major websites. (Visit www.followspotphoto.com for more information.) He can be reached at [email protected]


Why are you looking all the way down here?
For more articles by Michael Portantiere, click the links below!

Previous: Macbeth at the Met: No Great Shakespeare

Next: The Monster Bash

Or go to the Archives