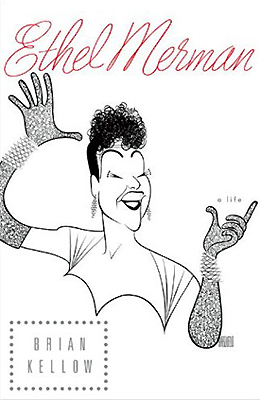 THE MERM GETS HER DUE
I'll never forget my one experience of Ethel Merman in live performance: a weekend matinée of Hello, Dolly! in 1970, when I was 13. My parents had paid $7.00 for my "twofer" seat in the orchestra at the St. James Theatre, and I sat in awe as that thrilling voice filled the house. The other salient point about Merman's Dolly is that she was hilariously funny, especially during the Act II scene in which she pantomimed ecstasy while appearing to consume a full-course meal in about two minutes.
As great as she was, not everyone "got" her. I remember a fellow student of mine in a musical theater class at NYU commenting that she found Merman's voice "annoying" and "shrill" as heard on recordings, and asking if someone could please explain her popularity. I bristled, but then I calmed down and replied that Merman was a true creature of the stage. Her clarion voice and outsize personality may not have translated all that well to film, television, or even cast albums, but these very qualities were deeply appreciated in the theater -- especially in the days before aggressive sound amplification.
She was born Ethel Agnes Zimmermann on January 16, 1908 in Astoria, Queens, NYC, and died on February 15, 1984. We who worship at her altar are delighted that the upcoming centenary of her birth is being celebrated with the publication of two new biographies: Brian Kellow's Ethel Merman: A Life (Viking) and Caryl Flinn's Brass Diva: The Life and Legends of Ethel Merman (University of California Press). Though I haven't yet read either one, I spoke with both authors about their content, and now I really can't wait to get my hands on the books.
"There are a lot of misconceptions about Merman," says Kellow, features editor of Opera News and author of The Bennetts: An Acting Family. "Many people assume she was Jewish, but she was Episcopalian. And a lot of people assume she was gay, but she was not. I can say that with full confidence! Jacqueline Susann was a bit of a star-fucker, and she had a mad crush on Ethel, but it wasn't reciprocated. Jackie got her revenge by creating Helen Lawson in Valley of the Dolls. In the book, Helen is clearly Merman. She drinks champagne on the rocks, and so did Ethel; she has a Renoir in her bedroom, and so did Ethel. I asked the editor of Valley of the Dolls if they were afraid that Ethel would sue. He said they hoped she would, so they would get more publicity for the book -- but she didn't."
Anecdotes of The Merm abound, hilarious but not necessarily factual. "When you do a book like this," says Kellow, "you don't realize how much time you're going to spend hacking away at the apocryphal stories, trying to figure out what's true and what isn't. Ethel was certainly an enigmatic woman, and I think there were parts of her personality that she kept hidden, even from herself. But I interviewed more than 125 of her close friends and colleagues. That was the backbone of my work; there's nothing more exciting than a good primary source. I was able to dig up so many of the people she had worked with -- back to Stars in Your Eyes and DuBarry Was a Lady in 1939, and all the way up through Gypsy and Hello, Dolly! I've tried very hard in this book, aside from just giving you her life, to show the changes in the Broadway musical that took place while she was a star. But there's plenty about her four husbands as well."
Merman had a reputation for almost never missing shows. She was also known for "freezing" her performance so that it would be exactly the same from night to night, and some who saw her contend that there were times when she phoned it in. Says Kellow, "My own feeling is that it's hard for any star not to do that sometimes in a long run. I get a little bit put out when people like Stephen Sondheim and Arthur Laurents cast aspersions on Ethel's performance in Gypsy. Vocally, no one has ever come close to matching her. I think Sondheim was upset because Ethel had nixed him for writing the music for the show. I don't think she was a towering intellect, but Ethel had very sharp instincts about what was good for her and her career. Jule Styne's contribution to Gypsy was invaluable."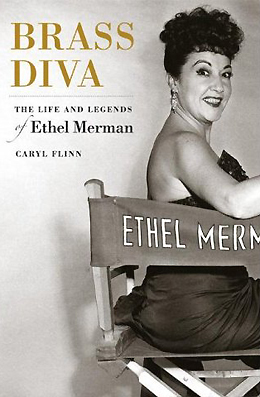 Like Kellow, Caryl Flinn -- an educator whose other books include The Strains of Utopia: Gender, Nostalgia and Hollywood Film Music and The New German Cinema: Music, History, and the Matter of Style -- hopes that her Merman bio gives a well-rounded picture of the legend's life and career. "A lot of people go around with a notion of Ethel as this caricature, a middle-aged woman with big hair and a wide-open vibrato," says Flinn. "That's based largely on her TV appearances in the '60s and '70s. She certainly was a sassy, brassy woman, and that came across in shows like Annie Get Your Gun and Call Me Madam. But there were a lot of different Ethel Mermans produced over her lifetime. There are some adorable pictures of her in the 1920s, and some of the one-reelers she did in the '30s have her singing blues and ballads. It's a different performer than the one who belted out 'There's No Business Like Show Business.' But she always had a complete lack of self-consciousness, whether on stage or before the camera."

As for Merman's habit of playing out to the audience, Flinn says, "I think she learned a particular type of performance style that was of the '20s, when singers would clamp their feet on the stage and project because of technological reasons and other reasons. I believe that she never accustomed herself to singing with a microphone, and there were times when she would only occasionally look at her co-star. A good example of that is the Ford 50th Anniversary TV special with Mary Martin, from 1953; Mary looks adoringly at Ethel all through their duet, whereas Ethel looks at Mary maybe once or twice during the entire 20 minutes. But again, in the early shorts, we see a different kind of performance style and repertoire from Merman."

Though The Merm is an iconic presence to musical theater mavens, Flinn has found that she's not as famous among the general public as one might have thought: "In the New York area, everyone knows her, but not elsewhere. I had a master's student in theater who barely knew who she was. And I can't tell you how many people outside theater circles have said things like, 'Wasn't she in all those swimming moves?' or 'I loved her on I Love Lucy.' Somehow, they confuse her with Esther Williams or Ethel Mertz. That really alarmed me.

"I didn't want to reproduce Ethel the cliché in my book," Flinn states, "and I didn't want her to vanish into gossip and legend. I wanted it to be a more solid chronicle, including the difficulties in her personal life. I had no idea of the level of abuse she faced in her third marriage to Robert Six, the airline executive, until I heard about that from her son, Bob Levitt, Jr. [by her second husband, journalist Bob Levitt]. I did three or four days of interviews with him. He had never worked on a biography of his mother before, so that was a major contribution to the book. On a lighter note, I was able to track down one of Eddie Cantor's daughters. She was such an enthusiast for Merman in the '30s that Merman appointed her the president of her fan club. She had so many wonderful stories about going to see her in those days."

Aside from personal interviews, Flinn had another great resource at her disposal: "Ethel's dad kept nearly 40 volumes of huge scrapbooks, starting in the late '20s. He saved absolutely everything on her, even clippings from the German language newspapers in New York. Some of the scrapbooks are missing, but about 36 are intact at the Museum of the City of New York. There are so many gems in there: a card that Jerome Robbins sent to Ethel on the opening night of Gypsy, ticket stubs, and so on. I spent about four months going through those."

Flinn's work on the book has engendered an increased admiration for Merman's talent. "Some people said she would walk through shows and give mechanical performances; others phrased it in a more positive way, saying that she was reliable as clockwork. Ethel was so self-assured and self possessed, but she could be bawdy as hell, and she had a great sense of timing. She had a blast making the movie It's a Mad, Mad, Mad, Mad World. Remember that scene where they turn her upside down and put her in a trash can? The studio did a huge blow-up of a photo of that scene, and they displayed it at the wrap party. Ethel was a good sport about it; she signed the photo and she said she wanted to use it as her Christmas card that year. A lot of the reviews of the movie remarked on her ability to hold her own with Milton Berle, Buddy Hackett, and Buster Keaton. She was hysterically funny."




Published on Friday, November 9, 2007




Michael Portantiere has more than 30 years' experience as an editor and writer for TheaterMania.com, InTHEATER magazine, and BACK STAGE. He has interviewed theater notables for NPR.org, PLAYBILL, STAGEBILL, and OPERA NEWS, and has written notes for several cast albums. Michael is co-author of FORBIDDEN BROADWAY: BEHIND THE MYLAR CURTAIN, published in 2008 by Hal Leonard/Applause. Additionally, he is a professional photographer whose pictures have been published by THE NEW YORK TIMES, the DAILY NEWS, and several major websites. (Visit www.followspotphoto.com for more information.) He can be reached at [email protected]


Why are you looking all the way down here?
For more articles by Michael Portantiere, click the links below!

Previous: Who's Afraid of American Opera?

Next: 12 Great Shows You Can See While the Strike Is On

Or go to the Archives