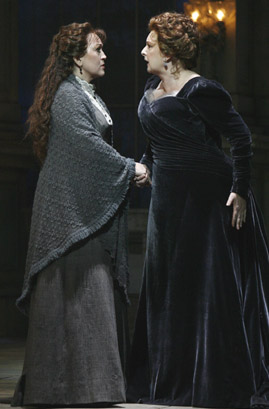 WHO'S AFRAID OF AMERICAN OPERA?
Why do so many people who love The Light in the Piazza, Passion, Sweeney Todd, West Side Story, and The Most Happy Fella never get into works that are officially classified as American operas? Perhaps it's the "opera" label itself that scares off a large percentage of musical theater buffs -- which is probably why Stephen Sondheim doesn't apply it to Sweeney, even though that masterpiece has been performed by several opera companies, and also why Frank Loesser never used the "o" word in reference to Happy Fella. (He said it was "a musical with a lot of music.")
Trust me, folks: If you can appreciate the ambitious works noted above, you should throw your fears to the winds and check out such thoroughly accessible American operas as Regina, Susannah, Of Mice and Men, The Tender Land, and The Ballad of Baby Doe. Another one that deserves to be placed high on the list is Vanessa, with music by Samuel Barber and a libretto by Gian Carlo Menotti. As it happens, opportunity has knocked: This brilliant piece has now been given a rare revival by the New York City Opera, and it's not to be missed.
Vanessa might be described as a mixture of themes, styles, and subject matter prevalent in Chekhov, Strauss, Puccini, Tennessee Williams, and Eugene O'Neill, with a dash of Henry James thrown in for seasoning. Menotti's tale is that of the beautiful, middle-aged, reclusive aristocrat Vanessa and her niece, Erika, both of whom become romantically obsessed with the enigmatic Anatol, son of the man who abandoned Vanessa 20 years earlier. The action takes place in an unspecified "northern country" of Europe. (This has caused some observers to question the work's credentials as an American opera, which makes as much sense as suggesting that La Bohème isn't really an Italian opera because it's set in Paris.)
The NYCO production is a superb showcase for Lauren Flanigan. Justly regarded as one of the supreme singing actress of her generation, Flanigan is a force of nature as Vanessa; her pointed soprano rides over Barber's huge, lush, sometimes spiky orchestrations with ease, and her characterization is so complex that we can see why the composer originally envisioned Maria Callas in the role. Opposite such magnificence, mezzo Katharine Goeldner more than holds her own as Erika: Her mezzo is plummy, her acting is great, she's pretty, and she's a great fainter to boot.
Tenor Ryan MacPherson is so right for Anatol in terms of voice, looks, and manner that it's difficult to envision anyone else in the part. Richard Stilwell and Branch Field are also perfectly cast as the Doctor and the Major-Domo, respectively. And it's a privilege to have Rosalind Elias, who created the role of Erika in the 1958 world premiere production of Vanessa at the Metropolitan Opera, on hand as the Old Baroness; she doesn't have much to do in terms of actual singing, but Elias is a formidable presence throughout the drama.
One of the special joys of attending opera is the chance to revel in the unamplified sounds of a full orchestra comprised of 50 or more players. In a program note for this production, David Shengold writes: "Few commentators note that much of the drama of Vanessa takes place in the superbly scored orchestral interludes." NYCO's musicians play those interludes and the rest of this thrilling score to the hilt under the strong yet sensitive leadership of conductor Anne Manson in her company debut.
The production team is headed by three men who are equally well known for their work in theater: Michael Kahn (director), Michael Yeargan (set designer), and Martin Pakledinaz (costume designer). Originally created for the Dallas Opera, the sets and costumes are wonderfully evocative; a scrim depicting a grove of bare trees in winter sets an appropriate tone for the proceedings, and the drawing room of Vanessa's country home, where much of the action takes place, is beautiful yet somehow very cold.
Unfairly neglected in recent decades, Vanessa will hopefully soon be back in the repertoire of the world's major opera houses to stay, thanks in large part to this gripping presentation.
********************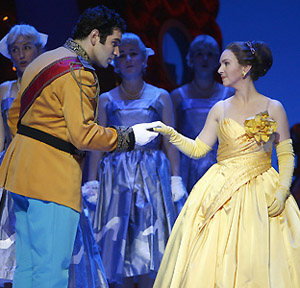 There's another production in NYCO's fall repertoire that's sure to appeal to musical theater lovers, even though the opera is French and is performed in the original language (with supertitles). Cendrillon is Jules Massenet's beguiling take on the Cinderella story, which has served as the basis for such musicals as the Rodgers and Hammerstein TV spectacular of 1957 (later remade twice and adapted to the stage), the Disney animated feature Cinderella, and the films The Glass Slipper and The Slipper and the Rose.

Henri Cain's libretto for Cendrillon is fascinating for its variations on the traditional tale, which can be traced back as least as far as ninth-century China. The nasty stepmother and stepsisters are most definitely on hand, but so is Cinderella's father, who says he loves her yet still allows his wife and stepdaughters to treat her like dirt. Another intriguing facet of this version is the implication that at least some of Cinderella's encounters with Prince Charming -- here, "Prince Charmant" -- take place in her dreams.

Cendrillon is almost as much of a rarity on today's opera house stages as Vanessa. Even if you have encountered the Massenet work before, you've never seen it as it's being done at NYCO -- not unless you happened to catch this wonderfully theatrical production elsewhere. (The sets and costumes were designed by André Barbe for L'Opéra National du Rhin in a co-production with Badisches Staatstheater Karlsruhe, owned by Opéra de Montréal).

The action has been updated to the fabulous 1950s, a period well established in the opening scene by a huge, looming, cartoon-like refrigerator, oven, and other household appliances. (In a delightful bit of stage business, Cinderella makes her first entrance from out the oven, which she presumably has been cleaning.) The equivalent of the Prince's palace is a nightclub called "Le Palace." Subsequent scenes take place at a drive-in movie, where Cinderella and the Prince finally hook up, and in a suburban tract house development.

The general tone of the production is similar to that of The Hard Nut, Mark Morris's '50s take on The Nutcracker, though not quite as jokey. Adding to the fun is some nifty newsreel footage that's projected during the drive-in sequence, including clips of two royal weddings: Grace Kelly and Prince Rainier, Rita Hayworth and Aly Khan. Later, we see old home movies of a middle-class couple's nuptials, the point being that a happy marriage is not the exclusive province of royalty.

Cassandre Berthon and Frédéric Antoun are an extraordinarily comely pair of young lovers as Cinderella and her prince; they also sing beautifully, even if their voices aren't very large. Eugene Brancoveanu's sonorous baritone is greatly appreciated in the potentially unsympathetic role of Pandolfe, Cinderella's father. Joyce Castle, whom you may know for her work in such NYCO productions as Candide, Sweeney Todd, and Brigadoon, is a stitch as the stepmother -- especially in her first costume, which must be seen to be believed. Further comedy is provided by Lielle Berman and Rebecca Ringle as her self-centered daughters. Katherine Jolly trills prettily as the fairy godmother.

Under director/choreographer Renaud Doucet, the updating of the story comes across as sweet and whimsical rather than heavy-handed. George Manahan conducts a performance that brings out all the beauty of Massenet's melodies and orchestrations. Cendrillon continues in the City Opera repertory through November 18, so you should consider it as a delicious, pre-holiday treat.




Published on Tuesday, November 6, 2007




Michael Portantiere has more than 30 years' experience as an editor and writer for TheaterMania.com, InTHEATER magazine, and BACK STAGE. He has interviewed theater notables for NPR.org, PLAYBILL, STAGEBILL, and OPERA NEWS, and has written notes for several cast albums. Michael is co-author of FORBIDDEN BROADWAY: BEHIND THE MYLAR CURTAIN, published in 2008 by Hal Leonard/Applause. Additionally, he is a professional photographer whose pictures have been published by THE NEW YORK TIMES, the DAILY NEWS, and several major websites. (Visit www.followspotphoto.com for more information.) He can be reached at [email protected]


Why are you looking all the way down here?
For more articles by Michael Portantiere, click the links below!

Previous: The Monster Bash

Next: The Merm Gets Her Due

Or go to the Archives