TWIST AND SHOUT!
"Please, sir, may I have some more?" takes on new meaning in Twist, a very gay musical based on Charles Dickens' Oliver Twist. Written by Gila Sand and Paul Leschen, the show was most recently presented in New York as part of the 2007 Midtown International Theatre Festival. Now it's on view in L.A., with rising star Brandon Ruckdashel (Off-Broadway's Ascension) and Chicago theater vet Alexandra Billings appearing as Oliver and Fagin, respectively. Here are some of my exclusive photos of the opening night performance at the Avery Schreiber Theatre on Saturday, December 1. For more information, visit www.themusicaltwist.com.
---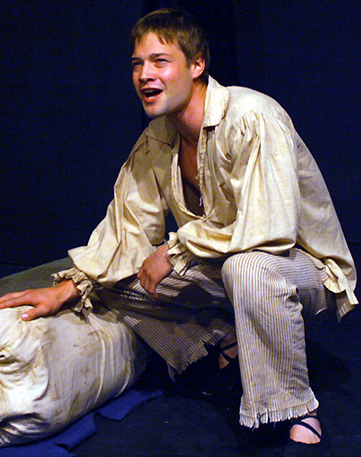 Raised from infancy in a squalid workhouse, Twist laments that he's "bound and tied."
---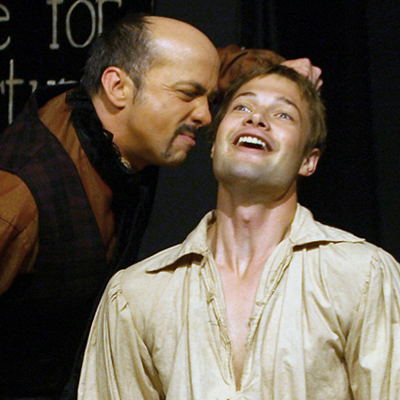 At the workhouse,Twist runs afoul of the evil Mr. Bumble (Matt Stevens).
---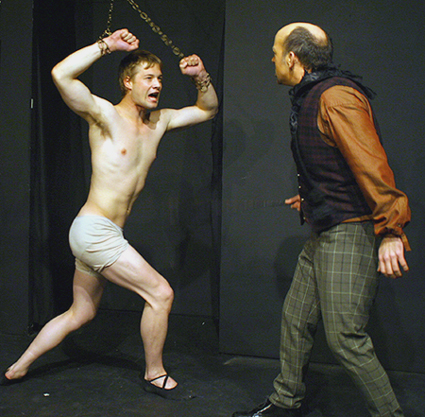 The boy is chained and whipped by Bumble -- but the "punishment" is none too effective, because he quite enjoys it!
---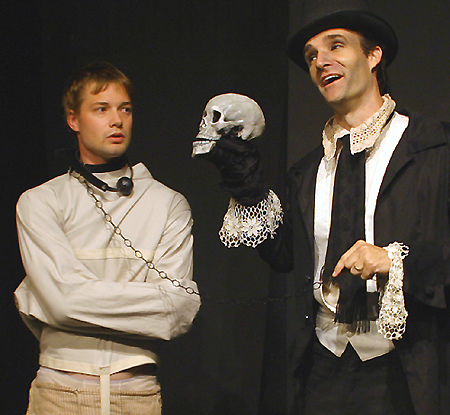 Twist is sold into a forced apprenticeship with Mr. Sowerberry (Kelly Roberts), an undertaker.
---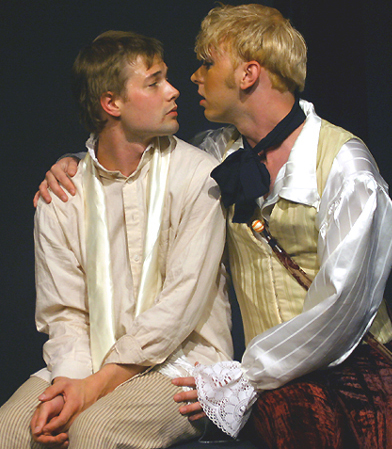 Having escaped Sowerberry, Twist makes his way to London and falls in with Dodger (Chris Carlisle).
---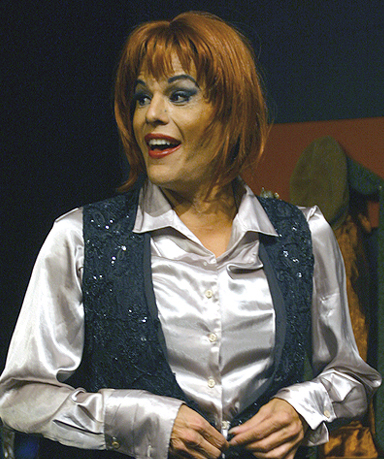 Dodger offers Twist lodging at a house filled with prostitutes and pickpockets, presided over by Fagin (Alexandra Billings).
---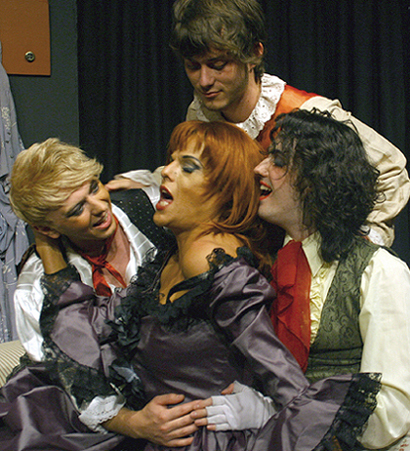 Fagin and his/her boys.
---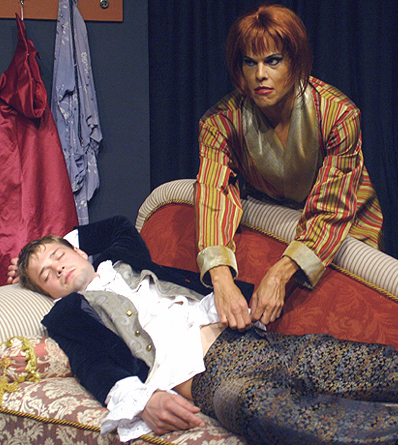 The amoral Fagin nearly takes advantage of Twist, but then thinks better of it.
---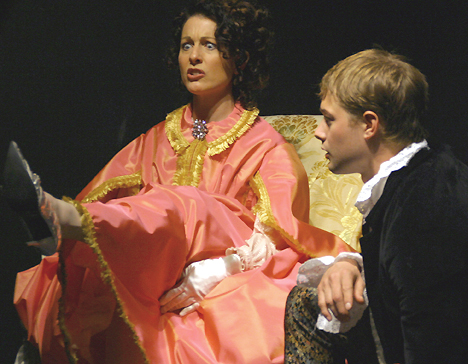 On the streets of London, Twist meets Lady Downlow (Angela Nicholas) -- who, among other things, has a fetish for shoes.
---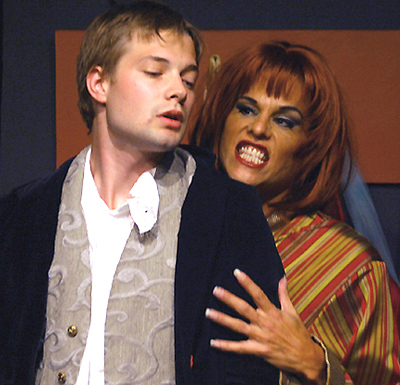 All too soon, Twist is back in Fagin's clutches.
---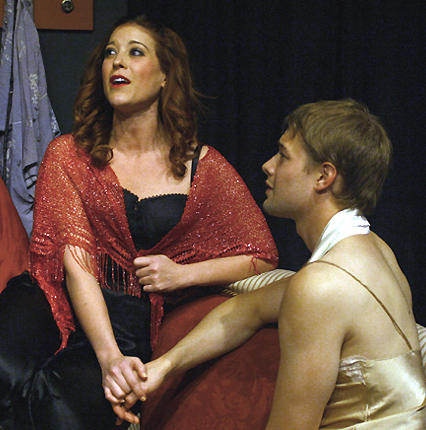 One of Fagin's cohorts, Nancy (Darrin Revitz), develops an affection for Twist.
---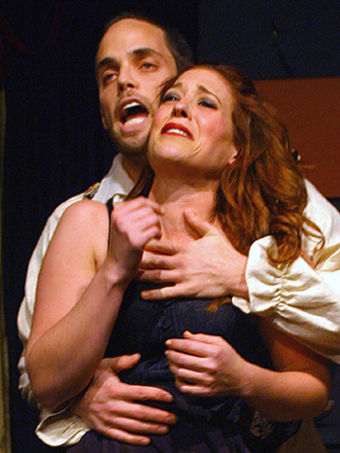 For her efforts to help the boy, Nancy is murdered by her brutal lover, Bill Sikes (Justin Mortelliti)
---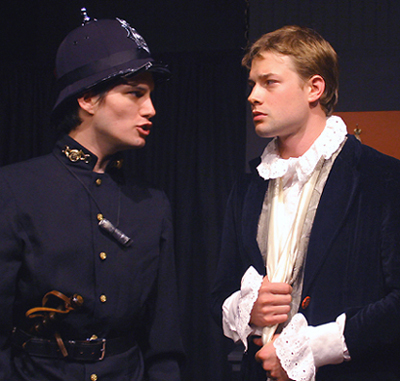 Twist is told by a Constable (Billy Thompson) that Lady Downlow is looking for him.
---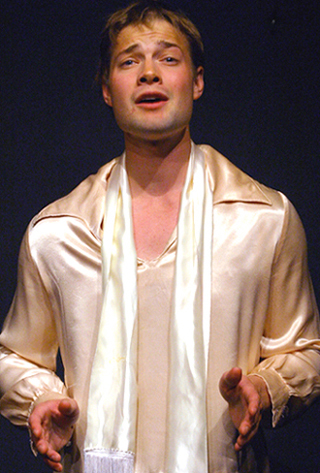 The story ends with Twist, Dodger, and Lady Downlow living happily together.




Published on Monday, December 10, 2007




Michael Portantiere has more than 30 years' experience as an editor and writer for TheaterMania.com, InTHEATER magazine, and BACK STAGE. He has interviewed theater notables for NPR.org, PLAYBILL, STAGEBILL, and OPERA NEWS, and has written notes for several cast albums. Michael is co-author of FORBIDDEN BROADWAY: BEHIND THE MYLAR CURTAIN, published in 2008 by Hal Leonard/Applause. Additionally, he is a professional photographer whose pictures have been published by THE NEW YORK TIMES, the DAILY NEWS, and several major websites. (Visit www.followspotphoto.com for more information.) He can be reached at [email protected]


Why are you looking all the way down here?
For more articles by Michael Portantiere, click the links below!

Previous: Tonight, Tonight

Next: Gifts That Keep on Giving

Or go to the Archives