GIFTS THAT KEEP ON GIVING
Dinner at a fine restaurant is a good option for a holiday gift. So is a full spa treatment. But as pleasurable as those things may be while they're happening, the experiences don't last very long. On the other hand, videos and CDs keep on giving for many years and are pretty much guaranteed to endear you to the recipients -- which, let's face it, is part of the point! Here are some suggestions for musical theater-related items that are ideal for Christmas, Hanukah, or Kwanzaa gifting. And if you've already completed your seasonal shopping, just add these items to the list of things you can pick up for yourself after the holidays if you don't find them under your tree.
********************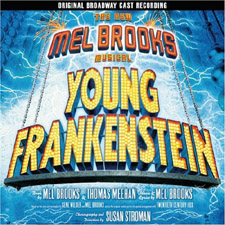 Just released is Decca Broadway's cast recording of the new Mel Brooks' musical Young Frankenstein, which came to Broadway on a wave of hype followed by a backlash due to the production's ticket pricing and diffident word-of-mouth, among other things. Now that the show has opened, the consensus seems to be that it's spectacular in terms of production values and quite enjoyable overall, even though it's not in the same class as The Producers
If you haven't yet scraped together the big bucks necessary to see the show, you can get your hands on the CD and judge for yourself whether Brooks' songs are funny and delightful in the great old Broadway style (as some people contend), or derivative and lackluster (as some other people contend just as strongly). However you feel about the score, you're likely to delight in the performances of Megan Mullaly, Sutton Foster, Andrea Martin, and the hilarious Christopher Fitzgerald, though Roger Bart's efforts in the title role may well leave you cold.
********************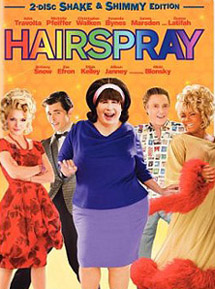 Hairspray is arguably the best film adaptation of a Broadway musical since Chicago -- a wonderful surprise, since some of us feared the worst. Lord knows, the casting of John Travolta in the drag role of Edna Turnblad was controversial. But though Travolta does look rather odd as Edna, what with all of that prosthetic makeup, his performance is endearing and successful on its own terms.
Newcomer Nikki Blonsky is just right as Tracy, Amanda Bynes is button-cute as her friend Penny, James Marsden proves himself a musical performer to be reckoned with in the role of Corny Collins, and Zac Efron is on hand to delight the tween crowd with his turn as Link Larkin. All of this plus terrific work by Christopher Walken, Michelle Pfeiffer, Elijah Kelley, Allison Janney, and Chicago's Queen Latifah make Hairspray a must-have for your DVD library. Praise be to director/choreographer Adam Shankman for this stellar achievement.
********************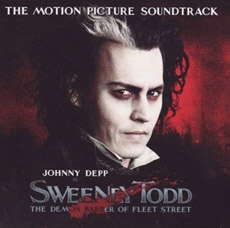 It took nearly 30 years for Stephen Sondheim's Sweeney Todd to make it from Broadway to Hollywood, but -- as you may have heard! -- Tim Burton's film of the musical is about to be released. I recently caught a screening and will review the movie next week, but for now I'll urge you to pick up a copy of Nonesuch's soundtrack recording in either the highlights edition (one CD) or the complete version (two CDs).
The vocal acting of Johnny Depp and Helena Bonham Carter as Sweeney and Mrs. Lovett is superb. Jamie Campbell Bower brings a sweet, youthful voice to the role of Anthony. Alan Rickman is perfectly repulsive as Judge Turpin, and Sacha Baron Cohen is hilarious as the barber Pirelli. (Who knew these people could sing so well?) On the minus side, Jayne Wisener sounds a bit wobbly in Johanna's "Green Finch and Linnet Bird," and the elimination of all choral and ensemble singing from the score -- including "The Ballad of Sweeney Todd" -- is going to disappoint a lot of Sondheimians. Still, the Sweeney buffs for whom I've played my advance copy of the soundtrack CD have pretty much loved it, and that's without the benefit of Burton's gripping visuals. Jonathan Tunick's orchestrations sound more magnificent than ever as beefed-up for the film and conducted by Paul Gemignani, who helmed the original Broadway production.
********************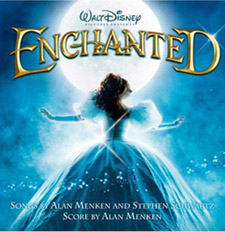 Disney's Enchanted is not based on a Broadway show, nor does it qualify as a full-fledged movie musical, as it features only three or four songs -- depending on how you count them -- with music by Alan Menken and lyrics by Stephen Schwartz. But the film certainly feels like a musical, and it's a huge hit, which is great news.
In the role of Giselle, Amy Adams is as adorable vocally as she is in every other way. Hairspray's James Marsden once again reveals a first-rate singing voice in his "True Love's Kiss" duet with Adams and in his soundtrack cover of the old pop standard "That's Amore." (Somone should get this guy into a Broadway musical pronto.) You can skip over the nondescript Menken/Schwartz ballad "So Close," sung in a cheesy, retro-'90s pop style by Jon McLaughlin, and focus instead on the other vocal numbers and the gorgeous orchestral tracks. For many listeners, the highlight of the CD will be "That's How You Know," a joyous production number set in Central Park. Talk about Disney magic!

********************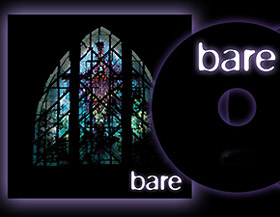 I was very sorry that the planned 2004 Off-Broadway run of the pop/rock musical Bare was abruptly canceled due to the producers' financial woes, but I'm very happy that a two-disc studio recording of Damon Intrabartolo's captivating score has now been released. Included in the package is a third disc featuring interviews with the performers and footage of the recording sessions, plus clips from various stage productions. A portion of the proceeds from sales of the set will benefit The Trevor Project, which is dedicated to curbing suicide among gay youth.
Bare tells the ultimately tragic tale of two male students who fall in love during their senior year at a Catholic boarding school. The full-length recording boasts a cast of 16, headed by Matt Doyle as Peter, James Snyder as Jason, and Jenna Leigh Green recreating the role of Ivy, which she played on stage in L.A. and New York. My view is that the success of Spring Awakening has paved the way for a Broadway production of Bare, but Intrabartolo recently insisted to me that "I'm not doing anything [more] with it unless it's a movie." Here's hoping he was joking, and that someone will soon give the show the major New York production it so richly deserves. For more information or to order the three-disc set, visit www.barethealbum.com
*********************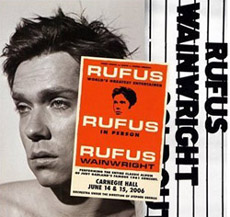 In June 2006, Rufus Wainwright recreated Judy Garland's legendary 1961 concert at Carnegie Hall. The event was such a triumph that he repeated it at the London Palladium. I was privileged to attend both concerts, and I'm ecstatic that both are now relivable at home on CD (the Carnegie show) and DVD (the Palladium reprise).
Garland was famous for her vocal and emotional range. Before Wainwright took on this bold challenge, there was much concern that he might not be up to it. But he came through with flying colors, as you'll hear if you get your hands on the video or CD and experience his compelling, idiomatic performances of such songs as "When You're Smiling," "Do It Again," "Puttin' on the Ritz," "Swanee," "The Man That Got Away," and -- of course -- "Over the Rainbow." Special guest stars include Lorna Luft (Judy's daughter) and Martha Wainwright (Rufus's sister). Broadway's Stephen Oremus (Wicked, etc.) expertly conducts a large orchestra in John Charles and Christopher Jahnke's adaptations of the original orchestrations. So what's not to love?
********************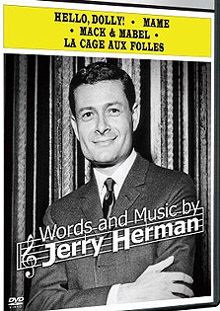 Words and Music by Jerry Herman is Amber Edwards' fantastic new documentary film about one of the musical theater's most beloved composer-lyricists. It traces Herman's rise from crafting Off-Broadway revues in the 1950s to his Broadway triumphs with such shows as Hello, Dolly!, Mame, and La Cage aux Folles, and it also covers such disappointments as Dear World, Mack & Mabel, and The Grand Tour.
The doc is scheduled to be aired by PBS in New York on December 31 and nationwide on January 1, but if you pre-order it now through Amazon.com, you might get hold of it a few days earlier. It features interviews with such stars as Carol Channing, Angela Lansbury, Charles Nelson Reilly, and George Hearn, but the most stunning thing about the movie is its inclusion of archival color footage of the original productions of Dolly! and Mame, painstakingly synched-up with full stereo audio from the original cast albums of those shows. Words and Music by Jerry Herman is an invaluable time capsule and a worthy tribute to a man who holds a major place in Broadway history.
********************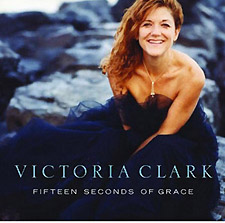 PS Classics has recently issued solo albums by three women who have made their mark in musical theater: Victoria Clark (The Light in the Piazza, Titanic), Andrea Burns (In the Heights), and Lauren Kennedy (Spamalot on Broadway, Trevor Nunn's London revival of South Pacific). Fans of these ladies will definitely want to listen along as they sing show music plus standards and contemporary material.

Also new from PS Classics is Jonathan Sings Larson, consisting of recordings from the private collection of the Tony and Pulitzer Prize-winning composer/lyricist who never lived to see the triumph of his musical Rent downtown at the New York Theatre Workshop or on Broadway at the Nederlander Theatre. Included from that score are "Seasons of Love," "One Song Glory," "La Vie Boheme," and two other songs. There are also selections from tick, tick...BOOM!, Superbia, and Boho Days, and a bonus DVD gives us four precious video clips from Larson's 1991 performance at the Village Gate.

Finally, jazz great Diane Schuur's new CD from Concord Records is heavy on show music, with such perennials as "They Say It's Wonderful" from Annie Get Your Gun, "Without a Song" from Great Day, and "My Favorite Things" from The Sound of Music included. Shockingly, the bittersweet Bernstein, Comden & Green ballad "Some Other Time" from On The Town -- which happens to be the album's title song -- is misidentified as having been written by Jule Styne and Sammy Cahn. Hey, guys, can we please try to do a better job with the proofreading next time?




Published on Friday, December 14, 2007




Michael Portantiere has more than 30 years' experience as an editor and writer for TheaterMania.com, InTHEATER magazine, and BACK STAGE. He has interviewed theater notables for NPR.org, PLAYBILL, STAGEBILL, and OPERA NEWS, and has written notes for several cast albums. Michael is co-author of FORBIDDEN BROADWAY: BEHIND THE MYLAR CURTAIN, published in 2008 by Hal Leonard/Applause. Additionally, he is a professional photographer whose pictures have been published by THE NEW YORK TIMES, the DAILY NEWS, and several major websites. (Visit www.followspotphoto.com for more information.) He can be reached at [email protected]


Why are you looking all the way down here?
For more articles by Michael Portantiere, click the links below!

Previous: Twist and Shout!

Next: Jets, Sharks, and Gypsies

Or go to the Archives