BACKWARDS TO THE FUTURE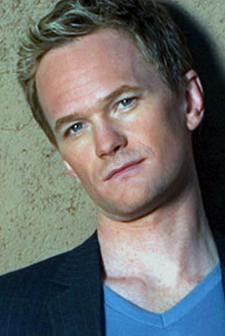 A way-cool gimmick is a nice place to start, but you need a lot more than that to put on a great show -- especially if you plan to do it annually. For the past two years, a concert titled Broadway Backwards has been presented as a benefit for New York's Lesbian, Gay, Bisexual & Transgender Community Center. The hook is that high-profile male stars sing musical theater songs traditionally performed by women, and vice-versa. Among the highlights of the first two concerts were "Some Enchanted Evening" as interpreted by Betty Buckley, a heart-stopping performance of "We Kiss in a Shadow" by Matt Cavenaugh and Cheyenne Jackson, and a lovely, camp-free rendition of "Bill" (from Show Boat) by Charles Busch.
This year's event, slated for Monday, February 4 at the American Airlines Theatre, boasts such heavy-hitters as Gary Beach, Len Cariou, Sandy Duncan, Nancy Dussault, Malcolm Gets, and Lainie Kazan. Among the scheduled returnees are Busch and Jackson. The Little Mermaid's Sierra Boggess and Tituss Burgess are also on the bill, and it has just been announced that "six girls from the cast of Spring Awakening will be performing a song from the Tony Award winning show while honoring and maintaining the gender-bending concept of Broadway Backwards 3." But perhaps the most newsworthy aspect of the concert is that it will feature the first-ever public vocal duet by TV star Neil Patrick Harris and his partner, actor David Burtka.
Harris is a child of television, having achieved fame at a young age in the title role of Doogie Howser, M.D. If the writers' strike ever ends, he'll return to his role of Barney Stinson on the hit CBS sitcom How I Met Your Mother. Among his film credits are the cult classics Starship Troopers and Harold & Kumar Go to White Castle. But he has a firm commitment to theater, as demonstrated by his leading performances in Cabaret, Proof, and Assassins on Broadway, tick, tick...BOOM! in London, and All My Sons at the Geffen Playhouse in Los Angeles, not to mention his appearances as Tobias in concert versions of Sweeney Todd with the New York Philharmonic and the San Francisco Symphony.
"I'm so deeply impressed every time I watch people performing live," says Harris. "They use their entire vessel; their body, their voice, even their strut and stance need to be specific and consistent. Theater requires such discipline. I guess I feel that in film, since you only have to really nail one take, it doesn't always demand the most talent."
Are there any theater roles that he aspires to? "I've always had a fondness for Barnum," he confesses. "I love the show and I love the man, plus I dabble in the circus arts: trapeze, tightrope, juggling, magic, etc. It has been a dream of mine to play Barnum, ideally with some wildly expensive production values. Maybe Cirque du Soleil would be involved? I'm still too young for the part, so I hope the rights are tied up for another seven or eight years." Aside from that, he says: "There are theater projects coming up for me, but I'd be remiss to talk about them right now. Announcements are forthcoming."
Burtka, for his part, is best known for having appeared buck naked Off-Broadway in Edward Albee's The Play About the Baby and fully clothed in the most recent Broadway revival of Gypsy, which starred Bernadette Peters and was directed by Sam Mendes. "Getting to work with Sam was a dream of mine," he says. "I didn't think it would be in a musical, but when he wants you to be involved, you jump. And that show required a lot of jumping!"
Harris and Burtka get a lot of points for their dignity in dealing with the press and the public as openly gay actors in a committed relationship. The way Harris sees it, "I've just gotta live my life, and not in the shadows. If someone wants to report about it, that's up to them. If there is interest, great; if not, no worries. I do make a concerted effort not to flaunt our relationship to the press. David and I both intend to be recognized for our bodies of work, not our bodies at the Ivy. It is indeed a fine line, and it's hard to please everyone. But I'm 34. Pleasing everyone had dropped down on my list of priorities."
Though they're happy to tell the world that they'll be singing a duet with each other in Broadway Backwards 3, Harris and Burtka decline to name the song, preferring to retain the element of surprise. Says Burtka, "I'm very excited that this is the first time Neil and I will have sung together. But it's also nerve-wracking, because the line-up of performers is so top-notch. It should be a great night." For more information on Broadway Backwards, click here.
********************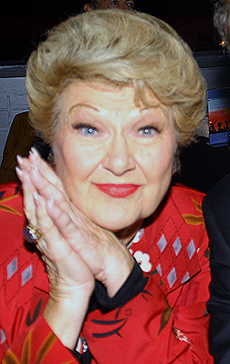 MAYE FLOWERS
Marilyn Maye holds the record for having appeared on The Tonight Show with Johnny Carson more than any other singer -- 76 times, to be precise. That was years ago, but the lady's recent string of shows at the Metropolitan Room marks a glorious renaissance that has led to her winning the 2008 Nightlife Award for Outstanding Cabaret Vocalist in a Major Engagement. The honor will be bestowed on Monday, January 28 at The Town Hall, with Maye in the company of such other winners, presenters, and guest performers as John Pizzarelli, Jessica Molaskey, Lari White, and Phoebe Snow.

"I'm very honored to receive the award," says Maye, "and I'm doubly pleased because I'm the new kid on the block. Until this past year, I hadn't worked in New York for so long. I'm grateful to the critics for their reviews, and I think it's wonderful that I have a new, young audience. It's given me a whole new life. I'm going back to the Metropolitan Room in April, around my birthday. It'll be a big party. You've gotta come!"

The level of popularity that Maye achieved in the rock-heavy 1960s is quite amazing, given her that repertoire has always consisted mostly of show music and standards from the great American songbook. "I recorded seven albums for RCA," she tells me. "One year, I was nominated for a Grammy for Best New Artist along with Herman's Hermits, The Byrds, and the pianist Horst Jankowski. It was a funny group! My timing was off. By the time I started recording, rock and roll was already pretty well entrenched. I was fortunate to have hits with 'Step to the Rear' [from How Now, Dow Jones] and 'Cabaret' at a time when that kind of music really wasn't happening."

How did the revival of her New York career come about? "I did my first Mabel Mercer Foundation concert in 2005. It was a tribute to Jerry Herman, and they invited me to perform because I've done Hello, Dolly! and Mame in various cities. I also recorded an album of songs from Dolly!, and Jerry was kind enough to write the liner notes for me. I did the Mercer Foundation concert with Billy Stritch. We first met in Texas when he was bout 19 or 20, and we've been working together a lot in the past five or six years, but mostly in the Midwest.

"We did that tribute to Jerry, and then I did another Mercer Foundation concert in 2006. By that time, the Metropolitan Room was open. In fact, Billy opened it. He suggested me to them, and I was booked there for one night. I hadn't worked in New York in 17 years, so I was afraid there would be about four people in the room. I was shocked that we were packed. The room invited me back, and Billy and I did three two-week stints there in 2007. It was great fun."

The Nightlife Awards are exceptional among such events in that the winners perform rather than give acceptance speeches. So, what will Maye be singing at The Town Hall on the 28th? "That's a good question," she replies with a laugh. "I haven't decided yet. If you've got any requests, let me know!" For more information on the awards concert, click here.




Published on Friday, January 25, 2008




Michael Portantiere has more than 30 years' experience as an editor and writer for TheaterMania.com, InTHEATER magazine, and BACK STAGE. He has interviewed theater notables for NPR.org, PLAYBILL, STAGEBILL, and OPERA NEWS, and has written notes for several cast albums. Michael is co-author of FORBIDDEN BROADWAY: BEHIND THE MYLAR CURTAIN, published in 2008 by Hal Leonard/Applause. Additionally, he is a professional photographer whose pictures have been published by THE NEW YORK TIMES, the DAILY NEWS, and several major websites. (Visit www.followspotphoto.com for more information.) He can be reached at [email protected]


Why are you looking all the way down here?
For more articles by Michael Portantiere, click the links below!

Previous: "I Was Jilted By a Lesbian Dwarf"

Next: Fasten Your Seat Belts

Or go to the Archives