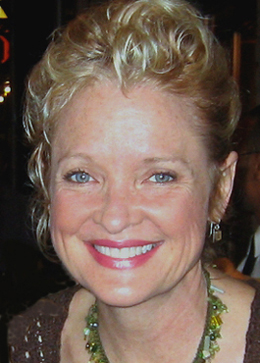 FASTEN YOUR SEAT BELTS
Christine Ebersole, you won the 2007 Tony Award for Best Actress in a Musical. What are you going to do now? "I'm looking forward to doing Applause and sharing it with the Encores! audience," says the lovely and talented lady, referring to the upcoming staged concert performances of the show that improbably turned Lauren Bacall into a musical theater diva way back in 1970.
Applause was a fair-size hit in its day, but is rarely revived. The musical is based on All About Eve, the 1950 film classic that starred Bette Davis in one of her greatest roles as theater grande dame Margo Channing and Anne Baxter as "Eve Harrington," a young fan who insinuates herself into Margo's world with an eye toward taking over her life and career. Also credited as source material for the tuner is "The Wisdom of Eve," the short story by Mary Orr that inspired the movie.
"Bette Davis has always been an idol of mine," Ebersole enthused when I spoke with her recently, a few days before rehearsals for Applause began. "I actually had a resemblance to her when I was young. I admire her style; she was a very formidable person. And I feel the same about Lauren Bacall. I know her through mutual friends, and when I told her I was going to do Applause, she said, 'You've got a lot of nerve!' But she said it in a very loving way. I took it as her stamp of approval."
Applause has music by Charles Strouse, lyrics by Lee Adams, and a book by Betty Comden and Adolph Green. The Encores! production will run February 7-10 at City Center, with Ebersole heading a cast that also includes Michael Park, Mario Cantone, Kate Burton, Chip Zien, Tom Hewitt, and Erin Davie -- who played Ebersole's daughter in Grey Gardens -- as Eve. Kathleen Marshall is directing and choreographing the show, and Rob Berman is musical director.
It's an exciting venture for Ebersole, who tells me that she's coming to Applause almost completely cold. "I only know All About Eve," she says. "I had heard the cast album of the musical, but I really wasn't familiar with the show. I wanted to do it based on the movie and on Lauren Bacall having done it. I just thought it would be a fun thing to bring back to the public."
Was she at all hesitant in taking on a role associated with not one, but two icons? "I've done that before," remarks the lady who tackled shades of Julie Andrews, Celeste Holm, and Tammy Grimes when she starred in Broadway revivals of Camelot, Oklahoma!, and 42nd Street (for which she received her first Tony). "You're always compared, and that's part of the deal. I don't go into a show trying to imitate anybody. All I can do is bring myself to the part. That's the nature of art."
For the Encores! performances, Margo's songs have had to be taken up by fourths and fifths from the basement-level keys that were set for Bacall, in order to suit Ebersole's voice. "I sat down with Rob Berman, and we figured out what keys were best for me," says the new Margo. When I half-jokingly comment that she could have just sung everything up the octave, she replies: "No, that would be pushing it. I don't think it would be right for the music!"
One of the major themes of both All About Eve and Applause is that Margo faces a huge challenge in trying to balance her career with her personal life. "Therein lies the struggle," says Ebersole. "It's always difficult to achieve that balance. There's so much going on in my life, so I'm trying to savor whatever time I have off. I have children and family, and I'm sort of making up for all the time I spent doing Grey Gardens. I get to cook and tuck the kids into bed -- the things I haven't been able to do for more than two years. I guess I've had a bit of resistance to getting back to work. But once the rehearsals begin on Monday, I'll be going full guns."
********************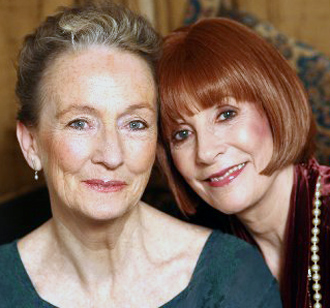 PAT AND KATHY AND VITA & VIRGINIA
Some actors become really famous, others don't. But it goes without saying that talent is only part of the equation. Kathleen Chalfant and Patricia Elliott are not well known to the masses, yet they're deeply respected in theater circles: Chalfant has earned great acclaim for her work in such plays as Angels in America and Wit, while Elliott won the Tony, Drama Desk, and Theatre World Awards for her Broadway debut in A Little Night Music, in addition to scoring a second Tony nomination for her performance in The Shadow Box.

So everyone I know was thrilled when it was announced that these fabulous women will be co-starring in Vita & Virginia on Monday nights at the Zipper Factory Theater, taking on roles that were famously played Off-Broadway in 1994 by Eileen Atkins and Vanessa Redgrave. The piece is Atkins' adaptation of the correspondence between famed British authors Virginia Woolf and Vita Sackville-West. This will be Chalfant and Elliott's third encounter with Vita & Virginia, following an initial benefit reading at the McGinn/Cazale theater, another reading at the Cherry Lane, and what Chalfant jokingly refers to as an "out of town tryout" in Tucson, Arizona.

"Hal Prince saw us do it at the Cherry Lane last year," says Elliott, who plays Vita. "In all the years I've known Hal, since A Little Night Music, he had never once left a message on my answering machine. But I got a sweet message from him in which he went on and on about the performance -- how rich it was, how moving, what a wonderful combination we were. I asked him if we could use his little quote to tout ourselves, and he said yes. Then we started going around and talking to various producers."

Chalfant takes up the tale: "We both had work commitments, but I remembered how Alan Alda had done a show just on weekends at Lincoln Center. It would require much less money and effort if we could find a venue where we could use the dark night and do Vita & Virginia as a conversation, like Love Letters." (The Zipper is hosting a wide variety of other shows on other nights.)

Elliott saw the 1994 production three times ("I thought, when will I ever again have the chance to see Zoe Caldwell direct Eileen Atkins and Vanessa Redgrave?"), but Chalfant missed it. ("They followed Wit into the Union Square Theater, and I was away.") According to Elliott, "Someone said to me, 'I don't think you should do this, because you're going to be compared to Vanessa and Eileen.' But I thought that's exactly why we should do it. I trained at the London Academy of Music and Dramatic Arts with people like Dana Ivey and Michael Moriarty, so I feel like I've been invited to run one more time in the Kentucky Derby -- and I get to play opposite one of the finest actresses in America today." ("Me too," interjects Chalfant.)

Both actresses are head over heels in love with the material -- so much so in Chalfant's case that she'll appear in Vita & Virginia on the one night a week when she won't be on stage at Playwrights Horizons in Dead Man's Cell Phone, a new play by Sarah Ruhl. Says Chalfant of Woolf and Sackville-West, "They had a great, long-lasting, unlikely friendship; they met in 1924, and Virginia died in 1940. There was a passionate sexual attraction between them, but more than that, they were two people who discovered a central core of friendship and communication. In the play, you can see the friendship evolve over the years, going from the entirely frivolous to the deadly serious. It's wonderful to speak their words, because they were both remarkable writers, and Eileen Atkins did a very good job of making a play out of their letters."

Vita & Virginia plays Monday nights, February 11-April 28, at the Zipper. For more information, click here.




Published on Friday, February 1, 2008




Michael Portantiere has more than 30 years' experience as an editor and writer for TheaterMania.com, InTHEATER magazine, and BACK STAGE. He has interviewed theater notables for NPR.org, PLAYBILL, STAGEBILL, and OPERA NEWS, and has written notes for several cast albums. Michael is co-author of FORBIDDEN BROADWAY: BEHIND THE MYLAR CURTAIN, published in 2008 by Hal Leonard/Applause. Additionally, he is a professional photographer whose pictures have been published by THE NEW YORK TIMES, the DAILY NEWS, and several major websites. (Visit www.followspotphoto.com for more information.) He can be reached at [email protected]


Why are you looking all the way down here?
For more articles by Michael Portantiere, click the links below!

Previous: Backwards to the Future

Next: "Tomorrow" and "Tomorrow" and "Tomorrow"

Or go to the Archives