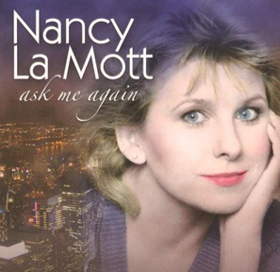 LISTEN TO HER HEART
In recent years, two supremely talented American singers have postumously earned the great fame that they didn't have a chance to achieve during their all-too-brief lifetimes. One is Eva Cassidy, whose recordings have sold more than four million copies since she succumbed to melanoma in 1996. The other is Nancy LaMott, whom I had the great pleasure of knowing and interviewing in the years before her death from uterine cancer on December 13, 1995, and whose popularity continues to grow by leaps and bounds.
Her wonderfully warm voice, on-the-nose musicianship, and brilliance at interpreting lyrics are all there for anyone and everyone to hear on the five LaMott studio albums that were released by MIDDER Music while Nancy was still alive: Beautiful Baby, Come Rain or Come Shine: The Songs of Johnny Mercer, My Foolish Heart, Just in Time for Christmas, and Listen to My Heart. Since then, David Friedman, the songwriter-musical director-producer who was her greatest champion, has issued two more CDs, the compilation disc What's Good About Goodbye and a live recording from Nancy's final engagement at Tavern on the Green.
Now, Friedman has given us two more must-have items: Ask Me Again, a two-CD set of material drawn from various sources; and I'll Be Here With You, a DVD containing rare videos of 24 live performances plus an in-depth Broadway Beat interview from 1994. These releases will be celebrated on Tuesday, February 12 with a special concert and signing event at Barnes & Noble's Lincoln Triangle store, beginning at 6pm. Kathie Lee Gifford, Lucie Arnaz, and Friedman (pictured below) will appear, and the concert will be followed by a meet-and-greet and a signing.
Born in Midland, Michigan, Nancy started singing with her father's dance band at age 15. She moved to San Francisco in her 20s and got a day job as a clerk at Pitney Bowes -- but at night, she began to make a name for herself by singing in the city's clubs. She came to New York in 1979 and had some of her first gigs at Reno Sweeney and the Grand Finale, later appearing frequently at Don't Tell Mama, Eighty Eights, and The Duplex before working her way up to such venues as Tavern on the Green and the fabled Oak Room at the Algonquin Hotel.
"I hate to be called a 'lounge singer,'" she said when I interviewed her for TheaterWeek magazine in 1993, "because that sounds like you're awful. And some people, especially people in the Midwest, don't really know what 'cabaret' is. They think it means Liza Minnelli singing a song with a bunch of dancing girls behind her. So I guess I always thought of myself as a saloon singer."
Her recording career was sparked when David Friedman attended her Irving Berlin Show at Don't Tell Mama. So enamored of Nancy's voice was Friedman that he established the recording arm of MIDDER Music expressly for her. "We never expected to make any money on the first album," Friedman told me some years ago. "I brought it to HMV, and they agreed to take eight copies. Then they played it in the store, it sold, and they re-ordered. When the second album came out, they said, 'Start us off at 450.' And they had to re-order the following week."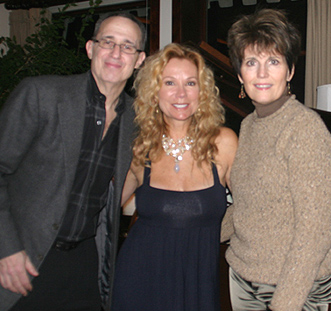 Around this time, radio personality Jonathan Schwartz first heard Nancy sing on one of her CDs. As she later remembered, "He called me on a Monday night at about 11:30 and said he'd just got done listening to the best version of 'It Might as Well Be Spring' he'd ever heard. Then he said, 'Who are you, and how could you possibly have gotten so good without my knowing about it?'"

Schwartz began featuring some of Nancy's best recordings on his WQEW-AM program, introducing her artistry to a much larger audience. Years later, Kathie Lee Gifford would fall in love with Nancy's voice; she had her as a guest on her morning show with Regis Philbin and offered staunch support during her final illness. Among the many highlights in Nancy's career, one of the most amazing is that she got to sing for the Clintons at the White House -- twice!

Nancy could belt to high heaven when she wanted to, but ballads were her forte. "It's important to me that you be able to put these discs on during dinner, as background music," she said. "But if you really want to sit and listen, there's something there. 'Easy listening' is one of my goals, because there's a lot of noise in music today. I want people to have some comfort. Plus everybody tells me these are the make-out albums of the '90s."

To hear her wrap her silky vocal cords around such classics as "Cheek to Cheek," "Sophisticated Lady," "Easy to Love," "You'll Never Know," and "Call Me Irresponsible" on the new CDs is to experience greatness. Said Nancy, "What I try to do with old songs is to remind people that they really meant something then. And they mean something now. I think the lyric of 'I'm Glad There Is You' is even more appropriate today than when it was first written."

She recalled talking with her late-career artistic partner, pianist-arranger-musical director Chris Marlowe, about how they would interpret "It Might as Well Be Spring," the Rodgers and Hammerstein perennial from State Fair. "I said, 'You know, this is not some dippy ingenue's number. This is about somebody who's horny!' I have to make the songs mean something to me. I may be grasping at straws sometimes, but hey, they're my straws."

Nancy often indulged in such self-deprecating humor, but "grasping at straws" is hardly an accurate description of her approach to the Great American Songbook. On the contrary, she almost always wound up holding the brass ring.

********************

[For more information about the new Nancy LaMott releases, and about her career in general, visit www.nancylamott.com]




Published on Monday, February 11, 2008




Michael Portantiere has more than 30 years' experience as an editor and writer for TheaterMania.com, InTHEATER magazine, and BACK STAGE. He has interviewed theater notables for NPR.org, PLAYBILL, STAGEBILL, and OPERA NEWS, and has written notes for several cast albums. Michael is co-author of FORBIDDEN BROADWAY: BEHIND THE MYLAR CURTAIN, published in 2008 by Hal Leonard/Applause. Additionally, he is a professional photographer whose pictures have been published by THE NEW YORK TIMES, the DAILY NEWS, and several major websites. (Visit www.followspotphoto.com for more information.) He can be reached at [email protected]


Why are you looking all the way down here?
For more articles by Michael Portantiere, click the links below!

Previous: "Tomorrow" and "Tomorrow" and "Tomorrow"

Next: Under the Sea, and Over the Moon

Or go to the Archives