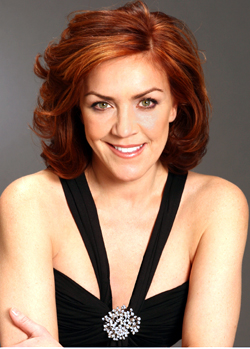 "TOMORROW" AND "TOMORROW" AND "TOMORROW"
This may sound odd but, apparently, we have Carol Channing to thank for the fact that Andrea McArdle will sing "Tomorrow" -- her signature song from Annie -- in her upcoming show at Feinstein's at Loews Regency.
"I was working with Carol and Leslie Uggams in Jerry's Girls," says McArdle, "and that was at a time when I was a little embarrassed about 'Tomorrow.' One day, I was making some kind of joke about the song. Carol heard me -- and the shit hit the fan.
"She said, 'Look at Leslie! She's so talented, so beautiful, and she's never had a song of her own. You got one your first time out, when you weren't even old enough to vote. You'd better shut up and honor that. I don't ever want to hear you make fun of that song again!' I said, 'Okay, Carol!' She was absolutely right."
Post-Annie, McArdle returned to Broadway in Les Misérables, Starlight Express, Beauty and the Beast, and State Fair. Her TV credits include the role of Judy Garland in Rainbow, and the role of "Star to Be" in the Annie remake. She has also done tons of regional theater. But it's understandable that audiences for her club and concert appearances always hope to hear her sing the song that helped make her a star, and McArdle has made peace with this fact. She notes: "If I go to a Rickie Lee Jones concert and she doesn't sing 'Chuck E's in Love,' it's frustrating. Of course, I don't sing 'Tomorrow' in every show. But I don't avoid it like I used to, and I do honor it."
The act she'll do at Feinstein's isn't entirely new. "I did one performance of it at Joe's Pub a couple of years ago, as a benefit for Broadway Cares/Equity Fights AIDS," she tells me. "It was directed by Richard Jay-Alexander. But we're going to tailor it and tweak it for Feinstein's, and for Valentine's Day. I do a couple of New York songs as as a tribute to the city. Some of it is a trip down memory lane. And I do quite a bit of Sondheim, which is not what most people expect from Andrea McArdle. We're trying to change that!"
Expect her fans to come out in force for this one-night-only appearance. Says McArdle, "I think I have an indelible connection with the New York crowd; but years ago, when I first had the opportunity to do a solo act, I just wasn't seasoned enough or mature enough to relate to an audience in an intimate setting. In a show like that, the audience wants to get to know you, without the fourth wall in the way. Now, that's something I really enjoy doing."
McArdle's show at Feinstein's is this Sunday, February 10 at 8:30pm. For more information, click here.
********************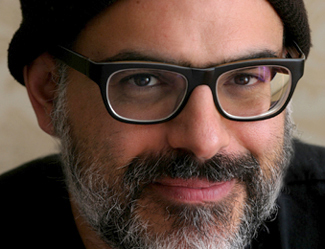 THE FULL YAZBEK
David Yazbek wins my vote for the most underappreciated composer/lyricst working in the musical theater today. This may be partly due to the fact that he only has two Broadway scores to his credit, The Full Monty and Dirty Rotten Scoundrels. But what great scores! (He also contributed some lyrics to Bombay Dreams, but we won't hold that against him.)

As his fans know very well, Yazbek is equally adept as a writer of stand-alone songs. His new Ghostlight Records CD, Evil Monkey Man, is set for release on February 26. It includes 14 compositions with such intriguing titles as "Monkey Baby Hanging on Chicken Wire," "Bazooka Joe," and "Eight Evil Men." Selections from the album will be featured in Yabek's February 9 concert in the glorious Allen Room at the Time Warner Center, to be presented as part of Lincoln Center's American Songbook series.

"There are different skill sets involved in writing stand-alone songs and theater scores," says Yazbek, "but sometimes they overlap. A lot of songwriters have a hard time writing for musical theater because they don't know how to express themselves through characters. Basically, you have to have the ability to act. On top of that, you're serving a larger piece; if you come into a show thinking it's all got to revolve around what you want, you're totally fucked, because it has to be a collaboration. Going the opposite way, there are theatrical songwriters who can't or don't want to write personally, though they're fine when they're expressing themselves through characters."

Certainly, the Evil Monkey Man songs are quite different in tone from the wonderful stuff Yabek wrote for Monty and Scoundrels. "It's not a theater-y album," he says, "though it is dramatic. It's got an intense, angry, sad, kind of pungent atmosphere. I had no clue what to call it, and then I saw this drawing that my 11-year-old son did. He created this iconic image that was clearly from his subconscious, sort of a super-villain. I'm looking at this thing and I'm thinking, 'Jesus!' It was funny and scary at the same time. At the bottom of the page, he wrote 'Evil Monkey Man.' I thought, 'That's it!' The title and the logo were both perfect for the album."

The American Songbook concert will feature two guest performers from two different artistic worlds: pop singer/songwriter Nellie McKay and opera star Lauren Flanigan. "Back before I did Broadway stuff, I'd usually have rock performers as guests," Yazbek says. "Then, after I started doing Broadway, every now and then I'd sneak in people like Patrick Wilson to sing songs from the shows, to tip my hat to that part of the audience. For this one, I didn't want to go there, though it happens that Nellie was in a Broadway show last year [The Threepenny Opera]. I've really liked her stuff for years; she sort of reminds me of me when I was her age. As for Lauren Flanigan, there's a song on my album that uses lap-steel guitar, and I thought, 'What if we had a soprano sing that part?' It's amazing that Lauren agreed to do it. She has one of the greatest voices in the world."

For more information on David Yazbek's American Songbook evening, click here.




Published on Friday, February 8, 2008




Michael Portantiere has more than 30 years' experience as an editor and writer for TheaterMania.com, InTHEATER magazine, and BACK STAGE. He has interviewed theater notables for NPR.org, PLAYBILL, STAGEBILL, and OPERA NEWS, and has written notes for several cast albums. Michael is co-author of FORBIDDEN BROADWAY: BEHIND THE MYLAR CURTAIN, published in 2008 by Hal Leonard/Applause. Additionally, he is a professional photographer whose pictures have been published by THE NEW YORK TIMES, the DAILY NEWS, and several major websites. (Visit www.followspotphoto.com for more information.) He can be reached at [email protected]


Why are you looking all the way down here?
For more articles by Michael Portantiere, click the links below!

Previous: Fasten Your Seat Belts

Next: Listen to Her Heart

Or go to the Archives