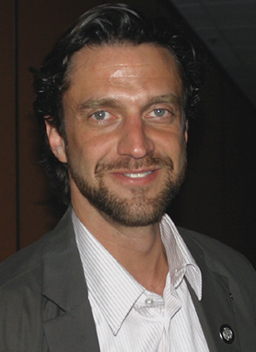 RAÚL STOPS THE SHOW
It took Raúl Esparza only six years to go from being the one virtually unknown entity among the leads in The Rocky Horror Show to having his name above the title as the star of John Doyle's production of Company, for which performance he earned a Tony Award nomination. Now he has joined that select group of prodigiously talented individuals who've been Tony-nominated in two successive seasons, having been recognized for his work as Lenny in The Homecoming. Previously, he was nominated for Taboo, which means that he has been in the Tony hopefuls circle three times already. Quite a career trajectory, yes?
If you caught Company live at the Ethel Barrymore or on PBS, you don't need me to tell you that the emotional climax of the show was Raúl's unsparing performance of one of Stephen Sondheim's most profound songs, "Being Alive." But if you missed both the show and the telecast, never fear; the TV version is due for release on DVD any day now, and Raúl will reprise "Being Alive" in a New York Philharmonic concert aptly titled Broadway's Greatest Showstoppers, to take place on Tuesday, May 20 at Avery Fisher Hall. Marvin Hamlisch will conduct and Kristin Chenoweth will co-star, along with Michel Bell and J. Mark McVey.
"Marvin approached me about the concert when I was doing The Homecoming," Raúl told me at the press reception for this season's Tony nominees. "He said, 'I'd like you and Kristin to come and sing a few songs,' and I said, 'Absolutely!' He wanted me to recreate 'Being Alive, ' and I'm going to do something from Evita, a show I did on tour. Kristin and I are going to do 'Tonight' from West Side Story. I'm also going to do 'Soliloquy' from Carousel. That's a great big one, and some parts of it are very low for me, so I'm still working on it." (If you need further incentive to buy a ticket: Chenoweth is also to sing "Ice Cream" from She Loves Me, "Glitter and Be Gay" from Candide, and "If You Hadn't But You Did" from Two on the Aisle. Rounding out the program will be selections from such shows as My Fair Lady, Annie Get Your Gun, Show Boat, Les Misérables, and Hamlisch's own A Chorus Line.)
With six Broadway shows now under his belt, Raul says the best part about the whole thing is "the experience of walking into those old theaters and being part of something that started long before you were there, stepping onto a stage where some great star stood and realizing that you're part of all that in some small way. The Cort, where we did The Homecoming, doesn't have the greatest history -- except that's where I saw The Grapes of Wrath, which came from Steppenwolf. That show was the reason I moved to Chicago, to work with Steppenwolf. Now they're back [with August: Osage County], and my friend Deanna Dunagan is nominated for Best Actress. She's one of the reasons I'm in New York; she encouraged me to come here, so I really have to thank her for that."
********************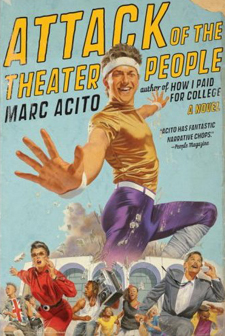 ATTACK OF THE THEATER PEOPLE
I laughed like a loon all the way through Marc Acito's How I Paid for College: A Novel of Sex, Theft, Friendship, and Musical Theater. So it was no surprise to me that I laughed like a loon all the way through the sequel, Attack of the Theater People (Broadway Books), and I can pretty much guarantee that you'll do the same.
These are the further adventures of Acito's vaguely autobiographical hero, Edward Zanni, who at the end of the previous book had just managed, through various weird machinations, to get into the acting program at Juilliard. As Attack of the Theater People opens, he's being thrown out of that august institution -- by Marian Seldes herself! -- because he's too "jazz hands" for the school. Edward is briefly devastated, but he soon finds a job as a "party motivator" and soon after that discovers that one way to make quick cash is to get involved in insider trading.
The tale is enlivened by Acito's portraits of Edward's colorful cronies and his on-the-nose observations about life in New York City in the mid-1980s. For example: "As I pound the pavement on the Yupper West Side, luxury condos sprouting up every other block, I'm keenly aware how Manhattan is twenty-three square miles of Not For You: windows full of products You Can't Buy, posters for events You Can't Afford, restaurants full of food You Can't Eat." When Edward's friend Natie finds them an apartment in a "scab-colored" tenement on a rough block in Hell's Kitchen and assures him that the neighborhood is "in transition," Edward replies, "To what? Landfill?"
As was the case with Acito's previous book, Attack of the Theater People has plenty of jokes that will appeal specifically to, well, theater people -- e.g., "Thanks to the second-worst season in Broadway history (the worst being the season before), restaurants now have more waiters than the chorus of Hello, Dolly!" And: "To call Starlight Express garbage is an insult to sanitation workers. A noisy, epilepsy-inducing assault on the senses, it is the Chuck E. Cheese of musicals, a show so astonishingly vapid it makes Cats look like The Lion in Winter."
But, as was also the case with How I Paid for College, the bulk of the humor here is universal. When Edward's longtime crush Doug put his hand on a sloshed Edward's shoulder, our hero confides, "it takes every bit of self-control I have left not to lean over and lick him." Jealous of his friend Kelly for signing with an agent, Edward admits, "I know I'm being petty. If I were a rock 'n' roller, I'd be Tom Petty. If I were in the navy, I'd be chief petty officer. If I were underwear, I'd be a petticoat." At a roller rink, confronted with a guy dressed in "tube socks, tight satin shorts and terry cloth shirt, with a long silk scarf around his neck," Edward recalls that "Mama said there'd be gays like this."
I'd love to quote you the entire book, but that would be illegal. Pick it up if you're in the mood for a hilarious read.
********************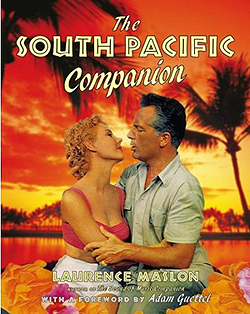 READ UP AND LISTEN GOOD!
Well-timed to coincide with the opening of the beautiful South Pacific revival at Lincoln Center Theater, Laurence Maslon's The South Pacific Companion is new from Simon & Schuster/Fireside. This large-format coffee table book is notably superior to Maslon's The Sound of Music Companion, which was marred by some odd choices of photos (and poor reproduction of well chosen photos). There are a few questionable passages in the text: Maslon bungles the old joke about the woman who couldn't find a friend or relative to use her dead husband's ticket to the sold-out original Broadway production of South Pacific because "they're all at the funeral," and he erroneously labels the 1967 Music Theater of Lincoln Center production as the show's "first major revival." But, overall, this is a lively history of the Rodgers and Hammerstein classic, from the writing and reception of its source material -- James Michener's novel Tales of the South Pacific -- through the planning stages of the current revival.

Anyone who was lucky enough to be present at the Metropolitan Room recently when Broadway veteran Maureen McGovern did a show of songs from her new album A Long and Winding Road will want to get his or her hands on the CD, which has just been released by PS Classics. And if you weren't there, that's all the more reason to pick up the disc, which features her beautiful interpretations of "The Times They Are a-Changin'", "The Circle Game," "Imagine," "Fire and Rain," "By the Time I Get to Phoenix," and 15 other representative pop songs of the 1960s and '70s. I've always maintained that McGovern possesses one of the great voices of the 20th and 21st centuries, and it's wonderful to hear that it's still intact more than 35 years after she exploded on to the scene with her smash-hit recording of "The Morning After." Jeff Harris is the album's stellar music director/arranger, and there's a special guest appearance by bassist extraordinaire Jay Leonhart.

Finally: If for some unfathomable reason you don't already own Broadway Musicals: The 101 Greatest Shows of All Time, by Ken Bloom and Frank Vlastnik, be advised that this fabulous pictorial history book is now available in paperback from Black Dog & Leventhal. Filled to bursting with thrillingly vivid color (and black & white) photos of the chosen shows, the book was always a bargain in hardcover at $34.95, and now you can get your hands on the somewhat smaller paperback for $22.95 or less. You'll probably want to pick it up even if you do own the first edition, because some recent shows -- such as Avenue Q, The Drowsy Chaperone, and Wicked -- are now included, though this of course has entailed the excision of an equal number from the former list. There are also some great, alternative photos of the musicals that have been retained among the 101 greatest.




Published on Friday, May 16, 2008




Michael Portantiere has more than 30 years' experience as an editor and writer for TheaterMania.com, InTHEATER magazine, and BACK STAGE. He has interviewed theater notables for NPR.org, PLAYBILL, STAGEBILL, and OPERA NEWS, and has written notes for several cast albums. Michael is co-author of FORBIDDEN BROADWAY: BEHIND THE MYLAR CURTAIN, published in 2008 by Hal Leonard/Applause. Additionally, he is a professional photographer whose pictures have been published by THE NEW YORK TIMES, the DAILY NEWS, and several major websites. (Visit www.followspotphoto.com for more information.) He can be reached at [email protected]


Why are you looking all the way down here?
For more articles by Michael Portantiere, click the links below!

Previous: No, No, Nanette is the Bee's Knees

Next: Two New Musicals Hit the Heights on CD

Or go to the Archives