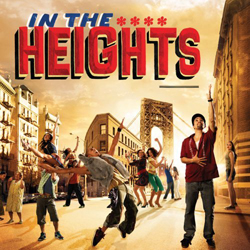 TWO NEW MUSICALS HIT THE HEIGHTS ON CD
Even if you're one of those people who usually look at things from a "half-empty" perspective, there's at least one good reason to regard the 2007-2008 Broadway season with happiness and optimism. After all, when was the last time that the roster of Tony Award nominations included two entirely original musicals, neither based on pre-existing source material and both featuring new scores by wildly talented composer-lyricists in their Broadway debuts?
The only unfortunate fact about In the Heights and Passing Strange going head to head for the Best Musical Tony is that, presumably, only one of them will win. My guess is that the former show will be in residence at the Richard Rodgers Theatre for quite some time even if it doesn't capture the award, while the latter may not have quite so long a run at the Belasco because, for all its brilliance, it's a very special piece with less broad appeal. At any rate, both scores are now available to the masses thanks to Ghostlight, the invaluable label that has recorded and released the shows' cast albums.
The true genius of these musicals is the way in which they fuse the familiar with the fresh. Passing Strange is an alternately moving and funny coming-of age story. This is not exactly a new concept, but the specifics of co-creator/co-star Stew's semi-autobiographical tale -- a middle class, African-American youth from a nice part of L.A. journeys to Amsterdam and Berlin to experience Real Life and to achieve Freedom of Expression -- mark it as unique. In the Heights shows us the joys and challenges of an immigrant community, something we've seen before. But the community brought to life by composer-lyricist-star Lin-Manuel Miranda and company, namely the colorful barrio that is Washington Heights, has never before been depicted in a Broadway musical.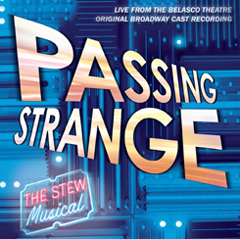 Of course, the "everything old is made new again" essence of these shows extends to their music and lyrics, as demonstrated by the cast recordings. In Passing Strange, Stew and collaborator Heidi Rodewald expertly combine indie rock sounds with more traditional song forms. The prologue ("We Might Play All Night") wouldn't seem out of place in a garage band concert, and there's more heavy rock to be heard as the CD progresses. But one of my favorite numbers is the witty cha-cha "We Just Had Sex," in which the creators quote the 1925 show tune "Tea for Two." Also bursting with wit is "The Black One," about the Berliners' reaction to their new friend from America. If ballads are your thing, "Mom Song" and "Come Down Now" will be right up your alley. These and the other songs that make up this great score are variously performed to the hilt by Stew, Daniel Breaker (as his alter-ego, "Youth"), De'Adre Aziza, Eisa Davis, Colman Domingo, Chad Goodridge, and Rebecca Naomi Jones, backed by a kick-ass rock band.
As for In the Heights, Miranda is a terrific rapper -- both as a writer and performer -- yet he uses just enough rap to make an exciting effect without turning off audience members who enjoy melody in their musicals. For those of us in that category, the score's highlights include "It Won't be Long Now," beautifully delivered by Karen Olivo as Vanessa; "When You're Home," an irresistible duet for Benny (Christopher Jackson) and Nina (Mandy Gonzalez); and Abuela Claudia's heartfelt "Pacienca y Fe," soulfully sung by Olga Merediz. Every song on the album is suffused by Miranda's extraordinary talent as a lyricist, which enables him to group together words like "exaggerated," "exacerbated," and "emigrated," and to rhyme "escalator" with "(I'm gonna) test ya later." In addition to the top-flight singing actors mentioned above, Robin de Jesús, Andréa Burns, Priscilla Lopez, and Eliseo Román come across especially well on the CD.
Since these are Ghostlight releases, it goes without saying that both are notable for state-of-the-art sound quality and attractive packaging. (The tri-fold package for the two-disc In the Heights set is way cool.) Just as trips to the Rodgers and the Belasco are required for anyone who cares about the future -- and the past -- of musical theater, so is purchase of these CDs. An important historical note: Passing Strange is apparently the first Broadway musical recorded live in the theater, at a special session. To my taste, the volume level of the audience's applause and cheers could have been ramped up quite a bit more, but even as mixed in here, their reaction adds to the thrill of the performance.

********************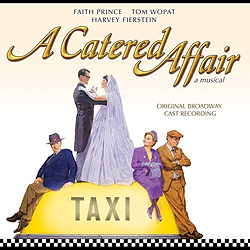 ONE WHITE DRESS
You only have to listen to the first seven minutes or so of A Catered Affair on the PS Classics cast album to get a good idea of the show's strengths as well as its flaws. After a brief orchestral prelude, the CD begins not with a song but with nearly two full minutes of spoken dialogue over music -- and, by the way, there's actually much more dialogue at the start of the show as seen at the Walter Kerr Theater than is included on the recording. It's the first indication that composer-lyricist John Bucchino and book writer/co-star Harvey Fierstein didn't have a firm handle on how to musicalize this story, based on the film written by Gore Vidal and the original teleplay by Paddy Chayefsky, about a Bronx family's dilemma over whether or not to give their daughter an expensive wedding they really can't afford.
When the first song finally begins, it's pretty, but it exhibits a contemporary sound and perspective that seem way out of synch with the story's early-1950s time frame; the incipient bride and groom Janey and Ralph's use of the word "partners" to describe their relationship is a glaring anachronism, and the song's Maltby & Shire-esque, William Finnish rolling accompaniment sounds more '70s or '80s than '50s. The rest of the score is much the same. Even the two best songs in the show, "One White Dress" and "Don't Ever Stop Saying I Love You," somehow sound too "modern" in a way that's difficult to define.
Another problem: Although Fierstein gives an admirably restrained performance as Uncle Winston, a character he has unwisely reconceived and rewritten as gay, his voice is so unusual that he simply doesn't blend with the ensemble. Whenever he speaks or sings on the recording (or in the show), A Catered Affair is suddenly all about Winston, which it should not be.
On the plus side, Faith Prince does some of the best work of her career as mom Aggie; and Tom Wopat as hubby Tom proves once again that he's one of Broadway's best actors, whether in a musical or a straight play. Leslie Kritzer has some lovely moments as Janey, but Matt Cavenaugh is given little to do as Ralph, and the talents of Lori Wilner, Heather MacRae, and especially Kristine Zbornik are almost completely wasted in other under-written roles. Jonathan Tunick's orchestrations are as satisfying as one could expect, given that he's only writing for nine pieces. A Catered Affair has the great virtue of not screaming at the audience in the manner of so many other overblown, overamplified, modern-day musicals, but that virtue is sadly undercut by the show's significant failings.
********************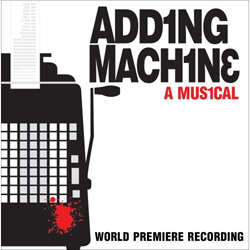 ZERO HOUR
I haven't done any digging, so I don't know whence came all of the money behind Adding Machine, which has been transplanted from Chicago to the Minetta Lane Theatre. We've all read and heard a great deal about how the current economics of Off-Broadway work against the financially successful production of musicals unless they're have teeny-tiny casts and modest production values. So I was amazed by the sets, lighting, costumes, and video design of this arresting musical based on Elmer Rice's expressionist 1923 play about a poor sap named Mr. Zero who, when summarily fired after working for 25 years in the basement of an anonymous company, reacts by killing his boss and is then executed for his crime.

But how does the score, by Joshua Schmidt (music and libretto) and Jason Loewith (co-librettist), stand up on CD without all the visual trappings? Very well, indeed. The music for the first scene -- in which Mrs. Zero blathers to her husband in bed about a Hollywood scandal and then begins to berate him for his failings -- is appropriately annoying, and there are plenty of maddeningly repetitious notes and spiky harmonies for the subsequent scenes that show the identity-erasing mechanization of modern American society. Schmidt's setting of the final sequence in the hereafter, where Mr. Zero's soul is recycled along with that of his unrequited lover Daisy, is truly unnerving. But there are also some lovely passages along the way, as in the scene where Mrs. Z. comes to visit her spouse on death row, or the moment when Daisy confesses her love for Zero. The highlight of the score is "I'd Rather Watch You," first sung by Daisy as a sensuous blues number and then reprised towards the end of the show as a gorgeous duet with Mr. Zero, backed by a chorus.

The performances -- especially those of Joel Hatch and Cyrilla Baer as the Zeros, and Amy Warren as Daisy -- register with remarkable clarity on the CD. As of this writing, Adding Machine is still playing at the Minetta Lane, and it should not be missed. But if you can't get there right away, pick up the PS Classics recording and marvel at the fact that this singular musical has somehow achieved well-deserved recognition and success in the present theatrical climate.




Published on Sunday, May 25, 2008




Michael Portantiere has more than 30 years' experience as an editor and writer for TheaterMania.com, InTHEATER magazine, and BACK STAGE. He has interviewed theater notables for NPR.org, PLAYBILL, STAGEBILL, and OPERA NEWS, and has written notes for several cast albums. Michael is co-author of FORBIDDEN BROADWAY: BEHIND THE MYLAR CURTAIN, published in 2008 by Hal Leonard/Applause. Additionally, he is a professional photographer whose pictures have been published by THE NEW YORK TIMES, the DAILY NEWS, and several major websites. (Visit www.followspotphoto.com for more information.) He can be reached at [email protected]


Why are you looking all the way down here?
For more articles by Michael Portantiere, click the links below!

Previous: Raúl Stops the Show

Next: Time for a Visit to Broadway

Or go to the Archives