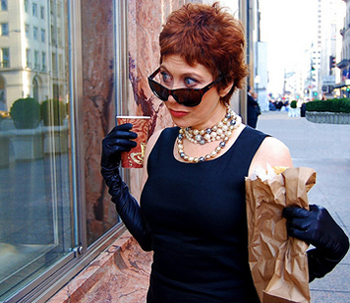 Audrey II
Audrey Hepburn and Marilyn Monroe are arguably the two most iconic movie actresses of the mid-20th century. Given that they represent very different types of female beauty and personality, it's fascinating to learn that Monroe was originally considered for what is perhaps Hepburn's most famous role.
"It sounds crazy to us now, but they wanted Marilyn to be in Breakfast at Tiffany's." So says Cheryl Stern, co-author and star of The Transport Group's new musical, Being Audrey. "What a different movie that would have been! Marilyn is actually more similar to the character Holly Golightly as described in the book [by Truman Capote], and it would have been a far more obvious choice to have someone so overtly sexual playing this call girl. But of course, the movie is all the more poignant because we have skinny, super-classy Audrey Hepburn taking the 50 dollars in the powder room."
When I chatted with Stern recently, she told me about the development of Being Audrey and her own involvement in the project: "I've been a member of the Transport Group from the very beginning, as an actress and a writer. Ellen Weiss, a board member of the group and a wonderful composer/lyricist, had had this idea for a long time about a woman who's obsessed with Audrey Hepburn and travels into the world of Audrey's most famous films. When Ellen saw me as Mamie Eisenhower in Michael John LaChiusa's First Lady Suite at Transport, she said, 'That's the woman who has to play Audrey!' So we met and began throwing ideas around.
"We brought James Hindman onto the project, and he came up with a genius idea for what's happening with this character, Claire Stark: She's a middle-aged, Park Avenue woman who seemingly has it all but suddenly finds herself in a crisis that she doesn't know how to handle. It scares her so deeply that she retreats from reality and finds herself in the movies Roman Holiday, Sabrina, Love in the Afternoon, Funny Face, and Breakfast at Tiffany's."
During the course of the musical, which is set to run March 27-April 26 at 220 East 4th Street, Cheryl as Claire will assume the guises of Hepburn's characters in those films. And in an extension of the show's Purple Rose of Cairo-Wizard of Oz-esque conceit, the other cast members -- Brian Sutherland, Stephen Berger, Andrea Bianchi, Valerie Fagan, Michael Maricondi, Mark Ledbetter, and Blair Ross -- will appear both as people in Claire's life and the other actors/characters in the movies.
So, what is it about this particular actress and her filmography that inspired Weiss, Stern, Hindman, et al? "Audrey Hepburn represents perfection to so many women," says Stern. "I think that's because she was always authentic to herself. The reason we saw as her as so beautiful was because she found her own look and used what she had. Our show deals a lot with that question of identity, and one of the most fascinating things about Audrey is that she didn't copy anyone else. She was an original."
For more information, visit www.transportgroup.org.
*********************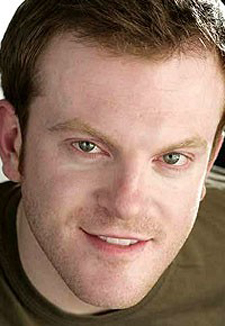 Somethin' Sort of Irish
Sure and I thought I had my bases covered for St. Patrick's Day this year: I was to interview actor Jeremy Bobb, who (a) looks as Irish as the day is long, (b) hails from Dublin (Ohio, but still Dublin!), (c) made his Broadway debut in the 2007 revival of the great Irish playwright Brian Friel's Translations before going on to play a character named Phelim O'Shaughnessy in Mark Twain's Is He Dead?, and (d) now has the plum role of the leprechaun Og in the City Center Encores! presentation of Finian's Rainbow.
I'll confess to being a little disappointed when Bobb told me he's only one-quarter Irish -- but I got over it. Certainly, his stage credentials as a son of Erin are solid. "I look like this, so that's how I tend to get cast," he says. "Not in my last two shows; I did the Donald Margulies play Shipwrecked at Primary Stages, and before that I was in Michael Weller's Beast at New York Theatre Workshop. There were no Irish people in those plays. But before that, I played a lot of them."
Folks who secure tickets to Finian's Rainbow will get to see and hear Bobb in his first professional musical theater role. "In my high school productions of Oklahoma! and Guys and Dolls, I was Will Parker and Sky Masterson, respectively. And in college, I did Blood Brothers. But as far as musicals go, that's been it for me -- until now. It's really exciting."
Before being cast as Og, a leprechaun who is slowly turning mortal because his crock of gold has been purloined, Bobb had only a passing aquaintance with Finian's Rainbow. "I had certainly heard a few of the songs, but I had never seen a production," he tells me. "And I haven't seen the movie with Fred Astaire, other than a few clips on YouTube. It thought it looked almost psychedelic."
The Encores! Finian's also stars Kate Baldwin as Sharon McLonergan, Cheyenne Jackson as Woody Mahoney, and Jim Norton as Finian, with such notables as Philip Bosco, Ruben Santiago-Hudson, and Terri White in featured roles. "It's an honor to be among this group," says Bobb, who's especially thrilled to be sharing the stage with Norton: "When I was doing Is He Dead?, some of our producers were also on The Seafarer, so I got to see that show several times. Watching Jim Norton in that was like watching an instructional video on how to be a good actor."
Og's big number in Finian's is the wonderfully witty Burton Lane/E.Y. Harburg ditty "When I'm Not Near the Girl I Love (I Love the Girl I'm Near). "It's basically four or five versions of the same joke, but so clever," says Bobb. "If you use the words correctly, you can get a nuanced version of the joke each time you do it." And is it easy for him to connect with the sentiment expressed in the lyrics? "Well," he says with a chuckle, "I think anybody with a dick can relate to that song!"
Finian's Rainbow will be performed March 26-29 at City Center. For more information, visit www.nycitycenter.org.
*********************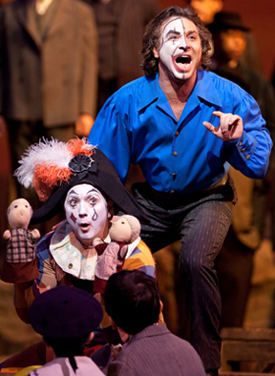 A Plateful of Verismo
Over the decades during which Franco Zeffirelli designed and directed productions for the Metropolitan Opera and other first-rank companies throughout the world, his work came in for its share of brickbats, with more than a few observers rating several of his creations as overblown. But even the man's harshest critics would have to admit that his Met productions of the double-billed Cavalleria Rusticana and Pagliacci -- now nearly 40 years old, and still revived often -- are exemplary, providing grandeur without bombast, passion without campy excess.

As seen in the current revival, Zeffirelli's Cav & Pag still look great, with two major caveats: huge creases in the cloud-filled cyclorama for Pietro Mascagni's Cavalleria lend this otherwise gorgeous production the amateurish feel of a high school show; and some of the original stage business, such as the blocking of the choristers in the first scene of Ruggero Leoncavallo's Pagliacci, has deteriorated into muddle. (David Kneuss is now credited as the stage director.)

This season, Cav & Pag are likely to draw audiences who've never before seen these productions, as star tenors Roberto Alagna and Jose Cura will be singing the roles of Turridu (Cav) and Canio (Pag) in separate stretches of performances. Alagna is first, making his role debut as Turrridu and bringing his Canio to the Met for the first time. It's a pleasure to report that, In both assignments, his tenor sounds more open and has less of an intrusive beat on high notes than I've heard in the past.

Alagna's still youthful good looks serve him in good stead as the hot-headed, hot-blooded Turiddu even as they make him seem physically miscast as Canio, the supposedly middle-aged clown whose wife is having a hot affair with a young villager. This must be the first time in the history of this opera that Canio has come across as sexier than Silvio, though Christopher Maltman certainly sings ardently in the latter-named role.

The rest of the principals are strong: Waltraud Meier brings a voice of Wagnerian force to Santuzza in Cav; soprano Nuccia Focile and tenor Tony Stevenson are perfectly cast as Nedda and Beppe in Pag; and baritone Alberto Mastromarino is vocally and dramatically superb as Alfio in the Mascagni work and Tonio in the Leoncavallo.

The chorus sings lustily and the orchestra plays beautifully, but this brings me to my final cavil about the performance I attended: Conductor Pietro Rizzo, in his Met debut, had some trouble keeping the singers and the musicians in synch. Perhaps this was at least partly due to opening night nerves? At any rate, here's hoping he'lll get into his groove as the run continues.




Published on Monday, March 23, 2009




Michael Portantiere has more than 30 years' experience as an editor and writer for TheaterMania.com, InTHEATER magazine, and BACK STAGE. He has interviewed theater notables for NPR.org, PLAYBILL, STAGEBILL, and OPERA NEWS, and has written notes for several cast albums. Michael is co-author of FORBIDDEN BROADWAY: BEHIND THE MYLAR CURTAIN, published in 2008 by Hal Leonard/Applause. Additionally, he is a professional photographer whose pictures have been published by THE NEW YORK TIMES, the DAILY NEWS, and several major websites. (Visit www.followspotphoto.com for more information.) He can be reached at [email protected]


Why are you looking all the way down here?
For more articles by Michael Portantiere, click the links below!

Previous: Rooms Full of Talent

Next: Somehow, Someday, Somewhere

Or go to the Archives