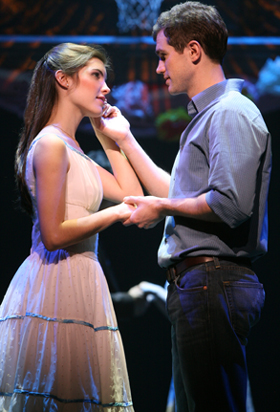 Somehow, Someday, Somewhere
My first clue that there was trouble afoot in the current Broadway revival of West Side Story came a few weeks ago, when I ran into Curtis Holbrook -- who plays Action in the show -- at a Duane Reade on Ninth Avenue. At first, I wasn't sure it was Curtis because his hair was skinhead-short rather than a style that would be appropriate to the 1950s, when WSS is set. I innocently asked him if he was wigged on stage, and he replied, "No, this is how I wear my hair in the show. They wanted me to look tougher."
In case you haven't heard, the new West Side Story at the Palace Theatre is directed by the nonagenarian Arthur Laurents, who wrote the book for this show that is most beloved for its immortal Leonard Bernstein/Stephen Sondheim score and for Jerome Robbins' brilliant direction and choreography. Unfortunately, as Laurents proved with last season's Gypsy (for which he also wrote the book), the fact that someone is a good or even great writer doesn't by any means imply that he is also a talented director, even when dealing with his own material.
To be sure, there are a few good ideas mixed in with the myriad mistakes of this production. For example, Laurents has come up with a neat way of avoiding the unintentional laughter than usually happens at the beginning of the "Tonight" duet scene, when Tony runs through a Puerto Rican neighborhood yelling "Maria" and only one woman comes out on the fire escape. Also, the director should be credited with the superb casting of the lovely, golden-voiced, wonderfully natural Josefina Scaglione as Maria and the amazing triple-threat Karen Olivo as Anita. But the praiseworthy aspects of this WSS are far outweighed by innumerable blunders.
We know we've got a problem as soon as the curtain goes up on that famous brass fanfare: The Jets saunter down to the lip of the stage and glare at the audience in silence for a VERY LONG moment before they start snapping their fingers and the action finally begins. While they're posed in this fashion, we can't help noticing how anachronistic to the '50s are their hair styles, ranging from crew-cuts to mop-tops, and their costumes, designed by David C. Woolard. (A recent New York Times article detailed the research that went into designing a 100% period-authentic police uniform for this revival's Officer Krupke to wear, but it's hard to understand how that specific example of painstaking verisimilitude is supposed to jibe with the scatter-shot clothing and hairdos that pervade the production.) On the plus side, James Youmans' sets are period-accurate and wonderfully atmospheric, harking back to Oliver Smith's originals without slavishly imitating them.
Robbins' choreography has been wisely and well recreated here (by Joey McKneely), but the pacing of the danced Prologue is off just enough to scuttle the excitement. Bad pacing remains a problem throughout the show in terms of both the dialogue and the music, with conductor Patrick Vaccariello -- who previously deferred to Laurents' iron-fist control in Gypsy -- literally stopping the orchestra at certain points in "I Feel Pretty," "Gee, Office Krupke," and other numbers so that some silly piece of stage business can happen. (What would Bernstein have to say about all this? I shudder to think.)
Speaking of the orchestra, I'm sorry to report that it's over-amplified to the point where some of the brass passages in the "Dance at the Gym" hurt my ears. Why shell out big bucks to have 30 musicians in an acoustically viable Broadway pit and then crank up the volume of the sound system so much that you might as well have gone with only 10 players? Did the folks in charge here learn nothing from the Lincoln Center revival of South Pacific? Apparently not.
And what of the cast? Aside from the excellent Scaglione and Olivo, almost everyone is wanting in one way or another. Matt Cavenaugh sings well as Tony -- at least, he did at the performance I attended -- but his performance is affected, his New York accent is unconvincing, he looks too mature for the role, and he's the wrong type of handsome for it. (The form-fitting, long-sleeve T-shirt Cavenaugh wears nearly throughout the show does a good job of showing off his pecs but makes him stand out like a sore thumb in certain scenes, such as the dance at the gym.)
Cody Green, who plays Riff, is a first-rate dancer, as are all of the Jets and Sharks; but Green isn't a strong actor, and he evinces a bit of a speech impediment (trouble with esses). The aforementioned, usually excellent Curtis Holbrook overacts as Action, no doubt at Laurents' behest. And though George Akram is well cast as Bernardo, he doesn't make a very strong impression -- partly because Laurents has stubbornly insisted that the "America" number be performed in its original version, by the Shark women alone, rather than including the men as in the multi-Oscar-winning movie of WSS.
Many of Laurents' innovations fall under the category of "good idea in theory but not so much in practice" -- for example, having some of the dialogue and lyrics delivered in Spanish (as translated by Lin-Manuel Miranda), and having the vocal solo in the "Somewhere" ballet sung by a boy soprano. The Spanish doesn't work because there's just too much of it; particularly annoying are the passages in the "Quintet" where the Jets and Sharks sing in English and Spanish simultaneously, resulting in a muddle. The boy soprano doesn't work because that's the wrong type of voice for this music and also because the kid only appears fleetingly on stage before his big moment, so he seems a non-sequitur.
If you attend this West Side Story, you'll probably feel your mind and emotions reeling as the production lurches from effective to disappointing to infuriating. In the heretofore magical moment during the "Dance at the Gym" when Tony and Maria fall in love with each other at first sight, Howell Binkley's lighting doesn't isolate them from the other dancers and bring them into a world of their own, as it should. During the first scene in Doc's drugstore, the Jets show their contempt for Lt. Schrank (Steve Bassett) by "menacingly" snapping their fingers -- but the rhythm of their snapping is so slow that they can't keep it together, so they come across as more pathetic than menacing. "Gee, Officer Krupke" lays an egg because the number is played not for comedic irony but for bitter, dead-serious irony. And so on.
The infelicities of this production continue right through the last scene, where Laurents' direction is borderline absurd: Maria still asks "How do you fire this gun, Chino?" but now she wields the weapon with the brutal assurance of a terrorist, sticking the muzzle of the gun in Action's throat, then grabbing him by the back of the neck and forcing him to his knees. (I wish I were exaggerating about this.) And though the staging of the show's final moments is arguably more "realistic" than the original, it's also far less emotionally affecting. As my theater companion said, "I cried anyway, but not as much as I usually do." I also had tears in my eyes, mostly from sadness over a missed opportunity. (See below.)
********************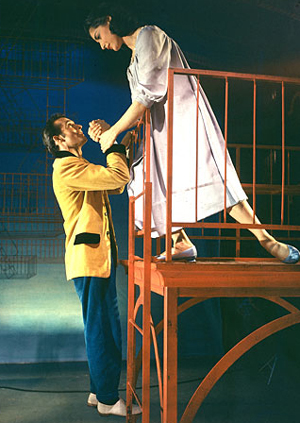 In August 2006, I wrote an article lamenting the fact that there were no plans for a 50th anniversary Broadway production of West Side Story. Kevin McCollum, who with his producing partner Jeffrey Seller had tried but failed to get such a project together, told me what went wrong:

"At one point, we did have the rights. We love the show -- we think it's one of the most important musicals ever written -- but the project just didn't work out in terms of the timing and how everyone wanted to go about it. As a producer, you want to put together the whole creative team for a show. The first thing you do is find a director who shares your vision; Jerry Mitchell is someone we wanted to work with, and we had ideas for the other members of the team. We wanted to bring in some new, creative people, but the various authors and their estates weren't on the same page as we were. Revivals come with baggage. We tried to get everyone to agree with the direction we wanted to take, but that didn't happen, so we gave the rights back."

At the time, I also managed to speak briefly with Arthur Laurents, who stated in no uncertain terms: "There is going to be a Broadway revival [of WSS], but it won't be for the 50th anniversary. There's an entirely new idea of how to do the show -- and I will not tell you what that is." As it turned out, McCollum and Seller are lead producers of the current revival, with Laurents directing.

To wrap up my 2006 article, I wrote: "I can't help thinking that a well-produced, well-cast, and well-directed West Side Story could be the Broadway goldmine of the 2000s." Given reports of huge advance tickets sales for the revival that's now at the Palace, it seems I was right about the goldmine part but that the "well produced, cast, and directed" proviso turned out to be unnecessary.

There may somehow, someday be a worthy Broadway revival of West Side Story, but probably not in my lifetime; so I'll continue to attend regional, community theater, college, and high school productions of the show and hope for the best somewhere beyond midtown Manhattan. Believe it or not, the finest WSS in my experience was staged at the old Jones Beach theater, with Christine Andreas and Barry Williams (of Brady Bunch fame) as Maria and Tony. (That gives you an idea of how long ago it was!)

As it happens, I'll be seeing a high school production of WSS in a couple of weeks. I'm expecting it to be more traditional and, in that respect, far better in sum than the revival that will likely be ensconced at the Palace for years. What a pity that one of the show's co-authors should have done such a poor job of staging this acknowledged masterpiece of the American musical theater.




Published on Friday, March 27, 2009




Michael Portantiere has more than 30 years' experience as an editor and writer for TheaterMania.com, InTHEATER magazine, and BACK STAGE. He has interviewed theater notables for NPR.org, PLAYBILL, STAGEBILL, and OPERA NEWS, and has written notes for several cast albums. Michael is co-author of FORBIDDEN BROADWAY: BEHIND THE MYLAR CURTAIN, published in 2008 by Hal Leonard/Applause. Additionally, he is a professional photographer whose pictures have been published by THE NEW YORK TIMES, the DAILY NEWS, and several major websites. (Visit www.followspotphoto.com for more information.) He can be reached at [email protected]


Why are you looking all the way down here?
For more articles by Michael Portantiere, click the links below!

Previous: Audrey II

Next: Good Morning Starshine

Or go to the Archives