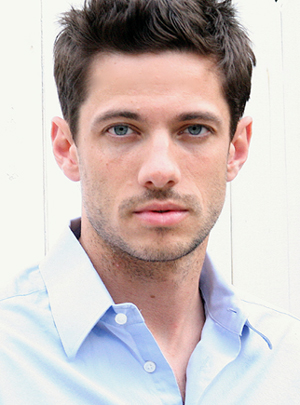 James Carpinello Rocks!
James Carpinello is about to open on Broadway in Rock of Ages, but if you run into him on the street, please don't tell him to "break a leg." That time-honored wish for theatrical good luck would be a big mistake in this case, given that the Saturday Night Fever star's plans to return to the New York stage as the male lead in Xanadu were scuttled when he suffered a serious leg injury during a rehearsal and was replaced by Cheyenne Jackson.
"God didn't want me to do Xanadu, for some reason," James says with a Zen-like air of acceptance. "I grew up playing hockey, and skating was second nature to me, yet I broke my leg skating. Not even; I was pretty much standing still on skates when it happened. It was a total fluke. I was upset because, at first, the press release said something to the effect of 'James Carpinello hurt his foot.' I remember reading that and saying, 'No, wait, you can't put that out there!' I didn't 'hurt my foot,' I actually broke my leg in three places. You can perform with a hurt foot, but I was in a cast up to my knee for four months, and I had two surgeries. I was sad when it happened because I was having the time of my life during that show, and I loved everyone involved. But it just wasn't meant to be."
A person with a glass-half-empty outlook might say that, in the years since James made a splash Off-Broadway in Stupid Kids, his career has been less than charmed. Despite huge advance ticket sales, Saturday Night Fever was a disappointment. A few years later, James played Link Larkin in workshops of Hairspray but left the show before it came to Broadway to go off and do The Great Raid, a movie that flopped at the box office even though it was quite good and boasted a high-profile cast. Then came the Xanadu mishap.
But James doesn't see himself as unlucky. "I think everything happens for a reason," he says. "Saturday Night Fever was my first Broadway show, and I had a great time. It was a big, giant dance show, and I wasn't a great dancer. That's why the critics and everybody came after me, but it's something I already knew. I was proud that I did my job to the best of my ability, but I also understand that this was Broadway. It's funny: If you watch the movie, Travolta only really dances, like, one time. But he's the man. He only needed to dance in one number to make an amazing impression."
Though James and his family now call L.A. home, he's delighted to be back in New York in Rock of Ages, which has moved to Broadway following a run at New World Stages. "It's not a revue," he states emphatically. "It's a complete book show. Chris D'Arienzo has taken songs from the '80s and put them into a storyline about two lost souls, played by Constantine Maroulis and Amy Spanger, on the Sunset Strip. I play a super-crazy, cocaine-snorting rock star who gets into the mix and screws everything up."
James didn't see ROA Off-Broadway, "but I saw a previous version of it years ago at the Vanguard in L.A. I grew up on that music, and I love it. But for my money, the best thing about this show is the book. Chris wrote an incredibly smart, hysterically funny book that allows the audience to have so much fun. Otherwise, the show would just be cheesy dreck. It was the same with Doug Carter Beane's book for Xanadu, but people who write comedy don't usually get a lot of respect, even though comedy is the most difficult thing to write."
Before our interview ended, I had to ask James about the rather controversial decision on the part of the Rock of Ages powers-that-be to sell beverages -- including alcohol -- not just at intermission but during the performance. "I think it's great," he says. "Would it work if you were going to see an Ibsen play? I don't think so. Would it work for an O'Neill play? Probably not, because you don't want a bunch of depressed drunks in the audience, crying along with the characters as they get hammered. But does it work for Rock of Ages? Absolutely!"
********************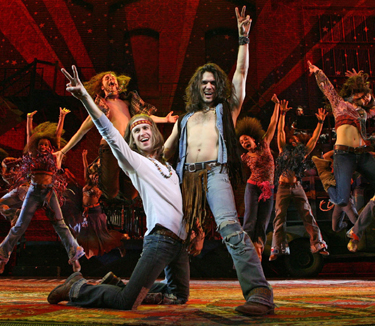 Let the Sun Shine In
In the wake of sorely disappointing revivals of West Side Story and Guys and Dolls, I'm thrilled that Hair is a triumph in its transfer from Central Park's Delacorte Theater to Broadway, where it deserves to run for at least 10 years. The energy on display at the Hirschfeld is so tremendous that it's hard to imagine how the cast can keep it up for eight performances a week; but, on the other hand, most of them are really young!

Among the show's greatest strengths are Will Swenson's sexy, smart-ass Berger; Gavin Creel's heartbreaking, beautifully sung Claude; Diane Paulus's spot-on direction; Karole Armitage's thrilling, non-stop choreography; a kick-ass band; and one of the best lighting plots ever seen on Broadway, courtesy of Kevin Adams. Get your tickets NOW.

Also on the worthy revival front, it's gratifying that the legendary Angela Lansbury is back on the boards in Blithe Spirit -- not only because she's giving a delightful performance as Madame Arcati in an excellent production directed by Michael Blakemore, but also because this endeavor helps obliterate memories of Lansbury's most recent Broadway outing in Deuce, a deservedly reviled play by Terrence McNally. Moral: When in doubt, stick with Noël Coward!

The current Broadway season is notable for the number of plays (as opposed to musicals) that are opening, and God of Carnage is the best I've seen thus far, both in terms of Yasmina Reza's keenly perceptive script (translated by Christopher Hampton) and the pitch-perfect production at the Jacobs. Jeff Daniels, Hope Davis, James Gandolfini, and Marcia Gay Harden kill as two sets of parents who vainly attempt to remain civil in discussing a violent incident that occurred between their children.

Exit the King is commendable mostly for Geoffrey Rush's wonderfully theatrical performance as an out-of touch, moribund monarch, but there is also fine work from the rest of the cast, especially Andrea Martin and Lauren Ambrose. And though many of the critics who praised Jane Fonda's performance in 33 Variations had reservations about Moisés Kaufman's script, I was engrossed by this play about a terminally ill woman's attempt to solve one of music history's greatest puzzles.

As if there weren't enough shows opening on Broadway to keep a theatergoer busy, Off-Broadway is also bustling with activity, so please allow me to accent-u-ate the positive and elminate the negative in this review roundup. For instance: I've remarked on the fact that the shows produced by the Roundabout in its Laura Pels Theater venue tend to be unsatisfying in one way or another, but Distracted is a notable exception to that general rule. Cynthia Nixon gives an impeccable performance in Lisa Loomer's well-crafted play about a mother seeking effective treatment for her son's attention deficit disorder.

Humor Abuse, Lorenzo Pisoni's theatrical memoir of growing up as a member of a circus troupe founded and run by his father, is thoroughly entertaining -- though I have to say that I found some of the stunts in this one-man-show very scary in their potential for serious injury. (After one intentional fall, Pisoni notes that his father broke his back doing the same stunt. Yikes!) Far less dangerous is Rooms, an innocuous, two-character musical at New World Stages that benefits greatly from the talent, charisma, and chemistry of stars Leslie Kritzer and Doug Kreeger, and from the undeniable catchiness of Paul Scott Goodman's music.

Down at the Barrow Street Theater, Thornton Wilder's Our Town is once again captivating audiences, this time in an unusual but profound interpretation by director David Cromer (who also plays the Stage Manager). Over at the 59E59 complex, the Godlight Theatre Company presents an awesomely imaginative stage adaptation of George Orwell's 1984 -- a work that's all the more terrifying now than when it was published 60 years ago, because its vision of a world in which everyone is under constant observation is much closer to reality. And at the Beckett in the Theatre Row complex on West 42nd, The Actors Company Theatre demonstrates that Arthur Miller's obscure one-act play Incident at Vichy deserves to be better known; among the superb cast, Todd Gearhart gives an unforgettable performance as an unlikely hero.

Finally, I can't let the City Center Encores! presentation of Finian's Rainbow go without praising it to high heaven. The Irish Rep gave us an excellent, small-scale revival of this show a few seasons back, but it was great to see and hear it at City Center with a full orchestra playing that classic Burton Lane-E.Y. Harbug score. Kate Baldwin, Cheyenne Jackson, Jim Norton, and Jeremy Bobb were tops in the leading roles, and Terri White -- a vet of the Irish Rep production -- once again created a sensation with her singing of "Necessity." It has just been announced that Finian's will transfer to Broadway in the fall, and that's a grandish bit o' news.




Published on Friday, April 3, 2009




Michael Portantiere has more than 30 years' experience as an editor and writer for TheaterMania.com, InTHEATER magazine, and BACK STAGE. He has interviewed theater notables for NPR.org, PLAYBILL, STAGEBILL, and OPERA NEWS, and has written notes for several cast albums. Michael is co-author of FORBIDDEN BROADWAY: BEHIND THE MYLAR CURTAIN, published in 2008 by Hal Leonard/Applause. Additionally, he is a professional photographer whose pictures have been published by THE NEW YORK TIMES, the DAILY NEWS, and several major websites. (Visit www.followspotphoto.com for more information.) He can be reached at [email protected]


Why are you looking all the way down here?
For more articles by Michael Portantiere, click the links below!

Previous: Good Morning Starshine

Next: Dear Abby

Or go to the Archives