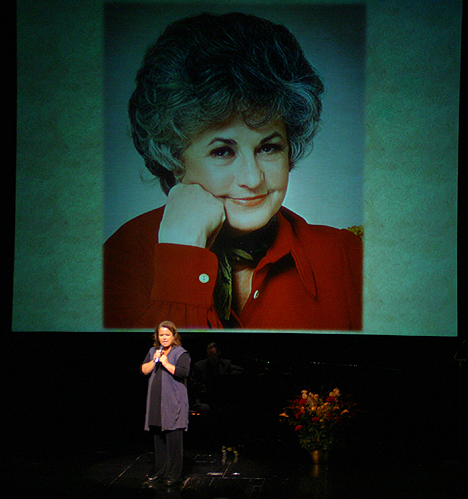 Bye Bye Bea
One of the supreme comic actresses of our time was honored yesterday as family, friends, and fans gathered at the Majestic Theatre to celebrate the life of the beloved stage and screen star Bea Arthur. Among those on hand to offer reminiscences were Rue McClanahan, Norman Lear, Adrienne Barbeau, Jerry Stiller and Anne Meara, Zoe Caldwell, Rosie O'Donnell (pictured above), and BiIlly Goldenberg, the good friend who collaborated with Arthur on her wonderful show Bea Arthur on Broadway.
The event was hosted by Angela Lansbury, who starred with Arthur in the Broadway musical Mame and who began the memorial by singing her bosom buddy's big solo number from that show, the wonderfully appropriate "The Man in the Moon (is a Lady)." Lansbury recalled that she first got to know Arthur when they were "getting in shape" for their roles in the Jerry Herman musical: "I had seen her, of course, in Fiddler [on the Roof}, but it was very evident that in Mame's Vera Charles, Bea had found her comic element. And under the direction of her then-husband, Gene Saks, we shared one hugely successful year together in Mame at the Winter Garden.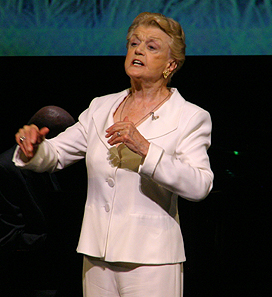 "Onstage, yes, we were bosom buddies," said Lansbury (pictured at right). "But it wasn't until years later, after we both had successful TV series under our belts, that we really got together. We found that we were neighbors living the California life, and that's when we became, actually, bosom friends. Our kids got to know each other, and Bea was right there with Peter, my husband, and me during the last summer of his life. She would come over to our home laden with food, delicacies, and always a risqué story. It was during those difficult times that I got to know the real Bea and the understand the depths and the sensitivity that were so much part of her nature."
Norman Lear, who first brought Arthur to national prominence by giving her a guest spot as Cousin Maude in his groundbreaking TV show All in the Family and subsequently "spun her off" into her own starring role on the equally groundbreaking Maude, spoke of her comic brilliance: "I've lost a lot of friends this year, several quite recently, but no one seems less gone to me or more alive to me than Bea. I'm sure that's because laughter lingers -- and no one made me laugh like Bea Arthur. I've spent most of my life in the company of extraordinary laugh-makers, but Bea had me laughing in nooks and crannies of my body that I didn't even know existed. She was in total control, and I was silly putty in her hands. She'd make one of her low-voiced, open-faced, slashing and insightful comments, and I'd plotz. Then, as if she had no idea what she had said to get such a reaction, she'd say 'What?!' And the tears would roll down my cheeks. I've said it often, I'm sure it's true, that laughter adds time to our lives, and I'm sure that Bea Arthur added -- minimum -- 20 years to mine."
Sheldon Harnick -- who wrote the song "Garbage," which Arthur introduced in the Shoestring Revue of 1955, and later worked with her again when she played Yente in Fiddler on the Roof -- said of "Garbage" that "no one else ever performed it or understood it half as well as Bea Arthur. Standing forlornly under a street lamp, Bea sang [the song] with the utmost conviction, and the fact that her rendition seemed so heartfelt brought out the essential inanity of the lyrics. But over and above her interpretation, there was something else that Bea brought to the song, something that cannot be taught or directed: an unerring sense of comedy."
There were also warm remembrances from Chita Rivera, who danced to "Garbage" while Arthur sang it: "She would always say to me, 'I love you so friggin' much' -- of course, using the other word. Bea was funny, strong, and brave. I found her loving and frightening at times, like all of us. Her silence often said so much more than a huge monologue; she would allow you to imagine what she was thinking. That was really funny. The one thing I wanted for Bea was for her to stop walking down Ninth Avenue in her bare feet. it drove me nuts! Because she lived in California and I was in New York, we rarely saw each other. But she will always be my Bea, as well as one of the great dames of my life."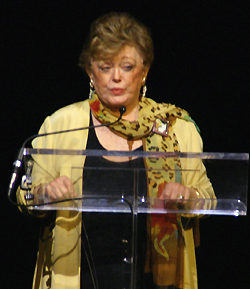 Adrienne Barbeau, one of Arthur's co-stars in Maude, related that "Bea taught me how to eat hard-boiled eggs." Moved to the point of tears, she remarked that "Maude was the first TV show I ever did, and working with Bea spoiled me for everything else that came afterwards. We were so blessed to be able to share her life and career with her. She was a consummate professional."

One of the most extraordinary moments of the memorial came when Carol Arthur DeLuise read a letter in praise of Arthur from the legendary comedy writer Larry Gelbart, who died just last week. There were also tributes from Bea's sister, Kay Gray, and from her sons, Matt and Danny Saks. Rue McClanahan (pictured at left) offered a touching reminiscence of Bea's loving support of her following the death of Rue's mother, then followed it up with a hilarious story of Arthur's unprintable remark about their Golden Girls co-star Betty White.

Towards the end of the program, there was a lovely tribute from Carl Siciliano, executive director of the Ali Forney Center for homeless lesbian, gay, bisexual, and transgender youth -- one of Arthur's most beloved charities. He announced that one of the center's new residences will be named for Arthur in loving memory of her generous support.




Published on Tuesday, September 15, 2009




Michael Portantiere has more than 30 years' experience as an editor and writer for TheaterMania.com, InTHEATER magazine, and BACK STAGE. He has interviewed theater notables for NPR.org, PLAYBILL, STAGEBILL, and OPERA NEWS, and has written notes for several cast albums. Michael is co-author of FORBIDDEN BROADWAY: BEHIND THE MYLAR CURTAIN, published in 2008 by Hal Leonard/Applause. Additionally, he is a professional photographer whose pictures have been published by THE NEW YORK TIMES, the DAILY NEWS, and several major websites. (Visit www.followspotphoto.com for more information.) He can be reached at [email protected]


Why are you looking all the way down here?
For more articles by Michael Portantiere, click the links below!

Previous: Backstage at Broadway on Broadway

Next: Changing the World, 30 Musicals at a Time

Or go to the Archives