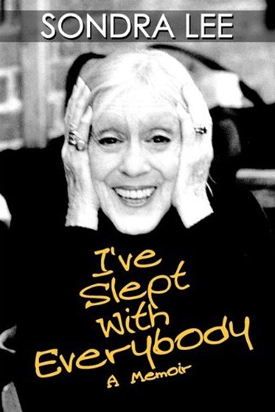 Sleeping Around With Sondra Lee
Lots of people claim to have had sex with Marlon Brando, but Sondra Lee offers convincing evidence to support her claim of having done the deed. In her newly published memoir, puckishly titled I've Slept With Everybody, Lee reproduces letters and postcards from the icon that don't absolutely confirm the liaison but do attest to an intimate relationship. You go, girl!
"Marlon and I remained friends until he died," the delightful Ms. Lee told me in a recent interview. "I wouldn't say we kept in very close contact, but we did consult each other quite a bit. I would yell at him! My book is about people like that. They're extraordinary people. I guess we all are.
"Every word in the book is true," Lee insists. "I don't lie -- except about my age, which I never mention. And I never mention the name of my second husband, because he was a shit." (She does write fondly of her first husband, Sidney Armus, who musical theater buffs know for his having created the role of "social director" Itchy Flexner in Wish You Were Here.)
Even if Lee's name doesn't immediately ring a bell, chances are that you have enjoyed her as Tiger Lily opposite Mary Martin in the classic TV version of the Broadway musical Peter Pan (which was broadcast several times in the 1960s and later was briefly available on VHS and DVD), and/or as Minnie Fay on the original cast recording of Hello, Dolly! Tiger Lily was a terrific role in which to display her dancing talent, and though Lee has only two brief solo vocal lines on the Dolly! album -- "To form a more perfect Union" and "Could they be misleading us?" -- she imbues them with oodles of charm, humor, and personality.
Among her other Broadway credits are High Button Shoes and Hotel Paradiso. One of the most intriguing items on her résumé is a little-known play called Sunday in New York, written by Norman Krasna, directed by Garson Kanin, and produced by David Merrick, with a cast that included Pat Harrington, Sr., Pat Stalney, Conrad Janis, and...Robert Redford!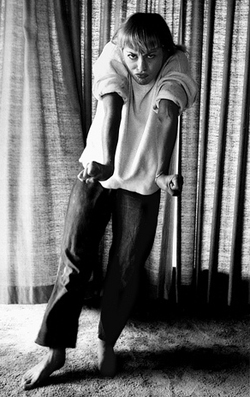 It's an axiom that everybody in show business knows everybody else, and that definitely applies to Sondra Lee. In the course of her adventures as an actress, dancer, director, and teacher, she also worked with such folks as Gower Champion, Hanya Holm, Ben Hecht, Claire Bloom, and Federico Fellini. (Were you aware that Lee makes an appearance in La Dolce Vita?) The quotes on the back cover of her book -- from Matthew Broderick, Angela Lansbury, Charles Busch, and Jules Feiffer -- give a hint of the deep pool of her friends and colleagues.

This is not to say that Lee got along with everyone. When you get your hands on her book, make sure to read the part about her feud with Eileen Brennan during the run of Hello, Dolly! It's poison candy! On the other hand, Lee was best buds with Jerome Robbins -- a man who, for all his genius, was personally despised by many of his associates.

"I loved him," says Lee of Robbins, with whom she worked on High Button Shoes, Peter Pan, etc. "He was part of my education, and he took care of me. I think it's because we were both funny looking. I mean, he wasn't exactly a raving beauty, and neither was I. But I think I touched him in some way; I wish I knew what it was. Perhaps it was my talent or my humor, or the fact that I was vulnerable in a way that he was as well."

If you'd like to pick up a copy of I've Slept With Everybody and have it signed by the author, make a note that Lee will be interviewed and will do a signing at Barnes and Noble's Lincoln Center Triangle store on Tuesday, September 15 at 7:30pm. Be there for more of the skinny on Marlon, Jerry, Federico, et al.




Published on Tuesday, September 1, 2009




Michael Portantiere has more than 30 years' experience as an editor and writer for TheaterMania.com, InTHEATER magazine, and BACK STAGE. He has interviewed theater notables for NPR.org, PLAYBILL, STAGEBILL, and OPERA NEWS, and has written notes for several cast albums. Michael is co-author of FORBIDDEN BROADWAY: BEHIND THE MYLAR CURTAIN, published in 2008 by Hal Leonard/Applause. Additionally, he is a professional photographer whose pictures have been published by THE NEW YORK TIMES, the DAILY NEWS, and several major websites. (Visit www.followspotphoto.com for more information.) He can be reached at [email protected]


Why are you looking all the way down here?
For more articles by Michael Portantiere, click the links below!

Previous: Natalie Speaks, Marni Sings

Next: Oh, Vera, I Can't Wait to Hear That Overture!

Or go to the Archives