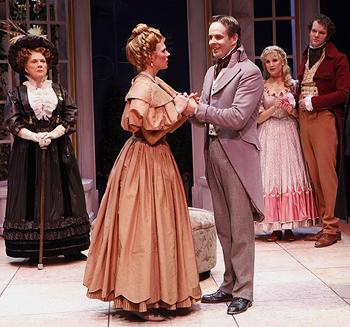 Once in Love With Ernest
Some years ago, I was lucky enough to attend the Irish Rep's excellent production of Oscar Wilde's The Importance of Being Earnest, which boasted a dream cast headed by Eric Stoltz, Melissa Errico, and the great Nancy Marchand as a well-nigh-definitive Lady Bracknell. I'm happy to tell you that the company is now holiday-gifting us with an equally praiseworthy revival of Ernest in Love, the 1960 Off-Broadway musical based on the play.
On the basis of this production, the musical deserves to be better known and more frequently revived than it is. Although the score (music by Lee Pockriss, lyrics by Anne Croswell) is not terribly distinguished, it's utterly charming and appropriate to the tone of the original. Croswell's book is exemplary in condensing Wilde's text while retaining all of his "greatest hits" bon mots, and the song placement is skillful. Rest assured, there is a song about the notorious "handbag" -- and the creators even found a place for an honest-to-goodness, non-ironic love duet in Act II! Considering the huge potential pitfalls inherent in adapting Wilde to the musical stage, Ernest in Love is an all the more impressive effort.
The Irish Rep production is felicitously cast, with Noah Racey as Jack (a.k.a. Ernest), Annika Boras as Gwendolen, Ian Holcomb as Algernon, and the adorable Katie Fabel as Cecily. As the imperious but hilarious Lady Bracknell, Beth Fowler takes full charge of a role that's completely different from anything I've seen her do before. Charlotte Moore directs the proceedings with just the right touch; the four-piece chamber orchestra sounds lovely as led by conductor/keyboardist Mark Hartman; and the sets, costumes, and lighting, respectively by James Morgan, Linda Fisher, and Brian Nason, put the current Broadway revival of A Little Night Music to shame.
**********************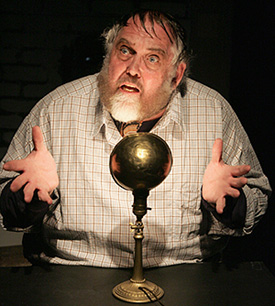 Zero Hour, written by and starring Jim Brochu -- and directed by Piper Laurie! -- is just as great as I'd heard it was from everyone I know who saw it before I did. This little slice of the great actor Zero Mostel's life is tremendously entertaining, and it further proves my contention that one-person shows are almost always of the highest quality (because they're so difficult to pull off that they tend to be written and performed only by exceptionally talented people who REALLY know what they're doing.)
Indeed, the only real question about Zero Hour is: Which is better, the writing or the performance? Let's call it a draw. Mostel was a larger-than-life presence in terms of both his rotund physique and his mercurial personality; Brochu is almost a dead ringer for the man as he looked in his later years, and his acting ability is such that he captures the man to a T.
The piece itself is a fascinating, informative, alternately hilarious and moving monologue that recaps some of the high- and low-points in Mostel's life and career, including his suffering (and that of his friends) due to the heinous blacklisting of the McCarthy era, the horrendous bus accident that almost claimed one of his legs, and his brilliant comeback(s) in A Funny Thing Happened on the Way to the Forum, Fiddler on the Roof, and The Producers -- a movie he claims to have hated. Zero Hour continues in the Theater at St. Clement's through January 31. Don't miss it!

********************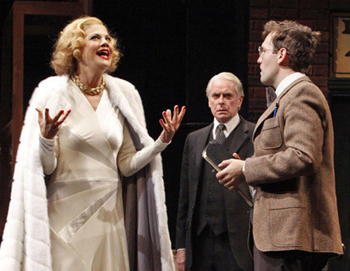 I'm sorry I didn't catch up with the Mint Theater Company's thoroughly satisfying production of the obscure Maurine Dallas Watkins play So Help Me God! until very late in the show's limited run at the Lucille Lortel Theatre, but I didn't want to let it go without saying "bravo" to the company.
Written by the woman who is best known for having penned the play Chicago (upon which the world-famous musical is based), So Help Me God! was to have been produced on Broadway in 1929-30, but those plans were scuttled by the Depression (the first one). The plot has been compared to that of All About Eve, and there are definite similarities, but also major differences. For one thing, in this play, the stage star who's the Margo Channing counterpart is a hard-core evil, conniving, back-stabbing bitch, whereas the understudy is a far more sympathetic individual than Miss Eve Harrington.
At any rate, Kristen Johnston was absolutely fabulous as the despicable star, and Anna Chlumsky was perfect as "the kid, junior." Other standouts in director Jonathan Bank's top-drawer, first-rate production were Catherine Curtin, John Windsor-Cunningham, Allen Lewis Rickman, and Brad Bellamy. Bill Clarke's sets, and Clint Ramos's costumes were far more elaborate than anyone would have dreamed to hope for in a production at this level. Cheers to everyone involved.
********************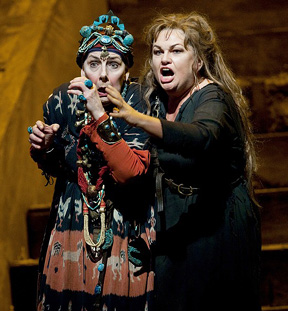 "Well! Something light and joyful for the holidays!" Thus did a friend of mine comment sarcastically when I told him that I'd be attending the Metropolitan Opera production of Richard Strauss's Elektra just a couple of weeks before Christmas. Like the Sophocles play on which it's based, the opera features two murders, and it ups the ante by adding a massive, fatal heart attack (or something to that effect) for the heroine. Not your typical fare for this festive season of the year, when audiences are more inclined toward sugar-plum fairies, elves, leggy Rockettes, etc,

But, of course, a superb presentation of even the grimmest piece is welcome any time of year, so I'm glad I got to experience Elektra as brilliantly conducted by Fabio Luisi, with the astonishing Met debutante Susan Bullock as Elektra and Deborah Voigt returning to one of her greatest roles, Chrysothemis. Add a magnificently sung, thrillingly acted portrayal of Klytamnestra by Felicity Palmer (pictured at left, with Bullock) and you have music drama of the highest order.

A word about the brilliance of Jurgen Rose's set design for this Otto Schenk production, which debuted in 1992: Aside from evoking ancient Mycenae, the set is notable for towering walls that serve as huge sound reflectors, helping to project the singers' voices out into the house with such volume and clarity that they are never swamped by Strauss's often fierce orchestrations. Smartly done!




Published on Monday, December 21, 2009




Michael Portantiere has more than 30 years' experience as an editor and writer for TheaterMania.com, InTHEATER magazine, and BACK STAGE. He has interviewed theater notables for NPR.org, PLAYBILL, STAGEBILL, and OPERA NEWS, and has written notes for several cast albums. Michael is co-author of FORBIDDEN BROADWAY: BEHIND THE MYLAR CURTAIN, published in 2008 by Hal Leonard/Applause. Additionally, he is a professional photographer whose pictures have been published by THE NEW YORK TIMES, the DAILY NEWS, and several major websites. (Visit www.followspotphoto.com for more information.) He can be reached at [email protected]


Why are you looking all the way down here?
For more articles by Michael Portantiere, click the links below!

Previous: Hugh Jackman and Daniel Craig: Gypsies of the Year

Next: One More Week of Musical Theater Heaven

Or go to the Archives