Hugh Jackman and Daniel Craig: Gypsies of the Year
Wow! Hugh Jackman and Daniel Craig, by literally selling the shirts off their backs in impromptu auctions following performances of A Steady Rain, helped raise so much money for Broadway Cares/Equity Fights AIDS that a special award was created for them and presented at yesterday's "Gypsy of the Year" event at the Palace Theatre. The mega-stars led their company in raising a mind-boggling $1,549,952 for BC/EFA, a goodly portion of the all-time-record $4,630,695 total that was raised by the companies of dozens of Broadway, Off-Broadway, and touring shows. Here are my pix of this year's "Gypsy of the Year."
********************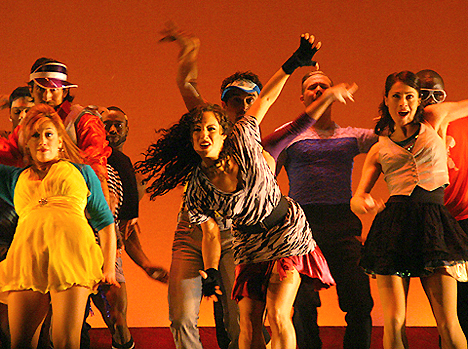 Above and immediately below are three photos of the opening number, a wildly entertaining hommage to/spoof of "So You Think You Can Dance?"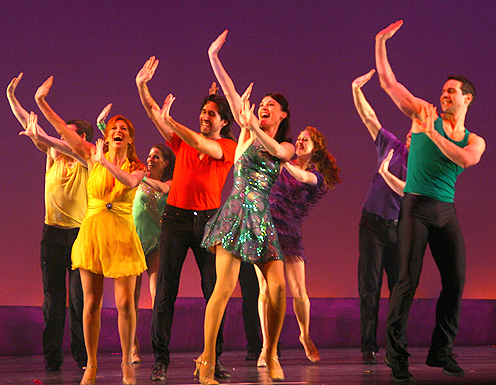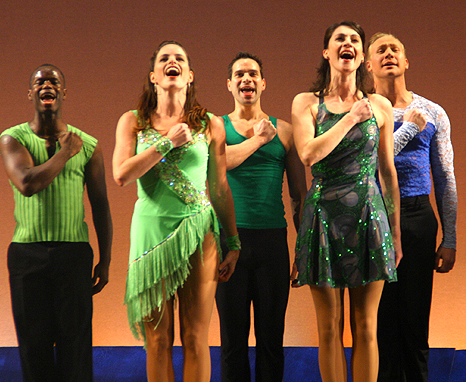 ---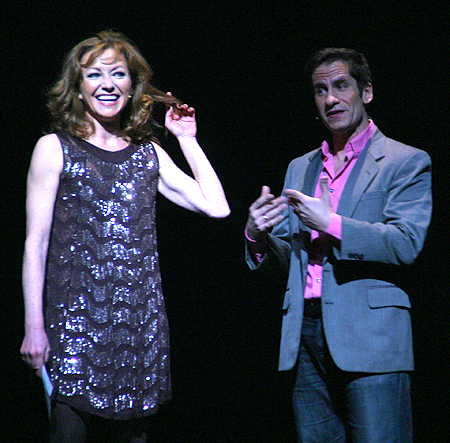 Julie White and Seth Rudetsky were the event's fabulous hosts.
---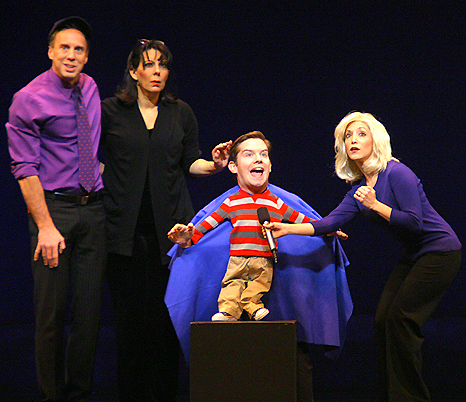 The company of Newsical offered their own take on the ridiculous "boy in the balloon" hoax.
---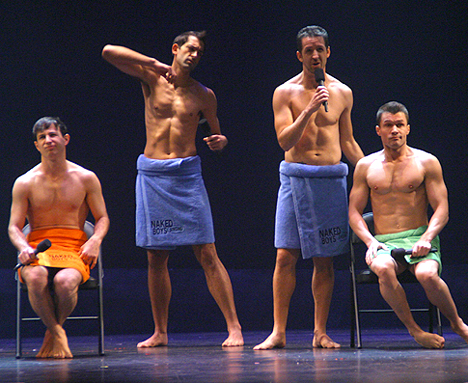 Naked Boys Singing contemplated having Hugh Jackman join their company in order to keep the show running. (If only!)
---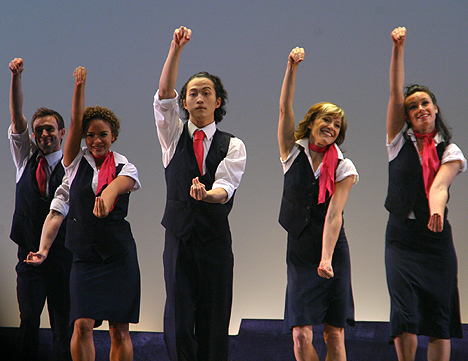 A performance by Dancers Responding to AIDS was one of the afternoon's highlights.
---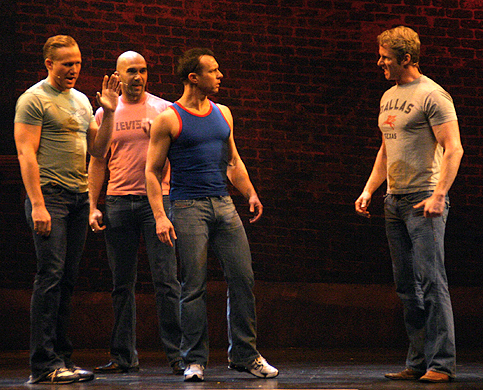 Here and below are two pix of "9th Avenue Story," a hilarious number by the men of Chicago in which some of the older guys warned one of their group not to lust after a "twink." (But lust triumphed in the end!)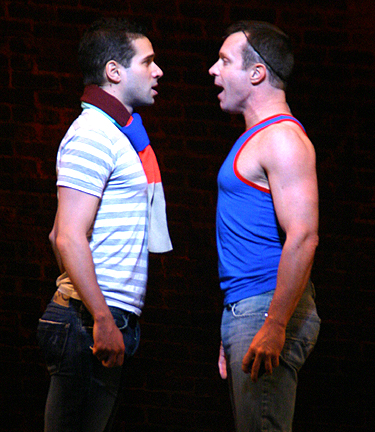 ---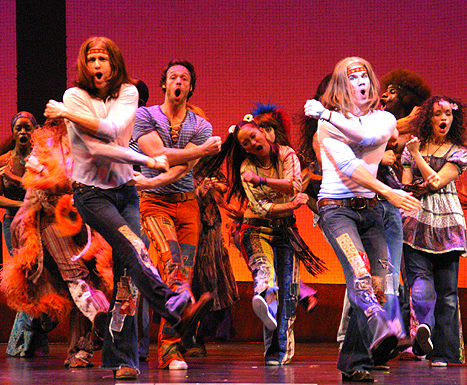 The cast of Hair rocked the Palace, just as they rock the Hirschfeld eight times a week.
---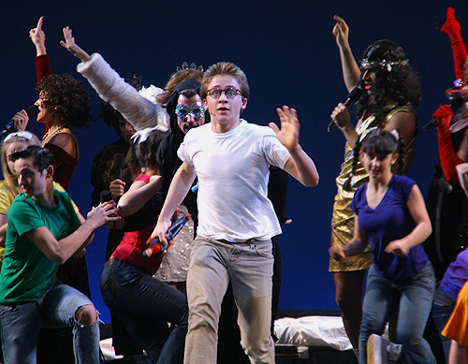 More awesome presentations came courtesy of the cast of Bye, Bye Birdie...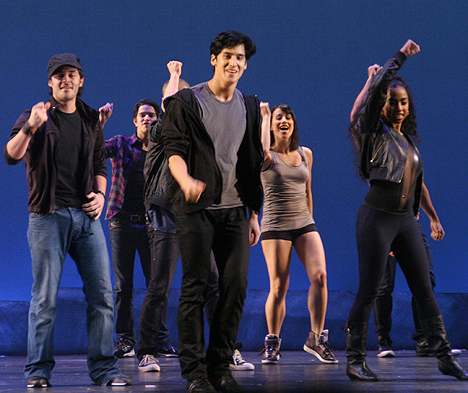 ... the cast of West Side Story, performing on their own turf...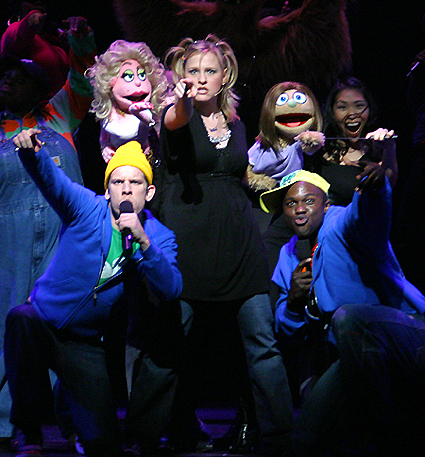 ...and the combined companies of In the Heights and Avenue Q.
---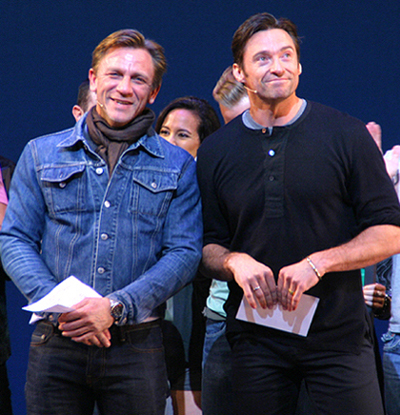 At the end of the show, Daniel Craig and Hugh Jackman took the stage to accept the grateful cheers and applause of everyone in attendance for their superheroic efforts on behalf of BC/EFA.




Published on Wednesday, December 9, 2009




Michael Portantiere has more than 30 years' experience as an editor and writer for TheaterMania.com, InTHEATER magazine, and BACK STAGE. He has interviewed theater notables for NPR.org, PLAYBILL, STAGEBILL, and OPERA NEWS, and has written notes for several cast albums. Michael is co-author of FORBIDDEN BROADWAY: BEHIND THE MYLAR CURTAIN, published in 2008 by Hal Leonard/Applause. Additionally, he is a professional photographer whose pictures have been published by THE NEW YORK TIMES, the DAILY NEWS, and several major websites. (Visit www.followspotphoto.com for more information.) He can be reached at [email protected]


Why are you looking all the way down here?
For more articles by Michael Portantiere, click the links below!

Previous: Show Me Christmas!

Next: Once in Love With Ernest

Or go to the Archives