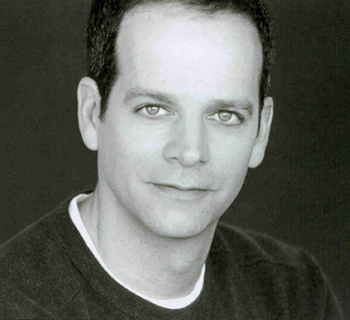 Notes from the Breen Office
Patrick Breen has appeared in the original Broadway productions of Brighton Beach Memoirs and Big River, in such top-rank Off-Broadway fare as Fuddy Meers and The Substance of Fire, and in films ranging from Galaxy Quest to Men in Black to (wait for it!) Ishtar. Now he's starring in the Broadway transfer of Geoffrey Nauffts' lauded play Next Fall as Adam, an out gay man and an atheist in love with Luke (Patrick Heusinger), a devout Christian who considers his own homosexuality a sin. (See photo below.)
I first met Patrick many years ago, when both of us were fresh out of high school on Staten Island. Back in the day, he went by his actual first name, so I knew him as Joe Breen. That also happens to have been the name of the man who served as chief administrator of the notorious Motion Picture Production Code, which did its damnedest to keep "unacceptable content" -- including almost any allusion to homosexuality -- out of all Hollywood films from roughly 1934 to 1968. (How deliciously ironic that one of the stars of the very gay-positive Next Fall shares his moniker with the fellow whose job involved such tasks as eviscerating the screenplay of Tea and Sympathy.) Patrick and I had spoken once or twice since our days on S.I., but not for quite a while, so it was fun to catch up with him during our recent interview.
*******************
BROADWAYSTARS: In your Playbill bio for Next Fall, you come right out and say it: "Patrick is from Staten Island." I think it's great that you represent.
PATRICK BREEN: Yeah, baby! That's where I'm from! I was born in Brooklyn, but we moved when I was three, so I consider myself a real Staten Islander. Me and Ricky Schroeder.
STARS: I tried to make a list of Islanders who've had major success in theater and the performing arts, but I didn't come up with many: Tony Award winner Randy Graff, opera great Eileen Farrell. Then there's Galt MacDermot...
PB: Really?
STARS: Oh, yeah. I'm pretty sure he still lives there. What other famous Islanders can we think of?
PB: The Wu-Tang Clan.
STARS: See, I didn't know that, but I'm no expert on hip-hop. Oh, and let's not forget Paul Zindel.
PB: Yes! He taught at my high school, Tottenville.
STARS: Are you still in touch with anyone from the old days?
PB: Sure. Facebook has helped a lot. I was on the gymnastics team at Tottenville, and now I'm back in contact with all those guys. And I've reconnected with my first friend, a girl I knew when we were in kindergarten. We've been getting together to play Scrabble.
STARS: Your bio reminded me that you were in Ishtar. What do you have to say about that experience?
PB: That was my first movie. It got me my SAG card. I'm in the first sequence; we filmed it at the old club Trax on 72nd Street. I was seated at a table with three other actors. One of them was this beautiful girl who was dating Bob Fosse at the time. She must have been about 20. I remember Warren Beatty came over and hit on her, but he was hitting on all the young women. It was crazy. I'll never forget the direction I received from Elaine May. Mind you, I had two lines in the movie. At one point, Elaine said, "Patrick, stop mugging" -- and she didn't come over to the table, she said it over the microphone, so Warren and Dustin Hoffman and everybody else could hear.
STARS: This might be a good time to change the subject and talk about Next Fall. Was the credibility of the Adam-Luke relationship a challenge for you during rehearsals?
PB: Well, no. My sister's married to a Jewish guy, and she's Catholic. I think people have all kinds of interfaith relationships.
STARS: Sure, but Luke is extreme about his beliefs, going so far as to pray after having sex with Adam because he thinks it's a sin.
PB: Yes. That's a huge gulf between them, and it's the thing that Adam can never reconcile. He does leave Luke at the end of the play. Only with the death of Luke does Adam come to realize that what he had was authentic love.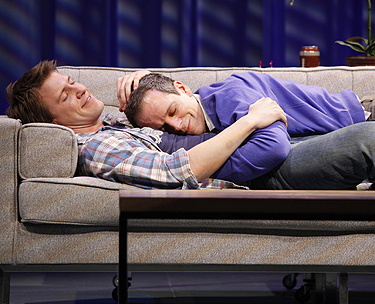 STARS: I didn't find the relationship difficult to believe, partly because I assume Adam keeps hoping Luke will open his eyes and recognize religious homophobia for what it is.

PB: Of course. At almost the last moment, Adam asks Luke, "Come on, did you ever think you're the crazy one?"

STARS: The last time you and I spoke, we discussed your sharing a name with the infamous Joseph Breen. How do you think he'd react to movies like Brokeback Mountain?

PB: I don't know! Did you see This Film is Not Yet Rated? It's a documentary about the current ratings system, and how arbitrary it is -- how the board will give a PG rating to a horribly violent movie and an R rating to a movie that portrays love and sex. But I do think some progress has been made since the days of the Breen office. Didn't Brokeback Mountain win the Best Picture Oscar?

STARS: No. It was favored to win but it lost to Crash.

PB: Oh. Well, I guess it's just like Adam Lambert on American Idol; he came in second, but everybody thought he should have won!

STARS: I hope Next Fall will be made into a film eventually. It's a moving and powerful play, on top of the fact that so much of it is so funny. Have you heard any particularly memorable reactions from audience members?

PB: Yes. We had students from the Harvey Milk School at a preview performance, and we did a talk-back afterward. One girl, about 16 or 17, said she couldn't believe she was at a Broadway show where people like her were represented on stage. I thought, "There you go." How great that a play can actually increase a person's self-esteem because someone had the courage to write it and other people were brave enough to produce it. And, I have to say, I think it's a wonderful coincidence that Harvey Fierstein did Torch Song Trilogy at the same theater 30 years ago.




Published on Tuesday, March 30, 2010




Michael Portantiere has more than 30 years' experience as an editor and writer for TheaterMania.com, InTHEATER magazine, and BACK STAGE. He has interviewed theater notables for NPR.org, PLAYBILL, STAGEBILL, and OPERA NEWS, and has written notes for several cast albums. Michael is co-author of FORBIDDEN BROADWAY: BEHIND THE MYLAR CURTAIN, published in 2008 by Hal Leonard/Applause. Additionally, he is a professional photographer whose pictures have been published by THE NEW YORK TIMES, the DAILY NEWS, and several major websites. (Visit www.followspotphoto.com for more information.) He can be reached at [email protected]


Why are you looking all the way down here?
For more articles by Michael Portantiere, click the links below!

Previous: Where is Will?

Next: The Best of Times is Now -- So Rock On!

Or go to the Archives