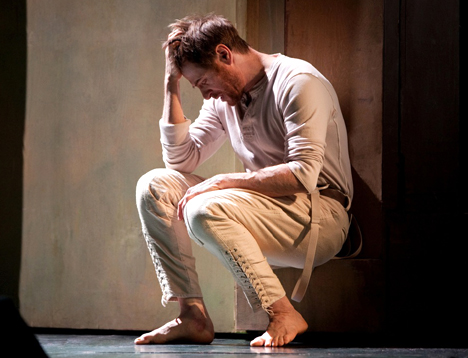 Where is Will?
Having myself written program notes and liner notes for a few stage productions and recordings, I usually feel a combination of sympathy, amusement, and annoyance when I read a piece in which the author tries to make a case for a play, musical, opera, or whatever that's generally considered to have little artistic worth. My response depends primarily on the writer's tone, so annoyance predominated when I read the Playbill notes for the Metropolitan Opera's current revival of Ambroise Thomas's Hamlet, an opera that enjoyed a brief period of popularity following its premiere in 1868 but thereafter fell into deserved obscurity until recent, ill-advised attempts to bring it back from the dead. (The fact that its last performance at the Met prior to this revival was in 1897 is telling.)
Over the decades, the opera has been derided for the huge cuts and changes that librettists Michel Carré and Jules Barbier made in adapting Shakespeare's immortal text to the operatic stage, including but not limited to the understandable excision of several supporting characters and the unforgivable, wholesale rewriting of the final scene so that -- are you ready for this? -- Hamlet lives. (At least, that's what happens in the original version of the opera, which premiered in Paris. Knowing he would probably be lynched if such an abomination were to be presented in England, Thomas subsequently wrote a "Covent Garden ending" in which the Prince does, indeed, die, stabbed in a cemetery by Laërtes. The Met's new production conflates both versions of the ending in a way that's likely to please no one.)
Over and above the libretto's flaws, a huge problem with the opera is the fact that Thomas's music is far too light in terms of both weight and color for this quintessentially tragic tale. Even Ophelia's lengthy mad scene -- the only portion of the work that's frequently excerpted for performance in recitals or on recordings -- is much more commendable as a showpiece for the vocal technique of a superb coloratura soprano than for limning the unfortunate young woman whom Hamlet mistreats so horrendously.
In the face of all this, some of the material included in the Met's Playbill for Hamlet is very nervy. One uncredited writer goes so far as to contend that, "Besides the spectacle, Thomas also added deeper dramatic layers" to the story. (Really? He added "deeper dramatic layers" than are present in Shakespeare? That's quite a statement.) A few pages later, Paul Thomason insists that "turning up one's nose at Hamlet the opera merely because it's not Hamlet the play makes as much sense as sneering at a lobster soufflé because it is not roast beef." Well, that really isn't a fair comparison. I think we can all agree that translating a work of art from one medium to another requires major changes ipso facto; but when the adaptation contradicts the spirit and tone of the original, then a turned-up nose is an appropriate response. (By way of contrast, see the Verdi/Boito Otello, which omits an entire act of Shakespeare's play but still honors the source material through the librettist's brilliant distillation of the tragedy and the composer's monumental music.)
If the Met's program note writers fail to persuade us that Hamlet is an opera worthy of revival, the artists involved in the new production work their hardest to do just that, even if they too are ultimately unsuccessful. This was my first opportunity to hear the extraordinary baritone Simon Keenlyside (pictured above) sing live, and his gorgeous voice is as deeply appreciated in the title role as his exceptional acting ability and riveting stage presence. Marlis Petersen, subbing for Natalie Dessay on short notice, is a vocally and dramatically brilliant Opelia. The great Jennifer Larmore and James Morris are luxury cast as Gertrude and Claudius; David Pittsinger, who has recently been seen and heard next door at the Vivian Beaumont as Emile DeBecque in South Pacific, makes a strong impression as the ghost of Hamlet's father; and in the brief role of Laertes (here Laërte), Toby Spence displays an uncommonly beautiful tenor voice with laser-sharp focus.
Stage directors Patrice Caurier and Moshe Leiser, set designer Christian Fenouillat, lighting designer Christophe Forey, and costume designer Agostino Cavalca bring us a dark, spare production that is far more appropriate to the spirit of the Shakespeare original than anything the composer has wrought. Louis Langrée does an excellent job conducting a score that would be better suited to an operatic adaptation of a Parisian boulevard drama than to one of the most psychologically complex tragedies ever written.
********************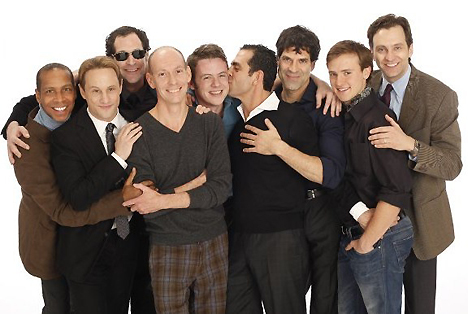 All Gay, All the Time
Lots of people have been weighing in on the current spate of gay-themed shows on and off Broadway, so I thought I might offer some notes on three of them. A recent return visit to The Temperamentals -- the third time I've seen the show, each time in a different venue -- only fostered greater admiration for Jon Marans' expertly wrought docudrama about Harry Hay and the the prototypical 1950s gay rights movement that was known as the Matachine Society. Thomas Jay Ryan continues to give a fully committed, wonderfully well-grounded performance as Hay; Vince Gatton did a magnificent job of subbing for Michael Urie in the role of Rudi Gernreich on the night I attended; and the rest of the company, under the sharp direction of Jonathan Silverstein, made it crystal clear why this show just keeps going and going.

At the other end of the spectrum, Alexi Kaye Campbell's The Pride is largely undeserving of all the hype it's been getting -- hype that I can only attribute to excess Anglophilia. To be sure, the performances of Hugh Dancy, Ben Whishaw, Andrea Riseborough, and Adam James are commendable; but I found this tale of two generations of gay Brits to be clichéd and all too willing to rely on shock effects for whatever drama it attempts to create. (Here's an observation: If the play you're seeing includes a gratuitous, graphic rape scene, as in The Pride and the recent, justifiably panned Rattlestick Playwrights Theater production of Craig Wright's Blind, it probably represents a cheap and desperate attempt on the part of the playwright and director to spark a play that's not very good overall. Please note by way of comparison that in Tennessee Williams' A Streetcar Named Desire, the rape of Blanche by Stanley happens after the lights go down.)

Finally, let me give a shout-out to one of the best productions I've seen in more than 40 years of theatergoing: The Transport Group's environmental-theater revival of Mart Crowley's The Boys in the Band, with Jonathan Hammond as Michael, Nick Westrate as Donald, Jon Levenson as Harold, John Wellmann as Emory, Christopher Innvar as Larry, Graham Rowat as Hank, Kevyn Morrow as Bernard, Aaron Sharff as Cowboy, and the amazing Kevin Isola as odd-man-out Alan. Though several of these actors are cast against the physical types we're generally used to seeing in this seminal gay play (see photo above), they truly make each of their roles their own. In case you haven't heard, the show is brilliantly directed by Jack Cummings III in a penthouse apartment space at 37 West 26th street, with the performers sometimes just inches away from the spectators. Boys has been extended through March 28, and I urge you not to miss it under any circumstances.




Published on Monday, March 22, 2010




Michael Portantiere has more than 30 years' experience as an editor and writer for TheaterMania.com, InTHEATER magazine, and BACK STAGE. He has interviewed theater notables for NPR.org, PLAYBILL, STAGEBILL, and OPERA NEWS, and has written notes for several cast albums. Michael is co-author of FORBIDDEN BROADWAY: BEHIND THE MYLAR CURTAIN, published in 2008 by Hal Leonard/Applause. Additionally, he is a professional photographer whose pictures have been published by THE NEW YORK TIMES, the DAILY NEWS, and several major websites. (Visit www.followspotphoto.com for more information.) He can be reached at [email protected]


Why are you looking all the way down here?
For more articles by Michael Portantiere, click the links below!

Previous: Steinbeck Sings

Next: Notes from the Breen Office

Or go to the Archives