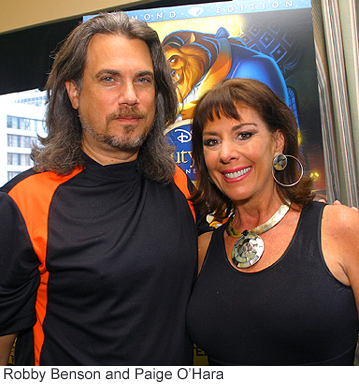 Disney's Beauty and the Beast was the first of the company's animated film musicals to be adapted as a Broadway show, serving as the vanguard for The Lion King, Tarzan, Mary Poppins, and The Little Mermaid. Now the film is set for its Blu-Ray debut on October 5, the better to allow fans to fully appreciate its masterful storytelling, its gorgeous visuals, and that wonderful score by Alan Menken and the late Howard Ashman.
In celebration of this event, Paige O'Hara and Robby Benson, who voiced the roles of Beauty and the Beast in the movie, were recently joined at a press conference by Terrence Mann and Gary Beach, who respectively played the Beast and Lumiere in the stage version. Here's some of what they had to say.
********************
BROADWAYSTARS: I haven't yet seen the Blu-Ray transfer of the movie. How does it look and sound?
PAIGE O'HARA: It's amazing. I love the clarity and the detail. Technology! A new level! It just keeps going up and up.
STARS: The three-disc set includes the feature on both Blu-Ray and standard DVD, plus lots of extras.
ROBBY BENSON: Yes. The bonus disc is really cool, and the feature has audio commentary from [co-director] Kirk Wise, [producer] Don Hahn, and Alan Menken. I find it fascinating, because they're having a blast talking about what the experience was like for them. They get really specific about certain things, and it's very funny.
PAIGE: I learned some things from listening to the commentary. I didn't know that the film started out to be a non-musical, but then Disney realized, "This story is going to be so dark!" That's when they brought in Alan and Howard and the rest of the creative team. Apparently, they wasted about eight months' worth of work on the non-musical version. When Howard came in, he became sort of the ringleader. In retrospect, I think he knew how sick he was, though he didn't tell us till towards the end. I think he thought of this film as his legacy. He was really hands-on with the animators, the cast, and everyone else involved.
STARS: You guys have both done Broadway. Was there ever talk of either or both of you starring in Beauty and the Beast on stage?
ROBBY: I did get a call from Jeffrey Katzenberg [who was then studio chairman at Disney], and we discussed it. At the time, I think there was some confusion in his mind as to the difference between a Broadway musical and a theme-park show. I remember him saying, "I know you'd be wearing a heavy costume, and you may be doing 15 or 20 shows a week." I said, "No, on Broadway, it's eight shows a week!" Anyway, I was heavily involved in directing and writing for TV in L.A., so it didn't happen.
PAIGE: Jeffrey also told me he would push for me to play Belle in the show if I wanted him to, but I had just signed a contract to do South Pacific in Australia for 14 months. Also, I thought, "The critics in New York know how old I am." I didn't think I wanted to subject myself to that, even though I probably could have gotten away with it. It was just not meant to be.
ROBBY: I don't think Jeffrey gets enough credit for what he did for the film. He had a lot to do with its success.
PAIGE: Robby and I worked on the movie for two years, but the whole thing was a four year process. They would spend months on a sequence and then throw it out or redo it if they felt it didn't work. As you may know, they completely redid "Be Our Guest" when they realized it should be sung to Belle, not Maurice. The loss of "Human Again" was a heartbreaker for Howard, because that was his favorite songs, so it's really special that it was in the stage show and was eventually added to the movie.
ROBBY: Howard was pretty remarkable. He really understood how to move the narrative, and he had a complete understanding of all the characters and how they would behave in various situations.
STARS: In an animated film, the usual practice is for the actors to work separately when recording. Is that how it was with Beauty and the Beast?
ROBBY: Paige and I broke the rule and worked together. That was her idea, and it was really wise.
PAIGE: It was wise because I know he's a great actor, and I knew he'd make me better.
STARS: When you see the film now, what is your major impression of it?
PAIGE: As a little kid, my favorite movies were Mary Poppins and Bambi, which are classics. Now Beauty and the Beast has become a classic. We'll keep getting older, but Belle and the Beast will remain the same. The movie will go on forever, entertaining generations and generations of people. That's kind of amazing.
ROBBY: When the movie came out, my daughter sat on my lap and watched it with me. Now she's 27. And when it was re-released, my wife and I had the same experience of watching it with our son. You can't be cynical about a movie like this. It's just awesome.
********************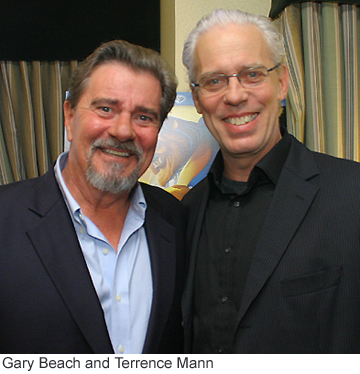 BROADWAYSTARS: What are your thoughts on the film version of Beauty and the Beast?

GARY BEACH: To say "it holds up" is ridiculous. It more than holds up. The movie is great storytelling.

STARS: I've always thought the stage adaptation was very well done in terms of the added songs, and it's so great that "Human Again" was restored to the score.

GARY: Yes. I was in L.A. when I found out I was cast in the show, and I met a guy who worked at Disney. He said, "If you want to come to the office, I can show you the animated storyboard of 'Human Again.'" I said, "Sure!" I watched it and I thought, "This really makes everything clear."

TERRENCE MANN: The good news was that Alan and Howard, who had done the movie, were theater folks to begin with, so they understood how to get from one point to another. And Linda Woolverton [who wrote the screenplay for the film and the book for the Broadway musical] was also pivotal in cracking the story so it would make sense on stage.

GARY: Linda was so smart. She would say things like, "I think this line works very well in the animated version, but a real person needs something else to say here."

STARS: "If I Can't Love Her," the big song that was added for the Beast to sing in the show, is so beautiful.

TERRENCE: It's gorgeous, and it's perfect for that moment on stage. It's soliloquy time. In the theater especially, you need songs that allow the characters to reflect on what's happening to them, so the audience can hear their inner voices.

STARS: I've noticed that, in most of Disney's animated musical films, the leading male characters don't sing much or at all. In The Little Mermaid, the Prince doesn't sing a note; and in Beauty and the Beast, the Beast only has a few sung lines in "Something There," which is mostly Belle's song.

TERRENCE: You bring up a good point about the emotional dynamic of someone singing in a show. In the film of The Little Mermaid, for example, everything that happens is pretty much seen through her eyes. But on stage, you have to give the other characters more to do, so there's a balance.

STARS: By the way, Terrence: I've read about how the incredible transformation from the Beast to the Prince was achieved on stage, but I don't remember all the particulars. Can you enlighten me?

TERRENCE: What are you talking about? It's Disney magic! [He proceeds to give me a detailed explanation of the effect, and then says:] Now I'll have to kill you.

STARS: As I recall, the show was quite a phenomenon when it opened. People went nuts.

GARY: Well, yes -- in one way or the other. The theater community was really lying in wait for us, wondering "Is Disney going to ruin Broadway?" A lot of the reviews were negative. But I remember that, after we had been playing for about a year, one of the critics wrote, "Wouldn't it be funny if the show that was supposed to kill Broadway actually saves it?"

STARS: Wasn't it Frank Rich who, when the film of Beauty and the Beast was released, had suggested that it would make a great Broadway musical?

GARY: Yes, you're right. Obviously, Disney helped to completely change the Broadway landscape. I got to New York in the early '70s, and I remember what Times Square was like back then. [He shudders.] The fact that now you can wander around the theater district with your kids is wonderful.

TERRENCE: You can call Beauty and the Beast glorified children's theater, which a lot of people did. Whatever you call it, the show brought in a whole new generation of theatergoers. Especially during the matinees, we would look out and see whole family units, with kids everywhere -- and a lot of them were families who didn't normally go to the theater. But it's true that, initially, there was a lot of resistance to the show from theater people and the critics. I remember that when we did our number on the Tonys, the reception was less than thrilling.

GARY: On the other hand, the public flipped out over the show from the beginning. It ran for 13 years, and a lot of people say it should never have closed. So there you have it.




Published on Thursday, September 30, 2010




Michael Portantiere has more than 30 years' experience as an editor and writer for TheaterMania.com, InTHEATER magazine, and BACK STAGE. He has interviewed theater notables for NPR.org, PLAYBILL, STAGEBILL, and OPERA NEWS, and has written notes for several cast albums. Michael is co-author of FORBIDDEN BROADWAY: BEHIND THE MYLAR CURTAIN, published in 2008 by Hal Leonard/Applause. Additionally, he is a professional photographer whose pictures have been published by THE NEW YORK TIMES, the DAILY NEWS, and several major websites. (Visit www.followspotphoto.com for more information.) He can be reached at [email protected]


Why are you looking all the way down here?
For more articles by Michael Portantiere, click the links below!

Previous: Lee Roy Reams and His Leading Ladies

Next: Shaping Up With Craig Ramsay

Or go to the Archives