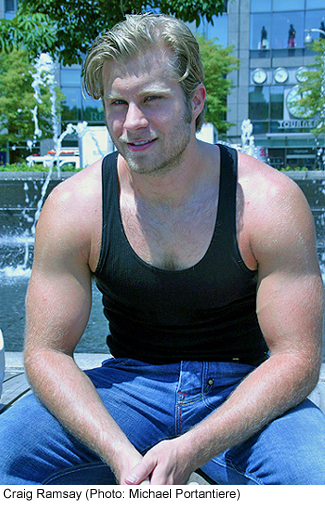 Originally from Canada, Craig Ramsay has lately been spending most of his time on the Left Coast, working as Jackie Warner's co-fitness trainer on the hit Bravo TV reality series Thintervention. (I know, the title is silly -- but the show is awesome.) Before that, Craig was a pumped and ripped presence in the New York theater community, training actors and other clients even as he was appearing on Broadway in such shows as Chitty Chitty Bang Bang and Fiddler on the Roof. I recently caught up with him at a Starbucks in Hell's Kitchen while he was in town for some meetings.
********************
BROADWAYSTARS: Craig, you sure know how to order healthy at Starbucks, which is no mean feat.
CRAIG RAMSAY: Actually, it's easier to eat healthy in New York than in L.A. And they don't know how to line up people out there.
STARS: I'm sorry, do you mean...
CRAIG: ...how to line up people in a proper line. In L.A., four people can be waiting at Koo Koo Roo chicken, and somehow they're out the door and around the corner. It's horrible. I love living in L.A., but I miss New Yorkers.
STARS: Did you spend much time in L.A. before you moved there to do this show?
CRAIG: Yes. I had laid down the groundwork over the past five or six years, and I made the big decision to move about two and half years ago. I wanted to transition into full-time fitness training, because I had been splitting my time between performing on Broadway in the evenings and training people during the day.
STARS: I seem to remember that, a couple of years ago, you developed a fitness program with your brother.
CRAIG: Yes, it's geared towards men who want to keep in shape but don't have a gym nearby and are struggling with the demands of family and work. It's called "Daddy's At-Home Workout." But now, I'm in the realm of having a production company take over. Everything is happening: A book, DVDs, a clothing line, a protein shake. I'm gearing up to form a fitness empire!
STARS: How did you get the gig on Thintervention?
CRAIG: I auditioned, and I had six interviews. They wanted to know who I was and what I could bring to the table. They wanted to be sure that I would be the perfect yin to Jackie's yang, if you will -- that we could work as a good cop/bad cop team.
STARS: Which one are you?
CRAIG: I'm the good cop! Jackie has a reputation for being tough -- but, let me tell you, she has a beautiful, caring, soft side to her that I've been privileged to experience.
STARS: Are there any performers among the people you're training on the show?
CRAIG: Yes. Bryan Donovan is a theater performer, and so is Stacy Citron. Because of my theater background, I incorporate dance and movement into my workout regimes and programs more than any other trainer I know. I always focus on stretching, range of movement. On next week's episode of Thintervention, we have The Pussycat Doll Workout, which stresses fitness through dance.
STARS: The Pussycat Doll Workout?
CRAIG: Hell, yeah. It's a cardio blast!
STARS: When you were doing shows in New York, did you train any of your fellow cast members?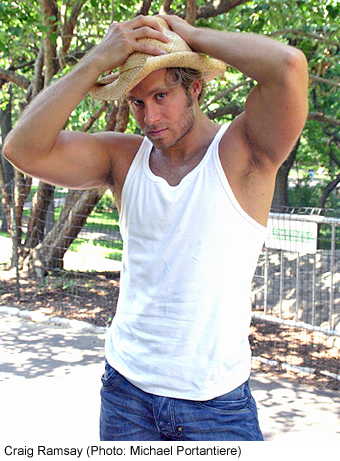 CRAIG: Sure. I never name my clients, because of privacy issues, but I've helped to grow a lot of biceps on Broadway. I did a whole program with the Broadway Bares boys; I showed them how they could work out safely and get results without injuring themselves and being unable to perform.

STARS: When you auditioned for Thintervention, were they specifically looking for an openly gay male co-trainer to work with Jackie?

CRAIG: I don't think that was a requirement; they just wanted someone who was comfortable being himself on reality TV.

STARS: In terms of getting the job, do you think it was a plus or a minus that you're openly gay?

CRAIG: The fitness industry -- not gym culture itself, but the industry -- is extremely straight and homophobic. My hope is that Jackie and I being who we are, and not shying away from that, is going to help the situation. To be openly gay in this industry could have its setbacks, but I'm demanding that they don't. I don't ever want to live a life away from who I am. Look at all the teenagers we've lost in the last few weeks. If I can be a role model for any of those kids, then I've done something of value on this earth.

STARS: What are the chances that you might come back to Broadway?

CRAIG: Who knows? I still do my vocal warm-ups and my stretches, just in case I get a call from Wicked! I am hoping to spend some more time in New York, and I definitely want to teach my Broadway Booty Camps here. They're specially designed for dancers. Broadway dancers definitely have the booty -- they have the core strength and the physique that a lot of the general public wants.

STARS: Would you care to name any Broadway performers who you think are in especially good shape?

CRAIG: Well, I will say that that there a few people I'd love to get my hands on!

********************

[For more information on Craig Ramsay, or to contact him, go to his Facebook page or visit craigramsayfitness.com.]




Published on Thursday, October 7, 2010




Michael Portantiere has more than 30 years' experience as an editor and writer for TheaterMania.com, InTHEATER magazine, and BACK STAGE. He has interviewed theater notables for NPR.org, PLAYBILL, STAGEBILL, and OPERA NEWS, and has written notes for several cast albums. Michael is co-author of FORBIDDEN BROADWAY: BEHIND THE MYLAR CURTAIN, published in 2008 by Hal Leonard/Applause. Additionally, he is a professional photographer whose pictures have been published by THE NEW YORK TIMES, the DAILY NEWS, and several major websites. (Visit www.followspotphoto.com for more information.) He can be reached at [email protected]


Why are you looking all the way down here?
For more articles by Michael Portantiere, click the links below!

Previous: Tale as Old as Time, Now on Blu-Ray!

Next: Onward, Vittorio!

Or go to the Archives