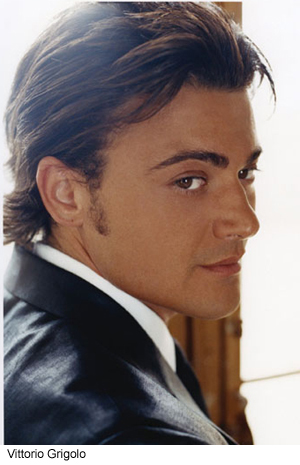 If you're an opera singer today, you have to be ready for your close-up. The ever-growing popularity of opera on home video and in cinecasts has greatly increased the demand for sopranos, tenors, mezzos, and baritones who are beautiful to look at as well as to hear, in addition to being able to act.
Vittorio Grigolo has all of those bases covered several times over. Commenting on the photos of the young, lean, and handsome tenor included in the booklet that accompanies his debut opera recital CD from Sony, a friend of mine said, "This looks like his modeling portfolio." But here's the truth: Grigolo's voice is so breathtakingly gorgeous that he would be assured a stellar career even if he were 100 pounds heavier and had a face that only his mamma could love.
Born in Arezzo, Italy, Grigolo has just made his hotly anticipated debut at the Metropolitan Opera as Rodolfo in La Bohème. I initially became aware of his talent by way of a 2007 studio recording of West Side Story on which he sings the role of Tony with glorious tone and great feeling. Only recently did I learn that the 33-year-old's resume includes a hit "popera" album and even a brief association with Il Divo, along with the impressive repertoire of operatic roles he has sung all over the globe. I had the golden opportunity to speak with opera's new golden boy the day after his second performance in Bohème.
********************
BROADWAYSTARS: You sang beautifully last night, Vittorio. Everything I've read about you has stressed that you're a lyric tenor, but your voice fills the house and really rings.
VITTORIO GRIGOLO: Thank you so much. Maybe it's a lucky house for me. Different houses respond to different voices, so maybe the Met is good for my voice.
STARS: I hope you enjoyed the audience response to your performance.
VITTORIO: Incredible. I didn't expect such a noise. I hope it's all part of what I give onstage and not because of the article [in The New York Times] that comes before the performance. I think most people come to the Met because they love opera and they want to enjoy themselves. We don't need people who come only to hear if the singers make mistakes!
STARS: As a boy, you sang the role of the young shepherd in Tosca with Luciano Pavarotti at the Rome Opera. There's a video of that production. Are you in it?
VITTORIO: I think so. Is it a little, chubby guy in a shepherd costume? Then it's me.
STARS: In addition to your 50th anniversary recording of West Side Story, you played Tony at La Scala and on tour.
VITTORIO. What an experience, to sing that music and to do the Jerome Robbins choreography. I loved it. From an opera singer's point of view, we don't really know what's going on with the corps de ballet, but in West Side Story, you're a part of it all. In the morning, I did the exercises with the ballet dancers. For my body, it was the best time of my life.
STARS: Tony normally doesn't dance much in the show, but it sounds like you did more.
VITTORIO: Yes, I did the mambo and the ballet.
STARS: Was it a complete, fully-staged production of the show, with dialogue?
VITTORIO: Yes. My English was not so good at the time, so some people had something to say about my pronunciation and my accent.
STARS: You've also done Candide, but not the title role; you played the Governor and two other character parts. Other than West Side Story and Candide, what are some of your favorite musicals?
VITTORIO: I love Mary Poppins and The Lion King, which I saw in London. I saw The Phantom of the Opera in Las Vegas. It was amazing, with the chandelier and everything.
STARS: Have you and your wife seen any shows on Broadway yet?
VITTORIO: No, I haven't had time, and I don't go out that much. I need to rest my voice. This morning, after three interviews, my voice is like Darth Vader in Star Wars. Shut up, Vittorio!
STARS: You were a member of Simon Cowell's popera group Il Divo for a very short time, but my understanding is that you never actually performed with them. Did you learn anything from Simon?
VITTORIO: Yeah -- how to make money! But I'm still learning. I'm still poor.
STARS: Your debut opera recital CD is beautiful. It's a nice surprise that one of your selections is Rinuccio's aria from Gianni Schicchi. Tenors rarely program that piece in a recital or on an album --- I guess partly because it includes the melody of "O mio babbino caro" but only in the orchestra, so the tenor doesn't get to sing it. .
VITTORIO: Yes, but also, that aria is so tough. The tessitura is very high.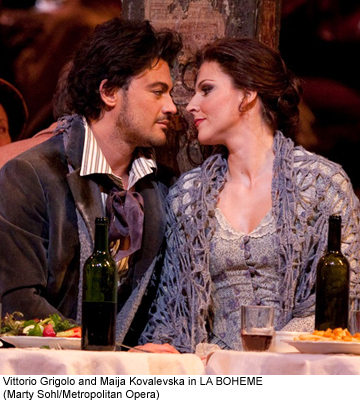 STARS: Opera singers are almost always booked very far in advance. What do you have upcoming?

VITTORIO: I will do Romeo et Juliette at La Scala. That will be my debut there. I have Manon in Valencia, and I will do a few concerts to promote the album. In January or February, I'm going to start recording my second album. I want to go back to the sacred music I used to sing when I was a little kid in the Sistine Chapel choir, but with my voice of today.

STARS: When do you think you might return to the Met after your present run in Bohème is over?

VITTORIO: I talked with Peter Gelb about next season, but I'm already booked and they have already cast everything. So I don't think I'll be back next season, unless somebody drops out of something and I'm available. I think I will be back in 2013.

STARS: You're all over the media, or maybe I should say the media is all over you. I saw you on Good Morning America a couple of weeks ago, singing "Una furtiva lagrima."

VITTORIO: And tonight I am going to be on this show Extra. I had an interview with Terri Seymour, the ex-girlfriend of Simon Cowell. She was cute!

STARS: Well, thanks for this interview, and welcome to New York.

VITTORIO: Thank you so much. It's a really Big Apple, but I think I am taking a little bite of it.

[Vittorio Grigolo has three more scheduled performances of La Bohème at the Met this season, on October 28 and November 1 and 5. For more information, visit metopera.org.]





Published on Saturday, October 23, 2010




Michael Portantiere has more than 30 years' experience as an editor and writer for TheaterMania.com, InTHEATER magazine, and BACK STAGE. He has interviewed theater notables for NPR.org, PLAYBILL, STAGEBILL, and OPERA NEWS, and has written notes for several cast albums. Michael is co-author of FORBIDDEN BROADWAY: BEHIND THE MYLAR CURTAIN, published in 2008 by Hal Leonard/Applause. Additionally, he is a professional photographer whose pictures have been published by THE NEW YORK TIMES, the DAILY NEWS, and several major websites. (Visit www.followspotphoto.com for more information.) He can be reached at [email protected]


Why are you looking all the way down here?
For more articles by Michael Portantiere, click the links below!

Previous: Shaping Up With Craig Ramsay

Next: Bernstein and Schwartz at the Opera

Or go to the Archives