Two of my favorite performers, Jill Paice and John Scherer, have something in common. Although both have solid Broadway credits, they've gone beyond Broadway to play some of their finest roles -- whether just beyond (at City Center), further beyond (in Millburn, NJ or Pittsburgh, PA), or way beyond (in London's West End). Currently, Jill is Kitty Verdun in the City Center Encores! presentation of Where's Charley?, while John is Hysterium in the Paper Mill Playhouse revival of A Funny Thing Happened on the Way to the Forum. In separate interviews, I recently spoke with these two about where the actor's life has led them.
********************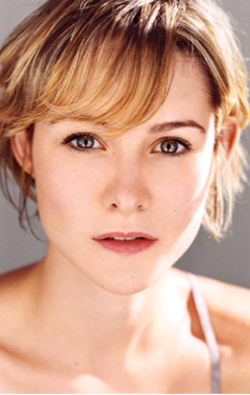 BROADWAYSTARS: Jill, I was in Where's Charley? in high school, but it seems to me that revivals of it are pretty rare.
JILL PAICE: I think it's done quite often in schools and community theater but not on the professional level -- like Arsenic and Old Lace. Our Charley, Rob McClure, played the role in high school. It's a show that's written in a very particular style, which we're trying to learn.

STARS: There was a Broadway revival in 1974. I saw it, and I remember that the song "My Darling, My Darling" -- which you'll be singing with Sebastian Arcelus at Encores! -- went over really well. Were you familiar with this show before you were cast in it?
JILL: No, I wasn't. I knew the play, Charley's Aunt. When we began rehearsals, we learned that the musical is basically the play with songs stuck in. It's almost word for word. Now, we've really scaled it down, because a lot of it is gags and business and physicalization that we can't do because we'll be holding books in our hands.
STARS: Are you having fun with your role?
JILL: Yes. I don't know if it's because I'm the palest girl you'll ever meet, but I feel very English, so I'm comfortable with this sort of character. The two main women in this show remind me very much of Gwendolyn and Cecily in The Importance of Being Earnest. Even the relationship is similar, although the women in Where's Charley? are not in competition the way Gwendolyn and Cecily seem to be. But there's a similar sort of "very best of friends getting into trouble together" thing happening. Sweet, innocent, lovely people.
STARS: I was wondering if you are British or if you're married to a Brit, because I know you did The Woman in White and the musical version of Gone With the Wind in London. Or was it just an Equity exchange situation?
JILL: I'm not British. It was an Equity exchange in both cases. My first London credit was The Woman in White, and I think the producers foresaw bringing the show to Broadway, so they wanted to do that exchange. To this day, I still don't know how I ended up in the room for the first audition, with Jim Carnahan putting us all on tape. I think back then it was even a VHS tape -- something really crude. I was very new to the city, and I don't know how I got that audition, but it definitely changed the course of my career.
STARS: I must ask you about Gone With the Wind. What an amazing opportunity.
JILL: That happened because when I was in London doing The Woman in White, I was in the workshop of Gone With the Wind -- and then, when they did the production, the role was still mine for some reason.
STARS: I guess it can be thought of as a nice payback in the sense that an English woman was chosen to play Scarlett in the movie, and the choice was controversial for that reason.
JILL: It's funny, but when I was cast, no one questioned that. There was more of a reaction when I was cast in The Woman in White, because it's a very English story. So there was a little bit of, "Why you?"
STARS: Was it a huge challenge to play Scarlett O'Hara?
JILL: It was an extraordinary experience. I had been obsessed with Gone With the Wind since I was in the fourth grade. I would be Scarlett for Halloween.
STARS: There are so many questions I could ask about that show. I assume they removed a lot of the plot in order to make way for the songs.
JILL: Oh, absolutely. They had to take out a tremendous amount of plot from the book to make the film, and there we were basing our show on the book. There are elements of the book that were in our show but not in the film; they chose to cut certain things, we cut some other things. It was a beautiful show, but it didn't take off with the critics.
STARS: Just before GWTW, you were in Curtains on Broadway.
JILL: Yes, with David Hyde Pierce, the Gentleman of Broadway. He's a wonderful human being and a fabulous leading man.
STARS: Where's Charley? is your first Encores! show. Everyone says it's a very intense process because of the limited rehearsal period.
JILL: When you do Encores!, you know it's going to be fast. Fortunately, I've done a lot of readings, so I'm kind of used to this pace. In fact, when I'm given more than two weeks to work on something, that's unusual for me. It's like, "Wow, I really get a chance to think about this, rather than flying by the seat of my pants." We have a great company, and I think this is a great show for Encores!
STARS: Well, I can tell you that it went over like gangbusters when I saw it at Goodspeed a few years ago. So, who knows, maybe this production will transfer to Broadway.
JILL: Oh, that would be fabulous!
********************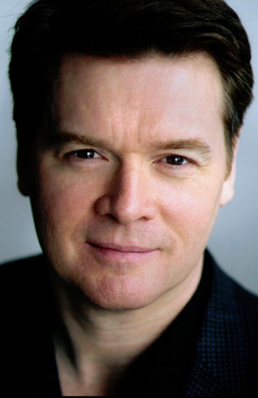 BROADWAYSTARS: How's it going, John?

JOHN SCHERER: It's Monday night, we just finished rehearsal, and I'm exhausted. But I'm good.

STARS: Did you ever do Forum before?

JOHN: Yes, twice. I did it in Sacramento, and two years ago at Goodspeed. Same role. For me, it's more fun to do this show than to see it. I don't know why. But it is so much fun to do. It's hard to mess it up, because that book is so fantastic.

STARS: A lot of people say that, but I'm always the first to admit that I directed the world's only flop production of A Funny Thing Happened on the Way to the Forum?

JOHN: Really? Well that's an accomplishment!

STARS: I agree that the book is brilliant, but Sondheim himself has said that he doesn't feel the score really works all that well, because it's so difficult to musicalize a farce. But you have a great cast at Paper Mill, and I think Mark Waldrop is a great choice as director.

JOHN: I think so, too. He's terrific. I've known him for years, but we've never worked together before.

STARS: But you have worked at Paper Mill before.

JOHN: Yes. The last time was about 10 years ago, in Cole Porter's You Never Know.

STARS: That's amazing. They don't do obscure shows like that at Paper Mill anymore.

JOHN: No -- and it's probably good that they don't. Did you see the show? It was kind of a stinker. I can see doing a show like that in an intimate theater like Goodspeed, but it totally got lost at Paper Mill.

STARS: You've done so many shows in so many different places. Do you enjoy that, or would you much rather work close to home when you have the chance?

JOHN: I'd always rather be closer to home, but I'm also not one of those people who wait around for something to happen. If there's a good part somewhere, I'm going to do it.

STARS: I just missed you in Boeing Boeing at the Cape Playhouse last summer.

JOHN: Oh, my god, we had so much fun. That show had two of my best friends in the world in it, Jen Cody and Hunter Foster. Cady Huffman and Heather Parcells were in it, and Jimmy Brennan directed. The thing about that play is it's not funny on the page; it's all about what you do with it. I was really nervous up until opening night, but the audience loved it.

STARS: I did get to see you in the old George Abbott/Philip Dunning melodrama Broadway in Pittsburgh. I guess that's the kind of show you'll only find in the regionals.

JOHN: Yes. I didn't know the play at all, but Ted Pappas called me up and asked me if I wanted to do it. It's an odd play but a really fun part, so I thought, "Why not?"

STARS: One of the most interesting things about Broadway is that it's a backstage melodrama, so you see all of the actors in full costume in the wings, going out to do these numbers and then coming back offstage afterward, but you never actually see any of the numbers.

JOHN: It's weird! Another weird thing is that the play starts out as a fast-talking comedy, and then somebody gets murdered on stage. I felt like the audience didn't know what was being asked of them. "Are we supposed to laugh, or are we supposed to take this seriously?"

STARS: That's one problem you certainly won't have with Forum.

JOHN: I think this is going to be a wonderful production. The design of it is beautiful, and the cast is great: Paul Vogt, Beth McVey, Stephen Buntrock. I think the audience is going to have a great time.




Published on Wednesday, March 16, 2011




Michael Portantiere has more than 30 years' experience as an editor and writer for TheaterMania.com, InTHEATER magazine, and BACK STAGE. He has interviewed theater notables for NPR.org, PLAYBILL, STAGEBILL, and OPERA NEWS, and has written notes for several cast albums. Michael is co-author of FORBIDDEN BROADWAY: BEHIND THE MYLAR CURTAIN, published in 2008 by Hal Leonard/Applause. Additionally, he is a professional photographer whose pictures have been published by THE NEW YORK TIMES, the DAILY NEWS, and several major websites. (Visit www.followspotphoto.com for more information.) He can be reached at [email protected]


Why are you looking all the way down here?
For more articles by Michael Portantiere, click the links below!

Previous: Have You Met Miss Jones?

Next: Tragedy Tomorrow, Musicals Tonight!

Or go to the Archives