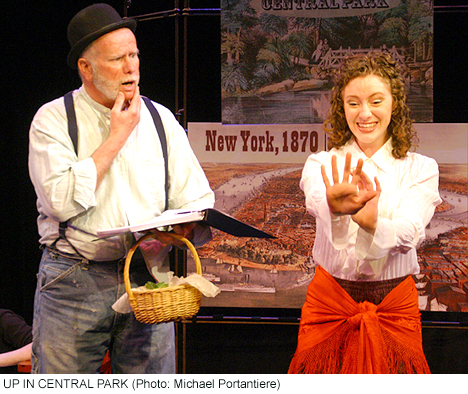 If all the various NYC theater companies that offer staged concert performances of old musicals had a contest to see which of them traffics in the rarest of the rare, I have a feeling that Musicals Tonight! would win hands-down. While this invaluable company occasionally offers revivals of fairly well-known commodities such as Paint Your Wagon, founder/artistic director Mel Miller and his colleagues more often present items that prompt audience responses on the order of "What? This I've gotta see!"
Now in its 13th year, Musicals Tonight! has brought back to the boards such chestnuts as Goldilocks, Fifty Million Frenchmen, By the Beautiful Sea, and Three Wishes for Jamie. The company's Spring 2011 season at the McGinn-Cazale Theatre (Broadway at 76th Street) has given us a typical clutch of rarities: I'd Rather Be Right, Theodore & Co., and the current offering: Up in Central Park. I recently spoke with Miller about these particular shows and the company in general. And since he's the expert on this stuff, I let him do all the talking:
**********************
"We don't dig up shows just for the sake of digging them up. Sometimes, we've made mistakes, and we've dug up things that should have been left buried. You really can't know for sure until you see a show on its feet. I have the utmost confidence in my director Thomas Sabella-Mills, but you can't make chicken salad out of chicken shit -- and I won't say which shows I'm referring to.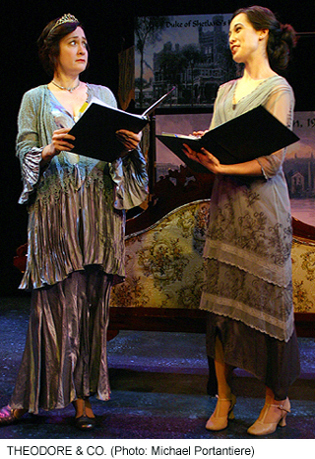 "We have the world's best director, as far as I'm concerned. Not only does he put these babies on their feet, he has a wonderful way of distributing bits of business as equitably as possible. Everyone has a moment or two that showcases his or her talents and gets a little applause. Tom seeks out the skills that each performer has to offer and tries to showcase those skills within the context of our productions.
"Jim Stenborg is our primary music director and accompanist, and he's also a musicologist. Among other things, he's on staff at both [City Center] Encores! and the Goodspeed Opera. He often works just from lead sheets for some of the more obscure shows, and he's the one who's always going down to the Library Congress or elsewhere to do the research that's so important to us."
********************
I'd Rather Be Right
Book by George S. Kaufman
and Moss Hart;
Music by Richard Rodgers
Lyrics by Lorenz Hart
"The show opened on Broadway in 1937. It hasn't been seen in New York since then, but you really can't go wrong with Kaufman & Hart and Rodgers & Hart. Even though the score has only has one famous song, 'Have You Met Miss Jones?", we felt it was tuneful enough and clever enough to revive it. Then, after we got into it, we realized how much the political content of the show reverberates today."
Theodore & Co.
Music by Ivor Novello and Jerome Kern;
Lyrics by Adrian Ross and Clifford Grey
"This one lept out at me. There's a pedestrian walkway in London called Cecil Court; it runs between St. Martin's Lane and Tottenham Court Road. It has antiquarian book stores on both sides of the street, and one of the places has sheet music and scores of various kinds. I stuck my head in one day, and there was the piano/vocal score for a show I'd never heard of, Theodore & Co. It was 10 pounds, so I figured, 'What the hell!' I bought it, and the next day I went to the British Library and found the libretto. The show ran almost two years in London, but no one ever does it anymore. Musicals Tonight! is not-for-profit, but we're not suicidal, so I was wary of putting it up. But the audience response was wonderful."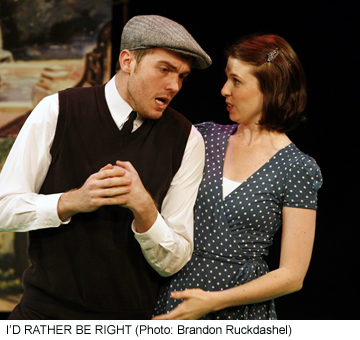 Up in Central Park
Music by Sigmund Romberg
Lyrics by Dorothy Fields
Book by Herbert Fields and Dorothy Fields

"This is a similar kettle of fish to Theodore & Co. It's a half-century younger than that show, but it's still more than 65 years old. It's an operetta that was on Broadway in 1945, well past the golden years of operetta. It's about New York, it's about the Tweed ring. The score has some songs that people might have heard of, and there was a movie version with -- of all people -- Vincent Price as Boss Tweed."

********************

"One of our greatest joys at Musicals Tonight! is when a cast falls in love with a show. Our casts don't know what they're getting into, and for the little we pay them, I won't put a show on stage unless I believe in it. Sometimes I've discovered shows that I've reburied without producing them because, at the end of the day, I didn't feel they deserved to be seen again. I can't bring myself to put a cast and a director through a rehearsal process for a show if I don't honestly think it's worth their time.

"In the fall, we're going to do L'il Abner, and people will probably criticize us for doing something so mainstream. Sometimes I think, 'Heaven help me if I put up a show that has songs people have heard of. God will strike me dead!' But I think it's okay, because most of our shows are rarities that we think deserve to be dusted off one more time."




Published on Sunday, March 27, 2011




Michael Portantiere has more than 30 years' experience as an editor and writer for TheaterMania.com, InTHEATER magazine, and BACK STAGE. He has interviewed theater notables for NPR.org, PLAYBILL, STAGEBILL, and OPERA NEWS, and has written notes for several cast albums. Michael is co-author of FORBIDDEN BROADWAY: BEHIND THE MYLAR CURTAIN, published in 2008 by Hal Leonard/Applause. Additionally, he is a professional photographer whose pictures have been published by THE NEW YORK TIMES, the DAILY NEWS, and several major websites. (Visit www.followspotphoto.com for more information.) He can be reached at [email protected]


Why are you looking all the way down here?
For more articles by Michael Portantiere, click the links below!

Previous: Fun with John and Jill

Next: The Nun's Story

Or go to the Archives