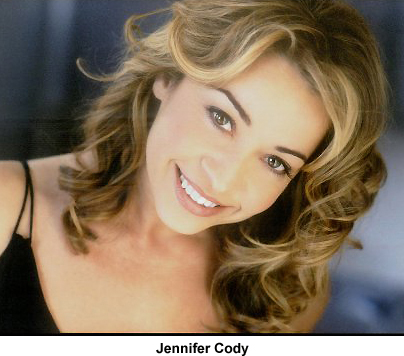 Jennifer Cody plays a whore with a heart of gold and a lot of courage in Judith of Bethulia, an over-the-top campy spoof of Biblical films, written by and starring the one and only Charles Busch. This is the first Busch show for Jen, whose Broadway credits range from Cats to Urinetown to Shrek and who is best known to a certain audience as Urinetown's Little Sally in the annual Easter Bonnet competitions that benefit Broadway Cares/Equity Fights AIDS. I spoke with her a few days before I got a chance to see Judith for myself:
********************
BROADWAYSTARS: Judith of Bethulia has a short run at Theater for the New City [through April 28]. Can you say a few words about the show for the benefit of those who won't get to see it?
JENNIFER CODY: Charles is so brilliant. Everything I've seen of his has been unique; he has this ability to do camp that's still based in a broad reality. You go back and forth between feeling like a Shakespearean actor and feeling like you're in a Carol Burnett sketch, but his writing is seamless. In this show, I'm with a group of people who really get it. Mary Testa and I are the only two newbies in this company -- and if you know Mary, you know that Charles's humor fits her like a glove.

STARS: I'm booked to see the show later this week. Can you give me some idea of what I'm in for?
JEN: I don't know if you know the story of Judith of Bethulia; I certainly didn't. She was a very important Jewish figure in the Bible, and she saved her people. Charles has found a way to make it the funniest, laugh-out-loud Biblical story you will ever hear.
STARS: Is this the very first time you've worked with Charles?
JEN: Well...we did Taboo together, but both of us try to kind of shove that one under the rug. I didn't really get to know him then; he was writing the book, and we were surrounded by so much chaos that making friends and forming relationships wasn't the easiest thing. I've also done some benefits with Charles, but I've never had the opportunity to say his words and act with him onstage. It's a dream come true, every night.
STARS: How many of his shows have you seen?
JEN: The first one I saw was The Tale of the Allergist's Wife, which of course is in a completely different style than The Divine Sister, Vampire Lesbians of Sodom, and Die, Mommy, Die! I saw all of those, as well.
STARS: Charles almost has a rep company of actors he uses over and over, obviously with some replacements and additions. How did you get into the group?
JEN: I met Julie Halston when we did the Tweed version of Picnic, and I've wanted to work with this group of people for so long. Jennifer Van Dyck, who was in The Divine Sister, plays my boyfriend in this show, and she's a fantastic actress. I'm blessed all around.
STARS: I'm told that Charles gives a curtain speech every night in which he says that sometimes you want to do a show just for the fun of it, and this is one of those times.
JEN: Yes. I've done a lot of commercial theater, and it's amazing to work on a show that's not about "Are the critics going to hate it?" and "Is it going to make money?" It's very rare that you get to do a show like that in New York. I think a lot of the fun gets lost when it becomes all about the dollar.
STARS: What's your role in the show?
JEN: I play Naomi, the whore. I don't want to give too much away, but the first time you see me, people are throwing rocks at me. Mary Testa plays by nemesis. Who doesn't want that?
STARS: I should ask you about your husband [Hunter Foster]. How's he doing?
JEN: Hunter is fantastic. He's in La Jolla right now, working on Hands on a Hard Body [a new musical at the La Jolla Playhouse]. I think it opens in about two weeks.
STARS: I guess you'll get to see it at some point.
JEN: Yes, I'll be flying out when this show is over.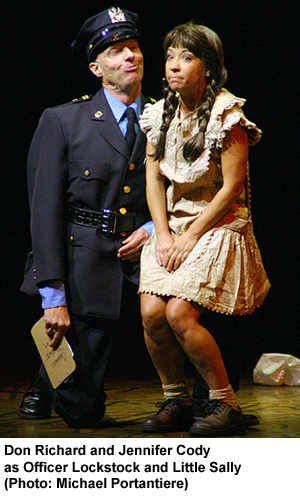 STARS: So, the Easter Bonnet competition is coming up, and I'm really hoping to see Little Sally and Officer Lockstock in it.

JEN: Well...we were going to do it, and we had already started writing the skit, but my brilliant partner, Don Richard, is off playing Sweeney Todd right now. He was going to try to fly in for the day, but he's just a little overwhelmed. He told me to do it with someone else, but I said, "I can't! Don't worry about it, Don. We'll do it next year."

STARS: You two always bring down the house, and some of the humor is very cutting. Whenever I go to one of the shows and you're not in it, I'm disappointed, and I think, "Maybe the people at BC/EFA finally decided they're a little too edgy."

JEN: [Laughs] I love that. It's funny, I think most of the people who see us in Easter Bonnet don't even know the characters are from Urinetown, because that show was 10 years ago now. They call us "the cop and the Indian." When we're writing the skits, I always feel like we can't be selective in our targets, because then it would come across as really mean. So I like to hit every show and spread the wealth.

STARS: One of the funniest moments I remember was when you didn't really say anything. Lockstock mentioned that John Lloyd Young [of Jersey Boys] was set to star in a film titled Oy Vey, My Son is Gay. He asked if you wanted to comment on that, and you said...

JEN: "...Oh, I don't think I need to." When we're working on the skits, it doesn't always sink in how hard we're hitting some of the people, because we're more focused on timing and delivery. But they gave me a DVD of all of our skits, and I watched it one night and I thought, "My God! It's amazing that we're still working in the theater."




Published on Friday, April 20, 2012




Michael Portantiere has more than 30 years' experience as an editor and writer for TheaterMania.com, InTHEATER magazine, and BACK STAGE. He has interviewed theater notables for NPR.org, PLAYBILL, STAGEBILL, and OPERA NEWS, and has written notes for several cast albums. Michael is co-author of FORBIDDEN BROADWAY: BEHIND THE MYLAR CURTAIN, published in 2008 by Hal Leonard/Applause. Additionally, he is a professional photographer whose pictures have been published by THE NEW YORK TIMES, the DAILY NEWS, and several major websites. (Visit www.followspotphoto.com for more information.) He can be reached at [email protected]


Why are you looking all the way down here?
For more articles by Michael Portantiere, click the links below!

Previous: Kurt Peterson and Victoria Mallory Remember When Everything Was Possible

Next: Bonnets Full of Easter Joy

Or go to the Archives