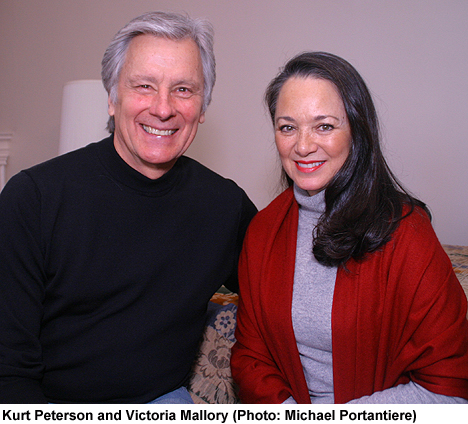 Kurt Peterson and Victoria Mallory met in the mid 1960s when they were both fresh faced kids studying at AMDA, and even before they graduated, they were cast as the passionate lovers Maria and Tony in the 1968 Music Theater of Lincoln Center revival of West Side Story. In real life, they dated "on and off" for about eight years, during which time they appeared separately in an impressive list of shows (Dear World, Carnival, Dames at Sea, A Little Night Music, The Baker's Wife, and others.). They also appeared together, though not opposite each other, in a show that created an unbreakable bond among all those involved: the legendary original production of Follies, with music and lyrics by Stephen Sondheim, book by James Goldman, directed by Hal Prince and Michael Bennett.
Decades passed. Kurt and Victoria never married (each other), but after many years of being out of touch, they reconnected and are now the bosomest of buddies. Songs from the beloved shows listed above, and others, will be on the program when they take the stage at New York City Center on Sunday, April 29 for a concert titled When Everything Was Possible. The one-night-only event will be directed by Larry Moss and will feature new Jonathan Tunick orchestrations for a 13-piece orchestra, conducted by musical director Michael Rafter. Also featured will be images from the era's greatest theatrical photographers, many never before displayed publicly. I recently had the chance to chat with this remarkable pair about the past, the present, and the future.

********************
BROADWAYSTARS: You've taken the title of your City Center concert from Everything Was Possible, Ted Chapin's book about the making of Follies. Will Ted be part of the evening?
KURT PETERSON: Yes. I wouldn't call it hosting, but he's going to introduce us on stage. We've both known him since he was a go-fer on Follies, so we have a lot of history together. He's one of the best cheerleaders that the musical theater could have. Oh, and Hal Prince is planning to attend; he said he wouldn't miss it.
STARS: You two have been thinking about doing a show like this for some time. I was lucky enough to be there when you both guested in Seth Rudetsky's Chatterbox at Don't Tell Mama a few years ago.
VICTORIA MALLORY: Oh, my goodness. That was the birth of it, I think. (To Kurt:) Wasn't it?
KURT: Totally. We've stolen some of the humor that Seth brought to that evening. He's probably going to want royalties.
STARS: So, you guys met at AMDA?
VICTORIA: Yes. It was a very small school then. Now, it's hundreds of students, but back then, there were only about 12 or 13 people in our class. That was it.
KURT: We were cast in West Side Story near the end of our time at AMDA. Victoria auditioned and got the role [of Maria], and basically, I was so jealous that I went and auditioned myself. The through-line of our concert is me sort of catching up to Victoria.
STARS: Were West Side Story and Follies the only shows you did together?
KURT: We also did The Fantasticks, but not in New York. We did a tour of a little show called Set To Music, around AMDA time. And we were both in the tribute to Sondheim that I produced at the Shubert Theatre in 1973.
STARS: Yes! One of the many reasons I treasured the two-LP record album of that evening was that it included Victoria's duet with Justine Johnston on "One More Kiss" from Follies, which had been left off the LP version of the original cast recording.
VICTORIA: Oh, there's so much missing from the Follies album. My gosh.
STARS: You two were dating while you were at AMDA, yes?
VICTORIA: Off and on! [She laughs.]
KURT: We were off and on for eight years until we separated, but I think our story is that we were really more like brother and sister. We were two kids who had all these wonderful opportunities and shared a passion for music and for the shows we were in. The love story is sort of secondary -- but the great thing about the love story is that we reconnected 35 years later and became the best of friends.
VICTORIA: We kind of grew up together, experiencing this incredible city at the same time as young people. It's so much fun to be reconnected and to be working together again, having had so many things happen during those 35 years.
STARS: How did the reconnection happen?
KURT: Well, we really hadn't been in touch, and then I got a call from Victoria one day. She told me that her daughter Ramona was coming to New York and asked me if I'd look out for her. I almost burst into tears, because it was such a vote of confidence.
STARS: Victoria, where were you living at the time?
VICTORIA: My husband Mark and I were living on the West Coast, but then about a year later we moved back to New York, and now we live just outside of the city.
STARS: I know that you and Mark [Lambert] met during A Little Night Music, when he played Henrik opposite your Anne. What's he up to?
VICTORIA: He left the business years ago, and now he's a very creative business man; he runs two foundations and travels the world. He continues to write music and sing, but his work is elsewhere.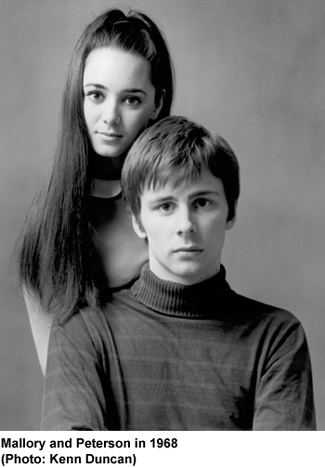 STARS: Tell me, when you're playing one half of a pair of lovers in a very romantic show, is it hard not to become involved with the other person in real life?

VICTORIA: I guess it depends on who that other person is! It happens quite a bit in this business. I think I heard that it just happened on Smash.

KURT: My wife tells me, "You can't swing a dead cat in this town without hitting an old girlfriend."

STARS: The press materials for your concert at City Center say that "it's the story of Victoria Mallory and Kurt Peterson in the present but also the story of New York, 1966-1974, the last gasp of the golden age of the American musical." Can you expound on that?

KURT: I wrote that line, and what I meant was that a lot of people consider Follies to represent the death of that whole era of musicals. We got the chance to work with so many of the people of that era because they were still alive and working when we first started in the business -- Comden and Green, Bernstein, Rodgers. I hear people like Patti [LuPone], Jason [Danieley], and Marin [Mazzie] say they wish they had been born just a few years earlier so they could have met and worked with those people. They didn't get to sing with Lennie at the piano, but we did.

VICTORIA: He rehearsed us for West Side Story.

STARS: Rodgers was the producer of all those Music Theater of Lincoln Center revivals. I guess that's when you worked with him?

VICTORIA: Yes. He was there a lot.

STARS: Because there's no cast album of that production of West Side Story, I would say it's pretty much fallen into obscurity. Can you tell me a little about it?

KURT: It was directed by Lee Theodore, who had worked closely with Jerome Robbins.

VICTORIA: She was so loving, positive, and nurturing. We were in great hands. I think it was a great production, very passionate and joyous.

KURT: We had, I think, a 40-piece orchestra at least.

STARS: The New York State Theater was designed for ballet and opera, and some people feel it's just too big for musicals. Did you feel that?

BOTH: No.

VICTORIA: We loved it.

KURT: It was scary, but we loved it.

STARS: Back to Follies: What was it like performing in that show night after night, knowing that so many people felt it was one of the greatest musicals of all time, but others -- like Clive Barnes of The New York Times -- decidedly did not?

VICTORIA: I think the cast knew for sure that it was one of the most unique productions ever to come along. It was extraordinary.

STARS: Follies is about the past informing the present, and about ghosts. Kurt, I know you graduated from playing Young Ben to playing Ben later in your career. And Victoria, your daughter played your original role of Anne in the recent revival of Night Music. Can you talk a little about those ghostly experiences?

KURT: The four of us who played the young couples in Follies were hired because we were cute kids. We weren't supposed to know the ending of the show, which is why we were able to sing "You're Gonna Love Tomorrow" and "Love Will See Us Through" and be as optimistic as we were. Revisiting the show 30 years later and playing Ben, I got to see it from the perspectives of both the younger and older characters. When you've been in a show that's so rich for so long a period of time, every note and gesture of it gets into your DNA, so when you do another production of it years later, it all comes back in wave after wave.

VICTORIA: Graciela Daniele was the young ghost in the "Bolero" in Follies. I used to watch her do that number all the time, and then to see her to go on and become such a remarkable director has been wonderful.

STARS: And the experience of seeing and hearing Ramona in Night Music...?

VICTORIA: Words can't describe it. When she auditioned, they didn't even know she was Anne and Henrik's daughter. The first time Mark and I saw the show, we wept through the whole thing. It was like a fairy tale.

KURT: Our show is not about us so much, it's about encouraging kids like Ramona to follow their dreams. We'd like to think we set an example in terms of hard work and persistence. It's all about showing up.

********************

[For more information on When Everything Was Possible, or to purchase tickets, visit www.WhenEverythingWasPossible.com].




Published on Saturday, April 7, 2012




Michael Portantiere has more than 30 years' experience as an editor and writer for TheaterMania.com, InTHEATER magazine, and BACK STAGE. He has interviewed theater notables for NPR.org, PLAYBILL, STAGEBILL, and OPERA NEWS, and has written notes for several cast albums. Michael is co-author of FORBIDDEN BROADWAY: BEHIND THE MYLAR CURTAIN, published in 2008 by Hal Leonard/Applause. Additionally, he is a professional photographer whose pictures have been published by THE NEW YORK TIMES, the DAILY NEWS, and several major websites. (Visit www.followspotphoto.com for more information.) He can be reached at [email protected]


Why are you looking all the way down here?
For more articles by Michael Portantiere, click the links below!

Previous: Jason Danieley Sings Gilbert & Sullivan and Flaherty & Ahrens and...

Next: Jennifer Cody Joins the Busch League

Or go to the Archives