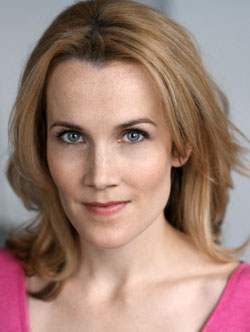 Erin Dilly has paid her dues. For about a decade, the Michigan native built up a solid musical theater résumé: she played the leads in three national tours (South Pacific, Beauty and the Beast and Martin Guerre); she made a splash as the leading lady in Babes in Arms at Encores!; and she appeared in four Broadway musicals, culminating with her Tony-nominated turn in Chitty Chitty Bang Bang.
Since Chitty closed at the end of 2005, her life has moved in several different directions. She's worked regularly in television, where her roles have included a woman beset by poverty and multiple sclerosis on Law & Order: SVU, a brain surgery patient on the CBS medical drama 3 lbs., and the supportive sister to Kristin Chenoweth (her real-life best friend) in the Lifetime movie 12 Men of Christmas. In 2009 she reached the big screen playing Judith Jones, the book editor who gave Julia Child's cookbook its title, in director Nora Ephron's hit Julie & Julia. She's also devoted herself to raising her two children with husband Stephen R. Buntrock: Catie will be two years old in March, and Anna Louise turns five in April.
And Dilly, whose parents are retired teachers, has moved into teaching as well. She and Buntrock (who just completed a run as Bernadette Peters' leading man in Broadway's A Little Night Music) do musical theater instruction and coaching out of their New Jersey home. And this month they're serving as instructors for Broadway Saturdays, a musical theater program being held at the Segerstrom Center for the Arts (formerly the Orange County Performing Arts Center) in Costa Mesa, California. Held over three Saturdays (February 12, 19 and 26), the intensive is designed for young people to learn performance techniques and insights into succeeding in show business.
Just after she flew to California this week, Erin spoke to me about Broadway Saturdays, her upcoming movies, raising two girls, and other things that keep her busy and happy.
So tell me about this musical theater instruction program that you and Stephen are doing in California this month.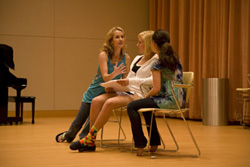 Well, last summer I built a program, a weeklong summer workshop intensive at the Segerstrom Center for the Arts. But this is actually something Stephen and I are creating together called Broadway Saturdays, a three-part master class intensive. Stephen is teaching a song performance class. Students are being asked to bring three or four audition songs that they really want to dig into. He's all about connection to the lyric and finding a really personal way into a song. He has such an amazing way as a teacher. I teach acting. Lots of high-energy work and connection/improv games to get everyone out of their heads and into their instincts. We do monologue work - I assign scenes from classic American plays like The Glass Menagerie, Ah! Wilderness, and Our Town - and there is some pretty intense scene work. Then Stephen and I teach an audition technique class together, where there will be lots of practice. The bare bones of auditioning are something that I think all of us need to sharpen our skills in. And on the final Saturday, there will be a business basics class, and a Q & A for the kids to ask anything they want to know about making a life in this nutsy world. And I will probably make my husband sing. We are going to have a ball.
I know you really value the education you got in the Musical Theatre program at the
University
of
Michigan
. Were there any teachers who really gave you great advice or a particular piece of advice that you continue to use?
Part of the reason that I started teaching master classes was that I have such fond, lasting memories of the master classes I attended in college. One of which was with Jim Brennan. I remember so clearly him coming for a master class the first semester. And he was just so real, so balanced. He said, "The audition is the end. It's not a means to an end...it is the end. Don't go home and wait by the phone and put your life on hold. Give it all you got, leave the room and be done with that job." Balance. I still remember that, and try, at least, to live by it.
Master classes are sort of like little encapsulated courses for an hour, or whatever. I just remember being so struck by all the master classes that I had taken, including one given by Karen Ziemba during the national tour of Crazy For You. She did a master class for us at University of Michigan, and was so direct about how hard and diligent we were going to have to work. She took the romance out of the pursuit of theatre a bit...and it was a good wake up call for me.
So I love teaching master classes. I stepped out of musical theatre a bit, as my babies are so small, and have been doing more television and film, and teaching helps me revisit my theater love!
You know, it's very interesting - I just shot an HBO movie called Too Big to Fail, and I play a woman named Christal West, who was Henry Paulson's executive assistant at the Treasury, sort of his Gal Friday. Paulson is played by William Hurt. And the cast is amazing - Ben Bernanke is played by Paul Giamatti, Tim Geithner is played by Billy Crudup, and we have James Woods and Ed Asner... it made work feel like a sort of master class in acting. Watching William Hurt work - he is one of the quietest, most surprising actors.
Yeah, he's very subtle. He's not flashy in any way.
No, very, very delicate, very internal. It was very inspiring to see how he led with quiet and intelligence. At the wrap party, when William found out I was a teacher, he was so moved by that. He was really happy to work with me, we had a great time, but he was more inspired by the fact that I taught. Which was a very cool union of the two things I love to do.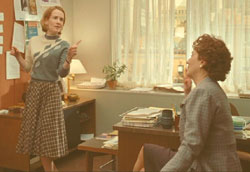 And you also worked with Meryl Streep, which ain't too shabby.
Oh, my goodness. Well, she's not too shabby. Not too shabby, that Meryl Streep! The thing about Meryl Streep is that she's so sublimely regular. And by that I mean so approachable and cool. She's so warm. And she's a mom. She just threw her arms around me, and was the kindest person in the world to be working with. And then they said 'Action,' and she was JULIA! So many people asked me if I was nervous on the days I shot with her...but her kindness and realness are too disarming. She's the best.
Did she try to work with you on your character in any way?
Honestly, no - she just played the scene. And the fun part about it was that my character was driving the scene. And I just drove it. I thought, well, I have no choice but to kind of go for this here, and to have no fear. I'm playing the dominant person in the scene, so here goes nothin'. I guess in retrospect I should have been shaking in my boots, but she's delicious. She's the kindest, coolest lady. And Nora was just as cool. Nora is all intelligence, humor and steady hand. Very, very cool woman.
You spent this past October appearing Off-Broadway in Love, Loss, and What I Wore. I think you said it was Nora who got you into that.
Well, it was. I was at my best friend Kristin's opening for Promises, Promises. I saw Nora at the opening, and she said "Erin!" Hugs, drinks... and she said "Would you do my play?" I said, "Of course - I adore you." And I meant it. I said, "I heard your play is magnificent, but I haven't seen it." So we had that lovely conversation, and then I didn't hear from her, so I kind of thought it was just one of those lovely opening night conversations where somebody bestows you with that kind of compliment, and then it's done. But lo and behold, in late September, my agent called and said "You want to do a play for a month?" And I said "Of course I want to do a play for a month!" And I had this blissful gift of Love, Loss, and What I Wore and it was perfect.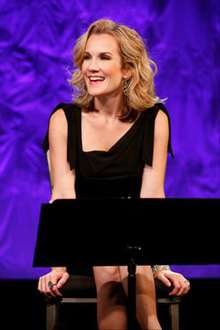 You looked like you were having a lot of fun in that.
Oh, it was a ball. Because, A, I didn't have to memorize anything. For a mother of two young children, that's a major advantage. And B, I got all glammed up, serious shooshy star treatment! I literally would drag myself in from weary mommy land, and they turned me into Ann-Margret! A sensational little black dress. And then you sit there, and you say Nora's words, which are so... recognizable. So comforting and hilarious. The piece is like wrapping a blankie around the entire audience and hugging them. I love those women so much. I had such a wonderful time.
I don't know if you remember this, but when I saw you in the show, a woman came up to you crying after the show, because she was a breast cancer survivor, and she was really overwhelmed by the breast cancer monologue you had done.
I do remember that. There were nights that I felt particularly privileged to speak Nora's words. That was one of those nights.
I know you've done a movie called The Diary of Preston Plummer, but I don't know much about it. What's the movie about, and when is it coming out?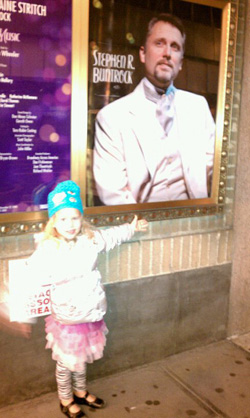 The Diary of Preston Plummer is an incredible independent movie I shot last summer with Rumer Willis and Robert Loggia. We're hoping it makes the festival circuit - I think that's their intention right now. It's about a young woman who goes back home to wrestle demons from her past. I am the mother of the young woman. Rumer is really special in this movie...she is going to surprise people. I loved playing her mama.
Speaking of motherhood... what are your kids' reactions to your careers? Do they understand that Mama and Daddy are actors?
They do get that Daddy is an actor onstage. They get that. Because Anna went and actually watched a little bit of Stephen in Night Music. She saw him in a rehearsal. She thought that was swell. And she totally understands that I'm a teacher. Because Anna is in preschool, and school and teachers, in general, are a very big deal. And she kind of gets the TV gigs. Every once in a while she'll see me in something, but she's fairly unimpressed. Which delights me. I actually made a commercial with the girls - a Starbucks commercial - and it's still no big whoop to Anna Louise. Anna's like, yeah, this is OK, but I'd rather be either going to Incredi-Bills or watching Toy Story 3!
I also wanted to ask you about the concert series that you're doing with Danny Gurwin.
Yes! "Miracle of Miracles: A Concert in Celebration of Jewish Musical Theatre."
Funny, you don't look Jewish!
I'm not! I am his "token shiksa," as he refers to me - that's not my language - in his patter in the concert. It's a beautiful, beautiful tribute to Jewish composers. When you think about it, a vast majority of the great Broadway composers were Jewish -Bernstein, Sondheim, Rodgers, you name it, basically. It's a real labor of love for Danny. Danny and Hank Stratton and have been working on it for a few years now. We've done two shows so far, one in Detroit and one in La Jolla, California.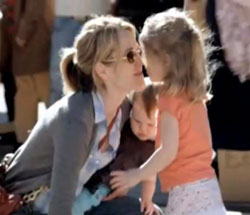 After the first concert, I asked your mom what songs you sang, and she said, "The only one I recognized was 'People'!"

Oh, I haven't sung "People" since the first concert. Now I sing "Who Are You Now" from Funny Girl, and then I sing a little of "Tonight," and then in the second act I sing "A Fine Romance," as part of a salute to Dorothy Fields. And then I do another Dorothy Fields song, "He Had Refinement," from A Tree Grows in Brooklyn.

Oh, wow. A real comedy number there.

[In Brooklyn accent]I get my comedy numba! It really is such a blessing because I get to get up and pay tribute to my theater roots and jam with my old friend!

Anything else you want to say about Broadway Saturdays?

I just want to encourage interested students in Southern California or in the Orange County area to come sing with us! I can guarantee them a passionate, productive and JOYFUL few weeks. We are going to have a ball! And beyond what we will gain as teachers .... we can't wait to get there because after we're done teaching, we're gonna take the girls to Disneyland! They'll go nuts!

Broadway Saturdays is open to all students ages 14 - 22. The program will take place from 10 a.m. to 4:30 p.m. on February 12, 19 and 26 in Segerstrom Center's studio performance space in the Renée and Henry Segerstrom Concert Hall. The cost of the program is $250. For more information or to register for Broadway Saturdays, please visit SCFTA.org/education, e-mail [email protected] or call (714) 556-2122 ext. 4333, Option 2. Class size is limited.






Why are you looking all the way down here?
For more articles by Tim Dunleavy, click the links below!

Previous: Chenoweth, Neuwirth, Griffin and Others "Do Pink" for Breast Cancer Awareness

Next: Photo Coverage of the 2011 Barrymore Awards

Or go to the Archives