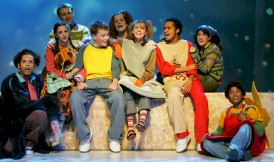 CAPTAIN LOUIE, Jimmy Dieffenbach [fourth from
left] and friends from the hood.
[Photo: CAROL ROSEGG]

Captain Louie, the new family musical has taken off after years in limbo. With music and lyrics by Stephen Schwartz, it's landed at the York Theatre, while composer's Wicked continues to fly high on Broadway and as The Baker's Wife, which never made it to Broadway, had an acclaimed production at New Jersey's Paper Mill Playhouse [the final performance was May 15th, but the production was taped for the Lincoln Center archives].

Louie, with one of the strongest advance sales in York history, is produced by Meridee Stein [also the director]; Pamela Koslow [the second wife of Gregory Hines, until 2000, and co-producer of the Tony-winning Jelly's Last Jam]; and Kurt Peterson, who made his Broadway debut in Dear World, created the role of Young Ben in Follies and has a six degrees of separation to Schwartz.

______________________ FLASHBACK ______________________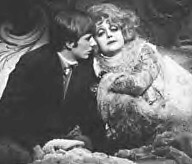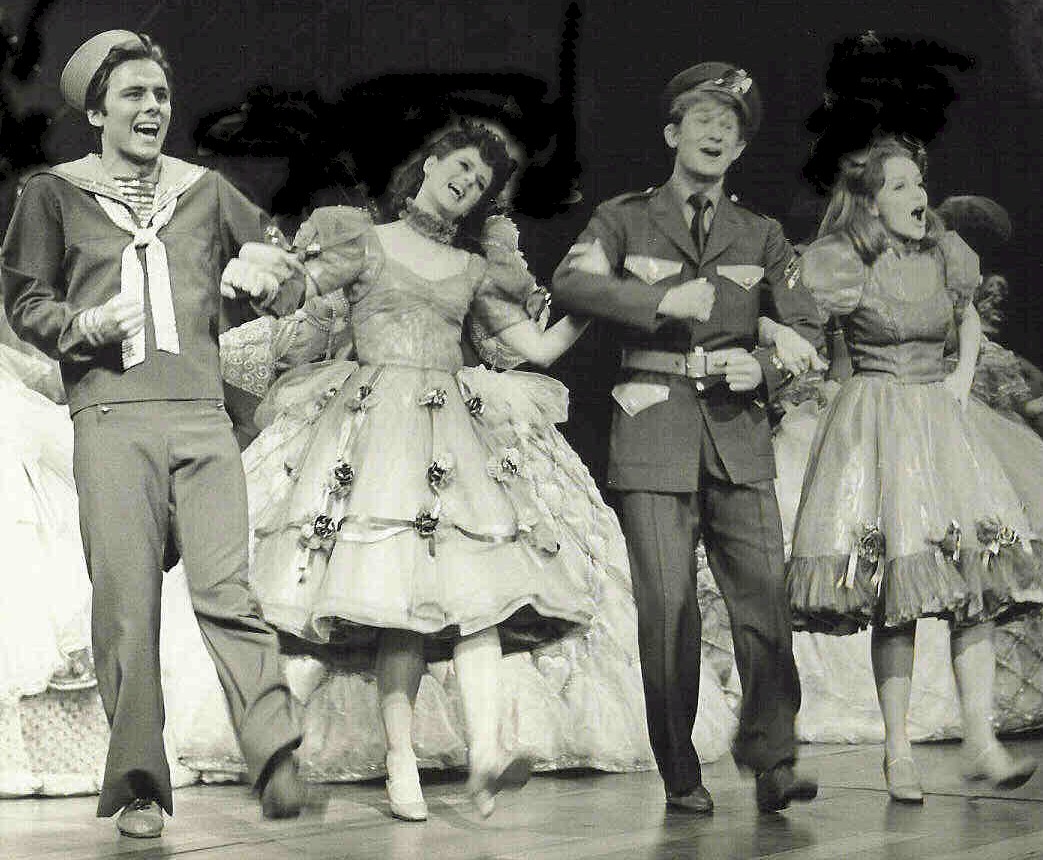 Kurt Peterson with Angela Lansbury in Broadway debut in Dear World;
in Follies with Virginia Sandefur, Harvey Evans and Marti Rolph.
___________________________________________________________
The story of Louie, played by Jimmy Dieffenbach and a cast of eight youngsters, is very simple: A New York youngster has been uprooted to a new neighborhood, having to leave his friends behind. Alone and sad without having found any friends in his new digs, he takes his toy plane and creates a scene in a magical shoe box. His imagination takes flight and brings him back to his pals. At first, he doesn't recognize anyone, but it's Halloween and everyone is tricking and treating. Soon, they are recalling "old times."
Though a Tony Award has eluded Schwartz, he has more than his share of nominations: for Best Score, Pippin [1973]; Godspell score [1977, seven years after it premiered Off Broadway]; for his book and score contributions to Working [1978]; with Charles Strouse for his lyrics for Rags [1987]; and last season for Wicked, when it appeared a Tony might finally be his. The show was on a roll and thenÖaudience gaspsÖthe envelope read Avenue Q.
He does have the distinction of being the first composer-lyricist to have three Broadway shows running simultaneously, Godspell, Pippin and The Magic Show. He's also won three Academy Awards [Pocahontas - lyrics, Best Score and Best Song, "Colors of the Wind"; The Prince of Egypt, Best Song, "When You Believe"], five Grammy Awards, and four Drama Desk Awards.

Schwartz is currently at work on songs for a Hans Christian Anderson celebration, a musical titled My Fairy Tale.

Captain Louie has finally soard off the runway, but it's been attempting take off for 30 years. That's when Stein, artistic director/founder of the First All Children's Theater, first approached Schwartz about musicalizing the book adapted by her husband Anthony, an Emmy-winning writer of children's tales.
He recalls, "I saw her production of The Nightingale, a Charles Strouse children's opera, and was impressed with the talent and quality and told her so. She asked, ëWould you ever consider doing anything for us?' I said I would and she told me about The Trip and gave me the book to read."
That was a quick read! Ezra Jack Keats' 1978 Caldecott Award-winning children's book, though colorful and lavishly illustrated, is only 38 pages. It consists of less than 600 words.

Even though Schwartz was giving flight to Rags, he wrote several songs and a thirty-five minute version of Louie was presented by the First Children's Theatre. "It was fine for what it was," he says, "but I knew if it was to have a real theatrical life, it had to be longer. I feel I was able to expand it without it feeling padded. We added characters and fleshed out others." As it is, now with nine songs, it runs just over an hour.
It was vital to Schwartz that good singer/actors be cast and that they had the ability to sound like children, and not adults acting as children. "I didn't have to worry," he says. "Meridee had complete artistic control and did a marvelous job." At first, he thought, maybe a little too marvelous - because the cast was so talented and professional that he worried they wouldn't sound "fresh and spontaneous."
Without Stein's persistence and the belief in the project shown by former stage star Kurt Peterson, who turned to producing, it might not have been.
According to them, Schwartz devoted his energy and passion for Louie as if it was his next Broadway musical and not a children's or family show.

__________________ A NIGHT OF SMILES __________________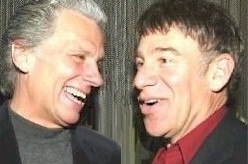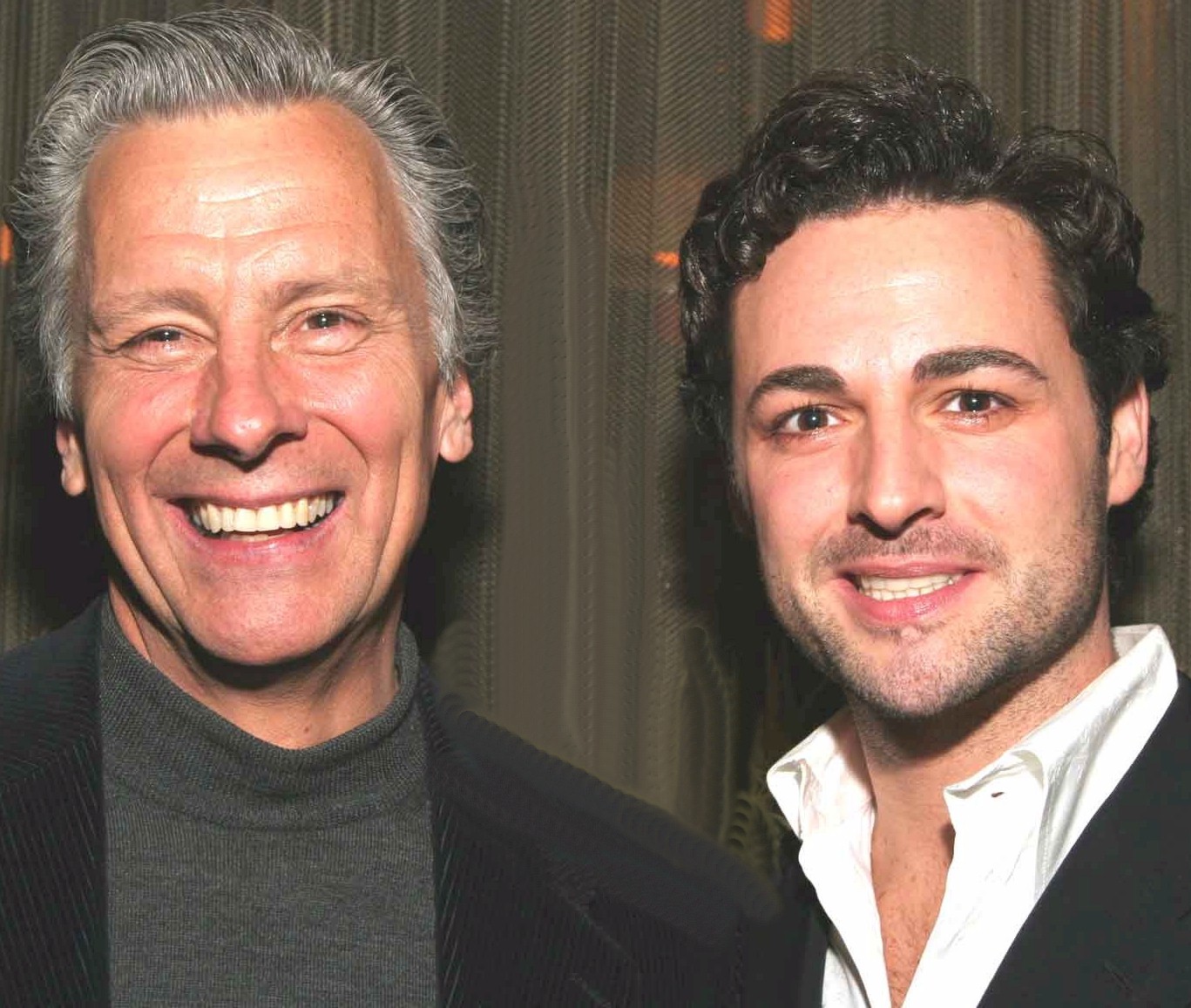 At Paper Mill Playhouse's opening night of The Baker's Wife, Kurt Peterson catches
up with Stephen Schwartz and meets Max Von Essen, who played Dominique, the
role he played in the 1975 tour of the show.

[Photos: JERRY DALIA]

______________________________________________________

From high school onward, growing up in Wisconsin, musical theater was a joyous part of Kurt Peterson's life. After coming up the ranks in regional theater, where he once worked with Tommy Tune, he came to New York. As a 20-year-old, he made his New York debut, personally chosen by Leonard Bernstein, as Tony in the 1968 Lincoln Center revival of West Side Story.
[Trivia: back in the days when Walter Bobbie was still a hoofer, Peterson joined him in the cast of Off Broadway's Dames At Sea as Dick. He later starred as Bobby in the Canadian premiere of Company.]
He became's Broadway's golden boy and Dear World and Follies quickly followed. In Everything Was Possible [Knopf, 2003], author Ted Chapin interviewed Peterson on his role and the production process for Follies. While he was in that musical, Peterson's friends Fritz Holt and Barry Brown were seeking investors to star Lansbury in a West End production of Gypsy.
"They were slightly undercapitalized [one estimate is by $100,000]," reports Peterson. "I offered to help. I had stationary printed and went about raising money." He raised enough to be billed as associate producer.
Peterson's relationship with Schwartz dates back to 1975 when he played Dominique, the lusty, hot-headed younger man pining for The Baker's Wife in the pre-Broadway tour. Still matinee-idol handsome and in shape in the later-range of his 50s, Peterson met Stein at a January 2004 production seminar. "It was fourteen weeks, so everyone got to know each other very well. Meridee knew my involvement with Stephen and told me she had an expanded version of Captain Louie. She was very keen on producing quality theater for children and their families - something other than those Disney revues and live shows built around the Rugrats and Dora the Explore."
He says he listened politely and was all smiles, but told her - he affects an upper crust accent, "I only do adult theater." But as hard as he kept pushing her away, "Meridee persisted."
Burned out, he had left the performing arena. "What I wanted to do was produce and to produce original musicals. I didn't want to do revivals. They don't interest me because there's no challenge. I just don't get out of bed in the morning thinking about that. Having said that, I've done a lot of good revivals in my career!"
Looking for properties, he attended last summer's New York Musical Theatre Festival. "One of the last shows I caught was Captain Louie. Actually, it was a staged reading. I sat there, so taken that tears were rolling down my face. It was a wonderful piece of theater. It didn't matter whether it was written for children, families or what. It was well-crafted theater; in fact, the best thing I saw at the Festival."
When he got home, he phoned Stein. "Is it too late for me?" he wanted to know. In theater, it's never too late for an investor! "Nope!" replied Stein. "We've love to have you!" And he came aboard as a lead producer.

"Not only to raise a certain amount of money to get it up," he explains, "but, because I truly believed in it, I put some of my own money in it. I knew if we had something with Stephen's name and it was a quality piece, it would be easy knocking on doors."
The hit status Schwartz's Wicked didn't hurt. "If Stephen hadn't had that hit," states Peterson, "perhaps it would have been harder. The fact that Wicked is such a hit opened a lot of doors, especially when I said, ëThis is the new Stephen Schwartz show!'"
Louie was capitalized to go beyond Off Broadway. A tour is in the works so, Peterson notes, "a New York presence, hopefully, well-received, was a necessity." The glowing reviews and audience response have also helped.
Louie isn't Peterson's first producing attempt. He was an associate producer of the Angela Lansbury Gypsy on the West End and Broadway; produced Sondheim: A Musical Tribute [1973]; and, this past March, Children and Art, a high-ticket Who's Who of show business benefit for Young Playwrights Inc., founded in 1981 by Sondheim.
His foray into production came about as a result of co-starring in a 1989 production of Side By Side By Sondheim, directed by Rob Marshall. "We did the show at the Osolo in Sarasota," reports Peterson. "Rob wasn't the Rob we've come to know, but he was so talented and his work so specific and focused that I knew he was going places. What he knew about the Sondheim shows was amazing. He put together a very powerful revue, so powerful that I asked him if I might try to get another life going for it."
With Peterson's help, the show was done at the Westchester Broadway Theatre, where he got representatives from Columbia Artists up to see it. "They bought it," he states happily. "And I toured with it for three years. I was producing, general managing, appearing in the show, hauling stools and doing just about everything. When it came to an end, I had had it. I made the decision to take some time off."
During the next eight years, he rarely performed. When Carnegnie Hall was ejecting tenants, he saw a business opportunity and secured a number of apartments at 853 Seventh Avenue for voice instructors.
In 2003, the inevitable happened. Peterson and his Follies co-star Harvey Evans were asked to do a concert in Michigan where they would play the older Ben and Buddy. "Maybe it was the Sondheim music and all the theatrical ghosts from my past, but a bell rang. I thought, ëThis is why you got into this business.' I didn't know how much I had missed it. I was in total denial. I had a sort of V-Chip to eliminate show tunes from my life. I couldn't believe I walked away from something I had loved so much. Any shrink could have seen the obvious - ëWhat? He's not listening to show tunes when that's been his life!' - but I couldn't."
Recently he participated in the celebration of Sondheim's 75th birthday and, in March, the Symphony Space Wall-To-Wall Sondheim, where he was joined again by Evans and and Marti Rolph. They portrayed older Ben, Buddy and Sally.
____________________________________________
STEPHEN SCHWARZ on The Baker's Wife:
"Joe Stein and I begged Merrick to end it. It was a mess" . . .
The Baker's Wife that existed in the 70s was "a very
different show . . . different in so many ways . . .
Over the years, we've learned a lot."
____________________________________________

The opening night of Baker's Wife at Paper Mill was quite a reunion for Peterson and Schwartz. They reminisced about the tour that never made it to Broadway.
"In the early seventies," recalls Schwartz, "I received a call from Neil Simon. He asked me to lunch. He told me various ideas he was considering for musicals. I was incredibly excited that he wanted to do something with me, but I sat there and didn't respond to a single idea. As he went on, I was getting more and more fraught thinking how I was going to tell him I wasn't interested. Then he said, ëThere's this one other thing I've been thinking about. Merrick's got the rights. It's a French movie and probably not your kind of thing."
Simon told Schwartz the story of the Marcel Pagnol and Jean Giono's play and the 1938 film adaptation La Femme du Boulanger and "I was hooked," said the composer. "I told him, ëThat's the one I'll do.'" In 1973, for a few months, they worked on the show, "then Joan, Neil's wife of twenty years, died. Four months later, The Good Doctor, which had a European setting, opened on Broadway and it wasn't a happy experience for him. He planned to go to California and decided he couldn't do the project. I thought that would be the end. Then Joe Stein [Fiddler on the Roof] called. It was fortuitous. In many ways, working with Neil was a wonderful experience but, ultimately, I felt Joe was maybe more appropriate for the material."
[Merrick had had a huge hit with the musical adaptation of Pagnol's Fanny. Simon wasn't the first to consider a musical adaptation of Baker's Wife. In the early 50s, it was to be a vehicle for Bert Lahr and later Zero Mostel.]
Starring Topol, the show opened in Los Angeles and, several months later, at the end of its Kennedy Center engagement, closed. Many people think it didn't come into New York because Merrick lost faith in it, "but," relates Schwartz, "it was Joe and I who begged him to end it. It was a mess. Our director and choreographer were replaced. We had two wives before Patti [Lupone] came to rescue. Topol was a problem, and two weeks before we were set to close in Washington, he up and walked [replaced by Paul Sorvino]."
[Trivia: Merrick despised what became the most popular song in the show, "Meadowlark," so much that cut it from the show and destroyed the sheet music. In 1985, the York premiered a revised version, directed by Schwartz.]
The composer said The Baker's Wife that existed in the 70s was "a very different show that what it is now - different in so many ways that it would be hard to enumerate them. Different approach. Different book. Different score. Over the years, we've learned a lot. Joe and I were particularly helped in the eighties when Trevor Nunn did a production. He was able to pinpoint the path we should take. Even though we weren't able to entirely achieve that, it was a new beginning."
A fate that has not happened to the trajectory of Captain Louie. The show is fast-moving enough as not to lose childrens' attention; and fun and charming tuneful enough to keep adults interested. The just-released concept CD is on PS Classics.
The show plays a not-so-traditional schedule at the York Theatre at St. Peters [Citigroup Building, 619 Lexington Avenue, entrance on East 54th Street], currently in repertory with Stephen Dolginoff's musical Thrill Me: The Leopold & Loeb Story [talk about a far-fetched "double-bill"!] through June 12 [though an extenstion looks likely]. For tickets: the York box office or through Smarttix.com, (212) 868-4444.
< < < < < < < < < JUST RELEASED < < < < < < < <
D ecca Broadway releases six CD series titled
Broadway - America's Music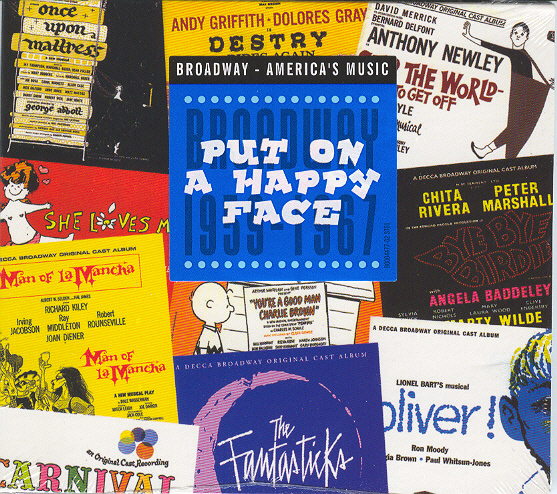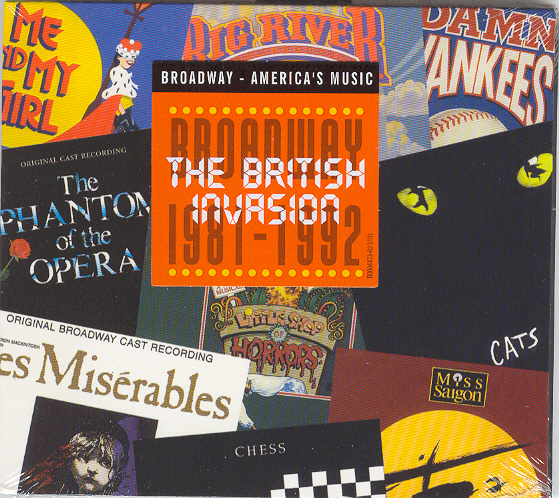 CD compilation sets from 1959-1967 and 1981-1992.

Decca was once the king of the Broadway original cast albums. The company's catalog is a music theater treasure trove. Brian Drutman and Joseph Szurly have dipped into that musical pot of gold to assemble a bargain-priced series of tunes from Broadway's biggest hits - one per musical - from 1935-2005, organized by nine, ten and twelve year periods and under such themes as A Time of Hope [1935] and Broadway Magic [1968].

Volume One is the real gem, with tunes from Berlin's This Is the Army, Rodgers & Hart's A Connecticut Yankee and Higher and Higher, Porter's Leave It To Me ["My Heart Belongs To Daddy," sung by Mary Martin] and Panama Hattie ["Make It Another Old Fashioned, Please," The Merm] and McHugh and Dubin's Streets of Paris ["South American Way," sung by that Brazilian bombshell in the platform mules, Carmen Miranda in her Broadway debut].

There are two big disappointments for avid collectors of this type of material: No booklet with liner notes or photos and the CDs only have 10 and 11 tracks [save A Time of Hope which has 12]. Suggested retail price: $11.


--------
Ellis Nassour is an international media journalist, and author of Honky Tonk Angel: The Intimate Story of Patsy Cline, which he has adapted into a musical for the stage. Visit www.patsyclinehta.com.

He can be reached at [email protected]





Why are you looking all the way down here?
For more articles by Ellis Nassour, click the links below!

Previous: DENIS O'HARE: SWEET CHARITY'S JOURNEY WASN'T ALWAYS FUN, BUT THERE ARE LAUGHS, GOOD TIMES - AND BONDING

Next: NANCY MALONE: LONG ISLAND NATIVE WITH A SHOW BIZ PAST MAKES HER NEW YORK DIRECTORIAL DEBUT WITH O'ROWE PLAY

Or go to the Archives