Lovers of Broadway and Hollywood musicals will want to rush to purchase A Fine Romance: The Magic. The Mayhem. The Musicals by Darcie Denkert [Watson-Guptill Publications; 352 pages, illustrated with 300 color and 100 black and white photos; Index; $45 hard], the behind-the-scenes story of "the love-hate-love relationship" between the entities and the often tortured process of adapting the razzle-dazzle that becomes a stage or screen hit or flop.

The coffee-table tome more than lives up to its subtitle as Denkert offers an insider's illuminating perspective on how Broadway musicals - Applause, Cabaret, Chicago, Gypsy, Hairspray, Hello, Dolly!, Mame, My Fair Lady, The Producers, The Sound of Music, Sunset Boulevard, West Side Story - made the transformation from screen to stage and vice versa.

Denkert, through interviews and some surprising new revelations, details the intricate process of how each developed a life and quite definitively explores the basic differences between the mediums. From the standpoint of the stage musicals, its fascinating how many blockbusters were made not by critical acclaim but by audience response in spite of what the critics wrote.

Have you ever wanted to be a fly on the wall when Rodgers and Hammerstein or Bernstein and Sondheim toiled over the piano? An onstage ghost light after the first preview of a musical to be privy to drama in the shadows?
Thanks to Denkert, you can. In A Fine Romance, she takes you into the wings or on the studio soundstages. Each musical being created for the stage, each musical being adapted for the screen has its own hilarious, weird, dark, sometimes scandalous sides.
West Side Story
's famous balcony scene

with Larry Kert and Carol Lawrence
>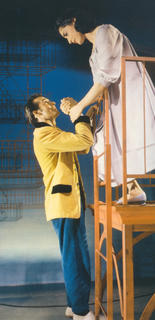 For instance: How Broadway's most talented composers turned down the opt to musicalize Pygmalion because of it's "anti-romanticism." How even Rodgers and Hammerstein were stymied on the project after working on it a year. How Lerner and Lowe met, and also almost threw in the towel on the musical. David Merrick and Gower Champion's reservations about casting Carol Channing as Dolly Levi in Hello, Dolly.

And why was Gypsy a stage smash but not nearly so successful onscreen? The 27 years it took for Chicago to travel from Broadway to the big screen. Why Fosse, on the eve of his original Chicago, felt worried and insecure over upstart Michael Bennett, about to move A Chorus Line from the Public to Broadway. How Hairspray and The Producers, two small, hilarious films - both in questionable taste - were transformed into blockbuster stage cash cows.

We shouldn't be surprised, but the stories and backstage tidbits are juicily-entertaining.

Especially, regarding Gypsy. The secret of making the book of work eluded none other than the combined genius of Comden and Green, who couldn't decide who the show's star was. Berlin turned down writing the score, greatly offended by the vulgarity of the subject matter. Had it come to him six months to a year earlier instead of at the time of his decline and the amputation of his legs, Porter would have been the composer.
..............................................................................Let her entertain you: Miss Gypsy Rose Lee
>



Producer Merrick's original idea was a tribute to vaudeville and burlesque, but soon the show took a new direction: a dramatic musical, not so much about burlesque and Louise Hovick [Gypsy Rose Lee]'s path to stardom but the drive and ruthless determination of her mother Rose.

Merrick, ever the schemer, had a plan not unlike others he'd hatched to get around Louise's sister, June Havoc's disdain for the script and how little there was of her in Act Two. Book writer Laurents, never one to shy away from scandal, left a controversial aspect of Mama Rose on the cutting room floor.

Merman, a diva in every sense who knew her name above the title was what would sell tickets, didn't feel Sondheim was "seasoned enough," even after his work with Bernstein on West Side Story, to write lyrics and music; and so the door opened for Jule Styne.

Sondheim balked at doing only lyrics and only came aboard at the urging of his mentor Oscar Hammerstein II, who suggested that working with Styne would be a valuable experience. Sondheim was greatly impressed with Styne's grasp of how to musicalize such a raw story. The old-timer Styne, not surprisingly, learned a few tricks from "the youngster."
In spite of The Merm's star power, advance sales were abysmal. Then came Walter Kerr's assessment: "The best damn musical I've seen in years." Most interesting, is how the creative team got the audience to root for Rose, who was perceived to be a "monster," in a musical where audiences would not be sent waltzing up the aisle humming the title tune but in shivers.

When talk of a movie adaptation began, it would have been a stunner to see anyone other than Merman cast as Rose, but there was the Hollywood perception that she just didn't cut it - attractive, sex appeal and star power-wise - with moviegoers. No one counted on Rosalind Russell, who far from her revered screen persona, knew how to play hard ball to get what she wanted.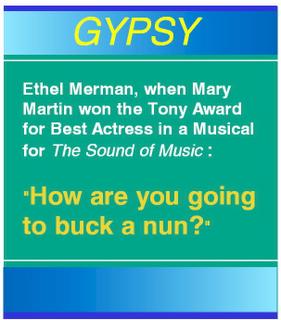 However, when the screen rights were sold to Warner Bros., the star wasn't ever to be Merman, but Judy Garland! With Garland out of contention because of ballooning weight, the search was on. Producer Freddie Brisson, Russell's hubby, controlled a property Jack Warner wanted to film. A deal was struck, and Roz was in and Merm was out.

The WB publicity machine bantered about how Russell did her own singing - and she did do a majority - but Merman took great glee in announcing to anyone who'd listen that Lisa Kirk was brought in to the heavy-duty vocalizing.

Equally entertaining is the story behind West Side Story's journey to stage and screen; and the fact that as the film was being adapted Jerome Robbins was considered expendable, which came as quite a shock to his massive ego.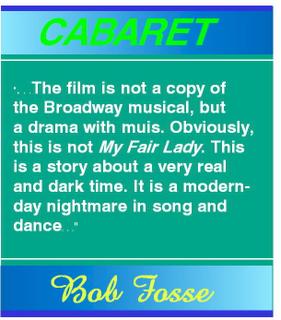 A Fine Romance is so immensely readable that its large size and stunning graphics sometime get in the way of Denker's excellent storytelling.

Not every stage to screen and screen to stage musical is examined, and there are two extremely puzzling oversights considering their place in theatrical history: omitting how the brilliant Fiddler On the Roof was turned into such a lackluster film musical; and how Bennett, Nicholas Dante and James Kirkwood and legendary producers Feuer and Carr [who produced such a marvelous film adaptation of Cabaret] could do such a dreadful job on their screen transfer of A Chorus Line.

Patti Lupone and Andrew Lloyd Webber: They could have danced all night -
until PL read she wouldn't be coming to Broadway in
Sunset Boulevard. When
the-rhymes-with-hit hit the fan,
LW didn't apologize but she got a pool.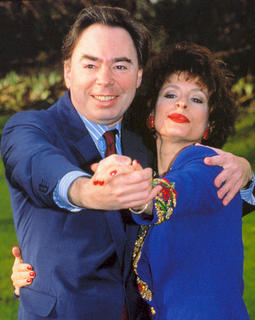 Denkert, a former entertainment attorney, is a president of MGM On Stage, devoted to adapting Metro films to the stage, and MGM's Entertainment Business Group, devoted to exploring new uses for the company's celebrated film library.

A Fine Romance: The Magic. The Mayhem cracks the mystery of how some of our most endearing and enduring musical works came to be. When you purchase the book, thanks to Denker's generosity, you'll also be doing a good deed. Royalties are being donated to the Motion Picture and Television Fund [of which she is a board member] and the Actors' Fund of America.
.....

[Photos: HANK WALKER/Time-Life; Archival; MARTHA SWOPE; RICHARD CHAMBURY/Alpha]
~ ~ ~ ~
SELECTED PLAYS OF ARTHUR LAURENTS: NOW IN PAPERBACK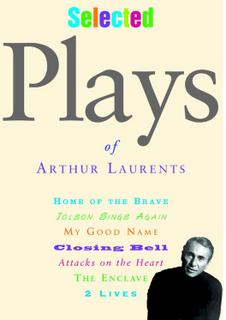 I
f he had done nothing more than write the book for West Side Story and Gypsy, Arthur Laurents would be assured a place in the pantheon of American theater. But he has done much more, including directing, screenwriting and playwriting.

Selected Plays of Arthur Laurents [Back Stage Books; 480 pages; $16.95] is the only anthology showcasing more than 60 years of the playwright's groundbreaking work: Home of the Brave, the waretime drama that launched his career in 1945; The Enclave; Jolson Sings Again; My Good Name; 2 Lives; Closing Bell and Attacks on the Heart.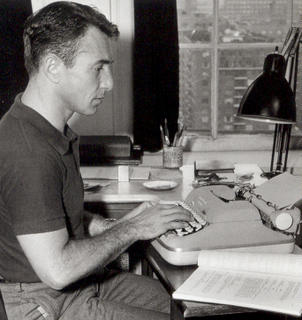 .........................................,,...
The playwright at work>


The noteworthy Foreword is by Terrence McNally. Laurents' autobiography, Original Story By, is among the best-selling memoirs of this decade - surely for the creative process he followed in crafting his work and brilliant collaborations with Robbins, Sondheim, Bernstein, Styne, Prince and Merman and not for the minute details of his ravenous sex life.
[Photo: BILL MITCHELL]

ETHEL MERMAN ON THE LIGHT-HEARTED SIDE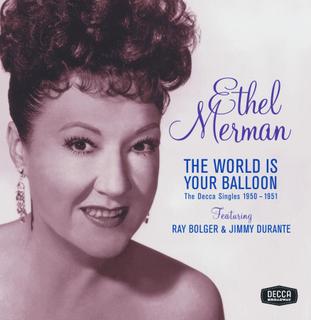 M
erman prided herself on the fact that she never took lessons. When asked to sum up her talent, she often modestly quipped, "I get up and I sing."
On Ethel Merman, The World Is Your Balloon, The Decca Singles 1950-1951 [Universal/Decca; $14.98] you get a glimpse into the light-hearted side of one of theater's greatest musical talents - what it must have been like at a raucous party if the host asked The Merm to sing a ditty or two. With her belt and projection capability and great laugh [not to mention, her brass-band voice], she had to have been the life of the party.
Recorded while Merman was starring at the Imperial in Call Me Madam after her enormous success in Annie Get Your Gun, vaudeville was hanging on by a tread and TV was in its infancy.
"Merman ruled Broadway," says record producer Brian Drutman. With her perfect pitch and clear enunciation "she was tailor-made for musicals and shows were built for her by Porter and Berlin," who, no doubt, loved the fact she could deliver their lyrics to audience members on the back row and high into the gods.
The majority of the 20 tracks are a window into a different kind of generation kind and what passed as palpable entertainment. It's doubtful a label would release such fluff as "Calico Sal," "She's A Shimmyin' On the Beach Again," "Ukelele Lady," "If You Catch A Little Cold (I'll Sneeze For You)" or "I Said My Pajamas (And Put On My Prayers)" as singles, much less tracks on a star's album.
That said, the latter two feature Merman in duets with Jimmy Durante and Ray Bolger, respectively, two show biz icons of the time [who are prominently featured on the CD] rarely heard today. Along with Merman, they were giants.
Credit Drutman for unearthing the all-but-forgotten songs and for his remastering of the exemplary songs, such as "Diamonds Are A Girl's Best Friend" and "A Little Girl From Little Rock" from 1949's Gentlemen Prefer Blondes, which, of course, starred Carol Channing; "Love Is the Reason" and the title track from the season's newest musicals, A Tree Grows in Brooklyn and Flahooley.
Then there are the spirited duets with Durante, "A Husband, A Wife," quite old-fashioned by today's standards since not every woman has to have a husband but fun because of the hint of "Anything You Can Do (I Can Do Better)" banter; and "You Say the Nicest Things," which, explains Drutman, "gives you a sense of what vaudeville must have been like."
--------
Ellis Nassour is an international media journalist, and author of Honky Tonk Angel: The Intimate Story of Patsy Cline, which he has adapted into a musical for the stage. Visit www.patsyclinehta.com.

He can be reached at [email protected]
Why are you looking all the way down here?
For more articles by Ellis Nassour, click the links below!
Previous:
MINNELLI AND VEREEN HEADLINE WICKED'S KATRINA RELIEF BENEFIT ~~COULD THIS BECOME ANOTHER NIGHT OF 100 STARS?~Tickets at $100-$300 are on sale at the Gershwin box office and through Ticketmaster
Next:
THEATER HALL OF FAME '05 INDUCTEES, OSCAR BUZZ, RUSSELL WATSON'S BACK, STREISAND NEWS; THEATER HALL OF FAME '05 INDUCTEES
Or go to the
Archives