Choreographer/director Graciele Daniele, playwright William Gibson [Two For the Seesaw, The Miracle Worker, Golda's Balcony], director Sir Peter Hall, John Lithgow, costume designer William Ivey Long and actress Sada Thompson will be the 2005 inductees into the Theater Hall of Fame [located in the upper lobby of the Gershwin Theatre].
.................................... ................
Lithgow with Dirty Rotten Scoundrels co-stars

....................................... ...................

Norbet Leo Butz and Sherrie Rene Scott>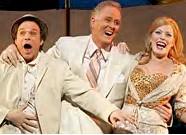 The late, celebrated set designer Ben Edwards and, much, much too belatedly, the late Dorothy Loudon [
Annie, Ballroom, Noises Off
, many, many more] are the posthumous inductees.
The 2005 Founders Award for Contribution to the Theater will go to the Denver Theatre Center's Donald Seawell.
Hall of Famers Zoe Caldwell, Estelle Parsons and Tommy Tune along with

Jeffrey Eric Jenkins [editor of the Best Plays Yearbooks] announced the inductees.
Terry Hodge Taylor is executive producer of the Hall of Fame.

Members of the American Theater Critics Association and Theater Hall of Fame vote. The 35th induction ceremony, hosted by Liz Smith, and gala will be Monday, January 30th.
T
he 78th Academy Awards aren't until March 5, with December 31st as the cutoff date for eligiblity. It's not even Halloween and the start of the holiday season is about two months away [You wouldn't know that if you've been shopping and seen all the Christmas merchandise on display], but when the autumn leaves start to fall, you know the film companies will begin rolling out their Oscar hopefuls.
There are already more than the usual number of front-runners: for Best Picture: Ang Lee's award-winning Brokeback Mountain, the story of a love affair between cowboys, and the highly-touted Capote.
For Best Actress, Laura Linney for The Exorcism of Emily Rose; Charlize Theron for North Country and Julianne Moore for The Prize Winner of Defiance, Ohio.
For Best Actor, without a doubt, Philip Seymour Hoffman for Capote, Heath Ledger and Jake Gyllenhaal in Brokeback Moutain; and it's unlikely that David Strathairn's portrayal of celebrated CBS newsman Edward R. Murrow and George Clooney's Fred Friendly in Good Night, and Good Luck will be overlooked.
In the women's supporting category, there's a lot of money riding on Sissy Spacek and Frances McDormand in North Country and Amy Adams' memorable performance in Junebug.
One of the hits of the recent Toronto Film Festival, Stephen Frears' musical comedy Mrs. Henderson Presents [due for limited release in November] is starting to build steam, mainly for the performances of the always reliable Judi Dench [who's hot, hot, hot with another film due and five for 2006 into 2007] and Bob Hoskins as theatre owners is this based-on-a-true-story about a producer who finds a unique way to bring nudity to the stage in pre-WWII England.
Certainly, at this stage - and perhaps only until next week, Capote is the front-runner for a Best Picture nomination and Philip Seymour Hoffman's ahead of the pack for a Best Actor nod.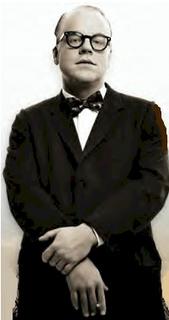 The film centers on one aspect of the flamboyant author's life, albeit a career-defining one: his journey from the three-Martini jet-set luxe life to America's heartland, where, writing an article for The New Yorker and against all odds [being a different breed than anything they had seen], he became intertwined in the lives of convicted murders Perry Smith and Dick Hickock and how their crime impacted the tiny Kansas community.
Capote had gone from a shameless self-promoter spewing celebrity tittle-tattle to meltdown as a heavy drinker, pill-popper and a pariah among his A-List friends. The resulting article put him back on the map, led to his best-selling "non-fiction novel" In Cold Blood, in which he set out to prove that non-fiction can be compelling as fiction, and a hit film adaptation.
Capote's featured cast is impressive: Catharine Keener, an Oscar Supporting Actress nominee for Being John Malkovich, as Harper Lee, his Alabama friend who became his assistant on the verge of her own emergence as an acclaimed author [To Kill a Mockingbird]; Chris Cooper, the 2003 Oscar winner for Supporting Actor in Adaptation, as Kansas Bureau Investigations agent Alvin Dewey; Amy Ryan, recently Tony nominated for her portrayal of Stella in Roundabout's A Streetcar Named Desire and previously nominated for her role as Sonya in the 2000 Uncle Vanya revival [she's a bit more well-known to the masses as Baltimore policewoman Beadie Russell on HBO's The Wire]; and the always reliable stage and screen actor Bob Balaban.
But it's Hoffman's performance that has critics heaping praise and accolades, especially on how he communicates the complexities of Capote's internal decline. It was a role the shy, effacing [some might even say cold] actor initially wasn't that keen on playing.
"My caution," he says, "had nothing to do with the subject, though I wasn't that familiar with Truman Capote, or the production [there is yet another film on the same subject matter due in 2006], and everything to do with me. I didn't see myself as the right actor for the role."
As for the author, Hoffman explained that as he got to learn more and more about him, "there was a lot I liked about him and a lot that I didn't. He's probably be an entertainly guy to have around, but I not sure I'd like on his using end - one of those he exploited for his own success."
The actor said he became convinced he could do the role when he read the screenplay, based on Gerald Clarke's biography, by Dan Futterman, who also exec produced with Hoffman and is best known for his roles on TV's Judging Amy and Will and Grace and his unlikely leap into erotica in the indie hit Urbania. He has numerous New York acting credits, including Angels in America and A Fair Country.
Futterman says Hoffman peppered him with questions about Capote, for instance, Did the author wear his glasses all the time? Hoffman learned that, unlike as was oft reported, Capote didn't have a lisp. To create the author's high-pitched, child-like voice, he listened to tapes of Capote interviews.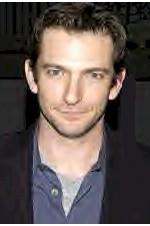 The result, says Futterman, is that Hoffman, "through the alchemy a few very gifted actors possess, has done more than impersonate Truman. For the length of the movie he has resurrected him."

Clarke quoted Capote, "There's the one and only T.C. There was nobody like me before, and there ain't gonna be anybody like me after I'm gone."
Says Clarke, "That's true ó who could dispute it? But, certainly, for a couple of hours, Philip Seymour Hoffman comes close."
Actor/writer Dan Futterman

[View a free extended 10-minute sequence
from Capote at AOL.com's Video On Demand link]
~ ~ RUSSELL WATSON'S BACK WITH A NEW CD
AND NEW YORK CONCERT ~ ~

British pop tenor Russell Watson is just out with Amore Musica [Love and Music] his first CD [Decca] in five years. It was worth the wait, even if there were some mitigating circumstances to his absence.
The former factory worker from Northwest England, as he sings in one of the songs on the CD, born with the voice of an angel, got his start winning a talent competition and, singing in what would seem to be an impossible register that sent goose bumps up and down enthralled listeners, went on to million-selling "classical crossover" albums [a mix of opera and pop]. His stunning, initially untrained voice not only soared him to stardom but to performing for royalty, presidents, even Pope John Paul II. But after seeing his 2000 CD, The Voice, go world platinum, he was forced to take time off.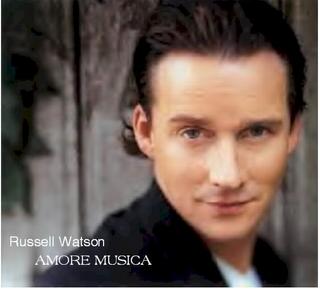 Watson's success drove him to a dangerous point. His voice was cracking on those all-important high notes. He didn't seem to have a problem with chest notes, so it took him a while to face the fact that he had a problem. When he was diagnosed with a growth on one of his vocal cords, frightened that his career would be destroyed if the information became public, he confided the news only to his closest friends. They help him confront a singer's worst nightmare - the possibility that, he might lose his voice.
"The day I saw the specialist and was told it would have to be surgically removed was probably one of the single worst days of my life," says Watson. "He was totally honest, informing me I could lose some of my top register."

As was evidenced when Julie Andrews underwent surgery, there was no assurance his voice would survive intact.
"And he didn't give me any guarantees," says the singer. "I didn't know what was ahead. I walked out in floods of tears." After the operation he was told he should not talk for ten days and not attempt to vocalize for two weeks. "That was terrifying because I'm a habitual talker. It's a kind of disease. Once I start, I can't shut up."
A good talker, but not a good listener - especially to doctor's orders. "I couldn't wait to see if my voice had come back. After three days on pins and needles, I had to know." He attempted a very light warm-up "and it was like "coming from the dark into the light."
However, the experience of nearly losing everything made him revalue what he had. "I've changed everything in my life. I'd been used to instant gratification and had to learn to be a bit more patient. I'd been like a giddy puppy taking everything for granted - excited, but on a runaway rollercoaster, directionless. There were times, such as the day I was doing a concert for the Pope, that I didn't even bother to do any warm-up vocalizing. I'd never do that now."
He says that now he takes nothing for granted. "Singing is everything to me. I have learned the very hard way that the voice needs a lot of care and a lot of work."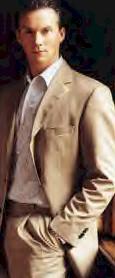 The singer began working with a vocal coach, starting out with 15 minutes in the morning and 15 minutes in the afternoon, then gradually got up to 30 minutes minute sessions.
Much thought and work went into Amore Musica. "I'd really lost my focus," says Watson, "on my career, on pretty much everything. It took that huge shock to get me to refocus."
Sometimes you can hear somebody's soul in their voice, and that's what makes the new CD extraordinarily beautiful. It's full of stunning vocal pleasures. It's also a reawakening. Not only has Watson fully recovered and become a much wiser singer, but his voice is restored with a startling new clarity that may often remind you of the very young Placido Domingo. He still gives goose bumps, but now it's not just because of the intensity of his pitch but also because of the "learning curve" he's taken his soul and psyche on.
You'll have the opportunity to see and hear Watson in concert at the new Nokia venue on West 44th Street in Times Square on Thursday, October 6 [tickets at the box office or through Tickemaster outlets, via phone (800) 277-1700 2) or www.ticketmaster.com]. This is his first New York concert since the February, 2002 Carnegie Hall concert.
If you're not among the fortunate to share his remarkable vocal talent live, there's his Decca disc Amore Musica with 13 breathtaking tracks.
"All the songs are about love, music, peace, happiness and hope," the tenor says. "They really reflect the way I feel right now. I want it to be something people think affectionately about. It's an album to hold hands to, very romantic. I never generated as much passion in my lyrics. It's a different sound - not so much in the way I sing, but in how I'm singing. It's from the heart, and I don't think I've ever been challenged to do that before."
Could there be any songs more inspirational and uplifting than "I'll Walk With God," the Mario Lanza hit from the film The Student Prince, "I Believe"or the rousing "You Raise Me Up"? It's hard to think so, especially as sung by Watson.
Then there's the lilting "You'll Still Be There For Me," based on Carter Burwell's theme for the film Rob Roy with lyrics by Watson and Angela Lupoino; Diane Warren's poignant pop ballad "Pray For the Love"; and "La Fiamma Sacra [The Sacred Flame]" which is mainly sung in English, and has some very apt lyrics:
"Ö He was only a man of the people
With barely his clothes to his name
But when he sang - There was magic
Touched by love's sacred flame Ö"

As you might have felt in The Light In the Piazza, it's quite uplifting to hear anything sung in Italian [probably the phonebook would even sound great!]. Well, that can certainly be said for Wastson's five Italian tracks. Thankfully, on the Light CD, unlike in the theatre, there's a translation. Unfortunately and quite surprisingly here, there isn't. The tunes, all with lush, sometimes awesome, arrangements, sound as gorgeous as Watson's voice but, if you don't understand Italian, you're at a loss. But look for the really fine print on the liner and you'll discover that the translations appear on the tenor's website: www.russell-watson.com.
The title track, "Amore e musica [Love and Music]," on reading the English translation, would be even more poignant if it was also sung in English:

"I don't want to waste all these tears I've shed Ö
With this song I'm singing without you
But my theatre is empty and this crowd is silent Ö
Because till yesterday you were music to me
And that's why, never pretending,
I asked myself: 'who am I singing for now?'
Love and music
I'm here again
Till my last breath
My voice and my soul are everything I have Ö "

Watson is especially passionate and deeply-felt on "Magia sar· [It Will Be Magic]," which easily can be listened to again and again, and the stirring "C'? sempre musica [There's Always Music]." There's a bit of a romantic change of pace with "I' te vurria vasa [I Could Kiss you]," which I'm told by my Italian colleague Mario Fratti, is distinctly Neapolitan in the sound of orchestration and dialect.
"Il Gladiatore," is a dazzling track, based on Hans Zimmer's score for Gladiator, with lyrics in Italian by Gavin Greenaway and Jeffrey Pescetto, and you might have to remind yourself you're not listening to an aria from Turandot. Producer Simon Franglen, who's responsible for the majority of the tracks, pulls out all the stops with Simon Hale's awesome arrangement, Jenny O'Grady conducting the Royal Philharmonic Orchestra and a choir that sounds like the Mormon Tabernacle but which, if you believe the notes, is only five-strong.
The closing number, "We Will Stand Together," has a special feeling of renewal as Angela Lupino transforms Sir Edward Elgar's "Nimrod" from The Enigma Variations into a soaring, dazzling hymn of hope, awash with Watson's brilliant high notes.
One fault with the CD, from an engineering standpoint, is the inconsistent audio balance. It's a common problem on these classical crossover recordings. You may find yourself turning the volume up to enjoy one track, then running to quickly turn down the orchestral blast on the next.
~ ~ STREISAND REUNITES WITH GIBB ~ ~

Streisand, thankfully, hasn't given up recording now that she has resurrected her film career in the often tasteless but, nonetheless, very funny Meet the Fockers, her first film in eight years [which became the top-earning live-action comedy in film history.
Guilty Pleasures [Columbia] is her eagerly-awaited new album and, nearly 25 years after their historic success on B.S.'s Guilty [incidently, her fifth album to reach the #1 on Billboard's Pop Albums chart], a collaboration with Bee Gee and producer/songwriter Barry Gibb, who penned the tunes.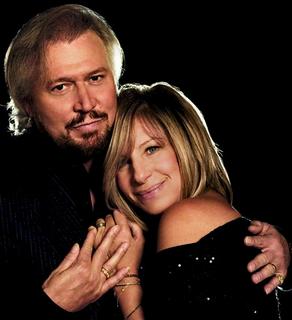 The solo Streisand cuts are: "Stranger In A Strange Land," "Hideaway," "It's Up To You," "Night Of My Life," "Without Your Love," "All The Children," "Golden Dawn," "(Our Love) Don't Throw It All Away" and "Letting Go." The duets with Gibb are: "Come Tomorrow," "Above The Law."

Guilty Pleasures is both a traditional CD and what the music industry terms a DualDisc. Flip the audio side and you have a DVD which showcases all 11 songs and has an interview Streisand and Gibb plus music videos of "Above The Law," "Hideaway," "Stranger In A Strange Land" and "Letting Go."
Columbia has released a "dual disc" 25th Anniversary edition of Guilty that includes the original nine tracks, all composed by Gibb, "Woman In Love," "Run Wild," "Promises," "The Love Inside," "Life Story," "Never Give Up" and "Make It Like A Memory" plus the Streisand/Gibb "What Kind of Fool." The DVD side includes the nine songs, performance videos of the Streisand/Gibb duets "Guilty," "What Kind of Fool" and "Stranger In A Strange Land" in additon to a Streisand/Gibb interview with footage not included on Guilty Pleasures.

The album generated three hit singles and the title track took home the Grammy for Best Pop Vocal Performance, Duo or Group.
The amazing longevity of Streisand has given us a record-breaking 49 Gold [$1-million in sales], 30 Platinum [one million copies sold] and 13 Multi-Platinum albums. She is America's #1 best-selling female recording artist and the only female artist in the historic Top 10 list of albums.

~ ~ CIRQUE'S K¿ RELEASES SOUNDTRACK ~ ~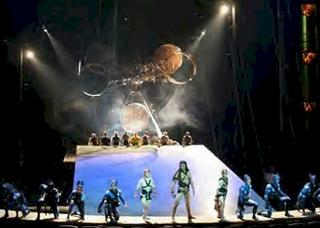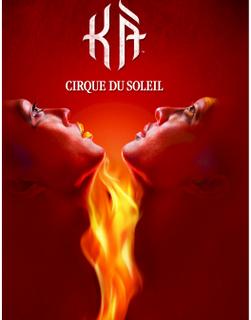 Cirque du Soleil Musique has released the soundtrack to their hot Las Vegas "eye-popping eye candy" show K¿. Things are a bit diffent from the RCA soundtracks of Cirque's Saltimbanco, Alegr"a, MystËre, La Nouba, Dralion, "O", Quidam and Varekai. While rooted in Cirque musical tradition, the K¿ CD features a 57-piece symphony orchestra and 40-member choir.
The score by RenÈ DupÈrÈ [his first for Cirque since 1994's Alegr"a] is reminiscent of several classic movie scores, especially from sound generated by the powerful percussion section. It was recorded on the soundstages at Paramount Studios and in Cirque home-base Montreal. Simon Leclerc, who conducted the scores for Star Trek: Voyager and Enterprise, held the baton.
The K¿ soundtrack will be in stores October 18 but, if you can't wait, hop a flight to Vegas and book a ticket at the MGM Grand for the show or you can purchase the CD now at www.cirquedusoleil.com.


~ ~ SIX FLAGS' FRIGHT FEST : YOU CAN GO FREE Ö IF YOU GIVE BLOOD! ~ ~


In addition to holding an American Red Cross blood drive on October 8, especially important in the wake of Hurricanes Katrina and Rita, Six Flags Great Adventure in Jackson, NJ, will be raising cain as well as the dead to celebrate "the region's largest Halloween party" with its annual Fright Fest.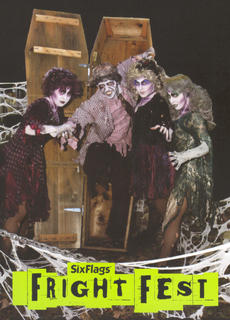 The month-long event running Friday nights and all day Saturdays and Sundays, through October 30 [including Columbus Day and Halloween] will give new meaning to Six Flags being a "scream park" as zombies lurk the midways for unsuspecting victims.
Want to get your pants scared off for free? On Saturday, October 8, things will get a little blood-thirsty as "vampires" stalk visitors for blood donations to the American Red Cross. "One pint of blood can help save up to three lives and it only takes one hour of your time," said Maureen Buehl of the American Red Cross Jersey Coast Chapter.
Guests can donate a pint of blood to earn a free Fright Fest ticket but, even if you have no reservations, you are required to make a reservation.
In the wake of Hurricanes Katrina and Rita, donations are needed more than ever. To register, call (732) 928-2000, X. 2835. Up to 200 donors are needed, and will be taken on a first call, first serve basis.
In addition to such Six Flags popular thrill rides [and the famous Animal Safari, weekend days], including the world's highest roller coaster, Kingda Ka, a truly intense and pure 50 seconds of your lifetime, and 12 others [Nitro, Superman, Batman and the incredible Batman and Robin: The Chiller], Fright Fest has attractions featuring tigers, magic, music and Hollywood-look-a-likes. Don't miss The Junkyard, a dark, scary trail swarming with ghosts and goblins. New this season will be Horror Hollow, with scary sights and gruesome sounds in a haunted forest and New Nightmare.
At Disco Inferno, Satan and his "devilettes" sing and dance to 70s disco hits; while on Hollywood Ghoulevard guests can participate in a variety show with performers as favorite dead stars.
For the kiddies, Frankenstein, Wolfie, the Count and Igor will host Monster Mash Bash, while over at the Looney Tunes Screamport, illusionist Brad Ross performs magic.
For Six Flags directions, pricing and information, visit http://www.sixflags.com

--------
Ellis Nassour is an international media journalist, and author of Honky Tonk Angel: The Intimate Story of Patsy Cline, which he has adapted into a musical for the stage. Visit www.patsyclinehta.com.

He can be reached at [email protected]
Why are you looking all the way down here?
For more articles by Ellis Nassour, click the links below!
Previous:
CREATING MUSICALS FOR STAGE AND SCREEN DETAILED IN A FINE ROMANCE ~And More: Merman CD, Laurents Anthology
Next:
TOWN HALL CELEBRATES CABARET WITH STELLAR THREE-DAY EVENT
Or go to the
Archives