Dog Sees God: Confessions of a Teenage Blockhead, the winner of a 2004 FringeNYC Excellence Award for Overall Production, is winning hearts and laughter in its Off Broadway run at the Century Center [East 15th Street, between Park Avenue and Irving Place].
It's no secret - anymore - that Bert Royal's play is an updating of what happened to the characters America fell in love with in Charles Schultz's Peanuts comic strip. But, as you can probably tell from its subtitle, it's a totally unauthorized parody.
Though Charlie Brown; his uninhibited, precocious sister Sally; bossy, crabby, but lovable Lucy Van Pelt; her blanket-loving bro Linus; and classical music lover Schroeder are all pretty recognized, even though all their names have been changed to protect the not-so-innocent playwright.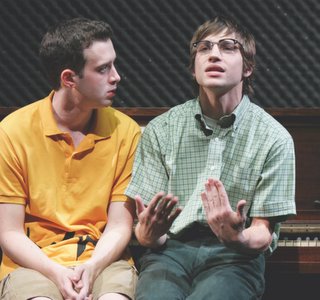 ... ......
Eddie Kay Thomas and Logan.Marsahll-Green in Dog Sees God>
Dog Sees God's cast is unusually tight, good and hilarious. Eddie Kay Thomas, a TV fixture on numerous series and who was featured in the 1997 Broadway revival of The Diary of Anne Frank but who's probably best known for his role in the two American Pie movies, headlines as C.B. He's still trying to figure out the meaning of life; and, good grief, makes a startling discovery about himself [move over Heath Ledger and Jake Gyllenhaal - but good ole C.B. doesn't have to go herd sheep on Brokeback Mountain].
Our beloved beagle, Snoopy, now simply known as Dog, is not around to comment on life as he's now in Doggy Heaven; a dilemma C.G. can hardly face as he attempts to figure out where we go after death.
But other thinly disguised, now-dysfunctional teen characters are: America Ferrera, Keith Nobbs [who as Van (well, Linus) still enjoys his blanket], Ian Somerhalder and Eliza Dushku. Kelli Garner and Ari Graynor have a field day breaking up audiences with their sluty, boozed-up Valley Girl persona.
Logan Marshall-Green in The O.C. and
as Shark in Swimming in the Shallows>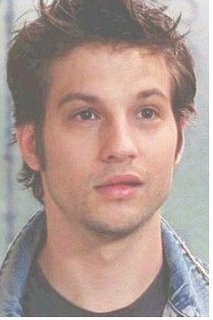 In such a standout cast, there's one superstandout. Logan Marshall-Green, not-so-subtly named Beethoven, turns in a memorably poignant performance as the introverted, picked-on, fey, classically-minded you-know-who. He's probably the most dysfunctional but sanest of the bunch.
Gals, and dare say more than a few guys, fell head over heels for him on TV's teen potboiler The O.C. as heartthrob Ben Atwood's troubled brother Trey, struggling to make a fresh start after being imprisoned; only then to go into a coma. Marshall-Green's character also had the amazing ability to change identities. He was one of three actors who played the role. On Season Two of the thriller 24, he played James Heller's sexually-ambivalent son Richard.
It may take you a while to recognize him, because he's not in the sexy, heartthrob mode in DSG. Wearing thick horned rimmed glasses, ill-fitting clothes and hunched over, he makes quite the transformation into an unhappy, misery-pronged youth who, thanks to C.B., suddenly joins life - only to regret it.
The 27-year-old is no stranger to theater. He's worked extensively in regionals and Off Broadway played the sexy Shark in Adam Bock's 2005 well-received but short-lived Swimming in the Shallows [directed by Trip Cullman, who's helming Almost, Maine] at Second Stage.
In 2004, he appeared opposite Anna Paquin and Melissa Leo in Neil LaBute's edgy The Distance from Here [directed by Rent's Michael Greif], which was Drama Desk-nominated for Best Play and won for Best Cast Ensemble.
THREE ONE-NIGHT-ONLYS

Dancers Responding To AIDS, a program of Broadway Cares/Equity Fights AIDS, and The Walden Company will benefit from All Is Full Of Love on Sunday, February 12th at 8 PM at Theatre at St. Clements [423 West 46th Street]. Set to the music of Bjˆrk, the dance musical, conceived, choreographed and directed by Josh Walden, who has just formed a new dance company.
Tony and Drama Desk Award winner Gary Beach [Featured Actor, The Producers; LaCage revival, Beauty and the Beast] is the host with the most.
AIFOL is a contemporary take on Comden/Green/Bernstein's On the Town, says Walden, and follows three women adjusting to New York life. It features a cast of 14, with dance veterans of Wicked, Movin' Out, Chitty Chitty Bang Bang, La Cage aux Folles, The Boy from Oz, 42nd Street, Miss Saigon and Showboat.
An excerpt from the musical was presented at BC/EFA's 2002's Gypsy of the Year competition. Walden has choreographed for Broadway Cares/Equity Fights AIDS and shows in Fringe/New York.
Dancers Responding to AIDS was founded in 1991 by Denise Roberts Hurlin and Hernando Cortez. Funds are distributed to seven programs of the Actors Fund and as grants to over 400 AIDS and family service organizations across the country. Since its founding in 1988, BC/EFA has raised over $100 million for critically needed services for people with HIV/AIDS.
Tickets are $39.90 and $55.50. The $81.50 VIP ticket includes the pre-show reception. For more information, visit http://www.thewaldenco.com/.
+ + + +
Academy Award nominee for Best Actor [Good Night, and Good Luck] and veteran film actor David Strathairn, Tony Award winner Jefferson Mays [I Am My Own Wife] and Michael Cumpsty are set to play some of Shakespeare's most memorable roles on Monday, February 13th at the Kaye Playhouse at Hunter College [68th Street at Lexington Avenue] at 6 P.M. However, they won't be portraying the characters you might expect.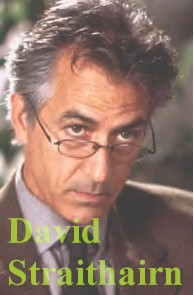 The program is the one-night-only Shakespeare Society's Boys Will Be Girls, which artistic director Michael Sexton is describing as "a provocative evening dedicated to the mysteries of cross-dressing in Shakespeare." Dympna Callaghan, author of Shakespeare Without Women,will be on hand to offer commentary.
Sexton says that in 90 "intimate" minutes, the actors will examine "how Shakespeare and his actors originally attempted to portray, understand and invent what it means to be a woman." Of course, in their earliest stagings, Shakespeare's women were portrayed by men.
In Boys/Girls, for instance, a male plays Lady Macbeth and a male will play a woman playing a male as Rosalind attempts to let Orlando know what women really want.
Members of The Queen's Company will also offer highlights from their acclaimed all-female 2005 production of The Taming of the Shrew.
This benefit for the Shakespeare Society is a rare opportunity to Strathairn perform live. His Broadway forays have been few and far-between: 1997's The Three Sisters with Billy Crudup and Amy Irving, 2001's Dance of Death, starring Sir Ian McKellen and Helen Mirren; and, most recently, as Jokanaan the prophet in Estelle Parson's mind-bogglingly turgid 2003 Broadway staged reading [if that's what you most kindly want to call it] Salome, made famous by Al Pacino's incredibly incredible rendition of King Herod, who seemed to have lost his head.
Strathairn has an extensive Off Broadway body of work, which includes Stoppard's 1994 Hapgood, starring Stockard Channing, for LCT.
Cumpsty, no stranger to the New York stage, was most recently in the title role of another Shakespeare vehicle, an invigoratingly staged Hamlet at Classic Stage. It seems he's always working, most recently in Roundabout's revival of The Constant Wife, starring Kate Burton and Lynn Redgrave; 2004's Tony and Drama Desk's Best Play Democracy by Michael Frayn, opposite James Naughton and Richard Thomas; 2003's short-lived Enchanted April; the 2001 42nd Street revival; and, of course, 2000's Copenhagen. He's also appeared in numerous productions for the NYSF.
Limited seating for the event are still available at the Kaye Playhouse box office [$25-$40] or by calling (212) 772-4448.
+ + +
The New York Musical Theatre Festival (NYMF), which premiered more than 70 musicals in the past two years, will present a benefit concert, The Best of Fest Bash, on Monday, February 27 at Dodger Stages at 7 P.M.
Along with highlights from the musicals the festival has introduced, including the Off-Broadway hit Altar Boyz and the upcoming [Title of Show], there will be performances by Euan Morton, Kerry Butler, Deven May, [Bat Boy] and others with special appearances by Tony winners Jim Dale, upcoming on Broadway in Three Penny Opera, and Roger Rees.
"We've seen such amazing growth happen in our first two years," said Kris Stewart, NYMF founder and executive director. "What better way to celebrate and raise money for an even more wonderful year community?"
Shows that have emerged for commercial runs include Captian Louie and The Great American Trailer Park Musical. Submissions to the 2006 Next Link Project, the series of musicals forming the core of the festival, are being accepted for the program running September 10 through October 1.
Tickets, which include a post-show party at Dodger Stages, are $150 and, for VIP seating and a pre-show cocktail reception with the artists, $200. Tickets are on sale at http://www.nymf.org/ or by calling (212) 352-3101. NYMF's 2005 fest played to capacity houses.
NEW TO CD
Based on the boffo film, Billy Elliot is the new Elton John musical that's not about vampires and not in trouble out of town. It's a smash at London's Victoria Palace, hailed as "the greatest British musical" by the Telegraph.
It crosses the pond to Broadway next year, directed by Stephen Daldry, who helmed the film, and with Peter Darling's spectacular choreography.
But you don't have to go to the U.K. to get the cast CD. Decca Broadway has just brought it into stores from across the pond. The two-CD set features 15 tracks, three bonus tracks with vocals by John and an illustrated booklet with complete lyrics [Lee Hall, who wrote the screenplay] and photo postcards.
BE tells the story of an 11-year- old miner's son's quest for a life as a dancer and his challenge to break away from his small town's conformity and traditions.
+ + + +
What Hal Prince musical do you rarely hear his name attached to? That would be, Baker Street, the lavish Alexander Cohen-produced "big show" that opened amid gigantic hype and great promise in the middle of the 1965 season.
The original cast recording has been out of print for 35 years. Decca Broadway has brought it back to life with some fine-tuned remastering for it's CD debut. The package contains an illustrated booklet with cast, synopsis and a feature.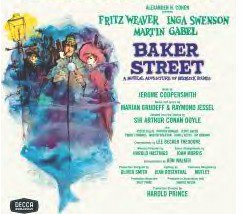 Having played over 300 performances in two theatres, it wasn't exactly a flop but, then, it wasn't a hit [it did close at a total loss]. The musical by Marian Grudeff and Raymond Jessel, adapted from Arthur Conan Doyle stories by Jerome Coppersmith, had a lot going for it.
Fritz Weaver as Holmes had a rep as a brilliant classical actor. He played against type as a heavy in Strouse/ Adams/Brooks short-lived All-American, which starred Ray Bolger, and the acclaimed Miss Lonelyhearts [1957], but he wasn't Richard Burton, the star Cohen wanted in the lead.
Burton recorded one of the songs from the show, "A Married Man," sung onstage by Peter Sallis as Dr. Watson. In the day when Broadway show tunes had a place on Middle of the Road radio, it got substantial airplay. Burton's rendition is presented on the cast CD as a bonus track.
Inga Swenson, flanked by Fritz Weaver, foreground, and Martin Gable in Baker Street>



Inga Swenson, a veteran of the Golden Era of live TV [who later became one of the stars of the hit series Benson] was a stunning beauty with an equally stunning voice who was fresh from her Tony-nominated starring role as Lizzie in Schmidt and Jones' 110 In the Shade [and had been Julie Andrews' standby in Camelot].

During out of town tryouts, she professed to Martin Gabel, who played Professor Moriarty, that she didn't have a clue what the show was about because the plot was so complex. She put on her Holmesian hat, evidently, because she figured it out enough to be Tony-nominated in the role of Irene Adler, an American actress whose love letters are stolen. She was a huge bright spot in an otherwise not so exciting show.

But it was the season of Zero Mostel and Fiddler On the Roof, which even King of Hype David Merrick couldn't conquer. However, Cohen, faced with filling seats to a $650,000 musical, set out to prove he could be the Price Of Hype. He did just about everything, including having dancing girls in front of the Broadway Theatre to greet ticket buyers [that was the era when people actually purchased tickets at box offices ].

The road to Broadway wasn't easy. It wasn't even paved with good intentions. Prince and Cohen clashed in rehearsals and the Boston try-out was, shall we say, rough. The show lacked the expected razzle-dazzle in spite of stellar acting and some first-class songs, such as Swenson's big Act One "I'm In London Again" and "What A Night This Is Going To Be," sung by Weaver, Swenson, Sallis and [the late] Virgina Vestoff [a 1969 Tony nominee for 1776], who had the role of Irene's maid. Reviews ranged from a rave to who cares. But the show came to Broadway with a huge advance; then came the New York reviews.

Attempts by Cohen to sex the musical up after it opened didn't help its prospects because the audience for that sort of show wasn't who Baker Street appealed to. He also made the huge blunder of cutting one of the best songs in the show, "I'm In London Again," and replacing it with an inferior tune.

Trivia: Though no credit is given in the billing, Bock and Harnick wrote three songs for the show, two of which appear on the CD. If Prince had had his way, the original score would have been dropped and they would have written a new one. That was not to be. In the dance ensemble were two unique artists: killer dancers Tommy Tune and Christopher Walken played killers.


COMINGS, A GOING AND STAYING A WHILE

Back House Productions presents the premiere of Savages, a drama by Anne Nelson, author of The Guys, one of the first plays to address the September 11th attacks. It runs at Theatre Row's the Lion [410 West 42nd Street] , March 8-April 1.

Set against 1902 Philippine-American Conflict, Nelson says Savages explores war and its consequences, for both the victors and victims, through four characters, including a general currying favor with Washington and a Marine on trial for war crimes.

She knows the territory. For her reporting on the Philippines, she won the 1989 Livingston Award. Nelson says the play is "neither pro- or anti-war and, though steeped in history, it's leavened with humor and exoticism."

Chris Jorie directs. Tickets are $18; $15, for students and seniors. Order through Ticket Central, (212) 279-4200 or online at http://www.ticketcentral.com/.

+ + + +

The Drama Desk-honored Keen Company announces that the second production of their season is the first professional New York City revival of Mark Medoff's 1980 Tony and Drama Desk Award-winning Children of a Lesser God, March 14-April 9 at the Connelly Theater [220 East Fourth Street, between Avenues A and B].

Alexandria Wailes, an actress last seen in Deaf West's production of Big River, and Jeffrey Denman, who recently co-starred in the L.A. edition of White Christmas , head the seven-member cast. Denman's Broadway credits include The Producers and the How to SucceedÖrevival.

Blake Lawrence, Keen's associate artistic director, directs. Tickets are $19 and can be ordered through SmartTix, (212) 868-4444 or online at www.smarttix.com.

+ + + +

Remember the Maine is a war cry actor/playwright John Cariani will long, well, remember. It was sad to learn that his whimsical romantic comedy Almost, Maine, set under the spell of the Northern Lights, is not finding audiences. It is set to close following the Sunday, February 12th matinee at the Daryl Roth Theatre [Park Avenue and East 15th Street].

Bringing his play about the residents of Almost, who fall head over heels, literally, in and out of love at an alarming rate, was his midwinter night's dream! Audiences who have seen it are charmed by it and the low-key comedy that made TV's Northern Exposure such a hit.

The hard working ensemble of four play 19 characters.Cariani made his Broadway debut as eccentric Motel the tailor in the 2004 revival of Fiddler On the Roof ó receiving a Tony Award nom as Best Featured Actor. He's probably best known for playing forensics technician Beck on TV's Law & Order.

"When I moved to New York," says the Maine native, "everything I saw was about New Yorkers or celebrated New York. I wanted to do something to celebrate Maine. After our premiere in Maine, I was told my play would never fly in New York because it's about, well, Maine."

Sure enough that seems to be the case. If you want to prove the naysayers wrong, rush to get tickets. Keep in mind that Valentine's Day is fast approaching and you won't find a better date play than Almost, Maine.

+ + + +

The Irish Repertory Theatre [132 West 22nd Street] has extended its run of Shaw's Mrs. Warren's Profession, which stars Dana Ivey through February 19. Directed by the Rep's co-Founder and artistic director Charlotte Moore, the production celebrates 100th Anniversary of the play's original American production.

Ivey, of course, is the original Miss Daisy and received for fourth Tony nomination for her portrayal of Kitty in the revival of The Rivals. Earlier Tony noms were for the revival of Heartbreak House, Alfred Uhry's Last Night of Ballyhoo and Sondheim's Sunday in the Park with George.

MW'sP was a hot potato in its day. Controversial in the way Oscar Wilde loved to be, but this was the less than sensational Shaw. But Shaw wrote it to draw attention to the truth "that prostitution is caused, not by female depravity and male licentiousness, but by underpaying and undervaluing women."

Written in 1894, it didn't open until eight years later in London. In its American debut in 1905 in New Haven, it was closed and banned after only one performance. It made it into New York several months later, attracting SRO, but was soon closed. The cast was cited for "disorderly conduct."

For ticketing and more information, call (212) 727-2737 or visit www.irishrep.org.

[DSG production shot: CAROL ROSEGG; BS production shot: FRIEDMAN-ABLES]


--------
Ellis Nassour is an international media journalist, and author of Honky Tonk Angel: The Intimate Story of Patsy Cline, which he has adapted into a musical for the stage. Visit www.patsyclinehta.com.

He can be reached at [email protected]





Why are you looking all the way down here?
For more articles by Ellis Nassour, click the links below!

Previous: WENDY WASSERSTEIN, A GREAT LOSS; JOHN CARIANI'S ALMOST MAINE; DIRECTOR JACK HOFSISS; NIGHTLIFE HAS ITS REWARDS; MORE

Next: STEVEN FALES' CONFESSIONS, DIRECTOR HOFSISS' REVERSAL OF MISFORTUNE; FREE SHAW FESTIVAL

Or go to the Archives