"Curtain up, light the lights,"wrote Sondheim in Gypsy's showstopping "Everything's Coming Up Roses." "You got nothing to hit but the heights."
In fact, in theater as well as in life, the journey to the heights, the odyssey to self-discovery and self-esteem is fraught with trials, tribulations and reversals of fortune.
Because of the vagaries of the business, even Tony Award winners, in this case, critically-acclaimed director Jack Hofsiss, wonder what their next job will be.
Because of the strict tenets of a secretive religion and leading a double life, even the handsome, smiling, clean-but All-American boy, in this case, Steven Fales hit rock bottom before resurrecting.
As we have seen show people, such as Chita Rivera, after her horrendous automobile accident which left her with 16 screws in her left leg, even in worst-case scenarios, have amazing resilience. No doubt or difficulty is so great that it cannot be overcome.
Show people in the truest sense of the term, Hofsiss and Fales can attest to that. In fact, they give vivid, new meaning to the words "comeback" and "redemption."
Hofsiss was the 1979 Tony-winning director of Best Play The Elephant Man. He says, with a laugh now, "I really put that philosophy to a test."
... .... .... .... .......... ....... .... .. . ... ..TonTToTony-winning director Jack Hofsiss>



He's Off Broadway directing Fales' poignant, soul-searching Confessions of a Mormon Boy,which won the Overall Excellence Award in the 2004 New York International Fringe Festival, at the Soho Playhouse on Vandam Street, where it made its official New York premiere last night [after engagements around the country].
Fales, you might say, from the very young age of five, was a Gypsy Rose Lee wannabe: singing, dancing, always entertaining. Eventually, he got as good as her, maybe even better, taking his clothes off.
Hofsiss, prior to his Broadway directorial debut was quite active Off Broadway, working with Joe Papp and the Public in the mid-70s, the original The Elephant Man Off Broadway.
For directing EM in its move to Broadway, Hofsiss not only won the Tony but a host of other honors.
In the summer of 1985, after directing operas and the TV adaptation of EM [winning a Directors Guild Award and Emmy nomination], on an afternoon when he took everyone's advice and decided to relax and go swimming, he fractured his spinal cord as he dove into the pool.
The accident left him dependent on a wheelchair and "totally chilled down my career." While still in hospital, he got one job offer, which didn't work out. "But it was very satisfying to know someone wanted me, without knowing what I'd be capable of. That gave me hope."
It was an empty hope, as it turned out, because there were no other job offers. It was as if everyone forgot what he'd accomplished. For a year, he says, "while trying to figure out how to go on with my life, I wondered if anyone would hire me."
Fales was the "perfect" young Mormon: proselytizing overseas, singing in a Latter Days Saints-university choral group. He was always smiling, but always tortured on the inside.
When he finally came to terms with his homosexuality, he reported it to his bishop and was put through several psychobabble sessions to turn him straight.
That didn't work. He was summarily excommunicated from his church with all the committee elders glad-handing and hugging him as they pushed him toward the exit. His so-called perfect marriage to a Mormon princess [whose poet/mother was author of the best-seller, Goodbye, I Love You, which recounted her marriage to a gay man who died of AIDS; the title were the daughter's last words to her father] "lay in ruins and I didn't know if I'd ever have a relationship with my two kids."
After completing his B.F.A. in musical theater at Utah's Brigham Young, he set out from his home in Las Vegas with small change in his pocket to the University of Connecticut, where he earned an M.F.A.
He settled in New York and became a regular at auditions. But even his decent singing voice, stunning good looks and trim body, the result of hours working out in the gym, even a few sessions on casting couches, didn't get him work.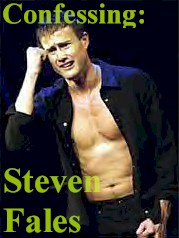 "I was thumbing through one of those free gay magazines," he says, "and was drawn to those ëmodel' and ëmasseuse' ads in back. Hmmmm, I thought. ëI can do that.'"

He did. "Before you knew it," he says, "I went from proselytizing to prostitution, and without blinking an eye."

Fales was one of New York's most popular and well-paid male escorts. You name them - politicos, attorneys, foreign diginitaries, celebrities, business execs, he was with them.

Suddenly, he had more money than he knew what to do with [often making over a thousand dollars a night]. New York didn't so much unleash itself on him as this stunning looking young stud unleashed himself on New York.

He spent "every penny I made" on clubbing, clothing, a posh pad and drugs. One day, after dragging himself home from an all-nighter, he looked in the mirror and was shocked at what he saw. He had come as close to hitting rock bottom as possible.

Life in the fast track didn't do anything to help him forget his past or problems. He was often morose and began losing weight.

A family friend, whom Fales lived with after his divorce and where, five years ago, he began to set down the story of his slide into the lower depths, said, "All of us who've known Steven, always felt he was destined for big things. Tonight is his point of take-off. Who knows where this will lead? Maybe a movie that will be shown at Sundance. We're just happy he's here to tell his story.

"[In the up and down trajectory of his life] Steven came close to dying a number of times," he adds.

And tell his story, Fales does. The performance is now fully and energetically staged by Hofsiss from the bare bones Fringe production in a large classroom at Pace University.

He's hilarious, self-deprecating, slick and quite moving in a polished, riveting performance [with an "11:00" revelation that stuns the audience and brings him and the audience back to reality] that, last night, had many in tears.

Fales was overwhelmed by the sustained standing ovation and roars of approval. When he quieted the audience, he introduced his father, who takes quite a beating in some sections of Fales' confessional. He acknowledged the support he'd been given and reported that his Dad wasn't "cheap," as he's presented in the 90 minute narrative. "He did pay for my braces!" he says with a devilish smile.

For his part, his doctor father said, "I love Steven dearly. Always have."

The family support last night was proof of that. In addition, Fales' brother and other relatives came to offer support.

Interestingly, a co-producer of the show is MB Productions, which describes itself in the Playbill as a producer of "transformational live theatre and film that draw from the rich, colorful stories of Mormondom - past and present," even exploring its "dark side."

Fales' dream of being in a big Broadway musical have is yet to be realized, but over the last six years, he has performed extensively in the regionals, Off Broadway and on TV.

He said that he "wouldn't have made it to last night without Jack Hofsiss' faith and support."
Over the last 20 years, the director has also learned a lot about faith and support.

After his release from the hospital in March 1986, "I never thought I'd work again," says Hofsiss, "but that summer [the late] Josephine Abady of the Berkshire Theatre Festival hired me to direct Tad Mosel's All the Way Home [1961 Tony for Best Play and the Pulitzer Prize for Drama].

"It's the story of a man in an automobile accident," he adds with a smile, "and how his family dealt with the issues. The subject matter was as therapeutic as getting back to work."

It was a new beginning, but "landing jobs was still a struggle. However friends like Josephine believed in me. They knew I still had something to give."

That job led directly to Broadway in 1983, but it was the one-night-only [and seven previews] Total Abandon, starring Richard Dreyfuss.

In 1987, he was back in the theatrical eye Off Broadway, directing the musical No Way To Treat A Lady, which garnered good reviews and became a modest hit. It led to helming Circle in the Square's revival the following year of The Shadow Box, which featured an all-star cast: Estelle Parsons, Mercedes Ruehl, Marlo Thomas, Frankie Faison and Mary Alice.

Hofsiss went on to work with Joe Papp and his successor JoAnne Akalaitis at the Public.
He directed Roundabout's 1991 revival of Frank Gilroy's 1965 Tony-winning Best Play and Pulitizer Prize winner for Drama, The Subject Was Roses and worked at Manhattan Theatre Club.

In 1997, the New Group's 1997 gay comedy My Night with Reg, starring Maxwell Caulfield and then unknowns Sam Trammell and Edward Hibbert, garnered quite a bit of attention and attracted thrilled audience members [the majority, but not all, were male] with high-powered binoculars to revel in it's full-frontal nudity. Yes, even Hibbert disrobed!

In 2000, there was Avow Off Broadway, starring Alan Campbell, in his first post-Sunset Boulevard outing, and featuring Christopher Seiber and MGM musicals' golden girl Jane Powell.
The following year, Hofsiss directed Surviving Grace, featuring Illeana Douglas, Linda Hart and Doris Belack, the wife of Broadway director Philip Rose.

At the Soho Playhouse, last week during a break in rehearsals, Hofsiss took a very deep breath and said, "I'm always proving myself. Of course , that applies to everyone in our business, but it's particularly true - and particularly necessary - for me."




..............................................

A FREE SHAW FESTIVAL

The Shaw Project Monday nights at the Player's Club[16 Grammercy Park South], which features some of the New York stage's best talent, takes a slight departure on Monday, Febraury 27 when critic Howard Kissel [

Daily News

], columnist Robert Osborne [

Hollywood Reporter

], critic Patrick Pacheco [

Los Angeles Times

] and columnist Michael Riedel [

New York Post

] will read George Bernard Shaw's

Fanny's First Play.

The time is 7 P.M. and admission is free.

Featured readers will include Max von Essen, Jonathan Freeman, George S. Irving, Marc Kudisch and Rebecca Luker.

The 1911 production, about a controversial play written by Fanny O'Dowda and the premiere her father arranges for it, had the longest London first run of any of Shaw's plays.

Every produced play Shaw wrote is being presented in the Shaw Project by David Staller in association with the Gingold Theatrical Group. They're read one Monday a month at the Players Club. Among the actors committed to the two-year program are: Nancy Anderson, Michael Cerveris, Veanne Cox, Ed Dixon, Olympia Dukakis, Raul Esparza, George S. Irving and Simon Jones.

Producer/director Staller is a life-long Shaw aficionado and currently acting with Dana Ivey in Mrs. Warren's Profession at the Irish Repertory Theatre.

Admission to the readings is free. For reservations, call the Players Club (212) 475-6116 or go online to theshawproject.com.

Upcoming plays: March 20, Heartbreak House; April 17, You Never Can Tell; May 8 [at noon], the one-acts, Overruled and Augustus Does His Bit; June 19, Getting Married; July 17, John Bull's Other Island; September 18, The Apple Cart; October 23, Misalliance; November 20, Captain Brassbound's Conversion; and December 18, The Philanderer.

[Hofsiss photo: ELLIS NASSOUR]



--------
Ellis Nassour is an international media journalist, and author of Honky Tonk Angel: The Intimate Story of Patsy Cline, which he has adapted into a musical for the stage. Visit www.patsyclinehta.com.

He can be reached at [email protected]





Why are you looking all the way down here?
For more articles by Ellis Nassour, click the links below!

Previous: BOWWOWS FOR DOG SEES GOD AND LOGAN MARSHALL-GREEN; UPCOMING BENEFITS; BILLY ELLIOT AND BAKER STREET ON CD; MORE

Next: ENCORES! SCORES WITH LAVISH KISMET; ARTHUR MILLER PROSE FOR LUNCH; ALI McGRAW TO MAKE BROADWAY DEBUT

Or go to the Archives