City Center's new season of its acclaimed Encores! series of concert revivals of musicals got off to a rousing start last night with a large and colorful production of Robert Wright/George Forrest/Alexander Borodin's Kismet.
Tony and Drama Desk Award winner [and multiple nominee] Brian Stokes Mitchell portrays the handsome but slippery poet Hajj and multiple Tony and Drama Desk nominee Marin Mazzie proved to be an apt choice for the plum role of Lalume, the "man-hungry" wife of Bagdad's Wazir of Police.
Mitchell and Mazzie, having worked together in Ragtime, Man of La Mancha and Kiss Me, Kate, were quite comfortable with the other.
Both are also Encores! veterans. He starred in Do, Re, Mi and Carnival. She made her Encores! debut in Out of This World.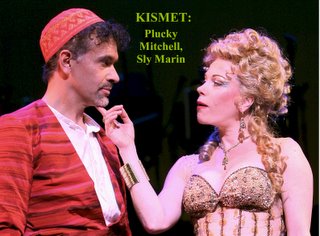 The featured cast includes tiny dynamo Danny Rutigliano [The Lion King], who all but walked off with the show, as the Wazir; Marcy Harriell [Lennon] as Marsinah, Hajj's daughter; and Danny Gurwin [Little Women, Urinetown, The Full Monty] as the Caliph. Multiple Tony-nominee Tom Aldredge appears in the role of Jawan. Elizabeth Parkinson [Movin' Out] plays genie Nedeb.
In other roles are Randall Duk Kim [Flower Drum Song, Golden Child, The King and I], Michael X. Martin [All Shook Up, Oklahoma!, Kiss Me, Kate] and Frank Mastrone [Saturday Night Fever, Jekyll & Hyde and Rachelle Rak [Dirty Rotten Scoundrels.
The production is lavish and big, featuring a cast of 37 [including lovlies as slave girls and harem attendants and hunks as divan carriers, police and henchmen] and the largest orchestra ever: 40 musicians. The energetic choreography is by Sergio Trujilo, amazing considering the limited rehearsal time. Lonnie Price is director.
The book by Charles Lederer and Luther Davis is not the least bit dated and is ripe with humor and some stand-out one-liners.
Many, many years later, Wright and Forrest were the driving force behind Grand Hotel, which took two decades to get to Broadway - with the added help of Maury Yeston and director/choreographer Tommy Tune.
Encores! Kismet marks Sondheim musicals veteran Paul Gemignani's debut as music director. He hand-picked the show for his debut. Jack Viertel continues as artistic director.
"I wanted to do Kismet to hear the score performed as it should be, with a forty-piece orchestra," says Gemignani. "No one can afford to do that on Broadway anymore."
The Arabian Nights-style comedy has a lush, romantic score that includes the classics "And This Is My Beloved," "Stranger in Paradise," "Fate," "Rhymes Have I," "Night Of My Nights" and "Baubles, Bangles and Beads." The score's "Gesticulate" and the tongue-twister "Rahadlakum" are the basis for two extravagantly-staged production numbers.
The original orchestrations by Arthur Kay, sometimes exotic and sometimes brassy, are first class.
Gemignani music directed Encores! 1999 Do Re Mi. He served as music director and conducted 35 Broadway shows, including On the Twentieth Century, Evita!, Crazy For You and the acclaimed Kiss Me, Kate revival. In 2001, he was honored with a Tony Award for Lifetime Achievement.
Kismet opened on Broadway in December, 1953 and ran 583 performances [nearly a year and a half], winning three Tony Awards including Best Musical. It starred theater legend Alfred Drake as Hajii, Joan Diener [later to star in the original MOLM] as Lalume, Doretta Morrow as Marsinah and, as the Caliph, Richard Kiley, who went on to become a major Broadway musical star [La Mancha; Redhead opposite Gwen Verdon; No Strings, opposite Diahann Carroll.]
Upcoming in the 2006 season are Kander and Ebb/Joe Masteroff's 70 Girls, 70 [1971], March 30 - April 2; and George Gershwin and Ira Gershwin's 1931 Pulitzer-Prize winner for Drama Of Thee I Sing, May 11 - 14.
Lead sponsorship for Encores! 2006 season is provided by Newman's Own. Season tickets and available single seats are available at the City Center box office, through CityTix at (212) 581-1212, or online at http://www.nycitycenter.org/. Prices range from $90 to $25.
Remaining Kismet performances are tonight, Saturday [2 and 8 P.M.] and Sunday [6:30].