Avid musical fans know Michael Berresse as a dancer capable of unbelievable feats. Remember him as the love-struck Bill Calhoun boundling up and down that three-story set in the 2002 revival of Kiss Me, Kate; and as sexy doomed gigolo Fred Casely in the 1996 revival of Chicago [like that TV battery bunny, still going and going].
Most performances, but perhaps not this weekend, you can catch him in Lincoln Center Theatre's Light In the Piazza as Giuseppe Naccarelli.
When [title of show], the musical by Hunter Bell [book] and Jeff Bowen [music and lyrics] opens Sunday [February 26] at the Vineyard Theatre [108 East 15th Street, between Park Avenue and Irving Place], Berresse will enter a new phase of his career: that of director/choreographer.
Berresse, at rear, with [title of show]'s Jeff Bowen,
Heidi Blickenstaff, Susan Blackwell, Hunter Bell >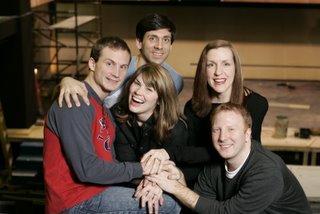 Berresse was nominated for a 2000 Tony Award as Featured Actor/Musical) for KMK; and a 2002 Olivier Award for Supporting Actor/Musical for his performance in the West End production.
[title of show] tells of struggling writers, ironically also named Jeff and Hunter, racing to write and submit a show to a musicals festival with the deadline just weeks away. Wit two friends in lead roles, the quartet embark on a breathless, sweat-drenched journey. Will they finish in time? Will their show be selected? Will they keep their friendships intact?
Berresse says that the show "is a completely original backstage glimpse into just what it takes to get a new musical from conception to opening night."
Bowen and Bell star with Susan Blackwell and Heidi Blickenstaff [The Full Monty, Jekyll & Hyde, Steel Pier, Tommy].
Musical theater has been Berresse's bread and butter since the 1990 revival of Fiddler On the Roof. He's hardly been out of work since. But theater was the furtherest thing in his mind as a kid.
"I wasn't one of those kids always dancing for relatives," he laughs. From age eight he was a highly competitive gymnast and later a championship diver. "But everything changed with I hit thirteen. In one year, I grew seven inches. I didn't have the strength-to-weight to compete anymore." So, at a very young age, he coached and taught others.
He had a migrant youth: born in Mount Holyoke, Massachusetts; living briefly in Laguna Miguel, California; and settling to spend most of his childhood in Joliet, Illinois, "which is most famous for its penitentiary!"
He wasn't a military brat. His dad was a chemical engineer climbing the corporate ladder. "We went wherever that brought us." Though he had no interest in theater, he was very musical. "I played B Flat clarinet and was very serious about becoming a classical musician."
When friends asked him to accompany them for support to Chicago, where they were to audition for Walt Disney Productions, "somehow I got railroaded into auditioning. I didn't have any special clothes, so I went out in my street clothes. I didn't have dance shoes, so I danced barefoot. I had a certain amount of body flexibility from sports and good musicality from being an instrumentalist."
.................................................... .. ..........................As Light In the Piazza's straying husband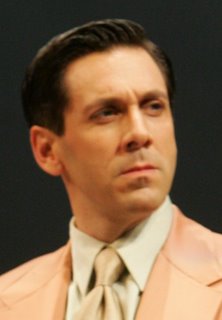 >

When asked what he would sing, he had to think. "When I was a high school freshman, I was in Fiddler On the Roof and sang ëMiracle of Miracles.' It was the only song I knew."
His friends were cut in the first minutes and he got a job. He was 17 and planning to go to college. He thought three months in California's Disneyland would be fun before heading off to college. "It was extremely hard work."
He excelled in the park shows and "they offered me a full contract for the coming year. I was a student at the top of my class, but I didn't know what I wanted to do. My parents were divorced and I didn't have a lot of guidance. So I decided to take a year to save money."
The job took him to Orlando's Disney World. Not long after, he was asked to go to Tokyo Disneyland. "My father's family was from France and Belgium," he notes, "and I had spent a summer traveling around Europe visiting relatives, but going to Japan was an incredible adventure."
There were problems pronouncing his last name, but then he says that was nothing new. As a kid, classmates were fond of chiding him as "Bareass." Most still people don't pronounce it correctly. "I get about four pronunciations." He points out that "bareass" is no longer one of them. For the record, it's "ba-ress."
Of his Disney experience, he explained that though "I was busting my ass, I was getting a great education; and I was with kids my age from all over the world. I learned a good work ethic."
Then fate intervened - again.
He went to Pittsburgh with friends who were auditioning for Civic Light Opera. "They didn't get the job, but I did. I got my Equity card."
New York was the next challenge. "The first show I auditioned for was [the 1990 revival of] Fiddler On the Roof, and I got the job. Mr. Robbins worked with us before we came to Broadway. It was my only time to work with him and an invaluable experience. He was a tough cookie and a workhorse. I will say that Mr. Robbins had great respect for people who had intellect, focus and commitment. He was more forgiving of them. But if he didn't think you were talented, he could be a jerk.
"It's a tough business," he adds, "and, though I'm not justifying some of his behavior, if you can't handle tough cookies it doesn't make sense to try to make it in show business."
After FOTR, he joined 1992's Guys and Dolls as Scott Wise's replacement. Then came the Damn Yankees revival in 1994. Well into it's run, he joined the chorus of LCT's Carousel. Then Ann Reinking and director Walter Bobbie chose him for the role of gigolo Fred Casely for City Center's Encores! Chicago, which was soon transferred to Broadway as a huge hit.
His work Off Broadway includes Forever Plaid, The Cocoanuts and Encores! Call Me Madam, and One Touch of Venus.
Once he got a foothold in the business, his goal was to become an actor but there was that gymnastic prowness that made him so appealing to choreographers and directors. "I got jobs because I could do some stuff that others couldn't do. It was also very rewarding." Some of those jobs gave him nice featured spots, "but I wanted to yell, 'Hey, guys, I can do other things!"
And they did begin to notice him.
In Damn Yankees, he understudied Joe Hardy and went on for Tony and Drama Desk-winner Jarrod Emick [Ring of Fire] several times.
....................................................... ........... ............As sexy gigolo Fred Casely in Chicago>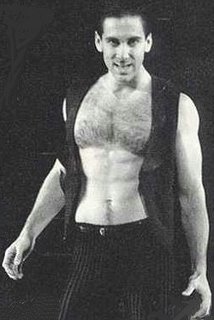 Chicago was a charmed experience. In addition to playing Casely and being in the ensemble, he was understudy for James Naughton as Billy Flynn. "It was a major step forward, because basically I was understudying a non-dancing role; and in a role played by a star twenty years older than I was." He continued when Hinton Battle came aboard. When Battle had physical problems, eventually resulting in a hip replacement, Berresse took over the role for weeks.
Under Equity rules, after so long in the role, the producers had to offer it to him. They did, but in the tour starring Chita Rivera [playing Roxie instead of Velma, as she did in the original].
"Getting to work with Chita was another hallmark," he beams. "At first, my head exploded a little bit. I had a hard time realizing that I was starring opposite one of my idols."
When he got back to town, he was offered understudy jobs, "but after years of tumbling and tumbling, I didn't want to get stuck in another mold." Breaking out wasn't easy. "Gene Kelly, Donald O'Connor, Bob Fosse were the dancers I looked up to," he notes. "They were men who could do great athletic stuff. That's who I was but, deep inside, I wanted something more."
LITP's director Bartlett Sher provided that opportunity with the role of straying husband Giuseppe Naccarelli, a plum featured role where he only does a minor bit of dancing.
But that "want" was still eating at him. "It's not like I woke up one day and thought, ëWhy don't I try being a director and choreographer?' I always felt I was. That was my goal. I think in more comprehensive terms. Anyone who's worked with me will tell you I'm very opinionated. I ask a lot of questions because I'm curious how I fit into the fabric of the piece."
Then came the point "where you stop waiting for others to make opportunities for you. I knew I had to make them for myself."
When his friend Bowen approached him about directing [title of show] in its debut in the 2004 New York Musical Theatre Festival, Berresse was ready to jump into the fire.
"He and Hunter wanted someone who knew them to be their eyes and ears," he explains, "and they felt they could trust me. I was attracted to the show because my New York exposure was largely revivals or adaptations. Very little original material is being created for musical theater. The newer, edgier stuff is happening in smaller and regional venues. It makes sense, since there's less financial risk."
Working on [title of show] as director/choreographer, he says, "I've tried to be responsible with my authority and benevolent. But when you have to get stuff done, you have to get the stuff done." An added plus is "that I have the opportunity to craft the overall impact of a show, but ultimately I have no control of the execution. I have to step away and let other people filter it through them. That's a great freedom and quite satisfying."
He's hoping audiences don't come expecting heavy on choreography. "This isn't a big Weissler revival! There's no chorus, no big production numbers."
Though Berresse has climbed up the ladder of success, he has regrets about not getting to college. "I was the intellectual one and was being groomed for a more formal education. Every time I thought about going back, it didn't make sense to give up my career." There has been compensation "in that my career has been a continuing education. Every director and choreographer I've worked with was another class. I would have never gotten that variety of influence in college."
As soon as [title of show] is up and running, he'll be up and running.
In addition to continuing in LITP, he goes into rehearsal for LCT's new play by Alfred Uhry [under director Martha Clarke], Ann, the Word, about Mother Ann Lee, the founder of the Shakers. He will play opposite Academy Award-nominee Frances McDormand [North Country, Almost Famous, Fargo]. Then comes the role of Zack in the revival of ACL in June.
"It's either feast or famine," says Berresse, "so I'm thrilled. But sometimes the double shifting gets to you! Then I think about the time when I'll be taking a rest, so I'm enjoying it while I can."
[title of show] runs through March 26. Tickets are $55. For reservations, call the box office, (212) 353-0303, or visit http://www.vineyardtheatre.org/

..........................................OTHER HAPPENINGS
...........................MUSICALS FESTIVALS BENEFIT BASH

The New York Musical Theatre Festival (NYMF), which premiered more than 70 musicals in the past two years, will present a benefit concert, The Best of Fest Bash, on Monday [February 27] at Dodger Stages at 7 P.M. Honorary benefit chairs are Marc Shaiman and Scott Wittman, the Tony Award-winning team of Hairspray.
Along with highlights from the musicals the festival has introduced, including the Off-Broadway hit Altar Boyz and [title of show], there will be performances by Tituss Burgess and John Lloyd Young [Jersey Boys], Kerry Butler, Deven May [Bat Boy], Tyler Maynard [Altar Boyz original cast], Euan Morton and others with special appearances by Tony winners Gary Beach, Jim Dale [upcoming on Broadway in Three Penny Opera], Roger Rees, Lillias White and Karen Ziemba.
Bash tickets, which include a post-show party, are $150 and, for VIP seating and a pre-show cocktail reception with the artists, $200. Tickets are on sale at http://www.nymf.org/ or by calling (212) 352-3101.

...................................R ROAST 'EM AND TOAST 'EM
TV talk show host, performance artist and Broadway [Chita Rivera: The Dancer's Life], film [Broadway: The Golden Age] and record producer Jamie deRoy, for 15 years one of the theater and cabaret communities' most generous and beloved figures, will be honored on Sunday with the Sidney Myer Award for Excellence in Cabaret.