You've heard a lot lately about The Pajama Game's assets: Harry Connick Jr., his chest, ëdo and that voice that has audiences swooning; and its delightful "Babe," Kelli O'Hara, showing a totally different side of herself than we saw in Light in the Piazza with those showstopping gams. But let's hear a union rallying cry for that supporting cast!
Today, it's rare to see a musical that develops any characters other than the leads. Back in the mid-50s when the original PjG [by George Abbott/Richard Bissell; music and lyrics by Richard Adler/Jerry Ross] won the Tony for Best Musical and Best Choreogrpahy [Bob Fosse's first show as choreographer], it wasn't unusual to see major development of the featured players.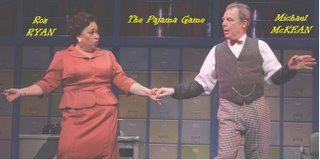 However, The Pajama Game, about workers in a factory demanding a seven and a half cent hourly raise, really goes the max, giving much stage time and some of the best numbers to Hines, Mabel, Gladys, Mae and Prez.
Kathleen Marshall, the director/choreographer of the Roundabout revival at the American Airlines Theatre, certainly struck gold casting those roles with, respectfully, Michael McKean, Roz Ryan, Megan Lawrence, Joyce Chittick and Peter Benson.
Everyone of a certain age should remember McKean as Lenny on the hit TV sitcom Laverne & Shirley and in the film This Is Spinal Tap, which he co-wrote. He also had the distinction of being chosen the first to replace Harvey Firestein as Edna Turnblad for four months in 2004 in Hairspray. In 1990, he appeared opposite Jason Alexander in the Rupert Holmes' shortlived Accomplice.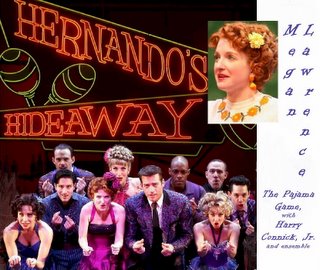 Ryan knows a thing or two about razzle dazzle, having been chosen to replace Jennifer Holiday as Effie in Dreamgirls and, more recently, to play Matron "Mama" Morton in the long-running revival of Kander/Ebb's Chicago. She also played Big Bertha in One Mo' Time and was quite spectacular in Aint' Misbehavin'.
McKean, as factory floor manager obsessed with time study; and Ryan, as Mabel, the office secretary, standout in their PjG Act One "I'll Never Be Jealous Again."
Megan Lawrence is etching indelible memories creating her first original role as Gladys the bookkeeper with the key to the employees' future.
She appeared later in the run of Urinetown as Little Becky Two Shoes and Little Sally. On a much more serious note, she was also an Eponine in Les Miz; and, more recently, appeared as Lucetta in Marshall's production of NYSF's Two Gentlemen of Verona 2005 revival.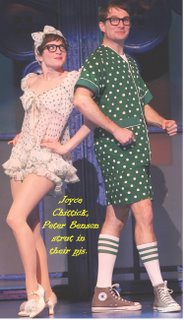 Benson, as the local's president, is a long-time comic favorite of theatergoers in the know for his roles in the Wonderful Town, Cabaret [as an Ernst for a year and a half], Little Me revivals.
Lawrence and Benson have audiences eating out of the palms of their hands in their big Act One duet, "Her Is," which he later reprises with Chittick. Lawrence's big moment with Connick in the Act Two showstopper "Herando's Hideway."
Chittick was Susannah and sometimes Nickie in the recent Sweet Charity revival and originated the role of Frenchie [not to mention Gorilla!] in the acclaimed Roundabout Cabaret revival.
She makes a total transformation from her Act One always-fading-into-the-background/Ms. Cellophane factory worker Mae to the sexy siren rousing the troops into a frenzy in Act Two's "Steam Heat."
Ryan says she's "having one helluva good time" in PjG. During her quarter century in show business, she's done it all - clubs, film, records, TV sitcoms and tons of theater. In fact, she's that rare artist that's 100% show business. "It's what I know," she states. "It's my life and always has been."
She began singing professionally at 15, after winning a talent show. For several years, because of her age, she couldn't enter clubs except to go from dressing room to stage. "My first gig was at one of Detroit's top clubs, the 20 Grand," recalls Ryan. "It was there I met the Jacksons. At sixteen, I opened for [the legendary] Arthur Prysock, later the Funkadelics."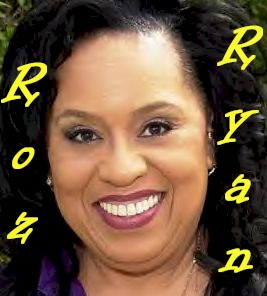 After nearly 20 years of being bi-coastal "and having the best of both worlds," Ryan's happy to be back in New York.
Recently, she worked with Alan Menken in development workshops of his musical adaptation of the film Leap of Faith, which starred Steve Martin as fake faith healer Jonas Nightingale who gets stranded in a small town where he finds he can't fool all of the people all of the time.
"You can't ask for a better experience than working with Alan," she notes. She's known him since doing the voice of Thalia, the Muse of Comedy, in Disney's animated feature Hercules.
Ryan became a household name in 1986 when she was cast as Sister Amelia in the hit sitcom, Amen. For five seasons, she had what she calls "a supreme good time" working with Sherman Hemsley and Clifton Davis.
Two seasons ago, Ryan was co-starring in the autobiographical WB network tough-love sitcom All About the Andersons, the story of an aspiring actor [Anthony Anderson of Barbershop] and single father who returns with his young son to nest with his parents [Ryan and John Amos].
"I got all settled and they cancel the show," she says. "One season is not enough. You get into the acting part, but not living it."
As far as The Pajama Game goes, she enthusiastically reports, "There's great chemistry among our gang. We're really becoming a family. When you have a show everyone loves and you work with people you grow to love and respect, it's a pleasure to go to work. From the bottom to the top, they are all good people."

DRAMA DESK AWARDS DATE SET

The 51st Annual Drama Desk Awards, celebrating Broadway and Off Broadway excellence, will be presented Sunday, May 21. The 2005/2006 season nominations will be announced April 27.
The program will be held in the LaGuardia Concert Hall at Lincoln Center [Amsterdam Avenue and 65th Street]. Robert R. Blume is executive producer with multiple Emmy Award-winner Roy A. Somlyo, former managing producer for the Tonys, as consulting producer. Lauren Class Schneider is producer and Jeff Kalpak will direct.

DRAMA DESK PANEL
A March 20th Drama Desk panel, with limited seating to the general public, will focus on challenges confronting subscription and not-for-profit theater companies in New York.
Panelists for Building Future Audiences: Subscription and Membership Theatre are Andrew Hamingson, managing director, Atlantic Theater Company; Jeffrey Horowitz, artistic director, Theatre for a New Audience; Jim Houghton, artistic director, Signature Theater; Andrew Leynse, artistic director, Primary Stages; and James Morgan, producing artistic director, York Theatre Company.
Co-moderators are Margaret Croyden [NY Theatre-Wire.com and author of Conversations with Peter Brook] and William Wolf, wolfentertainmentguide.com and Drama Desk president.
The panel will take place from 5-7:30 P.M. at Tony's Di Napoli's [147 West 43rd Street, in Times Square] and includes a buffet dinner and wine or soft drinks. Admission for non-DD members is $35 for guests. RSVP at [email protected].

WHEN THE APPLAUSE STOPS
What's more exciting than a Broadway hit?
If Broadway triumphs are exhilarating, the backstage tales of the flops are tantalizing dramas, sometimes filled with the nonsense of daytime soaps.
What happens behind the scenes doesn't always stay behind the scenes becomes abundantly clear in long-time theatrical manager/producer Steven Suskin [Show Tunes and the Broadway Yearbook series]'s Second Act Trouble: Behind the Scenes at Broadway's Big Musical Bombs [Applause; 384 pages, $28; Hard; 100 reproductions of Playbills and sheet music; with a lengthy Cast of Characters; Index].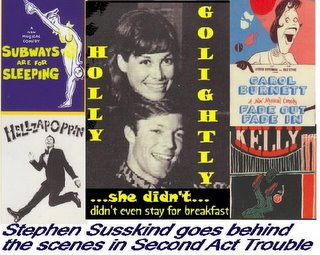 Suskin has compiled long-forgotten, first-person accounts of 25 Broadway musicals [Breakfast at Tiffany's; The Act; Dude; Fade Out, Fade In; Golden Boy; Hellzapoppin'; Nick and Nora; Kelly; and How Now, Dow Jones are a few] that stubbornly went awry.
Only 25? Susskind must be planning several volumes. If they're all as fun and information-packed as this one, they'll be eagerly anticipated.
Among the contributions to this volume are Patricia Bosworth, Lehman Engel [a renowned music director], William Gibson, John Gruen and Mel Gussow.
The showcased flops carry the creative efforts of Broadway's biggest presenters, such as Alexander Cohen and David Merrick; and talents: Mel Brooks, Cy Coleman, Jerry Herman, Kander and Ebb, Bob Merrill, Richard Rodgers, Charles Strouse and Jule Styne.
Worth the price of the book alone are the chapters [not long enough] on Holly Golightly, later, but not for long, retitled Breakfast at Tiffany's, and Hellzapoppin.
On Holly, Edward Albee bravely stepped up to the plate to rewrite the book adapted from the Capote novella by the once invincible Abe Burrows. It had Mary Tyler Moore, totally miscast as Holly, sanitized [even more so than in the movie] to the point of non-recognition, and Richard Chamberlain in starring roles and choreographer by no less than Michael Kidd.
What began as a musical comedy suddenly became a musical drama with realism and lots of four-letter words that had some audience members in Boston and Phily cringing in their seats. The show limped into New York where there was no run on the boxoffice until Merrick, bellowing that he found the show "excruciatingly boring," announced he was closing it. There were only four preview performances.
Hellzapoppin was victim to fights and massive fits of egomaniacal madness. It was to be Cohen's validation of himself as the producer who could outBarnum Merrick. The original revue was a 30s blockbuster. It was rewritten by Burrows [his last show] as a starring vehicle for America's top clown, Jerry Lewis. Burrows demanded every line spoken as written; Lewis preferred to wing it.
The portrait of Lewis, beloved by so many, is not at all flattering. In fact, he comes off as an unmitigated rhymes-with-dastard. When he wasn't squaring off against co-star Lynn Redgrave, whom he treated abysmally and relentlessly tried to get fired, he, Burrows and Cohen were at war.
The comic, who longed to star on Broadway, and director Jerry Adler had girlfriends in the show and were constantly vying for more for them to do at Redgrave's expense. Lewis went off the deep end, even threatening Cohen with a loaded gun should he attempt to meet with him. Tommy Tune was brought in to revamp the show, but it was too late. Cohen, seeing he was losing his long-time dream project to battling egos, closed it in Boston.

FORMER SPAMALOT CO-STAR HOSPITALIZED IN SEATTLE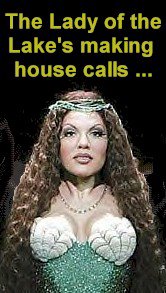 Sara Ramirez, who took home the 2005 Tony Award for Best Featured Actress in a Musical as Monty Python's Spamalot's Lady of the Lake, has landed a plum recurring role at Seattle Grace Hospital in Seattle in the hit ABC-TV melodrama Grey's Anatomy.
When the series picks back up again Sunday, a romance will spark between Ramirez's Dr. Kathy Torres and T. R. Knight's love-smitten Dr. George O'Malley, following his devastating t'te-‡-t'te with Dr. Meredith Grey [Ellen Pompeo].
This is Ramirez's TV breakout role, after doing bits and cameos on film and in TV since 1998.

REVUE TO HONOR CAROLE SHORENSTEIN HAYS
MCC Theater 20th Anniversary Spring Gala will present Miscast, a star-studded revue featuring some of Broadway's biggest names singing tunes in roles they'd never, ever perform, tol honor veteran producer Carole Shorenstein Hays [Doubt; Gem of the Ocean; Caroline, or Change; Take Me Out].
It takes place Monday, March 13, at the Hammerstein Ballroom [311 West 34th Street, off Eighth Avenue]. The 9 P.M. performance will be preceded by cocktails, dinner and the presentation.
Portions of the proceeds will benefit MCC's Playwright's Coalition for new and emerging writers and its education outreach program, which annually brings theater to nearly 1,000 New York high school students.
Supported in part by Kenneth Cole New York, headliners will include Mario Cantone, Michael Cerveris, Diana DeGarmo, Eden Espinsoa, Ana Gasteyer, Deborah Gibson, Brian d'Arcy James and Matthew Morrison. Musical Director is Phil Reno.
Individual tickets are $350-$2,500, with group tables available. For information and reservations, call (212) 727-7722 X. 233.

RENT ON DVD

How do you measure, measure a year? Five hundred twenty-five thousand six hundred minutes. That's how, but now you can experience Rent's seasons of love on DVD [Sony Pictures Home Entertainment; 139 minutes; $29], and only four months after the release of the film adaptation of Jonatan Larson's landmark musical.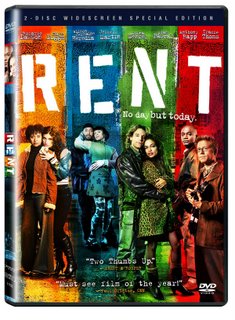 Loosely based on Puccini's La Boheme, Rent follows struggling Bohemians and artists - some drug-addicted, some with AIDS - fighting eviction and poverty and for recognition as they make their way in New York's East Village and Alphabet City in the early 90s.
Winner of the Pulitzer Prize and Tony for Best Musical, Score and Book, Rent was directed for the screen by Chris Columbus [Harry Potter and the Sorcerer's Stone] and stars original cast members Anthony Rapp, Tony-nominee Adam Pascal, Tony-nominee Idina Menzel [later, a Tony winner for Wicked], Tony-winner Wilson Jermaine Heredia, Jesse L. Martin, Taye Diggs in addition to Rosario Dawson as Mimi [the role created by Daphne Rubin-Vega, who was pregnant at the time of shooting] and was pregnant at the time of shooting] and Tracie Thoms.
Thoms, replacing original Fredi Walker as the lesbian lawyer/girlfriend of Maureen, radiates magic onscreen. If you weren't one of those crawling over the seats to get out of the theatre, you might remember her in her Broadway debut opposite Alfre Woodard in MTC's Drowning Crow. She's done extensive work Off Broadway.
Some screen adaptations of stage musicals pale when compared to the originals. That's not the case with the screen Rent. It might not have gained blockbuster status at the box office but there is much to recommend.
Hardly anything can top the first 15 minutes. In what appears to be one continuous take [actually shot over ten days on Burbank Studios' New York street with 300 extras and stunt players] the camera roams floor-to-floor, through windows, across streets with magical fluid.Mimi's storyline comes off better on film than onstage.
Then there's the heart-warming Mimi/Mark duet "I Should Tell You"; the rousing "La Vie Boheme," the musical's Act One finale; and, something the movies can do that can't be done onstage, the moving 11:00 "Without You" montage sequence. The only time the film hits laughable moments is when it strays from the stage structure.
The two-disc Special Edition DVD is available in widescreen and full screen formats and has over three hours of special features that include director and cast commentary, five deleted scenes and musical performances, as well as No Day But Today, a five-part feature length documentary chronicling the life of Rent author and composer Jonathan Larson and the musical's journey from Off-Broadway to its wild success on Broadway and around the world, all in the wake of Larson's untimely death.
This Spring the Broadway show will celebrate its 10th Anniversary.

BROADWAY BY THE YEAR ON CD; LOST ANNIE FOUND

Scott Siegel's acclaimed Broadway by the Year Town Hall series can boast another CD in the Bayview Records repertory with the release of The Broadway Musicals of 1935.
Gretha Boston, Chuck Cooper, Darius DeHaas, Todd Murray, Douglas Sills, Emily Skinner, Lumiri Tubo, Barbara Walsh, Laurie Williamson and Karen Akers are featured, along with commentary by Siegel about the ten musicals on Broadway at the height of the Great Depression. Ross Patterson and his Little Big Band provide accompaniment.
The 19 tracks include tunes by the Gershwins [Porgy and Bess], Rodgers and Hart ["Over and Over Again'/"Little Girl Blue"/"The Most Beautiful Girl In The World" from Jumbo], and Cole Porter ["Begin The Beguine"/"Just One Of Those Things" from Jubilee].
Also just released from Bayview Classics is a CD every collector must have: Excerpts from the London, Paris and Australian productions of Irving Berlin's Annie Get Your Gun. The real gem here are the four tracks with 13 tunes from the 1947 West End production, with Dolores Gray in the role that made her a huge star over there and, later, here. Bill Johnson is her Frank Butler.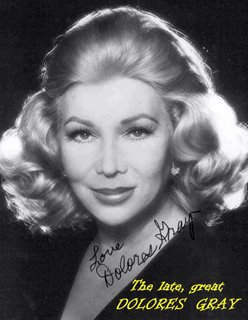 The late Gray was statuette and brassy with a belt to reach the last row of the massive Coliesum Theatre's gods, where the show played 1,304 performances. Gray returned triumphant to the West End in 1987 as Carlotta in Sondheim's Follies.
The tracks of the Paris production, titled Annie du Far-West, which starred Lily Fayol, are a novelty. The uncovering of any recording of the 1947 Aussie production, starring American-born Evie Hayes, would be a find, so from a historical standpoint, so the six tracks [seven numbers] remastered from long-lost acetates are a real find. Unfortunately, though Bayview's Peter Pinne and the restorers made every effort to clean them up, surface noise remains and there's a hollow sound. Still, Annie's still here.
The booklet carries an informative article on the history of the show with a mini photo of the Australian cast and minis of the playbills and sheet music.
Broadway Musicals of 1935 and Annie Get Your Gun are available at http://www.footlight.com/ , Tower Records Lincoln Center and www.bayviewrecords.com.

MOZART CELEBRATION

Mozart 250: A Celebration [Sony Classical, multiple CD set; $19] rings in the musical festivities honoring the 250th Anniversary of the composer's birth.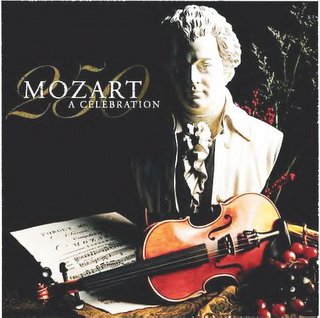 The double CD features 24 tracks, some in excess of 12 minutes, of highlights from Mozart's great orchestral, chamber, instrumental, operatic and choral works. These include Figaro, Die Zasuberflote and Don Giovanni with brilliantly remastered performances by virtuoso pianist Alicia de Larrocha, George Szell and the Cleveland Orchestra and the Budapest String Quartet.
Also featured are Antonio Brico and the Mostly Mozart Festival Orchestra. Additional tracks feature sopranos Judith Blegen and Margaret Price, pianist Rudolf Serkin and violinist Pinchas Zuckerman.
You can't quibble about the music or the bargain price [about the cost of a single classical disc], but project directors David Foil and Warren Wernick erred in not providing a more comprehensive and colorful booklet. Instead there's an eight-page booklet with a slim biographical sketch.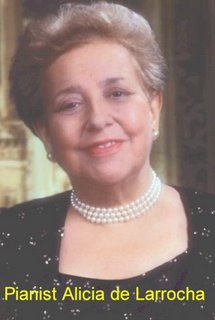 The package includes a 12-track bonus disc, Serene And Sublime - The Great Mozart Adagios featuring some of Mozart's most beautiful and seductive music by renowned soprano Leontyne Price and mezzo-soprano Tatiana Troyanos ["Soave sia il vento" from Cosi fan Tutti], flutist James Galway, James Levine and the Vienna Philharmonic and some of the aforementioned artists, in particular de Lorrocha.
Visit http:mozart250.sonybmgmasterworks.com, the extensive Web site Sony Classical has created. It not only explores Mozart's life but also has a multi-level musical sound-clip quiz game, a floating marquee of fun facts [unfortunately in type so small, it's hard to read], even ringtones.

[Pajama Game production photos and Sara Ramirez photo: JOAN MARCUS; Dolores Gray photo: ROY BLAKEY]