Patti Cohenour, who has been playing Signora Naccarelli [Fabrizio's mother] in The Light in the Piazza, has come to call Tuesday and Wednesdays her "flip nights."
At those two evening performances, when Tony Award winner Victoria Clark, is out, she plays Margaret Johnson.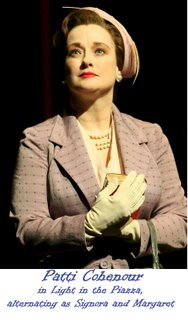 "At the Wednesday matinee," says Cohenour, "with Vickie back, I return to playing Signora. It's really bizarre and can get confusing, but I just put the key in the ignition and get rolling!"
These past four weeks, she's really been running and is totally exhausted "from the madness of doing the show and the workshop for Kristina," Benny Andersson and Bjorn Ulvaeus' Swedish hit which is projected [Spring ë07] to be the next musical from the Abba duo behind Mamma Mia!
"It's an epic musical with a rich original score," says Cohenour. "Over there, it had a cast of sixty-eight. We did it with twenty-eight. Still, that's a lot; but it's an enormous score. Who knows what's going to happen. I have my fingers crossed."
Kristina would be the duo's first musical since Chess, co-written with Tim Rice, a hit on the West End, as conceived by Michael Bennett, but a failure in a much-revised 1988 Broadway version.
Based on novels by Sweden's Vilhelm Moberg, it tells of poor Swedish farmers who, to escape starvation, emigrate to Minnesota in the 1850s. If the story sounds familiar, it's because the books were the basis for Jan Troell's Utvandrarna [The Emigrants, 1971; which starred Max von Sydow and Liv Ullmann].
With the workshop over, Cohenour's singular focus is on her dual acting jobs. She describes a funny moment in those performances when she's Margaret. "I'm upstage, back to audience. When I hear Diane [Sutherland] as Signora speak, it's like an out-of-body experience. It's thrilling and crazy at the same time. I look at it as repertory. One night, you're in one role; the next, you're in another."
Compared to Signora, the role of Margaret is huge. "The songs, the monologues! Craig [Lucas]' writing is very Pinter. It's brilliant, but very difficult to get behind all the dialogue. But you have to do it so you can live within the words and Margaret can become a natural performance that affects audiences. It was a challenge and it took a while to get it right."
She calls Light, a remarkable, deeply-layered play. "You don't get that kind of emotional journey and weight often in musical theater. It's probably the most difficult musical to perform in a long, long time."
Even with all the changes and rewrites as the play grew from its earliest forms at Seatttle's Intiman Theatre and was focused and tightened, "this is one project where there've been no bumps in the road. It's all been smooth sailing."
According to Cohenour, what you see onstage couldn't have happened if there had been problems with egos. "It wouldn't have had its heart if our company weren't the kind of people who know what it's about. There's total respect for everyone. You can't do it alone. It's a true ensemble piece."
She states she's never been in a piece where all the parts are so beautifully integrated. "What Bart[lett Sher] and Jonthan [Butterell, who did the musical staging] have done is incomparable. The cinematic flow, the way the sets glide in and out! They've raised the bar for musical theater."
She says she never had a doubt that Light would be a huge success. "At the Tony Awards, I was confident we'd do well." But there was Spamalot. Light didn't take home the Best Musical prize. "Everyone in Spamalot is going to be mad at me for saying this, but I still think in my heart that we won!"
Cohenour had early exposure to what she calls Sher's brilliance. "I got to work with him early on at the Intiman, where he's artistic director. Cohenour and her photographer husband Thomas Bliss settled in Seattle after her Canadian tour in the Hal Prince Show Boat revival.
Perhaps Sher knows Cohenour better than she does. "He'd always bring me in to audition for roles I didn't think I was right for. It became a joke, but I love the fact that he thinks I can do things that even I don't think I can do. When I was asked to come in and audition for an Italian signora, I thought, ëOh, here we go again.' I didn't even know The Light in the Piazza was a musical. I auditioned with ëAiutami' as a monlogue. At that time, I didn't know it was one of Adam [Guettel]'s songs."
This time everyone, including Cohenour, agreed she was right for the role and soon she was in New York doing the workshop and devouring pages and pages of music.
The Phantom of the Opera existed before she was chosen to be Sarah Brightman's alternate and, eventually, her replacement, as Christine. "So, like with The Mystery of Edwin Drood and Big River, it was great to participate from the very beginning and watch a show's growth."
Margaret is hardly offstage, and when she is, she's boundling up and down stairs to the next entrance.Her most emotional moment as Margaret is the Act Two scene in the church as the families prepare for the wedding.
"When Signor Naccarelli storms out with his family," Cohenour states, "Margaret and Clara are left alone onstage. Even Fabrizio deserts her. It's that moment, seeing her shattered, when Margaret realizes how much Clara loves him. To see my daughter rejected again makes me all the more determined. Margaret has protected her daughter for so long and this is the most serious fracture. She becomes steely and determined."
The Light cast is very excited over the prospect of an early summer TV broadcast over PBS, when the musical will be exposed to millions. "They'll see a pristine show," claims Cohenour. "All the work that went into creating such a marvelous musical theater experience has been maintained with the replacements."
The cast now includes Katie Clarke as Clara; Aaron Lazar as Fabrizio and Chris Sarandon as Signor Naccarelli. "Katie is so beautiful and vulnerable," explains Cohenour, "that the emotion of the scenes really hits you. Yes, we're characters in a play, and you have to keep telling yourself that. But it still gets to you."
Cohenour prefers not to speak too frankly about working with Michael Crawford, but she does speak of the late Dorothy Loudon. She was one of the last to work with the veteran star in a live production, City Center Encores! Sweet Adeline by Jerome Kern.
"We shared a dressing room. She was quite the trouper, and so adorable. And tons of fun! She did something that is unheard of in this business. She was set to take the final bow in the curtain call but insisted that it should be me [in the title role]. In retrospect, I would have preferred not to have followed her, but what a gracious thing to do."

EUAN MORTON'S DEBUT SOLO CD

Lyric Partners has signed Euan Morton to their label as its first Pop/Rock music recording artist and today are releasing NewClear, Morton's poignant and romantic debut solo album, which the Tony and Drama Desk nominee also co-produced.
There are 10 tracks consisting of new songs and covers of some of Morton's favorites, such as Leonard Cohen's sweet "Hallelujah."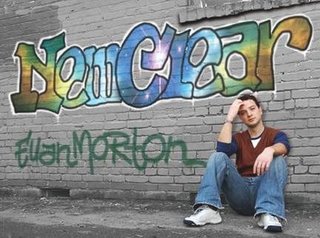 In this case, however, less is not more. Morton's rich voice makes you wish for more. As it is, there are five standouts : "At This Moment," by William McCloud, done on one track as an emotional heartbreaker and on another in an extended uptempo version; the heavily rock-accented "Good Time Gone Bad"; the lush "Closer and Closer," by Chris Judd and Greg Friel, featuring David Mann's sexy sax accompaniment; and "Victims," co-written by George O'Dowd [a.k.a. Boy George] and highlighted by Damien Bassman's percussion; "Pie in the Sky,"also co-written by O'Dowd, a phrase that's never heard in this story of a loveless affair [it might be better-titled "Who Do We Think Are?", an oft repeated refrain].
Morton, a native of Bo'ness, Scotland, has a pop tenor that's been hailed by theater and music critics since he first came to notice as Boy George in the Broadway company of Taboo, a role that earned him a Olivier Award nomination when he originated it on the West End.
Currently appearing at the Public in Measure For Pleasure, he'll soon reprise the title role in Maurice Sendak and Tony Kushner's adaptation of Brundibar at the New Victory Theater. He originated the role at Berkley Rep.
Tonight at 9:30 and Monday, Monday, April 3 at 7:00 and 9:30, Morton will introduce songs from NewClear at Joe's Pub, where he's done several sold-out concerts. Tickets are $25 and are available at the Public box office [425 Lafayette Street] or through Telecharge [www.telecharge.com or (212) 239-6200].
You can order personally autographed copies of NewClear by visiting http://www.lyricpartners.com/ or http://www.officiallyeuanmorton.com/. The CD will also be on sale at Morton's Joe's Pub performances.
DO YOU HAVE YOUR ENCORES! TICKETS?

Did you know that Oscar winner Olympia Dukakis could sing? Well, she does, and proof is in the pudding of Kander and Ebb's much under appreciated musical 70, Girls, 70, presented by New York City Center Encores! beginning Thursday, March 30 at 8:00 and continuing through the weekend with performances Friday [8:00], Saturday [2 and 8] and Sunday [6:30].
There's never a shortage of star-studded casts at Encores! but this one takes the prize: Carleton Carpenter, making a rare stage appearance, Ronn Carroll, Mary Jo Catlett Carole Cook, Bob Dishy, Harvey Evans, George S. Irving, Anita Gillette and Charlotte Rae. These theater veterans, heading a cast of 22, have cumulatively appeared in over 140 Broadway productions.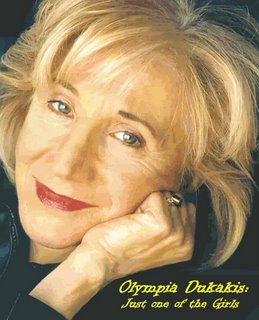 Dukakis has appeared on and off Broadway and in such films as Mr. Holland's Opus, Mighty Aphrodite, Steel Magnolias and Moonstruck, for which she won the Oscar for Best Supporting Actress. She also played Anna Madrigal in the acclaimed TV mini-series Tales of the City.
Tony winner Irving, celebrating over 50 years in show biz, appeared in the original companies of Oklahoma!, Gentleman Prefer Blondes and Lady in the Dark. Cook appeared as Maggie in the original 42nd Street. In her 47-year career, Gillette had the distinction of appearing in one of Broadway's most notorious flop musicals, Kelly, as well as being Tony-nominated for Best Actress in Neil Simon's Chapter Two.
Among Dishy's numerous stage roles was playing opposite then-newcomer Liza Minnelli in Flora, the Red Menace. Catlett was memorable as Ernestina in the original Hello, Dolly. Rae, before she became a familiar face on TV as the star of the smash sitcom The Facts of Life, stopped the show as Mammy Yokum for six months in Li'l Abner .
Tall, lanky Carleton Carpenter's early appearances on Broadway got him a Hollywood contract; and everyone of a certain age, especially any bobbysocker, has vivid memories of his classic duet in Two Weeks With Love with Debbie Reynolds, "Aba Daba Honeymoon," which became a Top-5 hit.
70, Girls, 70, with a book co-written by Ebb, opened on Broadway in 1971 and ran for 36 performances. It was adapted by Joe Masteroff from Peter Coke's play Breath of Spring. In 1991, a slightly re-worked version opened on the West End. Kander and Ebb's score includes "Coffee in a Cardboard Cup," "Yes" and "Broadway, My Street."
The musical's title is a play on the words showmen such as Ziegfeld and Carroll used when touting the number of performers in their spectacle revues. The show's theme is you're never too old for show business. It's presented as a show within a show, with the actors [residents of a Theatre District hotel who form a fur theft ring] stepping in and out of character.
70, Girls, 70 is directed and choreographed by Kathleen Marshall. Paul Gemignani is music director. Jack Vertel is Encores! artistic director. Lead sponsorship for Encores! 2006 season is provided by Newman's Own.
The Encores! season closer George Gershwin and Ira Gershwin's Of Thee I Sing [1931 Pulitzer Prize for Drama] will begin performances on May 11. Victor Garber will star. The book is by George S. Kaufman and Morrie Ryskind.
Tickets [$25-$90] for 70, Girls, 70 are available at the New York City Center box office, through CityTix (212) 581-1212 or online at www.nycitycenter.org.

BROADWAY BY THE YEAR: 1956

Emily Skinner will direct a powerhouse cast of 10 musical theater and cabaret stars Monday, April 3 at 8 P.M. in Town Hall's Broadway by the Year series, written and hosted by Scott Siegel, salutes the musicals of 1956.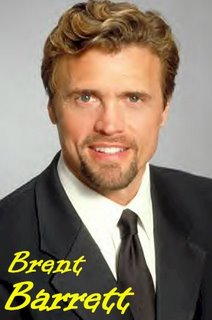 Onstage will be Christine Andreas, Brent Barrett, Ashley Brown [Belle in Beauty in the Beast], John Treacy Egan [Max Bialystock, The Producers], Marc Kudisch, Rachelle Rak [Dirty Rotten Scoundrels], Devin Richard [The Pajama Game] and cabaret artists Brandon Cutrell and Connie Pachl.
Barrett, one of Broadway's most handsome and talented leading men, has starred in Chicago, Annie Get Your Gun and Kiss Me, Kate. Andreas starred in the 20th Anniversary revival of My Fair Lady, which originated in 1956. Other shows born on Broadway in 1956 include The Most Happy Fella, Li'l Abner and Mr. Wonderful.
Tickets are $45 and $40 and available at the Town Hall box office or through TicketMaster (212) 307-4100.
AND SINCE WE'RE ON THE SUBJECT

Scott Siegel and wife Barbara are being honored on Sunday, March 26 for their dedication to the world of cabaret as critics and promoters at Roasts, Toasts and Tributes, Sunday, March 26th at 8 P.M. at St. Clement's Theater [423 West 46th Street]. Among numerous other events, they produce the Nightlife Awards.
Among those appearing to show appreciation are Emily Skinner, Nancy Anderson, Lennie Watts, Scott Coulter, Marnie Baumer and Milla Ilievich. MAC, Bistro and Nightlife Award winning performer Carolyn Montgomery is host for the series, accompanied by co-hosts Jay Rogers [multiple MAC and Bistro winner and a Drama Desk nominee for When Pig's Fly] and MAC, Bistro and Nightlife Award winner Julie Reyburn. Musical direction is by Mark Janas.
The Siegel's, in addition to their syndicated radio program, write on Broadway, cabaret, film and music on Theatermania.com and Talkin'Broadway.com.
Theater and cabaret legend Julie Wilson will be honored on May 21.
Tickets are $20 and available at smarttix (212) 868-4444; by calling the theater (212) 246-7277 X. 31 or at http://www.roaststoaststributes.com/. Proceeds from each show are donated to the recipient's favorite charity or organization.