In a throwback to Broadway's Golden Years, two shows are offering discounted previews and ticket lotteries.
Tarzan, loosely based, we shall assume on the Edgar Rice Burroughs classics and Disney's own animated blockbuster, is opening cold on Broadway. The much-anticipated musical offers a straight-out, just-walk-up-to-the-box office cut-rate ticket.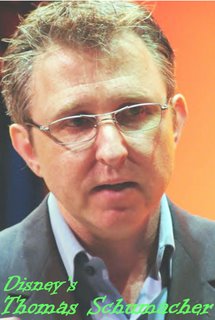 Disney Theatricals chief Thomas Schumacher, whose idea the discounted previews were, explains, "As someone who grew up wanting to see as much live theatre as I could, it's such a pleasure to be able to make these reduced-price tickets available. This allows us to share this exciting theatrical experience with audience members who may not otherwise be able to see Tarazan, and that is invaluable to me."
The $111.25 orchestra and front mezz seats are now going for $76.25 - a savings of $35. Other tickets that will be $51.25 after May 10 are $38.75. All prices include a $1.25 facilities fee.
Tarzan, with music by Oscar and seven-time Grammy Award winner Phil Collins and book by Tony Award-winner David Henry Hwang, stars Josh Strickland, Jenn Gambatese, Tony/Drama Desk/Olivier Award-winner Shuler Hensley [Oklahoma!], Chester Gregory II and Timothy Jerome. Daniel Manche and Alex Rutherford alternate as young Tarzan.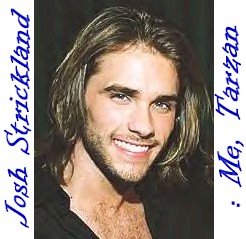 Two-time Tony Award-winning set designer Bob Crowley has designed costumes and scenery and is making his directorial debut. Choreography is by Meryl Tankard.
Strickland, as Tarzan, who toured in Rent as Mark and Roger, was seen on CBS' Star Search [2003] performing Collins' "Against All Odds," and was a finalist on the Ruben Studdard/Clay Aiken second season of American Idol.
The Drowsy Chaperone, the musical-within-a-musical which reaped raves in Toronto, here at the 2004 National Alliance for Musical Theatre's Festival of New Musicals and L.A. arrives to, hopefully, find favor with New York critics and theatergoers. It offers discounted previews, but you won't find them at the Marquis box office. They're offered online via Yahoo and TicketMaster, but there's a catch: you have to purchase with an American Express card.
If purchased soon, tickets for evening performances and Saturday matinees through May 28 are $25, $45 or $65; Wednesday matinees, $25, $40 or $59. This offer excludes Saturday night performances. Go to broadway.yahoo.com, select Shows & Offers from the toolbar, then choose The Drowsy Chaperone, click on Buy Tickets. Under Promotions and Special Offers, pick your date and performance, then enter the discount code YAHOO. Prices include a $1.25 theatre restoration fee [does the Marquis already need restoring?] but not a $6.75 "convenience charge."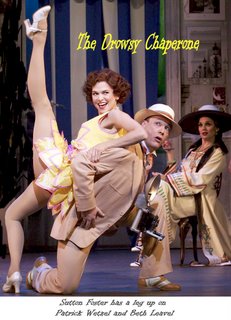 Drowsy, with music and lyrics by Lisa Lambert and Greg Morrison and a book by Bob Martin and Don McKellar, stars Martin, Tony Award winner Sutton Foster, Danny Burstein, Georgia Engel, Edward Hibbert, Troy Britton Johnson, Eddie Korbich and Beth Leavel. Spamalot's Casey Nicholaw is director/choreographer.
Martin, best known for his Canadian TV and film comic roles and from Toronto's Second City, and Leavel won L.A. Drama Critics Circle Best Actor and Feature Actress Awards.
Center Theatre Group's staging of Drowsy Chaperone won Los Angeles Drama Critics Circle Best Production and Best Director nods. The story of a musical theater addict "who chases the blues away" by putting his favorite record on the turntable and - voila! - begins to live as it comes to life, opens May 1.
Tarzan, about that fabled Ape Man in the loin cloth, has the longest preview period. It's the last show of the season to open. It will be eligible for Tony Awards consideration; but since the Drama Desk nominations are to be announed on April 27, the musical will not be seen by the DD nominating committee and so will not be eligible for consideration until next season, when Disney Theatricals has plans to also have Mary Poppins on Broadway.
In the trailblazing path of Rent and Wicked, both new shows have announced day-of-performance ticket lotteries. These seats are more heavily discounted, but there aren't as many of them and, for both shows, they are on the front row.
Ninety minutes prior to each Drowsy Chaperone performance, you can be entered for one of 22 seats at the Marquis boxoffice. Tickets, two per person and on a cash-only basis, are $25. Names are drawn an hour later.
Two and half hours prior to each Tarzan performance at the Rodgers, your name's put into a pithelmet for one of 12 seats. Tickets, two per person and on a cash-only basis, are $20. Names are drawn a half hour later. Be sure to bring proper identification or you will be denied the thrill of seeing Tarzan meet Jane and Tarzan vine-swinging with abandon.
In addition, Tarzan is offering lower prices for obstructed view seats in upper reaches [last four rows] of the Rodgers' stadium-style orchestra [a sort of twin to the Majestic]. Patrons buying these tickets are told they will miss a few moments of action in the upper reaches of the proscenium.
THIS SEASON'S BIGGEST SCENE-STEALER

Lisa Kron's parental memoir, a "one person show with other people," Well, which has opened on Broadway thanks to an incredible list of A-List producers following its successful 2004 run at the Public, to considerable praise and a brickbat or two.
While not at all resembling a conventional comedy or drama, which is a very high compliment in my book, Well has been diagnosed as "the most daring Broadway offering of the season," "often hilarious, always clever and ultimately touching," with "an emotional depth, both murky and luminous, that goes beyond any tidy narrative" and having a "captivating air of reckless spontaneity." To one detractor: it possesses a "cartoonish tone" and being "ludicrous."
Audience reaction is about the same, with almost everyone saying the intermissionless, one-hour-and-45 minute tome would be fare much better shorn of about 15 minutes. But, as is, it's not quite in the ICU.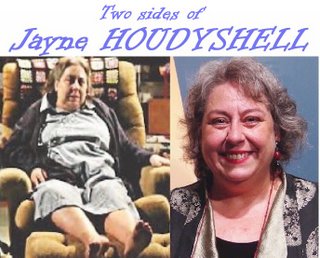 The one thing everyone agrees on is the breakout performance of Jayne Houdyshell [prounced Howdy-shell] as Mama Ann. Brantley, in the Times, wrote, "embodied onstage with majestic warmth and wearinessÖMom comes to the rescue. Ms. Houdyshell's performanceÖretains an anchoring authenticity that guarantees that Well opens doors of insight and emotion that no other play in New York is unlockingÖ Slovenly in her time-bleached housedressÖshe inspires immense affection and embarrassment at the same time. She pulls you, as well as Ms. Kron, into an inescapable emotional field."
Audiences arrive at the Longacre to find Houdyshell, a respected Off Broadway and award-winning regional character actress making her Broadway debut [as is the entire cast], snoozing in a La-Z-Boy. [Since she's in that recliner, eyes closed for at least a half hour, a backstage visitor the other night asked her if she ever has really fallen asleep and Houdyshell replied, "Not yet!"] When she's awakened, she reacts with some alarm to find she's being observed by an audience. Without skipping a beat, she greets them warmly and graciously begins offering them Cokes and bags of chips.
Has there ever been an actress whose talents and physical statue are so suited to a role? Everyone with a loving, much too smart and horribly irritating mother will find something in Houdyshell's performance that rings terribly true. At the every step of the way, she's the perfect foil for Ms. Kron, who, hardly offstage for even a second, gives a marathon performance.
Several critics are predicting that Houdyshell is a shoe-in for a Tony nomination. For Well's Off Broadway run, she did take home an Obie and a Drama Desk nom.
TALENT ALERT: MUSICIANS AT WORK
Every song Johnny Cash wrote may not have been brilliant; and, just about every one of them [well, 35 of them to be exact] is presented in Richard MaltbyJr.'s Ring of Fire, but you have to marvel at the magnificent musicianship onstage and in the wings. Has there ever been a show with so much incredible talent?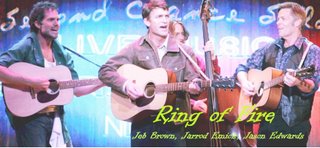 Co-star Jason Edwards, himself a mean-guitarist, says "Every time I step onstage, I'm in awe of these folks. They're amazing!" He's just not referring to co-stars Jeb Brown [Aida], Tony winner Jarrod Emick [the Damn Yankees revival], Beth Malone, Cass Morgan [a former B&B Miss Potts] and Grammy Award-winning gospel/country star Lari White.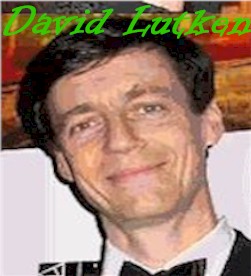 He points to the amazing, multi-talented David Lutken, whom you may have caught on Broadway and on tour as Will in The Will Rogers Follies and Off Broadway in Woody Guthrie's American Song. He's adept on acoustic, electric and dobro guitar, banjo, mandolin, washboard, bottles, something called an evoharp and can play one helluva mean harmonica.
Then there's Randy Redd who's a master of keyboards and the mandolin; Jeff Lisenby, keyboards and accordion [he's also conductor]; Eric Anthony, mandolin, electric guitar; Brent Moyer, cornet, guitar; the amazing Laurie Canaan, fiddle and mandolin; Dan Immel, bass; and Ron Karsinksi, percussion.
But, wait, there are more. Standing in the wings, just waiting to go are are country vocalist and songwriter Gail Bliss, vocalist DeAnn Whalen and vocalist/songwriter and award-winning actor Scott Wakefield, who in addition to being a champion trick roper, plays guitar, banjo, mandolin, percussion and electric and upright bass.
VEGAS PHANTOMS

The City of Lights, the one in the Nevada desert, will also have the Paris Opera, but it will be located in the sprawling grandeur of the Venetian Resort, Hotel and Casino. Starting in June, not far from the shops along the all-weather Grand Canal, Broadway hunk Brent Barrett [Annie Get Your Gun, Kiss Me, Kate, Chicago] and Tony Award-winner Anthony Crivello [Kiss of the Spider Woman] will run amock as the stars of Phantom - The Las Vegas Spectacular.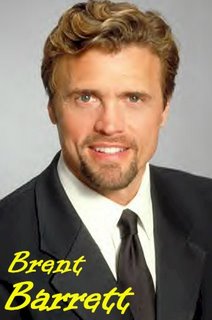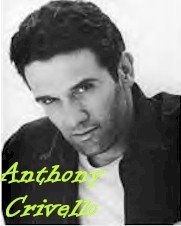 The stars were hand-picked by multi-Tony and Drama Desk-winning director Hal Prince and composer Andrew Lloyd Webber to head the cast of what promises to be a jaw-dropping, awesome 95-minute edition of Broadway's long-run champ.
Performances begin June 4 with a star-studded, multi-million dollar Opening Night gala on June 24. The Venetian box office officially opens Sunday, April 9, but tickets can be purchased starting today via toll-free phone or website orders.
The musical will be presented in design visionary David Rockwell's breathtaking 1,800-seat replicia of the 1862 Paris Opera. Rockwell is the architect of Hollywood's Kodak Theatre and the man behind the Hairspray sets.
In a city where hyperbole and the word "spectacle" take on new meaning, Rockwell's $40-million theatre will be the buzz for years to come. It has depth, height and enough wing space so you never ever have to go outside to hike; has its very own lake; and the type of state-of-the-art production and special effects capability Broadway can only fantasize over.
Then there's humongous chandelier, which you can expect to do more than just crash! It will have an explosive, fiery descent.
Due to the challenging vocal score and sometime two-a-day performance schedule, Prince noted, other roles are also double-cast. Christine will be portrayed by Sierra Boggess [regionally: Les MisÈrables, West Side Story] and Elizabeth Loyacano [The Woman in White, Oklahoma!].
Broadway's current Raoul, Tim Martin Gleason, will repeat his role in Vegas. The Carlottas are Elena Jeanne Batman, who played the part on Broadway, and Geena Jeffries, who played the role in the San Francisco company.
The Vegas production, says Prince, "is a chance to revisit a work of art years after it was created."
According to Prince, the production will include every song from the West End and Broadway original. But you can expect special effects that weren't even dreamed of 18 years ago, when the show premiered on Broadway [where it continues to break records].
David Ian, chairman of co-presenter Theatre for Live Nation, says, "This will be a truly unique staging. One guaranteed to exceed everyone's expectations."
Phantom performs Wednesday-Monday at 7 P.M. and Friday-Wednesday at 10 P.M. Tickets are sold 90 days prior to the desired performance. [If you wish to go in September, book beginning June 1. ]
Tickets are priced "slightly" higher than on Broadway. There are 25 orchestra rows, with the "chandlier-friendly" first eight center ones, called the Golden Circle, priced at $157 per seat. Remaining orchestra and the first three rows of the mezz are $132. Balcony seating is $107 and $82. All credit cards accepted. To order call (866) 641-7469 or (702) 414-7469, or visit http://www.venetian.com/. The official website is www.phantomlasvegas.com.

DISCO'S BACK
The 1978 glitter and be gay disco cult favorite Thank God, It's Friday is just out for the first time on DVD [Sony Pictures Home Entertainment; $15]; but that's not the only news associated with the release. Broadway will soon be raining men! - more so than the deluge it's getting this season.
Jeff Goldblum, Debra Winger, the Commodores and disco-era diva Donna Summer co-star in TGIF along with Paul Jabara [Hair, Rachel Lily Rosenbloom on Broadway; Herod in Jesus Christ Superstar, West End]. The late composer/lyricist's body of work will soon be the basis for a Broadway musical.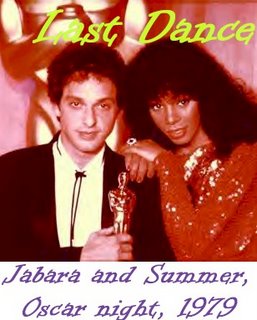 Admittedly, no classic, TGIF is fun as it centers around Friday night's big dance contest at an L.A. disco. It has a certain cache in cinema history because Jabara won the Best Song Academy Award for "Last Dance," performed in the film by Summer. He also won a Grammy and Golden Globe.
Jabara, appearing as Carl, also performs the hilarious "Trapped in a Stairway," which he also penned.
The Brooklyn-born songwriter/singer/actor's myriad songbook will be the basis of a Broadway musical, at this time titled Last Dance, which will herald the glory days of disco. Philip McKinley [The Boy from Oz] will direct, with choreography by Tony Stevens [Chita Rivera: The Dancer's Life].
Jabara's long song roster includes one of the biggest hits of all time, "It's Raining Men," co-written with Paul Shaffer [of Late Show fame] for the Weather Girls and later for Geri Halliwell; "No More Tears (Enough Is Enough)," a blockbuster duet for Summer and Streisand; "The Main Event," sung by Streisand in the film of the same name; "Work That Body," Diana Ross; "Two Lovers," Julio Iglesias; "Something's Missing In My Life," a Jabara/Summer duet; "Eternal Love," Whitney Houston; and the hilarious medley "Disco Wedding/Honeymoon in Puerto Rico/Disco Divorce."
As an actor, Jabara made international news when British Equity refused to allow producer Robert Stigwood to cast him as the lead in Joseph and the Amazing Technicolor Dreamcoat. In protest, he chained himself to 10 Downing Street!
In addition to starring in The Rocky Horror Show in L.A., Jabara was featured in such films as Midnight Cowboy, The Lords of Flatbush, The Day of the Locust and Pasoliniës Medea. Jabara co-founded the Red Ribbon Project in 1991. He was credited with conceiving and distributing the first AIDS red ribbons. He died at age 44 in 1992.
KATE'S BACK AND BUSH HAS GOT HER

Kate Baldwin, an original cast member of Joshua Rosenblum's hit revue Bush is Bad: The Musical Cure for the Blue-State Blues, has re-joined the production at The Triad Theatre [158 West 72nd Street].
Returning to the show after a leave of absence to star in the San Francisco edition of Irving Berlin's White Christmas, she joins original cast members Neal Mayer and Michael McCoy, who's just returned to the company following three weeks in Pittsburgh with the national tour of Phantom of the Opera.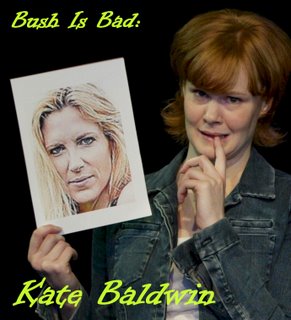 Baldwin's Broadway credits include The Full Monty, Thoroughly Modern Millie, Wonderful Town as well as City Center Encores! Babes in Arms, A Connecticut Yankee and Bloomer Girl. In addition to numerous regional credits, she was also featured in Symphony Space's Wall to Wall Sondheim.

Rosenblum, no novice to theater, has served as conductor and/or pianist for 14 Broadway and Off-Broadway shows, including Miss Saigon, The Music Man, Falsettos, Wonderful Town and Chitty Chitty Bang Bang.
Bush is Bad, described as a cross between Forbidden Broadway and The Daily Show, features not only songs but also "scathing impersonations of the president and his gang of conspirators." It plays Thursday and Friday at 9 PM, with occasional Monday night shows. Check http://www.theatermania.com/ or call (212) 352-3101 for information. Tickets are $25 with a $12 minimum.
SPEAKING OF SONDHEIM
It was 12-hours that passed by as if it was a 90-minute, intermissionless show. There were more stars saluting Broadway's great composer on his 75th birthday than there are in the sky. Now a souvenir highlights CD of that historic, memorable event, Wall to Wall Stephen Sondheim, is available from Satelite Radio and Symphony Space [$20].
The one hour and 20 minute CD features 17 tracks, including "Losing My Mind," Tony-winner Donna Murphy; "Broadway Baby," Tony-winner Judy Kaye, "I'm In Love With A Boy," Emily Skinner; "Anyone Can Whistle," Michael Cerveris; "No One Is Alone," Chip Zien; "What More Do I Need," Liz Calloway; "Marry Me A Little," Gregg Edleman; and "The Miller's Son," Kate Baldwin. Other artists include Laura Benanti, Carollee Carmello, John Dossett, Danny Gurwin and Sheldon Harnick.
Broadway and Sondheim veteran Paul Gemignani [now Encores! musical director] conducts the American Theatre Orchestra on the overture and five additional tracks.
The booklet has a full-page photo of the Sondheim being congratulated by Angela Lansburg, George Hearn and Michael Cerveris and notes by Frank Rich and SS artistic director Isaiah Sheffer.
To order Wall to Wall Stephen Sondheim, call (212) 864-1414, X. 502 or go online at www.symphonyspace.org.
SPEAKING OF SYMPHONY SPACE
The acclaimed New York cultural arts center at Broadway and 95th Street, Symphony Space is presenting celebrated and award-winning film programmer Fabiano Canosa in a multi-part journey through cinema history, Cinema 360∞.
Canosa terms the series, "A sweeping, unabashedly opinionated, charmingly personal, eclectic, romp through the international world of film."
Remaining programs run Saturdays through May 20 from 11 A.M. to 1 P.M. Content include acknowledged and unsung cinema masterpieces around such themes as "The Silent World," "Surreal Avant-Garde," "Don't Say Yes Until I Finish Talkin' - Hollywood Studios" and "The Hollywood Ten."
The next two programs should be exciting, insightful and fascinating to any cinema bufff.
On April 18, "The Magnificent Nine" will spotlight Renoir, Godard, Rossellini. BuÒuel, Ford, Welles, Hitchcock, Mizoguchi and Fassbinder.
On April 15, "The Waves and the Italian Case" covers Italian, Russian, French "waves" and neo-realism with focus on Truffant, Bertolucci and, among others, Italian Western pioneer Leone.
The series takes place in the intimate Thalia Studio. You can book as many programs, on a space available basis, as you wish for $25 each. Call (212) 864-5400 for multiple program pricing. For more information, go to www.symphonyspace.org.
If you attend Cinema 360∞ or other SS programming, such as the center's always-interesting art house classics in the Leonard Nimoy Thalia Theatre, check out the excellent brunch, sandwiches and soups and snacks offered at extremely modest prices in the Thalia Cafe by Giardino. If you have a sweet tooth, the pies are to die for, but this is one spot where you can leave home without it: cash only.
--------
Ellis Nassour is an international media journalist, and author of Honky Tonk Angel: The Intimate Story of Patsy Cline, which he has adapted into a musical for the stage. Visit www.patsyclinehta.com.

He can be reached at [email protected]





Why are you looking all the way down here?
For more articles by Ellis Nassour, click the links below!

Previous: PATTI COHENOUR ON LIGHT IN THE PIAZZA; EUAN MORTON, LIVE AND ON CD, AND OLYMPIA DUKAKIS, IN 70 GIRLS 70, SING; More

Next: THE NEW ROBERT CUCCIOLI SINGS BREL; GRANDIVA DIVAS; ALAN CUMMING FRAMED; PEGGY LEE/DISNEY CLASSIC ON DVD; MORE

Or go to the Archives