Did that theater columnist for a major daily forget someone's back on Broadway? That writer was making Tony Awards predictions, and wrote: "There are five slots to fill in the Best Actress in a Play category, and this is not a strong year for leading actresses."
Oh? [as Joan Crawford was fond of saying].
He continued: "The only sure nominees are Cynthia Nixon [Rabbit Hole] and Judy Kaye [Souvenir]. Two other likely nominees are Zoe Wanamaker [Awake and Sing!] and Kate Burton, who starred in the long-forgotten The Constant Wife but who's a beloved figure in the theater world. The fifth slot is up for grabs, the contenders being Lisa Kron [Well], Frances Sternhagen [Seascape] and [Julia] Roberts [making her Broadway debut in Three Days of Rain]."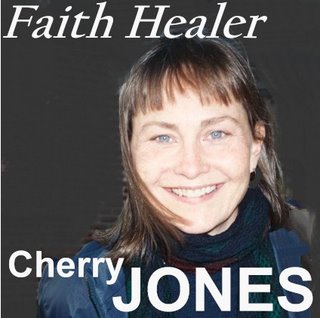 Of course, as history has proven, there's no way to predict what the Tony Awards nominating committee will do [or, for that matter, the Drama Desk nominating committee], but isn't there another beloved theater figure on Broadway? Three-time Tony-nominee and two-time winner for Best Actress Cherry Jones in Faith Healer, which opens May 4.
The critics and nominators have yet to weigh in, but even though Jones, co-starring with Tony-winner Ralph Fennes and Ian McDiarmid, is only onstage about 40 minutes - seated [and hardly moving a muscle] for the entire time, she's spellbinding.
Taking nothing away from the other incredibly-talented women who gave memorable performances, we shouldn't forget that Jones is known to be a formidable force.

PEACHY ROLES

Audiences and critics have weighed in on Roundabout's revival of The Threepenny Opera, headlined by Alan Cumming and Cyndi Lauper. Two things everyone seems to favorably agree upon in the controversial production are Jim Dale, currently celebrating 60 years in show business, and Ana Gasteyer in the roles of Mr. and Mrs. Peachum.
"This has been the most fun of any show I've ever bee in," says Dale, who reported he'd never seen the musical or heard the complete score. "I'm working with great and quite colorful people." A cast, it might be said, that also adores him. He has established strong bonds with Lauper and co-star recording artist and rights activist Nellie McKay.
Dale and his Mrs. Peachum, Gasteyer [Wicked, Chicago; Rocky Horror Show], who soared to fame on Saturday Night Live, had never met. "We've worked hard to create what I hope audiences think of as a very nice relation. Working with Ana is as comfortable as wearing an old pair of jeans. I admire her so much, indeed. And what a set of pipes she has!"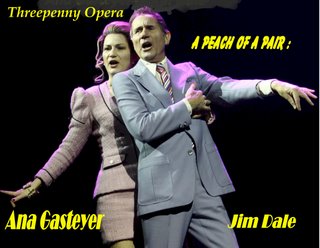 He and Gasteyer duet on "The ëRather Than' Song" and, with McKay as daughter Polly, "Certain Things Make Our Life Impossible."
Dale says Mr. Peachum was a very attractive role "because I knew I could do lots with it. I get to play the villain, yet explore for a bit of humor, even though it's very dark. That's the joy of it." And for Threepenny audiences, too.
Dale recalled a review of an earlier revival where the critic wrote that all the Bertolt Brecht Threepenny characters could have come from Mac Sennett's [silent film] comedies, "so I'm putting a lot of my own persona and a little bit of English ëmusic hall' into Peachum. Thank goodness [director] Scott [Elliott] and [choreographer] Aszure [Barton] have allowed me that freedom."
We spoke of a successful Portuguese-language adaptation that premiered in Brazil with a distinctive samba beat. "That must have been fun," says Dale. "I also dance to a sort of samba in our production!"
The number is "The Song of Inadequacy of Human Striving" and Dale turns it into a showstopper - with a bit of ad-libbing that brings not only the most thunderous applause but also gales of laughter.
He says that when he comes offstage after that song, McKay is in the wings waiting with a glass of water "with something very fun attached. The shelves in my dressing room are lined with each and every one of them."
Between his acclaimed Drama Desk-nominated role in Off Broadway's Comedians and Threepenny, Dale has provided the voices of several hundred characters on the Harry Potter audio books and received four Grammy nominations [taking home one in 2000] . He also portrayed Scrooge in Alan Menken and Lynn Ahrens' A Christmas Carol; and Fagin in Cameron Mackintosh's lavish London Oliver! revival.
By his teens in the U.K., Dale was a veteran of amateur shows. After Royal Air Force service, a little known fact is that he became a successful pop singer - even hosting a rock ën roll show on the telly.
He was recently quite taken aback when he came offstage after "Song of Inadequacy" and McKay handed him his glass of water with a 78 R.P.M. record in its original sleeve.
"It was the first tune I recorded forty-nine years ago with producer George Martin [who guided the Beatles to fame], 'Be My Girl.' I have no idea where she got it, and she won't say. But I thought they had melted all these down and shaped them into flower pots!"
In 1970, at the personal request of Laurence Olivier, he joined the British National Theatre and played leads in a host of classics. From there he went to the Young Vic, where he first played the title role in Scapino, which he co-adapted with Frank Dunlop.
That led to movies and his becoming something of a cult film figure for his antics in the popular Carry OnÖ series [now on DVD, with loads of his hilarious commentary].
When Scapino debuted on Broadway in 1974, Dale won Tony and Drama Desk nominations and took home a DD. Other accolades: 1980 Tony and Drama Desk Awards for Best Actor in a Musical, Barnum; 1985 Tony nomination for Best Actor in Roundabout's Joe Egg; 1995 Drama DeskAward, Best Actor, Travels with My Aunt; and a 1997 Tony nomination for Best Actor, Musical, for the Candide revival.
And did you know that Dale won an Academy Award nomination for his lyrics to Georgy Girl, which became a monster hit?
With an Outer Critics Circle nomination already announced, it would not be surprising to find that Dale is remembered by Drama Desk and Tony nominators.

DRAMA DESK NOMS

The nominations for the 51st annual Drama Desk Awards, which honors Broadway and Off Broadway, will be announced live from the Friars Club on Thursday [April 27] at 9:45 A.M. Oscar and Tony winner Marvin Hamlisch, composer of 1975's Pulitzer Prize and Tony-winning A Chorus Line, and Donna McKechnie, who won a Tony as Cassie in ACL, will do the honors.
The Awards will be presented Sunday, May 21, at 9 P.M. in the LaGuardia Concert Hall at Lincoln Center. Harvey Fierstein, who's completing his run in Hairspray at Las Vegas's Luxor Casino and Hotel on April 30, will host for the third year. Robert Blume, TheatreSport Ltd., is executive producer.
In addition to the TheaterMania webcast, the Awards will be broadcast on WNET Monday, May 29 at 3 P.M., on NYC TV Channel 25 on May 30 and June 1 and on PBS stations across the nation starting June 2.

STANDOUT PERFORMANCES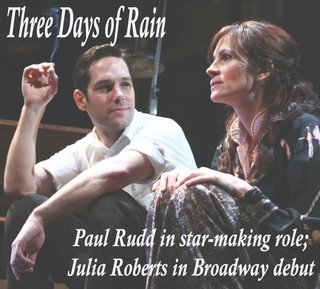 The eagerly anticipated Broadway debut of Julia Roberts arrived with Three Days of Rain, but the star-making performance in that play comes from Paul Rudd, who's won a coterie of fans from his appearances in LCT's Twelfth Night and The Last Night of Ballyhoo, not to mention such films as The 40-Year-Old Virgin, Anchorman: The Legend of Ron Burgundy, The Object of My Affection, The Cider House Rules and the TV series Friends and Sisters.
Audiences have been weighing in on Elton John and Bernie Taupin's Lestat for a couple of weeks, but the critics have their say following tonight[April 25]'s opening.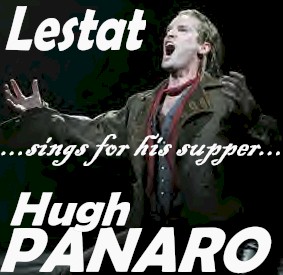 One thing everyone seems to agree on is that the show features two of the best voices in theater: Hugh Panaro, a former long-running Phantom who gives a marathon performance [he's offstage less than six of the show's 150 minutes] and Carolee Carmello as Gabrielle, Lestat's mommy and, it would seem, much more. They really sink their teeth into their performances. Well, they do - literally and figuratively!
Taupin has been bravely holding the Lestat vampiral empire down while John's had several sightings in L.A. in the last day or two. Will he be red-eyeing it here for Lestat's opening? Or will he be at the We Are Family Foundation gala tonight honoring him? Maybe, like vampires, he can be in two places at the same time.
Praise is being heaped on the ensemble cast of The History Boys, Alan Bennett's Olivier Award-winning London hit which opened Sunday night, with numerous accolades expectedly going to Olivier Award-winning Best Actor Richard Griffiths in the role of master Hector.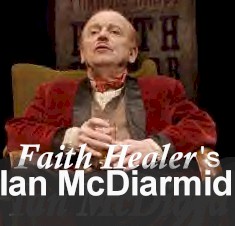 The critics won't be weighing in on Faith Healer until May 4, but Ian McDiarmid's performance will surely be labeled a standout. McDiarmid, in addition to numerous film roles [including later editions of the Star Wars series as Supreme Chancellor Palpatine and, most recently, opposite Dame Helen Mirren in HBO's Elizabeth I] is joint artistic director of London's Almeida Theatre.
Jerry Zaks' production of Herman Wouk's stage adaptation of his novel The Caine Mutiny Court-Martial won't come under scrutiny until May 8, but Zeliko Ivanek, who co-starred in last season's The Pillowman, is creating Broadway buzz, as they say, in the electrifying role of Lt. Commander Queeg.
Audiences filing out of The Drowsy Chaperone are all smiles thanks to the over-the-top performances of Tony winner Sutton Foster, Bob Martin, Beth Leavel and Georgia Engel.
Newcomer Stephen Lynch, not to mention Tony Award nominee Laura Benanti and veteran star Rita Gardner, the original Luisa in The Fantasticks, are having a rollicking good time in The Wedding Singer and their good vibes are wafting over to delight audiences.
There are some memorable performances Off Broadway, too, especially from a trio of actresses: Amelia Campbell, who was Tony-nominated for
Our Country's Good
, in
Tryst
[opposite Maxwell Caulfield]; Latino comic Marga Gomez in her hilarious autobiographical look at la familia in
Los Big Names
; and Gloria Reuben as Condoleezza Rice in David Hare's
Stuff Happens
.

BROADWAY BY THE YEAR: 1968

The May 1 Broadway By the Year concert at Town Hall, the third in the 2006 season, will salute 1968 and such shows as Hair, The Happy Time, Darling of the Day, Golden Rainbow, George M!, New Faces of 1968, Her First Roman, Zorba and Promises Promises.
Tony nominee Brad Oscar of Producers fame will direct a cast that includes himself, Scott Coulter, Annie Golden, Lisa Howard and Jack Noseworthy.
Scott Siegel is producer, writer and host. Ross Patterson is musical director.
Tickets, at $45 and $40, are available at the Town Hall box office from Noon to 6 P.M. Monday-Saturday or can be purchased through TicketMaster, (212) 307-4100.
The Broadway By the Year concerts are available on CD from Bayview Records.

SOME ENCHANTED EVENING
If you weren't among the lucky 1,000 + at the one-night-only June 2005 Carnegie Hall concert of Rodgers and Hammerstein's classic South Pacific starring Reba McEntire as Nellie Forbush, Brian Stokes Mitchell as Emile de Becque and, in a bit of most unsual casting, Alec Baldwin as Luther Billis, tune into Great Performances on PBS tomorrow night [April 26].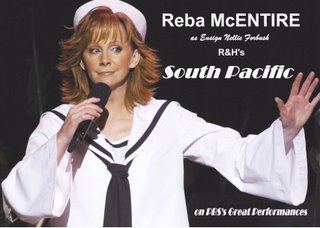 Rounding out the star wattage is Tony winner Lillias White as Bloody Mary. Jason Danieley, as Lieutenant Cable, Dylan Baker and Conrad John Schuck are among the co-stars.
Decca Broadway has released a CD souvenir. One of the pluses of the concert and live CD recording, produced by multi-Grammy-winning Jay David Saks, is Sondheim master musical director and City Center Encores! musical director Paul Gemignani conducting the 45-piece Orchestra of St. Luke's.
The concert production boasts the type of ensemble probably only the original production could afford: a chorus of 50.
In Brian Stokes Mitchell news, the new Playbill Records' initial release on June 6 is the star's long-awaited solo debut CD. The 12 tracks run the gamut from several Sonheim tunes and Jule Styne/ Comden and Green to jazz composer Billy Strayhorn.
Speaking of South Pacific, the first-ever Broadway revival of the musical will be produced by Lincoln Center Theatre for the ë07-'08 season, directed by Tony-nominee Bartlett Sher [The Light in the Piazza].

TRIBECA FILM FEST

The 2006 Tribeca Film Festival, presented by American Express, not only begins its fifth year on Manhattan's lower West Side tomorrow [April 25] through May 7 but also is spreading its wings to other parts of the city.
Besides hosting the world premiere tomorrow of the already controversial United 93, the 9/11 feature that chronicles the hijacking of the flight that crashed in the Pennsylvania countryside, the Festival will debut 30 studio, independent, documentary and foreign films.
There will be Tribeca Talks panels with film creative teams and stars such as Academy Award winners Morgan Freeman and Cuba Gooding Jr.; concerts and a street fair. For a complete listing of films, events and prices, visit www.tribecafilmfestival.org.
"9/11 changed us in indescribable personal ways," says Festival co-founder [with Robert De Nero and Craig Hatkoff] Jane Rosenthal, "and forever altered our downtown community. It's fitting, as we enter our fifth year, that we showcase a film that portrays a story of bravery and sacrifice of those who dedicated their lives that day aboard United flight 93."
United 93, which opens nationwide on Friday [April 28], recreates the doomed trip in actual time, as those onboard through cellphone contact realize the gravity of events unfolding beneath them.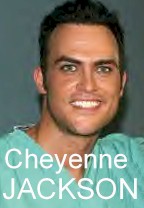 Among the cast of unknowns and up-and-comers is Cheyenne Jackson, who made an impact on Broadway in All Shook Up. Paul Greengrass wrote and directed.

Co-producer and distributor Universal Pictures will donate a portion of profits to to the Flight 93 Memorial Fund. If you wish to make a donation, go to http://www.honorflight93.org/ for more information.

Warner Bros. continues its support of the Festival with a major film premiere. This year's film, on May 6, is Wolfgang Petersen's remake of the upside down action adventure Poseidon, based on Paul Gallico's novel. It officially opens this summer. Petersen directed Das Boot and The Perfect Storm. Poseidon stars include Kurt Russell and Richard Dreyfuss.
Single Festival tkts can be purchased online, by phone or at the Tribeca Film Festival box office, 13-17 Laight Street [between Varick Street and Avenue of the Americas]. In addition, tickets will be sold at Festival windows at AMC Loews Lincoln Square, 34th Street and Village Theatres.

Among other Tribeca Film Festival sponsors are Budweiser, WNBC, Nokia, Apple, Aquafina, Delta Air Lines, The New York Times, Bloomberg, Vanity Fair, the Empire State Development Corporation [I Love New York] and the Alfred P. Sloan Foundation.

STAR SIGHTINGS

Restaurant Row's Joe Allen's is no longer the only game in town for star sightings, but that would have been hard to prove Friday night. After showtime, there was David Schwimmer [The Caine Mutiny Court-Martial] giving a polite nod to Jonathan Pryce [Dirty Rotten Scoundrels], who kindly acknowledged Sandy Duncan [who should be on Broadway in something!] and hubby Don Correia, who waved to John Glover [The Paris Letter], who gave Ruthie Henshall [Putting It Together] a wink. And all of them were eyeing Cyndi Lauper [Threepenny Opera], dressed to the nines in her decadent best.

BERLIN IN NEW YORK

While at the Lincoln Center Library, don't miss the exhibition, Show Business: Irving Berlin's Broadway, which is inspired by David Leopold's book Irving Berlin's Show Business [Harry N. Abrams]. It runs through May.

The book and exhibition, thanks to cooperation from the Berlin daughters, photos, posters, costume designs, sheet music, album covers and drawing.

ARTS AND CRAFTS

Actors, singers, dancers, musicians, stage managers and wardrobe personnel do more than work in theater. They paint, photograph, sculpt; make clothing, handbags and jewelry; and create dolls and greeting cards.

ActorCrafts will present an array [over 40 exhibitors] of their arts and crafts this Saturday [April 29] at Holy Cross School [332 West 43rd Street between Eighth and Ninth Avenues] from 10 A.M. to 6 P.M. Admission is free.

The fair is made possible by Broadway Cares/Equity Fights AIDS [BC/EFA], the nation's leading industry-based, nonprofit AIDS fund raising and grant making organization. Since it's founding in 1988, BC/EFA has distributed over $80-million for critically needed services for people with AIDS, HIV or HIV-related illnesses.

For more info, visit http://www.broadwaycares.org/


CELEBRATING WILLIAM INGE

Playwrights Lee Blessing and Tina Howe and director Daniel Sullivan are among the special guests and scholars attending the 25th annual William Inge Theatre Festival, April 26-29 at the William Inge Center for the Arts at Independence Community College in Independence, Kansas.
Inge wrote the acclaimed Come Back, Little Sheba [1950]; Picnic [1953], which won the Pulitzer Prize and, among others, the Drama Critics Circle Award; the Tony-nominated Bus Stop [1955]; the Tony-nominated The Dark at the Top of the Stairs [1957]; and the screenplay for Elia Kazan's Splendor in the Grass [1961].

Other theater guests include Tony winner Elizabeth Wilson and Tony nominee Walter Willison and actor/director Luke Yankee, son of the late Eileen Heckart and author of the delightful, name-dropping memoir about his mom, Just Outside the Spotlight [Back Stage Books].

In addition to honoring Inge, this year's Festival will celebrate all 26 of past honorees. In the Playwright's Garden, there will be memorial remembrances of Wendy Wasserstein and August Wilson. There will also be a performance of Touched, a new play by Marcia Cebulska based on Inge's life.

For complete information on workshops, guests and author readings go to http://www.ingefestival.org/ and www.indycc.edu.


[Photos: 1) ELLIS NASSOUR; 2) JOAN MARCUS; 3) JOAN MARCUS; 4) PAUL KOLNICK; 5) ANTHONY WOODS; 6) JOE SINNOTT-Thirteen/WNET]



--------
Ellis Nassour is an international media journalist, and author of Honky Tonk Angel: The Intimate Story of Patsy Cline, which he has adapted into a musical for the stage. Visit www.patsyclinehta.com.

He can be reached at [email protected]





Why are you looking all the way down here?
For more articles by Ellis Nassour, click the links below!

Previous: RENT CAST REUNITES FOR 10TH ANNIVERSARY; EILEEN HECKART'S LEGACY IS CELEBRATED; B&B'S CHUCK WAGNER JOINS THE CIRCUS; MORE

Next: Euan Morton In Kushner/Sendak's Brundibar And In Concert; A Chorus Line Returns; Tennessee Williams On DVD; Red Light Winter's Show-Within-the Show; More

Or go to the Archives