The unique collaboration between Tony Kushner and illustrator Maurice Sendak, Brundibar, an operatic co-production of Berkeley and Yale Reps, is having its New York premiere at the New Victory Theater [42nd Street, West of Broadway] through Sunday, May 21.
First composed by Hans Kr·sa in the years leading up to World War II, Brundibar still maintains its original score, but Tony and Drama Desk Award and Pulitzer Prize-winner Kushner has done a new adaptation of Adolf Hoffmeister's libretto.
For years, the original piece has been presented to inspire audiences with its message of good overcoming evil. But it also has a place in history for how it was used by the Nazis for propaganda purposes.
Euan Morton, Olivier, Tony and DD-nominated for his portrayal of Boy George in Taboo and the recent star of Measure for Pleasure at the Public, repeats the title role he created late last year at Berkeley.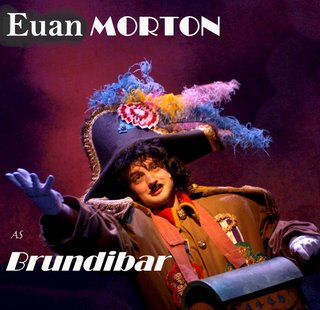 "I'm feeling a lot more comfortable about the New Victory run," says Morton, "because at Berkeley I played Brundibar on stilts. I've been sort of cut down to size, and there's new choreography. It's going to feel like I'm doing the piece for the first time."
The cast of 11 also features two-time Tony and Drama Desk nominee Martin Vidnovic [who won the 1984 Featured Actor Tony for Baby] and William Youmans [Wicked, La Boheme, Titanic, Big River] [he's also the grandnephew of Broadway composer and sometime producer Vincent Youmans, best known for No, No, Nanette and Hit the Deck].
The chorus is made up of 20 young performers from Rosie O'Donnell's arts education organization Broadway Kids. Lori Klinger is artistic director of Rosie's Broadway Kids.
Tony Taccone, Berkeley Rep artistic director and director of this production, notes that Brundibar combines "Kushner's skill with language and Sendak's phenomenal imagination."
The Berkeley/Yale production of Brundibar features Sendak's spectacular set design. He was assisted by Kris Stone. Greg Anthony is music director and conductor.
Morton didn't even read the script before saying yes. "I got hooked just reading the synopsis. It's absolutely fascinating and also on how the Nazis used the opera and the children in the death camps."
In its day, Brundibar became a powerful protest against the Nazis, but after the SS discovered the score had been smuggled into the concentration camp at Terezin, Czechoslovakia [now, the Czech Republic], it was also used by the SS to perpetrate an elaborate ruse on the international community and the Red Cross.
Brundibar is described as an allegory of innocence triumphing over evil. It tells of a brother and sister going to town to buy milk for their sick mother, but they don't have enough money. They attempt to take the lead of an organ grinder whom they see people throwing money at. But this fails until they join forces with talking animals and a host of children who bond to outwit the town's sinister organ grinder. Yes, a sinister organ grinder!
Because of what was rumored to be happening at Terezin, the Red Cross came to inspect. The Germans had decorated the camp in festive way and presented it as a spa town especially created for Jews, where they could also have concerts and other entertainment.
Often, the camp children presented Brundibar. The Nazis went so far as to film a performance and present it to the world community as The Fuehrer Presents the Jews with a City. Unbelievably, the Red Cross and others backed away and the death camp continued to operate.
Nearly all of the children who performed in the opera were deported to Auschwitz and died in the gas chambers, a fate also met by composer Krasa.
For the New Victory run, Kushner has written a "kids and family-friendly" curtain raiser based loosely on how Brundibar's score was sneaked into the Terezin camp by its conductor and Jewish music teachers.
Brundibar, recommended for ages eight up, runs 95 minutes with intermission. Showtimes vary, with several two-a-day performances. Tickets at $10, $20 and $30 are available the New Victory box office or through Telecharge, (212) 239-6200, and Telecharge.com. For more information, visit http://www.newvictory.org/. For more information on Rosie's Broadway Kids, visit www.rosiesbroadwaykids.org.

IT'S RAINING MORTON
Euan Morton will appear in concert Monday, May 15 at Birdland [315 West 44th Street, off Eighth Avenue] at 7 P.M., presented in association with Jim Caruso and TheaterMania.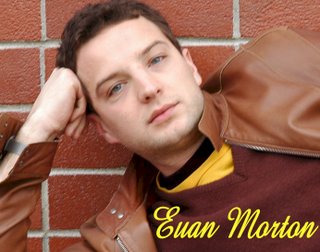 Morton will be singing original songs, Broadway standards and, perhaps, a song or two from the Carpenters. What?
"I've always wanted to sing the Carpenters," says Morton, "which sounds a little weird. They were my favorite group growing up, but I'm not sure it's what audiences want to hear in the 21st Century in a New York jazz club."
He is finding, however, that some of the pop group's songs could actually work with a little bit of reinvention on the arrangements.
There'll be songs from his new CD, NewClear, the initial release from the Lyric Partners label, which he also co-produced. The album's 10 tracks run the gamut from emotional heartbreakers to pop rock and includes two tunes by George O'Dowd [a.k.a. Boy George].
"I'll also be presenting some new material," says Morton, "if I don't get too scared.
Morton explains that though he's been singing all his life, he only occasionally "got brave enough" to step on a stage in a London cabaret and do a couple of songs. "I lacked a lot of confidence," he admits, "so I would sing back-up and, occasionally, the odd solo."
He's also performed here at Joe's Pub, but "appearing in concert is a new experience. I'm still getting my feet wet, so to speak, and I like to have people around me onstage I'm used to working with because it makes me more comfortable. We know each other and they know all my little ticks."
Appearing with him at Birdland are musicians from the album sessions: David Nehls, keyboards, musical director; David Matos, lead guitar; and Paul Davis, percussion.
NewClear will be on sale at Birdland, but you can also order personally autographed copies online from lyricpartners.com and or officiallyeuanmorton.com. It's available at Colony Records and through Amazon.com.
For Morton's Birdland appearance in the Caruso series, there is a $30 cover plus $10 food/drink minimum. For reservations, call (212) 581-3080 or book online at www.InstantSeats.com/Birdland.
Beginning in June, through July 29, at Sag Harbor's Bay Street Theatre, Morton will star in The Who rock opera, Tommy.

A CHORUS LINE RETURNS
After one year of auditions and seeing over 1,700 actors, the full cast has been announced for the revival of the Pulitzer Prize and Tony and Drama Desk-winning A Chorus Line, which will begin performances on Broadway at the Schoenfeld Theatre on September 18, with the official opening set for October 5.
The 19-strong cast was introduced Wednesday at the Hudson Theatre by director Bob Avian, who was co-choreographer of Tony and DD-winning Best Director Michael Bennett's acclaimed 1975 production. They include Michael Berresse [Chicago, Kiss Me Kate, The Light in the Piazza] as Zach the director, Charlotte d'Amboise as Cassie [the role created by Tony-winner Donna McKechnie] and Chicago veteran Deidre Goodwin as Sheila.


Original cast member [Connie] and veteran choreographer Baayork Lee, who made her Broadway debut as Princess Yaowlak in 1951's The King and I, will recreate Bennett and Avian's choreography.
The score is by Tony and DD-winners Marvin Hamlisch and the late Ed Kleban, with book, based on numerous interviews with actors in a theater lab, by the late Tony and DD-winners James Kirkwood and Nicholas Dante.
Returning to work on the revival are original costume designer Theoni V. Aldredge, who was Tony-nominated for her creations, and scenic designer Robin Wagner.
Music director/supervisor will be Patrick Vaccariello with orchestrations by the original team of Billy Byers, Hershey Kay and Jonathan Tunick. ACL's music director/supervisor Don Pippin will do the vocal arrangements, which he was also responsible for in the original production.
ACL began with Bennett and team conducting intense interviews on what actors did for love in a theater lab. The production debuted under the auspices of Joe Papp at the Public Theatre. In its move to Broadway and the Shubert Theatre, it played a record-breaking [for that time] 6,137 performances. It closed on April 28,1990.

EIGHT BY TENN
An eight-disc DVD set, Tennessee Williams Film Collection [Warner Home Video, $69], containing adaptations of the unforgettable characters and powerful portraits in the unique vision of the South as seen by one of America's greatest playwrights, debuts May 2.
The stars of these films, which won numerous Academy Awards and nominations, include Judith Anderson, Carroll Baker, Warren Beatty, Ed Begley, Marlon Brando, Coral Browne, Richard Burton, Ava Gardner, Kim Hunter, Burl Ives, Deborah Kerr, Shirley Knight, Vivien Leigh, Lotte Lenya, Sue Lyon, Karl Malden, Paul Newman, Geraldine Page, Jill St. John, Elizabeth Taylor, Rip Torn and Eli Wallach.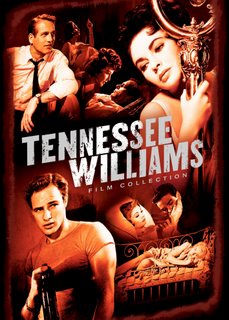 The package features a newly remastered A Streetcar Named Desire, with a second disc that's a virtual treasure trove with Brando's screen test and six docs, including a profile of director Elia Kazan, plus commentary by co-star Malden and film historian Rudy Behlmer; and a newly remastered Cat on a Hot Tin Roof, with a featurette doc and commentary by Donald Spotto, author of The Kindness of Strangers: The Life of Tennessee Williams.
Also included: the long-awaited DVD debuts of Sweet Bird of Youth [with the screen test of Page and Torn], The Night of the Iguana [with commentary by director John Huston], the rarely shown mucho controversial-in-its-day Baby Doll [denounced at the time of its 1956 release by Time as "just possibly the dirtiest American-made motion picture that has ever been legally exhibited"]; and a lesser known title, The Roman Spring of Mrs. Stone, which was adapted from a steamy Williams novella.
Each disc has featurette doc bonuses, some with never-before-seen outtakes. The Streetcar DVD features three minutes of footage deleted to satisfy the Roman Catholic Legion of Decency. Thought lost until rediscovery in the 90s, the excised scenes underscore the sexual tension between Blanche, Stanley and Stella.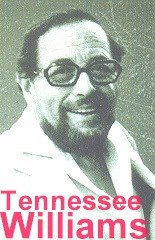 Instead of a souvenir booklet, the box set's eighth disc is a rarely seen 1973 feature documentary, Tennessee Williams' South, which is worth the price of the entire package to any film and stage buff.

It includes line readings by the playwright and interviews in which he places his plays in the context of his life. Williams is relaxed and quite informative, quite a bit outside the outrageous persona he began to flaunt as his career went into decline. He also comments on the stage and screen taboos he was not allowed to directly address and on the violence in his works, which, he says, were part of the human condition.

South has scenes from Williams' plays that were expressly shot for the documentary. The highlight: rare footage of Jessica Tandy as Blanche, the role she created in A Streetcar Named Desire; and Maureen Stapleton as Amanda in The Glass Menagerie.

Other stars that are featured include Ives, Cat's stage and screen Big Daddy; James Naughton, co-star of the 1987 TV adaptation of The Glass Menagerie* as Gentleman Caller, Mr. O'Connor; and Michael York, who made his Broadway debut in Williams' 1973 short-lived two-character Out Cry.

* Directed by Paul Newman and starring Joanne Woodward as Amanda Wingfield, John Malkovich as Tom and Karen Allen as Laura.


SHOW WITHIN THE SHOW

It never pays to leave a show at intermission, but at Red Light Winter, the acclaimed Steppenwold Theatre Company production at Greenwich Village's Barrow Street Theatre, that should be amended to you shouldn't leave your seats during intermission.

Not forgetting the riveting raw drama, and sometimes comic relief, in Adam Rapp's controversial play, which he also directed, audiences returning after intermission might think they're in the wrong theatre.

Red Light, co-presented by A-list producers Scott Rudin, Roger Berlind, Stuart Thompson and, among others, Paramount Pictures, boasts a unique set design by Todd Rosenthal.

Between acts, on the thumbnail-sized Barrow Street stage, two prop assistants and a production supervisor do a complete transformation that would be the envy of any much larger Broadway state-of-the-art house.

Without giving away all that goes no, audience members still in their seats and in rapt attention learn how small can be just as big as we see how even a tiny show is equipped with running water and authentic-looking falling snow - and a lot of books!

Surprisingly, neither the play, actors or set design impressed the Drama Desk nominating committee enough to get nods in their respective categories.

The performances by Lisa Joyce, Gary Wilmes and Christopher Benham, soon to be seen in Rapp's film adaptation of Blackbird, are nothing to sneeze at. Benham is nominated for a Lortel Award as Lead Actor in a Play.

Red Light Winter also received a Lortel Best Play nomination. The Awards take place on May 1 at New World Stages on West 50th Street.


EXPLORING SPALDING GRAY

The New Group (naked), a production division of The New Group [which presented Mike Lee's critically acclaimed Abigail's Party which starred 2006 Drama Desk-nominee Jennifer Jason Leigh] now in its second year, will present A Spalding Gray Matter, May 3 - 27 at Theatre Row's Clurman [410 West 42nd Street].

Written and performed by Michael Brandt, the piece explores Gray's illness, disappearance and assumed suicide through the eerily parallel events of the playwright's own experience.

"Melding the theatrical structure of Gray's monologues with my own sense of the ridiculous," says Brandt, "I try to understand what happened to Gray as a way to define what happened to me."

The result," says director Ian Morgan, "is a story about the consequences of illness and recovery on the human psyche."

Brandt has penned several plays as well as the short film Everyday Things, which was an official selection of the 2005 Hamptons International Film Festival.

A Spalding Gray Matter tickets are $15 and can be purchased through Ticket Central, (212) 279-4200 or http://www.ticketcentral.com/. For more info, visit www.TheNewGroup.org.


LILY TOMLIN RAIDS THE VAULTS

How far would you travel for intelligent life in the universe or just an unforgettable night of sidesplitting laughter with Lily Tomlin? Is New Jersey too far? If not, tonight's your night.

After two critically acclaimed Broadway shows, Appearing Nightly [1977] and The Search for Signs of Intelligent Life in the Universe [1985; revived in 2000], memorable film and TV roles, recordings and DVDs, Tomlin is appearing tonight [April 28] at 8 P.M. at the Bergen Performing Arts Center [30 North Van Brunt Street, Englewood].

Some tickets [$55-$85] in the 1,367-seat auditorium are available. It should be quite a night because for the first time in ages, Tomlin's opening her comic vault and releasing some beloved characters she made famous some time ago. These will include Ernestine, the irascible switchboard operator; devilish, six-year-old Edith Ann; Truby the Bag Lady and independent, activist housewife Mrs. Beasley.

"These characters are still relevant," Tomlin has said. "They play as strongly today as they did when I first performed them. Maybe that's because the world is still a mess!"

The material is written by Tomlin and her partner of 35 years, Jane Wagner, whose only crime is the horrendously misguided screenplay for the 1978 Tomlin/Travolta romantic potboiler Moment To Moment.

Tomlin's current film project, Prairie Home Companion, coming in June, reunited her with director Robert Altman - the first time she's work with him since 1993's Short Cuts. She was nominated for a 1976 Oscar as Best Supporting Actress for his Nashville.

PHC features a typically-large Altman ensemble that includes Woody Harrelson, Kevin Kline, teen queen Lindsay Lohan, Tommy Lee Jones, Virginia Madsen, John C. Reilly, Meryl Streep, Robin Williams and, of course, Garrison Keillor.

For tickets for tonight's Tomlin concert, call (201) 227-1030 or, toll-free (888) 722-7469 after 11 A.M. or visit www.bergenpac.org.


[Photos: 1) KEVIN BERNE; 2) NOELLA VIGEANT; 3) PAUL KOLNIK ]



--------
Ellis Nassour is an international media journalist, and author of Honky Tonk Angel: The Intimate Story of Patsy Cline, which he has adapted into a musical for the stage. Visit www.patsyclinehta.com.

He can be reached at [email protected]





Why are you looking all the way down here?
For more articles by Ellis Nassour, click the links below!

Previous: Actress Nominees; Threepenny's Peachy Roles; Drama Desk Noms Announced Thursday; Starshine On and Off Broadway; Broadway 1968; South Pacific Concert On PBS; Tribeca Film Fest; More

Next: Drama Desk Awards Set For May 21, Harvey Fierstein To Host; Rice and Webber's First Collaboration On CD; Musical Monday Double Bill; Ava Gardner Biography; More

Or go to the Archives